2005 Ford GT
User Reviews
Displaying all 5 2005 Ford GT reviews.
erniesauto24

writes:
Pros
Plenty Of power, Attention Grabber, Comfortable on long drives, excellent reliability, almost zero maintenance
Cons
Tough to get in and out of due to the lowered stance and the shape of the door, attention grabber, poor city gas mileage but who cares, stock goodyear tires are lethal.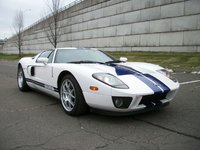 Excellent Near Maintainence Free Supercar That Never Ceases To Impress — Stunning body lines, ice cold air conditioning, 6 speed = 20+ MPG highway, 200+ MPH supercar that can hang with Ferrari's finest, great big brakes, tires are all sorts of awful when temperatures below 50*, handles well, rides smooth, easy to drive, parts are easy to attain but are not always inexpensive. One of the greatest hand built super cars from the United States.
Primary Use: Sport/fun (spirited driving, track racing, off-roading, etc.)
Michael

writes:
Masha

writes:
Cons
fast, not safe enough
Fast And Elegent — the thing I like bout this car is its toque and ability to reach its climax in a short time and believe me GT's are super fast!in general its an image revealer and hey its fun to drive it!
Primary Use: Sport/fun (spirited driving, track racing, off-roading, etc.)
Malhar

writes:
Pros
one thing is mainly da looks nd amount of powe produced by da engine...i think this is the best achievement by ford!
Cons
hmm...nothinng i can think of!
Alex

writes:
Pros
EVERYTHING ABSOLUTLEY EVERYTHING
The Ford Gt — My buddy in Lethbridge took delivery of this GT and promptly found out he couldnt drive stick... LOL LOL LOL so i drove it to his house for him... I tought him to drive stick on a pos Civic we bagged... The car was and still is the most amazing car i have ever been in... 550 hp has never been more perfectly deployed... The 5.4lDOHC supercharged V8 makes a noise that could kill all living creatures world wide and makes the miles of road turn into memories you wish you were still living... Corners straighten out and the pleasing interrior is inviting and very comfortable over long distances... The only thing that was a pain was when i got my hair caught in the door and it ripped it out... Beside that it was a flawless vehicle... The looks are stunning, The performance is BLISTERING, The build quality is something i wish All fords Were held to, and the interrior is just a fantastic place to be... Transmission is smooth and confident (some say chunky but its just solid) the clutch has nice feel and the steering makes hitting dimes on apex's a simple task... Smoke can be made from the tires at almost any time in any gear... 0-60 is dealt with in about three and a half seconds and after that your going too fast to see anymore lol... My Car of choice...
Displaying all 5 2005 Ford GT reviews.
Reviews From Other Years
Good Car
well its good on gas and its a reliable car it will get you where you need to go and it will take your breath away the first time you drive over 100 miles an hour so i'd advise you not to do so. Read More
Perfect
I bought this yesterday and it is true car for people to stare at The cars acceleration is excellent the cars looks are outstanding. I drove the for a couple of hours and many people starting takin... Read More
Read all

16

2006 Ford GT reviews