2005 Ford Freestyle
User Reviews
2005 Ford Freestyle
Review Ratings
Average Ratings from

23

reviews
Performance:
Appearance:
Build Quality:
Overall:
Review Highlights
Click to filter reviews below
Displaying 1 - 10 of 23 2005 Ford Freestyle reviews.
youcanreachluke

writes:
2005 Ford Freestyle SEL AWD
Review
Pros
This family hauler is spacious and more versatile than its competitors. It can haul 7 passengers with ample luggage space, has DC power outlets wherever you need them, but can also fold seats for more space while carrying 5 or 6 passengers. It does everything well.
Cons
The AC can go out - we replaced ours - and that is not uncommon. Thankfully, the replacement comes with Ford warranty and blows ice cold again.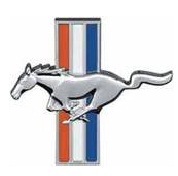 The Super Family Wagon — This vehicle takes care of all of your needs very well. I love the power, ride, space, versatility, and overall comfort. I look forward to adding more miles to this vehicle knowing how dependable it is. We've driven from Michigan to Canada, Florida, New York, and Oregon/Washington, and the only trouble was AC going out (Montana during 104° F blasting heat). Great car and worth every penny!
Primary Use: Family transportation
Looking for a Used
Freestyle
in your area?
CarGurus has

738

nationwide Freestyle listings starting at

$2,250

.
Jeremy

writes:
2005 Ford Freestyle SEL
Review
A Ford I Actually Like. — Awesome family vehicle. Better gas mileage than an SUV, and as much room as Minivan. Drives great with plenty of power. Avg. 22-25 mpg. Has enough room for whole family and lots of groceries. The folding seats offer a lot of options for hauling people and cargo.
erigoasparago

writes:
2005 Ford Freestyle SEL AWD
Review
Cons
poor gas mileage; heavy

Fine Car — not bad car; actually just what we needed, great 'do everything' vehicle. mileage is not what I expected. AWD is fine for summer vacations, where we get something like 20-24 mpg driving to Denver from San Jose. Quiet and comfortable; great A/C
Primary Use: Family transportation
EJinMV

writes:
2005 Ford Freestyle
Review
Pros
Just replaced wife's car that was totalled - so not sure yet. Wife loves it, I will check it out if I can ever find her not in it :-)
Cons
Air conditioner has problem, blowing hot or warm air. We live in a hot climate so I need to get this fixed. There seems to be a lot of problems with this on the Fords from what I have found

Cool Family Car With Climate Control Issues — The car will hold a lot of people and equipment. It drives like a car, not a van or truck with a low center of gravity. Ergonomics are well thought out and unbelievably comfortable. It has a lot of areas to store things close to the driver. Highschoolers are transported with all their junk a lot easier. Just need to resolve the A/C issues!
Primary Use: Family transportation
Sean

writes:
2005 Ford Freestyle SEL AWD
Review
Pros
Decent gas mileage, variety of seating configurations, ideal to haul children around. The amenities in the car are par for the course, and seems to have great safety features - Side curtain airbags ect
Cons
low towing capacity - 2000lbs
Great Family Vehicle — I have enjoyed owning the car. Was a little worried about the AWD from a few horror stories (which you see about any car) but have not had one issue with the car in the first 36000 miles i've driven the car. It has around 200 hp, which at the time I thought was under powered, but now with the cost of gas at over $4.00 a gallon, I am glad it did not come with a 4.6L that the explorer came with. Got used to the CVT transmission right away, and quite frankly enjoy it. It is always smooth starting up, and had a steady accelleration curve. Is extremely responsive when needed.
califmom

writes:
2005 Ford Freestyle SE
Review
Pros
I am a mom and used this car to shuttle my kids everywhere. It's great for hauling them, their stuff, my dog and gardening supplies. It has lots of room and is very comfortable. It is a nice looking car and a great color. It has lots of leg room and space between the seats so the kids don't get squished. The visibility is exceptional. It has been a very reliable car. We have had it for 7 years and kept it in great condition, so it has been very reliable.
Cons
Our older son is 21 now and I want a smaller car, so I want to sell this one.

Great Suv In Amazing Condition — This car handles like a big car, not like a truck. It has a 6-cyl engine, so it has good power. It gets good mileage for a big car, about 21 mpg average. It has always run very well. It was recalled for jumping forward in low gear but Ford fixed that and it has been fine since. I have always felt very safe in it since it is pretty big.
Primary Use: Family transportation
Todd

writes:
2005 Ford Freestyle SEL AWD
Review
Pros
Seats 7 fairly comfortably, AWD is nice.
Cons
Lacks low-end power, grunt (if you will).
Rather Have A Porsche But Good For Getting Around Town And Driving On The Snow. — Quiet, dependable, comfortable vehicle. Ours has leather a sunroof, a nice stereo. I wish it had more low end power. The CVT transmission (shiftless) doesn't have the get up and go that you would expect. We wish the gas mileage was a little better, but it does have AWD and traction control, which is great for the snow, soooooo....
Primary Use: Commuting to work
2005FreeStyle215

writes:
2005 Ford Freestyle SEL AWD
Review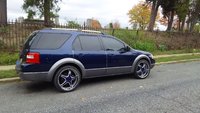 I Love My Freestyle — I would buy another one.It is very comfortable to drive, with the wheels I put on it seems like everywhere I go someone stops to talk to me. It is one of the nicest SUVs I ever saw. I would recommend a friend buy one.
Primary Use: Family transportation
shimigold

writes:
2005 Ford Freestyle SEL
Review
Pros
All around great family vehicle.
Cons
We opted for 6 seats, in hindsight could have really used the 7 seats. Also 4 speed instead of 5 or 6.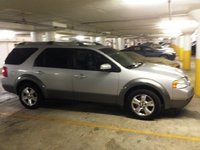 lvnjenn

writes:
2005 Ford Freestyle SEL
Review
Pros
Better Gas Milage than the comparable crossovers bcuz of the CVT transmission. Roadtripper heaven! This car is perfect to pack up the whole family coolers ezup bikes roof rack on top and hit the road! Height of the vechile makes getting in and out easy for older adults or persons who have trouble bending or climbing onto other vechiles and a wheelchair or walker are easy to load and unload bcuz the flat cargo area and no lifting over the truck edge. Ac/ heater controller on sel higher models and mine has dual climate control for those with different preferances. Rear back up sensor are a lifesaver literally. The versatility of the 2nd and 3rd rows folding flat or down seperatly or all together give u so many cargo packing options and the 3rd row seats even flip to face outward for tailgating! I like the look of the vechile and it is more comfortable in my opinion than the flex due to the fact that 3 ppl fit in my 2nd row who want to make an star person climb all the way back? Test drove the flex when it came out family all agreed our ride was better in our freestyle. We are happy campers with this amazing vechile
Cons
Ummm we'll the cvt is expensive to replace but mine is fine I exchange the gel like fluid as recommended at the dealer. The plastic levels on my 2nd row and passenger seat broke off or the spring that makes the seat pop to flip act up and that became a challenge. The back hatch hydraulic thingy that holds it open leaked all the fluid out and it wouldn't stay up the part was aprox $50 dealer wanted $170aprox to install with part included my boyfriend did it in less than 5 mins EZ! Maintaince is always expensive at the dealer...I just did the big stuff there and waited for coupons. Ride is a bit bouncy when you hit dips. Sometimes the car feels like it is surging forward like one time in the drive tru I felt I had to full press the breakdown to hold it back when I let off it pulled forward quicker than normal...I had the ac full blast and it was very hot only happened a few times but just weird... Oh the self dimming rear view mirror is too dark at times. No towing due to cvt transmission but I didn't need it anyway...

Road Tripper's Dream — Fun to drive, everyone was like why did you buy a mini van, ha! This car is sporty fun and one of a kind! Once inside they were all impressed and loved the car. It hosted several girls nite outings and many a roadtrip and has 4 cup holders per row! A bike, building material for a roof, and at least 6 girls with 10+ pairs of shoes for a four day trip will fit in this baby. The gas Milage due to the cvt is a major plus. I got 28mpg coming home from Oregon one time! Turn radius is tight. The parent mirror allows u to see ur backseat buddies too. I love my freestyle!
Primary Use: Family transportation
Displaying 1 - 10 of 23 2005 Ford Freestyle reviews.
Reviews From Other Years
Excellent Family Vehicle/highway Cruiser
This is (was) a great car that Ford mis-marketed! It blows the Ford Edge away with its ride quality and passenger/cargo capacity. Based on a car chassis, it just cruises like a long-wheelbased limo ... Read More
Very Dependable!
Extremely loaded like our Explorer was! W/o the running boards. Also Has Satellite radio. Leather,moonroof, 6 cd/changer, onboard diagnostics computer Read More
Read all

3

2007 Ford Freestyle reviews
Great Overall Vehicle
Great vehicle, bought it when I started a family and I couldn't have asked for a more reliable car. Maintained it in great condition and kept the interior and exterior clean. The navigation system is ... Read More
Beware! Very Bad Transmission, Very Expensive Fix/replace, Replace Again
Even though the gas milage wasn't great, I loved this car until the AWD went out under 3 years and then the transmission in it's third year. Ford no longer makes this car and now I know why, I wish I... Read More
Read all

7

2006 Ford Freestyle reviews
Looking for a Used
Freestyle
in your area?
CarGurus has

738

nationwide Freestyle listings starting at

$2,250

.