2005 Ford Five Hundred
User Reviews
Average Ratings from

17

reviews
Performance:
Appearance:
Build Quality:
Overall:
Review Highlights
Click to filter reviews below
Displaying 1 - 10 of 17 2005 Ford Five Hundred reviews.
Monica

writes:
2005 Ford Five Hundred Limited
Review
Cons
not rear wheel drive like I'm used to. No smoki'n tires
This Car Is Great For The Average Driver, Fast Enough .........but Not For Me — love the car but it's sure not the V8 I'm used to! only a 6 cyl... wish there were dome performance upgrades for it. I can get a K&N but not the whole intake. :( THat's my only real complaint.
Primary Use: Commuting to work
Looking for a Used
Five Hundred
in your area?
CarGurus has
927
nationwide Five Hundred listings starting at
$2,991
.
Phoenix

writes:
2005 Ford Five Hundred SEL AWD
Review
Cons
Poor qality parts and maufacturing.
It's A Solid American Car... But Don't Expect It To Last Like A Toyota Or Drive Like A Mercedez. — This car blows. For real. It sucks. But it's my car and I love it. His name is Schnookims and I'm probably stuck with him till he is totaled. Car fun to drive. If you don't mind praying to not have a random gas-line related break down. It's pretty cheap to own. In the last five years I've had to put in 2,500 for problems... but it's not that bad. This is the ugliest car you've ever seen. Trust me. The Aztec has nothing on the Five Hundred. If you're 60 and a man you might like how the car looks. I'm 21 and a young lady and I think it looks like a middle-aged-man-mobile. The car drive great- when it drives.
Primary Use: Commuting to work
Joe

writes:
2005 Ford Five Hundred SEL
Review
Cons
Not a v8, but not bad
Kent

writes:
2005 Ford Five Hundred Limited AWD
Review
Pros
Solid handling, lots of features for the money.
Cons
Sub-par interior materials, overall engineering lacks sophistication.
A Good Effort, But.... — I bought this car because I'm getting old and figured it was time to get a grown-up car! Did a lot of research and decided that I got a lot of features for the money (I bought it when it was 1 1/2 years old). The fact that ath the time Five Hundred's were selling for a lot less than the competition on the resale market should have told me something.... Performance is okay. Acceleration won't cause any whiplash and no danger of detached retinas from the brakes, but both are adequate for commuting to work and running errands around town. The suspension is actually pretty darn good for such a big car, I'd even venture to characterize it as somewhat 'European'. I guess that's not too much of a stretch considering that it's based on a Volvo-derived platform. And I certainly did get an awful lot of features for not a whole lot of money. This car is absolutely loaded with bells and whistles that would have cost several thousand more on an Accord or Camry. Also, the interior of the car really has a pretty nice layout that I'd put up against any of the mid-level European or Japanese sedans--for looks. The quality of the materials is definitely not on par with the competition...lots of cheap feeling plastic that quite frankly I've found typical in American cars. General reliability has been pretty good so far, but there are some problems that I would classify more as design flaws. The CVT transmission is amazingly noisy and if I had to do it over again I'd opt for the non-AWD version with the 6-speed auto. Also, the power steering system puffs and wheezes like crazy during low-speed maneuvering which seems to be endemic to the first run of Five Hundreds (the new 'Taurus' version has a more advanced electric-assist system). There's also the tendency of the water drain system in the doors to clog which allow the doors to fill with water when it rains real hard. Where this car shines is on a cool, sunny day while crusing down the interstate with the sunroof open. Better than anything Ford's offered up until 2005, but the car could definitely benefit from a materials upgrade and a little more sweat in the details.
Jesse

writes:
2005 Ford Five Hundred Limited AWD
Review
Cons
You want a sporty car
Great Overall Car — - The car was not made for preformance -Build is fair -Appearance is blah -Cost is great, only regular maintence has been required -The cars fun because it is comfortable, is great in all weather and looks like an old man car lol
michply

writes:
2005 Ford Five Hundred SEL
Review
Pros
Low Maintainance vehicle, comparable with Japanese and European cars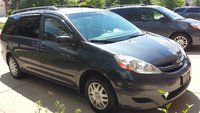 Great Family Car — Great Car for family.Has all features user friendly. Excellent road grip.Value for money . Quality of this vehicle has surpassed my expectations. With Vehicle frame coming from Volvo platform, excellent road view for short people. 5 star side crash rated vehicle. Definitely recommend for friends and family
Primary Use: Family transportation
vinomanca

writes:
2005 Ford Five Hundred SE
Review
Pros
Great overall reliable car. Very little work above basic maintenance.
Cons
I'm a really big guy. 6'3" 370. I can fit just barely. Nothing else other than that,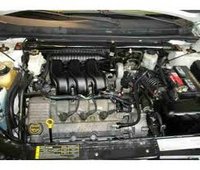 Good Reliable And A Great Value. — Good clean comfortable car that performed well. Plenty of room for a mid size car that is dependable. Good gas mileage for the size car with enough power to do what you need to do. Just a good overall car.
Primary Use: Family transportation
Ken

writes:
2005 Ford Five Hundred Limited
Review
Pros
She knows point A. She knows point B. She knows how to get from one to the other.
Cons
About as fun to drive as watching paint dry.
Crossing My Fingers — When Ford made the mistake of calling the Taurus the Five Hundred and Mullaly (CEO of Ford Motor Company) knocked some sense back into the company, I wondered how this was going to make owners like me feel about having a vehicle that even Ford wasn't quite sure of. Well, I've gotten over it and this faux Taurus and precursor to the 2010 design change is what it is: a big car with an engine that's too small to energize you as a driver and looks that would make anyone say, "Eh." There have been recalls (rear brakes, harsh transmission shifts, etc) that have all affected me and my pocket book. But in the end, at 91K+ miles currently, 3 sets of wheels and regular oil changes have kept this Titanium Green honey going. It's my daily commuter. It's fine. And surprisingly getting me 27 mpg. I think it'll go another 80-90K, but that's crossing my fingers really, really hard.
Primary Use: Commuting to work
Krueger

writes:
2005 Ford Five Hundred Limited
Review
Pros
Very reliable,heated seats,good visibility as windows are large enough to see other objects, moon roof, roomy trunk.
Cons
Hanger for clothes is poorly designed and basically unusable, 18" tires costly to replace, the paint finish does scratch easily.

In Love — I love this car. It is comfortable and handles all my daily needs well. I have not put much money into this car for repairs but the major items I have replaced have been tires and the airbag deployment thingamajig. Most reliable car I have owned.
Primary Use: Family transportation
Rich

writes:
2005 Ford Five Hundred Limited
Review
Pros
Features, comfort, gas mileage
Cons
Plain jane appearance, even with it's new 2008 Taurus badging
Ford Five Hundred — Performance is adequate Quality is good so far Styling is tame but adequate Very inexpensive for what you get Not really a fun car, but very comfortable with all the bells and whistles. Great gas mileage--average 26mph with mixed driving. Would definitely recommend so here are six more words...
Displaying 1 - 10 of 17 2005 Ford Five Hundred reviews.
Reviews From Other Years
Great For Families (race Drivers Beware)
What can you say about your first car. It has never let me down, even after I drove over a round-about and popped all four tires, it still made the 5 mile trip to the auto-shop without a problem. Love... Read More
Great Looking Car...but.....
This throttle body, surging, erratic dash gauge light issue has put a damper on an otherwise great car. Fords inability to acknowledge or to take interest in these issues makes one wonder if they woul... Read More
Read all

12

2006 Ford Five Hundred reviews
Serves It's Intended Purpose Well
Bought used so wasn't as pristine as I would have liked, and it's black so keeping it looking nice isn't the easiest task. We love the big car ride and that Ford parts and repairs are reasonable, comp... Read More
Work Car
Great car with tons of room for a sedan. Gas mileage is awesome for the way I drive it. Good looking car for a sedan, good stance, good handling, tires are costly to replace. Passenger front seat f... Read More
Read all

7

2007 Ford Five Hundred reviews
Looking for a Used
Five Hundred
in your area?
CarGurus has
927
nationwide Five Hundred listings starting at
$2,991
.