2005 Chevrolet Colorado
User Reviews
2005 Chevrolet Colorado Review Ratings
Average Ratings
from 17 reviews
Performance:
Appearance:
Build Quality:
Overall:
Review Highlights
Click to filter reviews below
Displaying 1 - 10 of 17 reviews
Hawkeye2012

writes:
2005 Chevrolet Colorado 4 Dr Z71 LS 4WD Crew Cab SB Review
Pros
Durable and very reliable mid sized truck. Very good fuel economy on the highway. Comfortable to drive and handles well in all weather conditions.
Cons
Being a crew cab, the box is shorter than I'd like.

Great. — I've had the truck since it was new. Unlike other trucks I've owned, this has been by far the most reliable truck for a mid size. I've had a Ford Ranger 4X4 also, and the GM out does it virtually every catagory.
Primary Use: Commuting to work
Looking for a Used

Colorado

in your area?

CarGurus has

3,953

nationwide Colorado listings starting at

$3,899

.
Heather

writes:
2005 Chevrolet Colorado 4 Dr Z71 4WD Extended Cab SB Review
Pros
the color and spray in bedliner
Cons
back seats are too small and uncomfortable
Awesome Z71 — I love my truck, it is large enough to do the work I need to do on the farm but without the horrible gas mileage. Good performance for the newly designed Inline 5 but not as much power as a V-8, of course. Nice looking truck that I love to drive!!!!!!!!
J.M.

writes:
2005 Chevrolet Colorado 4 Dr Z71 LS 4WD Crew Cab SB Review
Pros
Everything was great on this truck.... no major problems over 350,000 kms and many more to go
Cons
The only thing I hate about this vehicle is the fact that I no longer need it and that I have to sell it.
Great Vehicle And Good Times — I have had this vehicle for over 6 years now and I have over 350,000 kms on it. No major breakdowns or repairs to be done. Regular maintenance and up-keep is all that was needed. I am surprised that this vehicle does not have a spot of rust showing anywhere, even under carriage and frame, and for a vehicle traveling in Canada on very salty roads in winter, and living on the Sea where air even has salt in it. Great vehicle and if I needed to have another pick-up, I would by the same. Sold the vehicle to a friend of mine which shows that I do believe that there is still lots of good driving to be had with it.
Primary Use: Commuting to work
Squatt

writes:
2005 Chevrolet Colorado 4 Dr ZQ8 LS Crew Cab SB Review
Pros
ZQ8 Factory Lowered Suspension
Cons
Not many aftermarket performance parts available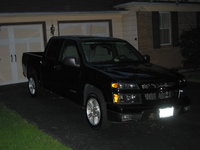 Good Value — ZQ8 Sport-factory lowered suspension package makes it drive like a car rather than a truck. Respectable power for L5 auto with use of premium gas. G80 locking rear does well in snow, no need for 4x4. Shortbed has enough room to carry 4x8 sheets. Fold down rear seat convenient for shopping.
Primary Use: Family transportation
Chris

writes:
2005 Chevrolet Colorado 4 Dr Z71 LS 4WD Crew Cab SB Review
Pros
Price, gas milage, durabliity, room
Cons
Suspension, low ground clearance
Chevy Colorado — very good gas mileage, decent power, no trouble towing, lots of room. It has good visibility and looks great. Problems are it has cheap interior parts, although they are very durable. The rear suspension often sits down. Is very nice if you had a lift. Reccomend at least a 2 inch lift with bigger tires. I would reccomend this car for anyone who wants good gas mileage, with occasional light towin and offroading. Great highway truck
Zakkery

writes:
2005 Chevrolet Colorado 2 Dr Z71 Standard Cab SB Review
Back To Front Sexiness — awesome truck, fast, runs great, looks sexy as hell, straight 5 vortec engine, slick black, this car drifts amazingly, handles great for a truck, light almost 3000 pounds, very fun to drive, seats 2, pure reliablity, its a chevy! duh!
Primary Use: Sport/fun (spirited driving, track racing, off-roading, etc.)
Grant

writes:
2005 Chevrolet Colorado 2 Dr Z85 LS Standard Cab SB Review
Pros
Good acceleration, nice lines, fun to drive.
Cons
Remembering to push the traction control button.
Good Driving Truck With Plenty Of Acceleration. — Good acceleration for an I-5. Good brakes, handles curves well. Developing some small rattles now. No major repairs yet. Just routine maint. Nice lines, good footprint. City driving 18 mpg., highway 21. Very fun to drive. Going for upgrades.
Primary Use: Commuting to work
Robert0214

writes:
2005 Chevrolet Colorado Review
Pros
great looking vehicle, everybody stops me to compliment about it, very efficient on fuel, added a cold air intake (that made it sound better and add more hp)... in a nutshell ,my baby!
Cons
not a family vehicle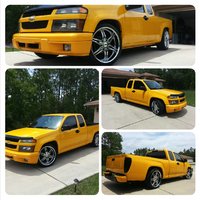 Neck Breaker. — I love everything about this truck, don't dislike anything from it. Love taking my baby cleaning my baby and taking her to the car meets, is almost a show car, just need to add a show car interior and it would be completed. Also has a nice stereo system with a 800 watts amp and 2 12" sub. No rust at all, keep the under hood and engine compartment spotless.
Primary Use: Commuting to work
Stefan_The_Swede

writes:
2005 Chevrolet Colorado 4 Dr Z71 LS Extended Cab SB Review
Pros
Looks cool and has fair gas milage
Cons
Road noise from tyres

2005 Chevy Colorado Ext. Cab 4x4 Z71, Big Chief — I (28 yrs old) live on a farm in Sweden and I use the truck daily. My driving habits are small gravel roads and larger country roads, in some cases in poor condition, and limited city driving. The performance of the Colorado with the 3.5L engine gives the truck good acceleration and fair top speed. Passing cars is easy. My truck has ABS breaks and the truck halts on demand without problems on dry tarmac. The ABS breaks does the job on icy roads and stability is kept when breaking. When it comes to handling I would say it is fair upp to 100 km/h without any payload. Above that speed require an alert driver, unless you drive on an airstrip. The best handling is achived with 300 kg in the back. I noticed that the unused seatbelts rattles on passenger side on the low speed bumpy roads and the rear axle don't give much comfort there (emty truck, much better with load). The cab is fairly quiet and comfortable on larger roads. The sound from the tyres annoys me a bit in speeds above 90 km/h (tyres are threaded for tarmac). For offroad use, this model is ideal. Push a button for low gear and the truck stops for nothing, unless you woud get the idea to drive out in a swamp. The suspension has a great traveling distance and keeps the tyres in contact all the time. It is really extreme and I have never towed the truck. My truck is equiped with everyting but leather seats and the interior is appealing compared with Nissan, Isutzu, Mazda and Toyota trycks. The suicide doors come in handy when storing various stuff behind the driver/passenger seat. The sound system is very poor in my opinion. The stock CD-player is low quality and so are the speakers. I have to replace it all now after only 7500 km. The exterior is very appealing with sidesteps (bars), fender extenders, roll-top and a stainless steel grille guard with extra lights. The extended fenders does work and they have kept the paint intact (7500 km) on the sides of the truck. Gas mileage is very good concidering that the engine delivers 220 hp, it is a 4x4 Z71 and runs on gas. I get about 60 km on a tank of gas. Regarding maintainance, change oil, filters and sparkplugs. Thats all. The fun factor of this truck is high. It's light weight gives it good acceleration and I enjoy buring some rubber and power slides can be done in a controlled way on dry tarmac. Friends and new people I meet think that the truck looks cool and they are all impressed of acceleration (it is a truck). I would recommend anyone to buy this model if you intend to haul light weight goods/trailors or just use it for driving to work.
Darren

writes:
2005 Chevrolet Colorado 4 Dr Z85 Extended Cab SB Review
Pros
Looks, power, chick magnet
Cons
Sheet metal dents easy, hard to keep clean
Chevrolet Colorado — Peformance wise, it goes pretty quick for the 4 Cylinder model The quality care used by the people from Shreveport; you can tell they put their hearts into making the truck. Its a very fun truck to drive. It handles well around corners and everything and whenever i wanna have fun, it does what i want it to do!
Displaying 1 - 10 of 17 reviews
Ask CarGurus about the 2005 Chevrolet Colorado
Average response time:
8.5 hours
,
# of Chevrolet Colorado owners:
945
Looking for a Used

Colorado

in your area?

CarGurus has

3,953

nationwide Colorado listings starting at

$3,899

.