2004 Volvo XC90
User Reviews
Average Ratings from

16

reviews
Performance:
Appearance:
Build Quality:
Overall:
Review Highlights
Click to filter reviews below
Displaying 1 - 10 of 16 2004 Volvo XC90 reviews.
Blessed01

writes:
2004 Volvo XC90 2.5T AWD
Review
Pros
New brakes, Rotors, Tires and Transmission
Cons
minor issues nothing major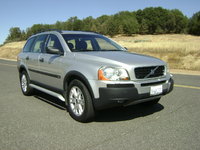 Looking for a Used
XC90
in your area?
CarGurus has
2,062
nationwide XC90 listings starting at
$3,899
.
Jonathan

writes:
2004 Volvo XC90 2.5T
Review
Pros
Styling, fit and finish, practicality, MPG, features
Cons
Sits a little lower than my preference, premium petrol
So Far, So Good. — The performance is right on par with other luxury vehicles from this time. Firm, but not stiff, steering and suspension. Transmission is very smooth. Not an overabundance of power, but it is fun to drive. The build quality appears impeccable. Everything is quality - no squeaks and rattles. I get about 21 mpg average right now.
Primary Use: Commuting to work
4x4nut

writes:
2004 Volvo XC90 2.5T
Review
Pros
Fantastic work horse, with refined area for passengers/air con/ leather/ heated seats/ parking sensors, everything you could want. love the tiptronic for a bit of fun too!
Cons
Turning circle, this is the second one I've had and it turns like a ship, 5 point turns realistically! Diesel fuel economy isnt as good ast 185bhp apparently.

James Is Part Of The Family Team, Ensuring A Safe Return Every Time! — I bought this car in Aug 2009 secondhand from a dealer, the prices were astronomical, but it hasn't cost me a penny until the service this year 2012. I'm not a spring chicken, but the insurance is always less than £300. The best bit is the car tax is £245 instead of £400!. There was a crack on the drivers side electric controls part of the seat and the rubber spring/grip had perished on the filler cap. I was disappointed that the Volvo dealership took the car for its MOT and failed it on the bushes, however, when I took it to a local Volvo specialist he passed it and said they were worn but didn't need replacing! The main dealership also collected the car and racket up 75 miles extra and brought it back with a dent in the bumper, which they denied doing! Not impressed with them. The car runs sweetly, have just had the filter replaced in the Air-con and its great (sinus problems seem to be alleviated!) When driving partly on the motorway and a lot round town I'm getting 31mpg. I was going to get it chipped to 185bhp but the insurance company was not too impressed. It gets left outside so it can be a bit sluggish in the mornings, but when its warmed up it goes very well. It can still see off a BMW saloon round a 360 degree slip road with a large downward gradient, so handling is brilliant! The integrated booster has really come in handy when transporting older shorter children. I need to get the cam-belt done soon and that is a bit hefty, but well worth it. Also the key spring has gone in both keys making them very awkward to store in pockets/bags etc, but the local specialist said he wants to try and fix it otherwise its a hefty £80-100 each.
Primary Use: Family transportation
Oscar

writes:
2004 Volvo XC90 2.5T
Review
Pros
Comfortable ride, it has an awesome seal from the outside noise. Love the sunroof. Power train is great, step on the gas and it takes off like a jack rabbit.
Cons
Engine light on and off to frequently, I've learned to ignore it, and the message center frequently telling me about time for regular service.
An Awesome Vehicle — So far dependable and safe. Perform normal service and will last for years to come. Use premium grade oil and filters. Don't use regular gas. Make sure tires are at normal air pressure. Enjoy the ride and be safe. peace.
Primary Use: Commuting to work
Sa_Love

writes:
2004 Volvo XC90 2.5T
Review
Cons
Crapy navi on this year's model

Great Car For Moms But Still Stylish Enough For The Dads — Very heavy, solid vehicle. Decent on gas being that it is a "SUV". Beautiful styling. Navigation system is unreliable however, the "pop up" position is a plus. The cost of ownership / maintenance is relatively low for the quality of vehicle. It's a enjoyable car to drive for a mom who likes to transport her son and his friends everywhere!!
Primary Use: Family transportation
Doug

writes:
2004 Volvo XC90 T6 AWD
Review
Volvo Xc90 — Good car. Fuel mileage is horrible, even acknowleging the weight of the vehicle. Really nervous about the transmission, as have heard horror stories about the GM trans mated to the 2.9L motor wearing out at 50-100K. Car has just over 50K on it now, and is starting to make some interesting noises from the front end. Goes like a bandit in the snow, though!
Twyla

writes:
2004 Volvo XC90 2.5T
Review
Pros
Fun, fast, affordable luxury and soo safe.
Cons
That I didn't meet her earlier in my life!!
Volvo Xc90, Not Your Mother's Suv — This machine handles so well. Cornering, acceleration, braking and quiet. It handles roads in the winter better than most others out there, including the 4x4s. It makes me happy sliding behind her stearing wheel. As far as vehicles go it is my most fave. Even the sound system rocks... but it isn't needed to cover the noise of this machine, she is a quiet beauty. The interior is beautiful, comfortable and the heated seats are awesome!! Tilt, telescopic stearing wheel, sunroof and heated seats are all standard. The only thing that would top her is the muscles of the 60's and 70's, but that is a different drive all together.
Primary Use: Commuting to work
Iertare

writes:
2004 Volvo XC90 2.5T
Review
Pros
It's powerful, goodlooking, excellent handling, fuel economy is better than stated, and reliable!
Cons
The sunblind is lacking a pullout.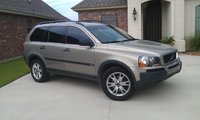 I Loved This Car!! Still Do...hate To See It Go! Wish I Could Get Another One. — This SUV does so many things well: the engine is powerful and smooth, the steering is firm yet easy, comfortable and flexible seating configurations, love the intergrated child booster and that the center console is made to be easily removeable and the childs seat can be pulled up very close to the front seats!
Primary Use: Commuting to work
Sflattem

writes:
2004 Volvo XC90 T6 AWD
Review
Pros
Twin Turbo AWD, 3rd row seats, leather, moonroof, dual climate control, rear air, premium sound system, power heated mirrors, child booster, WHIPS system, keyless entry, fog lamps, AWD, leather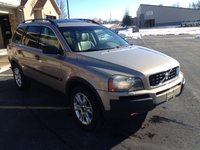 Very Clean, Reliable Safe Family Car — This is Americas safest car around! Very reliable, safe, durable, yet, sleek and modern looking! The comfort of the seats makes any drive very comfortable, the built in booster seat, means youll never be with out one! Plus the 3rd row seat makes driving your kids around easy to do!
Primary Use: Family transportation
gdean777

writes:
Pros
Great family car. Comfortable and quiet. Feeling of driving a heavy duty safe SUV.
Cons
transmission is bumpy and slips and is historically known for transmission problems.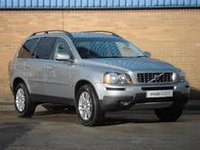 Not As Hardy As We'd Like — I was hesitant to purchase this car due to the transmission issues that are well documented on the internet. We decided because of the perfect service records and low milage that it was worth the risk. I think we made a mistake. With only 128km the transmission service light is on and the gears shift roughly once we get into city traffic and the engine is warmed up. We are dreading the visit to the mechanic. With all the horror stories about transmissions being replaced we feel we may be in line for one ourselves. Update. Well before we could even take it in to the mechanic, the transmission failed on the highway in traffic with my wife and kids aboard on Christmas day. We had to be towed at 40 miles an hour to our destination taking 4 hours. More to come on the outcome. Mechanic recommended rebuilding the transmission costing 2000.00 usd. That was over a year ago and we have not had any other issues other than a rusted tailgate rod that kept us from opening the back. We had to have it replaced for about $100. Other that that we have taken long road trips with no problems. Hopefully we will get another 128,000 km out of the rebuilt transmission.
Primary Use: Family transportation
Displaying 1 - 10 of 16 2004 Volvo XC90 reviews.
Looking for a Used
XC90
in your area?
CarGurus has
2,062
nationwide XC90 listings starting at
$3,899
.