2004 Volkswagen Touareg
User Reviews
2004 Volkswagen Touareg Review Ratings
Average Ratings
from 25 reviews
Performance:
Appearance:
Build Quality:
Overall:
Review Highlights
Click to filter reviews below
Displaying 1 - 10 of 25 reviews
Bobby

writes:
2004 Volkswagen Touareg V6 Review
The Touareg — touchy brake pedal- a little too bitey for my taste, but it shed speed without alarm, even in panic mode. Good 4wd system for control, but useless for pulling anyone out of a ditch. Overall, a solid 8. Good car.
Primary Use: Family transportation
Looking for a Used

Touareg

in your area?

CarGurus has

2,409

nationwide Touareg listings starting at

$4,500

.
DOCKLINE3

writes:
2004 Volkswagen Touareg V10 TDi Review
Pros
Comfort, speed, safety, economy, power
Cons
Didn't like working with VW service centers but you can find local independent service people that will look after you just fine.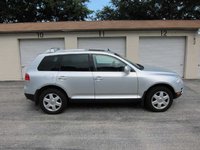 Great Car — We have really enjoyed this car. Its stylish with a 'never go out of fashion' look, has looked the same since it came out in 2004, the sister car of Porsche Cayenne but more powerful with an animal under the hood. OOzes with quality. It takes off like a spaceship with an Audi V10 TDI engine that has won formula one races for them. You feel really safe inside like a tank. In cold weather, the seats and steering wheel heat up, each seat with its own comfort controls same with the ac.
Primary Use: Commuting to work
vindmana

writes:
2004 Volkswagen Touareg V8 Review
Cons
High maintenance cost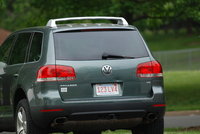 Awesome! — I would love to own another one. The maintence costs were high however the comfort, handling, and performance more than made up for the down side. The 2004/ 2005 model years were prone to some defects but they also came with the option for a V8 and self-leveling suspension; both very cool features.
Primary Use: Family transportation
Logan

writes:
2004 Volkswagen Touareg V8 Review
Houareg — This truck is sick! I can't wait to take it to the mountains this winter and take the mountain. Great performance. Loves to drink fuel, a little expensive on the long end. It's a very fun vehicle to drive. I can coax as much power out of this vehicle as I could out of a turbo'd nissan.
Adrian

writes:
2004 Volkswagen Touareg V6 Review
Pros
Very good car, Great engine. Never cheap but great deal used.
Cons
Rear visibility. VW is no longer a peoples car. Expensive new.
A Luxury Suv From Vw? — We know VW as the peoples car, but recently they have moved upmarket with the Phaeton and now the Touareg. same car as Porsche Cayenne v6 except for styling. Both built in the Porsche factory in Zuffenhausen Germany. Rival cars, BMW X5, Mercedes M class, Cayenne, Land Rover Discovery, etc.
Jamie

writes:
2004 Volkswagen Touareg V6 Review
Pros
Comfortable, roomy and dependable.
Peter

writes:
2004 Volkswagen Touareg V6 Review
Cons
Heavy car, needs more power, expensive service, a bit boring
Safe But Annoying — The thing about this car is that it really depends on where you drive it and how. Now has a low rev gear box and individual wheel drive ( or what ever it is called ) for off-roading, so it should be good out there. On normal roads the Touareg is huge. When driving it you can feel how the wind catches the cars side. The car has loads of grip, since it ways closer to 3 tons, so it is safe in the snow and on ice. However, when you run out of grip, there is no chance of a recovery. In the cities you have either got to be a master of parallell parking or rich enough for car parks, and even in the parks you need to scan the place for the bigger parking slots. The build quality varies, apparently, with how much milage you have. Our car has been fine until about 160 000 km, when everything decided to brake at once, and the service station didn't help when they broke the rest of it while fixing the other parts. Bottom note is that it is a safe car, but you need money and patience to own it.
Primary Use: Family transportation
Sparkle13500

writes:
2004 Volkswagen Touareg V6 Review
Pros
Fast, fun to drive, quiet engine, cabin. great breaks, see more above....
Cons
Cost to fix, premium gas....

2004 V6 Volkswagen Touareg 3.2 L....amazing Rig!!!!!!! — I love my 2004 TOUREG V6 AWD vehicle! I was looking at a jeep seeing as I have 4 big dogs and needed something rugid...the touareg was a government trade in vehicle...why they traded it in I still don't understand! Lots of cabin space, auto windsheild-wipers, nice heated leather seats, "peppy" engine with tip-tronic, dual climate control, realible car all the way aroound! My only issues would have to be price to fix parts and the whole premium gas thing but then again, nice cars always take premium so seeing that the TOUAREG is a luxury car, it's to be expected. The car has the turning capabilities of a sedan and the breaks of a porche. Quiet engine, very quiet ride, you don't really hear outside noises. If you like musc you are in luck! The TOUAREG has a great STOCK sound system with speakers in more places then you could imagine for optimal listening. I love going around racing people in it. Just driving the car in general gets me excited! I'm not a snow driver but when we had a big snow storm about a month ago, I sure did learn how with the help of the amamzing AWD machine. The traction control is anything but dull...Amazing if you ask me! Great for all driving conditions.
Gary

writes:
2004 Volkswagen Touareg V8 Review
Pros
Quick at any speed 310hp v8, gorgeous lines and curves, versatile SUV with fully capable rear and center differential and 19" range air suspension, and luxurious fit and finish inside with firm leather seats and ample standard accessories.
Cons
16mpgs, not an intuitive Navigation System, expensive long-term maintenance - 80k checkup requires new timing belt at approx $1500 labor and parts.
Touareg (love It) — I'm a VeeDuber for life because of the Touareg - An off-road vehicle that could handle as a sports car. Call me preppy, i even bought my wife the Touareg's cousin the Audi Q7. Both SUV's are built out of the same factory in Bratislava, Slovakia.
Ryan3171

writes:
2004 Volkswagen Touareg V8 Review
Pros
Superior offroading prowess
+ Strong V-8 and V-10 TDI performance
+ All-terrain maneuverability
+ Safety features
+ Towing capacity

Cons
Tiny auxiliary gauges
- Demanding 4WD controls

Luxury And Realism Combined — After owning and looking at several vehicles, I found the Touareg to be a fantastic blend of handling and luxury with that german finish. The interior appointments are some of the finest in the industry. The exterior styling not only, in my opinion, is fantastic but also useful. The overhangs are short for more front and rear clearance, but the base ground clearance (without airt susp.) works for the vehicle. It isn't too high that the vehicle feels like it going to tip when taking it for one of those brisk drives, but just right. High enough to have more than average gropund clearance and excellent road performance for a sport utility vehicle. Overall the fit, finish, and performance have been fantastic. I have had absolutly no problems with my vehicle either, so I would have to say the reliability is fantastic too
Displaying 1 - 10 of 25 reviews
Ask CarGurus about the 2004 Volkswagen Touareg
Average response time:
8.5 hours
,
# of Volkswagen Touareg owners:
647
Looking for a Used

Touareg

in your area?

CarGurus has

2,409

nationwide Touareg listings starting at

$4,500

.