2004 Toyota Matrix
User Reviews
Average Ratings from

16

reviews
Performance:
Appearance:
Build Quality:
Overall:
Review Highlights
Click to filter reviews below
Displaying 1 - 10 of 16 2004 Toyota Matrix reviews.
plato

writes:
2004 Toyota Matrix 4 Dr STD Wagon
Review
Cons
still thinking.. oh yes, hard seat on long trips

Rating Says It All — purchased vehicle used in 2006.It had 82000 kilometers (49000 miles) on odometer when purchased.Immediately changed oil to Mobil 1 5-W-30 synthetic, drove for a week & changed again.Oil & synthetic filter is changed every 4 months, regardless of mileage, & goes down the width of a toothpick between changes. This is february 2009, there is now 126,400 kilometers (75600 miles) on vehicle & still running like day I bought it! I did change spark plugs (replaced with factory originals)when I purchased it. I quite regularily make a 240 mile trip north form my home, half on 4 & 6 lane hyway & half on 2 lane secondary (paved) roads. 4 lane speeds run from 110 kilo (66app mile per hour) up to 130 kilo (80app mph) & the vehicle handles great. I always average between 40 miles per gallon & 45 miles per gallon on these trips !! I convert litres to gallons using 1 gallon = 4.5 liters, which is very close to an american gallon of liquid! My only complaint? The seat gets a little hard on the derriere on long trips. solution... purchased after market plugin heated seat cushion Insert satisfied smile here ! :) Maintenance... change the oil & filter every 4 months & check tire pressure regularily. install K&N filter, clean & re-oil once a year & save your money! Fun to Drive... Darn straight it is. very decent acceleration (if I wanted to get to 60 miles an hour in 3 seconds, I would have bought a Ferrari) Very stable on hyway with no wandering or lurching around.Steering is fast & accurate(I have General 205-55-16 all season tires, they work just fine for me) & are wearing evenly (rotate every 2nd oil change) I plan on keeping this vehicle forever, & given the performance so far, that seems to be a reality more so than wishful thinking! Recommend to a friend ? Heck... I would recommend it to anyone who wants decent performance, good reliability, & excellent fuel mileage in a daily driver. I am 68 years old, have driven vehicles since I was 12 years old on the farm, have owned a trillion vehicles over all those years. I was an automotive bodyman for over 35 years, so I feel qualified to write a review, & NO, Toyota doesn't even know me, let alone throw a chunk of change my way for this review! (I wish) By the way.. I live in Ontario, Canada, so operating a vehicle in extrems of temperatures is the norm (think 20 below 0 for days at a time, & 80 above in summer !)
Looking for a Used
Matrix
in your area?
CarGurus has
1,485
nationwide Matrix listings starting at
$3,800
.
Grundlingh

writes:
2004 Toyota Matrix 4 Dr XR Wagon
Review
Pros
Gas mileage - reliability - bang for the buck
Cons
Boring - US Toyota dealers
A Typical Japanese Mule - Trustworthy But Uninspiring — Great trustworthy car. Impressive gas mileage. I have hauled just about everything from a bathtub to drywall with this car! US Toyota dealerships are the worst I have ever encountered.
Cristy

writes:
2004 Toyota Matrix 4 Dr XR AWD Wagon
Review
Pros
Exterior, Interior, ALL MINE
Cons
front farring (sp?) is flimsy, some interior features becoming loose on doors
Fun Marix Toy — Handling, braking great. Would like more acceleration, but hey, it's a V4. Hasn't needed many repairs besides the ones my exhubby caused it (25 mph right into a guard rail - MORON!)... days after we bought it. Appearance is sporty, best interior features are the wall outlet and hard plastic interior in back hatch area behind back seats. Very utilitarian! Cost is low, good gas mileage and low maintenance costs especially through Grease Monkey/Quik Lube. Fun factor?? YES totally fun to drive!! Love my car, just paid it off too!! :D
Primary Use: Commuting to work
herkyfred

writes:
2004 Toyota Matrix 4 Dr XR Wagon
Review
Pros
Very good fuel economy (we always stayed within the posted speed limit). Regular service maintenance and no major repair costs. Compact and stylish body and wheels. Has sufficient power during acceleration. Braking and handling very good. Feel safe while driving. Nice dashboard display. Built tight with no noticeable noises and/or vibrations.
Cons
With large family and adults, sufficient seating space becomes an issue. Cargo space is adequate for this size vehicle but has limitations if packing travel luggage for multiple adults.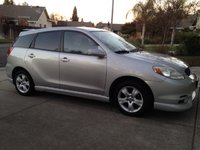 Well-built, Stylish, Sporty With Excellent Fuel Economy. — Thoroughly enjoyed this car. Regular maintenance resulted in reliability and cost savings at the end of the day. Had absolutely no major mechanical or engine problems. Car has performed in an excellent and dependable manner. We regret having to part with it due to our need for a larger sedan to accommodate our three young grandchildren.
Primary Use: Commuting to work
Wendy

writes:
2004 Toyota Matrix 4 Dr XRS Wagon
Review
Pros
nice ride feel... manageable acceleration, alot of head room for tall people, a lot of sitting and leg room for the back passengers... cargo room is great... both the interior and the exterior stylings are right on the money... love the top speed at 140 mph stock
Cons
alot of old people drives it down here in florida... so people tend to underestimate its capabilities... acceleration could use improvements... low end torque is lagging behind other small wagon competitors
Little Car That Could — i've had this matrix for not too long, and so far i'm liking it... it has a lot of potential if you have time to put your time and effort into making it yours rather then stock... it has tons of rooms, the ride feels a lot better then the ford/dodge counter parts... test drove the ford focus, and the dodge caliber, and i wasn't impressed with the way the interior stylings of either of them
Stephen

writes:
2004 Toyota Matrix 4 Dr XR Wagon
Review
Pros
Its a good all-around car, good gas mileage, very roomy, lots of storage space in the trunk
Cons
Not the first choice car for a young teenager looking for a sporty little car.
Basic Hatchback — Basic car that I paid 4,800 for and it has been very reliable. It has decent power, good gas mileage and low maintance costs. Peformance wise, its not bad for a little hatchback, it handles well, good brakes, and again, descent power out of a 1.8L. Interior is comfortable, exterior just minor hail damage. I pay about $40 of gas for 500Km which lasts me about two weeks due to school, work and hanging with friends.
Matthew

writes:
2004 Toyota Matrix 4 Dr STD Wagon
Review
Pros
Too many to mention... "the little matrix that does".
Cons
Blocky shift feeling.
This Car Is Amazing! — You ask any of my friends, this car will do anything, go anywhere, pull pretty much anything out of a ditch or snowbank. The performance of this car is great, a bit underpowered when towing a trailer and cargo o the roof, but no complaints. Interior is great, nothing is sharp, all curvy. Same as the exterior, all curves and sleek.
ifigment

writes:
2004 Toyota Matrix 4 Dr XRS Wagon
Review
Pros
Ample room for 30 MPG

Owned 5 Years And Only Changed Oil, Tuned Up. No Issues — Great value. Very fuel efficient given that it can tow a good bit and can carry a bunch of stuff with the back seats folded down. If the vehicle were to have a downside, it is poor acceleration: a small V4, but ya gotta give something to get something, right?
Primary Use: Commuting to work
Jeff

writes:
2004 Toyota Matrix 4 Dr XRS Wagon
Review
Pros
it fun fast and made by toyota
Cons
not everyones car and it is a "wagon"
Give It A Try And See What U Think — if your lookin for a car that is fun and versitle than this is the car for you. with its peppy 2zzge motor and the 6 speed manual youll never be stuck in the back and with the hard plastic in the trunk youll never worry bout what to put in the car but how much u can cram in it.
Primary Use: Sport/fun (spirited driving, track racing, off-roading, etc.)
Displaying 1 - 10 of 16 2004 Toyota Matrix reviews.
Looking for a Used
Matrix
in your area?
CarGurus has
1,485
nationwide Matrix listings starting at
$3,800
.