2004 Saturn ION
User Reviews
Average Ratings from

25

reviews
Performance:
Appearance:
Build Quality:
Overall:
Review Highlights
Click to filter reviews below
Displaying 1 - 10 of 25 2004 Saturn ION reviews.
Angie

writes:
2004 Saturn ION 3 Coupe
Review
Pros
good gas mileage. dependable.
Cons
Minor problems, i.e. ignition switch bad twice in 3 1/2 yrs.
Looking for a Used
ION
in your area?
CarGurus has
1,441
nationwide ION listings starting at
$495
.
Matthew

writes:
Pros
Strong Ecotec engine. large trunk. good mpg
Cons
Interior fit and finish. Styling. Not at all engaging to drive.
Plastique: The Saturn Rocket — Well, you get what you pay for. In the fall of 2003, my options were a 4-yr-old Civic, or a brand-spankin' new Ion. The promise of a warranty brought me to the Saturn dealer. Well, that and a rediculously high trade-in on my barely-running Subaru. What I hate most about this car is that while it really does nothing terribly, it also doesn't do anything else more than just ok. Being a pre-Lutz era GM product, it "Runs Bad Forever". It's like an old cat that you just want to die so that you can get a new kitten that won't piss on your clean towels, that just keeps pissing on the towels, and NOT dying... Every morning I wake up hoping that it's been stolen and set on fire... It will get you from point A to point B, but don't expect much more.
9 of 13 people found this review helpful.
You found this review helpful
Dillon

writes:
Pros
unique tires, leather upholsetry, 6-disc cd changer, speedy on city roads, stand-out-of-the-crowd blue color, good gas mileage, decent-sized trunk
Cons
rear window doesnt roll down, shakes a little after you put it into park, a/c saps acceleration, side-view mirrors don't move elcetroinically, back door has truoble shutting all the way, back seats seemed cramped, no sunroof or spoiler :(
Cool Car — the acceleration is very good in my opinion, better than the old saturn we used to have. the brakes are smooth, and they don't jerk at all, and they are quick when pressed. handling is quite easy, steering is very good. not to hard or rough. build quality is ok. it needs some repairs like the rear window doesnt roll down. the battery did die once over the first year, but thats because it was used and it is 4 years old now, so it probably needs a new battery. appearance is what drew me to it. the electrick blue color, the unique shiny wheels, the leather upholstery. 6-disc CD changer (thank god). interior is much more modern than older saturns. love that the speedometer is the middle of the dash. gas mileage is good. only get gas maybe 2-3 times a week. it does need attention in the maintenance. it is very speedy and very smooth, and an all around fun car to drive.
topsecretauto

writes: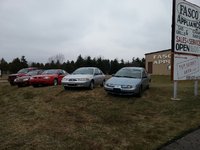 I Loved This Car! Great Deal And Great Gas Mileage!! — I was super sad to see this car sell... I loved driving this car! It got great gas mileage! Had room in the trunk to put groceries, It was fun to drive, I only wish they still made Saturn Ion's.
Primary Use: Commuting to work
John

writes:
Pros
easy to work on, very easy to drive, still has a lot of miles left in it
Its A Good First Car But I Wouldnt Want To Keep This Thing Forever. — Pretty good on gas milage for being a bigger sized car. its only a 4 cylinder and braking is pretty good. I barely have to put any money into it except for gas since i drive a lot but it gets around 25 mpg. overall its a fun car to drive i am the cars second owner i bought it from a family that bought it new. it currently has around 128,500 miles on it.
Primary Use: Commuting to work
Dave

writes:
This Car Sucks — personally i think that my saturn ion is a peice of crap it handles like a boat it has absolutley no power for acceleration i guess it brakes good. the front shockes are junk. it looks like a kids toy just in larger form. it is boring to drive. The only good things i can say about it is its good on gas and gets me from a to b. sorry to those jobless people out there but if all you can afford to pay for the gas in a car you shouldent be driving it at all
Primary Use: Commuting to work
Chris3195

writes:
Pros
Pretty much nothing. It started when I turned the key.
Cons
Dent-resistant body panels made the car feel cheap as dirt. No ABS or side airbags.
Manual everything. 14" wheels. I could go on and on... They don't make them anymore.
Take that as a hint.
A Hot Mess... — This was my first car. I'd be lying if I said I missed it. It was about as base as one could get a new car these days; manual windows and locks. I DID have A/C and a CD player though! Build quality was poor. This car was cheap to buy and certainly felt like it. It eventually met it's demise.
Joseph

writes:
Ionic Breeze. — It's peppy on the highway, but has major flaws in interior build quality, comfort, handling, and general part selection. It has reliability issues with the transmission, and no way to refill it without going to see either the dealer, or an ACDELCO specialist, because your standard Pep Boys won't know how to touch that thing. It has excessive amounts of body roll, and issues with aerodynamics. A slight gust on the highway will want to propel it into the other lane, and also limits its top speed to 100mph. Seats are exceedingly uncomfortable on long trips. Even an hour and a half drive to my ex-gf's house made me want to pull over and rest my butt. And the styling on the sedan? Positively super-gleeful looking. Not aggressive whatsoever. And don't even get me started on blind-spots. On the plus sides: It has pretty good stock speakers. And the instrument "pod" in the middle is a pain at first, but now I'm so accustomed to it that it bugs me not to drive with the instruments situated there. And, like I said. Peppy acceleration. It won't win any drags or anything, but it will get you from point-A to point-B relatively effortlessly.
Douglas27

writes:
Pros
The tachometer and speedometer are not located behind the wheel, but in the center dash at the same level as the side mirrors, tilted toward the driver. This is the best position for them bar far.
Cons
The gear-shift light on the dash kept making me thing something was wrong because it kept lighting up.
Nick

writes:
2004 Saturn ION 3 Coupe
Review
Pros
Suicide rear doors, peppy, dent resistant panels, great gas mileage.
Cons
speedometer display is in the middle of the dashboard
Displaying 1 - 10 of 25 2004 Saturn ION reviews.
Looking for a Used
ION
in your area?
CarGurus has
1,441
nationwide ION listings starting at
$495
.