2004 Saturn ION
User Reviews
2004 Saturn ION
Review Ratings
Average Ratings from

25

reviews
Performance:
Appearance:
Build Quality:
Overall:
Review Highlights
Click to filter reviews below
Displaying 1 - 10 of 25 2004 Saturn ION reviews.
Matthew

writes:
Pros
Strong Ecotec engine. large trunk. good mpg
Cons
Interior fit and finish. Styling. Not at all engaging to drive.
Plastique: The Saturn Rocket — Well, you get what you pay for. In the fall of 2003, my options were a 4-yr-old Civic, or a brand-spankin' new Ion. The promise of a warranty brought me to the Saturn dealer. Well, that and a rediculously high trade-in on my barely-running Subaru. What I hate most about this car is that while it really does nothing terribly, it also doesn't do anything else more than just ok. Being a pre-Lutz era GM product, it "Runs Bad Forever". It's like an old cat that you just want to die so that you can get a new kitten that won't piss on your clean towels, that just keeps pissing on the towels, and NOT dying... Every morning I wake up hoping that it's been stolen and set on fire... It will get you from point A to point B, but don't expect much more.
Looking for a Used
ION
in your area?
CarGurus has

2,089

nationwide ION listings starting at

$1,977

.
Martin

writes:
Pros
never shows rust and it pulls my trailer to the park without too much effort
Cons
Not enough room for my Bouvier
It Is Ideal For What I Use It For Mostly To Go To Work And Home — Overall I love its performance and handling. It has good build quality inside and out. People are surprised to find out it is a Saturn as some think it is a much more luxurious car. My dog is a little tight in the back but he likes sticking his head out of the window anyway.
Primary Use: Family transportation
Kayla

writes:
2004 Saturn ION 3 Coupe
Review
Pros
great on gas, adorable, not alot of them around here
Cons
burns through alot oil
Ion 3 — I love my car its great havnt had any problems with it so far. (knock Knock) great on gas. Great breaking pretty good acceleration, really good at speeding, i havnt had to repair anything yet, good in all weather, the payment are a little pricy but its worth it. I would drive my car all day long if i could.
Joseph

writes:
Ionic Breeze. — It's peppy on the highway, but has major flaws in interior build quality, comfort, handling, and general part selection. It has reliability issues with the transmission, and no way to refill it without going to see either the dealer, or an ACDELCO specialist, because your standard Pep Boys won't know how to touch that thing. It has excessive amounts of body roll, and issues with aerodynamics. A slight gust on the highway will want to propel it into the other lane, and also limits its top speed to 100mph. Seats are exceedingly uncomfortable on long trips. Even an hour and a half drive to my ex-gf's house made me want to pull over and rest my butt. And the styling on the sedan? Positively super-gleeful looking. Not aggressive whatsoever. And don't even get me started on blind-spots. On the plus sides: It has pretty good stock speakers. And the instrument "pod" in the middle is a pain at first, but now I'm so accustomed to it that it bugs me not to drive with the instruments situated there. And, like I said. Peppy acceleration. It won't win any drags or anything, but it will get you from point-A to point-B relatively effortlessly.
William

writes:
2004 Saturn ION 2 Coupe
Review
Pros
Great all around car, good gas milliage, handled great
Cons
once it was wrecked it was never the same
Tops From Saturn — The first car the I bought personally, and loved every minute off it. I would have held on to it longer if i hadn't gotten such a good offer on it. There is a bit of lack in performance upgrades so you have to get a little experimental or just go all custom from the shop.
ashleyshields8

writes:
Pros
Great gas mileage an cheap parts
Cons
no keyless entry an no cruise control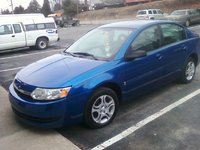 Its A Great Car.... — This is the 4th saturn i have owned....i really like the saturn but this one is plan jane to my other ones there is no keyless entry remote starter or cruise control.....other those down falls this car is really good an i like it....makes for a good family car
Primary Use: Family transportation
Michael

writes:
Cons
gm 4 cylinder engines suck for reliability
Cheap And Fast — the performance of this car is fairly high in terms of acceleration and braking, although for handling, my tires could be better the build quality is what one would expect from north america, not to good... it looks damn good it is cheap to buy and the gas mileage could be worse but it is a blast to drive
Primary Use: Sport/fun (spirited driving, track racing, off-roading, etc.)
Adam

writes:
Pros
cheap to buy and insure. gets good gas mileage
Cons
not enough power and most of the car is made out of plastic
Lots Of Nicer Cars Out There. Use This Car As A To B Transport Only. — Performance: acceleration, braking, and handling are all well behind the competition. Build Quality: plastic car...beware. Appearance: looks ok inside and out. Nothing to brag about. Cost of Ownership: gets great gas mileage and is cheap to buy parts for. Fun Factor: fun at first but that wears off pretty quick.
Primary Use: Commuting to work
Malissa

writes:
Its A Good Car — Sound system is fantastic. Good acceleration but can be jumpy at times. I love the color of my car. I got the car for a great price which was within my buget. I love driving this car. I dont know what i would do without it
Primary Use: Commuting to work
Displaying 1 - 10 of 25 2004 Saturn ION reviews.
Looking for a Used
ION
in your area?
CarGurus has

2,089

nationwide ION listings starting at

$1,977

.