2004 Saab 9-3
User Reviews
2004 Saab 9-3
Review Ratings
Average Ratings from

33

reviews
Performance:
Appearance:
Build Quality:
Overall:
Review Highlights
Click to filter reviews below
Displaying 1 - 10 of 33 2004 Saab 9-3 reviews.
John

writes:
2004 Saab 9-3 Linear
Review
Pros
Acceleration, Braking, Handling, Tire Wear, Gas Mileage, Appearance
Cons
Unsupportive seats, numb audio system, squeeky clutch
My Saab 9-3 Linear — This car is a blast to drive! Great sporty appearance with an agressive 2.0L turbocharged engine to match, for the true driving experience I opted for the 5 speed manual transmission. Performance is incredible, awesome acceleration, insane handling and great braking all while averaging 33 MPG! Build quality is up to par for a European car, low wind noise, no squeeks or rattles except for a squeeky clutch. My only complaint: unsupportive seats and a numb audio system, both are adressed with the Aero package which is what my next one will have.
Looking for a Used
9-3
in your area?
CarGurus has

1,486

nationwide 9-3 listings starting at

$1,999

.
Marcus

writes:
2004 Saab 9-3 Aero Convertible
Review
Pros
Fun to drive, well-built, great MPG.
Cons
Finicky top sensors...
My Wife's Car, She Loves It And We Are Both Pleased With The Great Mpg. — Beatiful looking vehicle, very well-designed interior, except for the HVAC controls. Decent performance, but fantastic MPG. Maintenance has been average, some parts can be expensive, but much cheaper than the Volvo convertible this replaced. The car is lots of fun to drive, especially with the top down. It's a great cruiser, good handling, decent maintenance and best of all, it's paid for!
Philip

writes:
2004 Saab 9-3 Arc Convertible
Review
Cons
steering wheel is too big
Saab 93 Ss Cab Is The Best — This is the coolest cab there is!! The engine is great, the looks are perf, the performanse is great og the sound and handling is over the top.... mutch cooler than Audi a4 cab...And the price is very reasnable. the speaker system could be better. But i love Saab got one now and would buy one at any day!!!
Sean

writes:
2004 Saab 9-3 Aero
Review
Pros
Quality, Engineering, Quiet and Smooth Ride, Stylish, Driving Comfort, Stability and Traction Control Systems work!
Cons
Cost of replacement parts, Ground Clearance, FWD, Lack of rear Seat Legroom.
2004 Saab 9-3 Ss (aero) — The definition of a Grand Touring Car. Cruising at 90 mph is easy, efficient, and a pleasure. Friends of mine often voice when initially seating in the car "...wow, did you steal James Bond's car?" lol. The build quality throughout the vehicle is 2nd to none! I can't sum up this car in anything brief except this. Go test drive one.
supermode84

writes:
2004 Saab 9-3 Aero Convertible
Review
Pros
Sporty, speedy, convertible
Cons
Repair cost, Inside looks old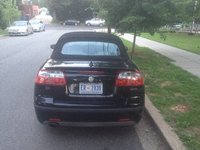 Great Car But Costly Repairs — This is a Great car, with great features for the age. It is 10 years old but does not look out of date on the outside. However, on the inside this car does look out of date. It drives very well but if you do have an issue, be prepared to pay a lot of money.
Primary Use: Commuting to work
BKSteve

writes:
2004 Saab 9-3 Linear
Review
Pros
33 mpg highway.
Large trunk.
Fun to drive.
Safe with 6 airbags, active head restraints and stability control.
Cons
Radio not easily upgradeable.
Rear seat legroom.

An Underrated Sweet Ride — This is the quickest and most agile car I have owned so far. All you need to do to have a little fun is press the ESP button to turn of the stability control and the car gets a totally different personality, especially using manual shifting. Although city mileage is average for the size/weight, highway mileage is great for an old car that's this much fun. New pads/rotors are very cheap online if you know how to shop and since it shares many mechanical parts with other GM vehicles, maintaining it shouldn't cost an arm and a leg. Other than a CD player that won't eject, l have had no other issues in the eight months I've had it so far.
Primary Use: Commuting to work
Robert

writes:
2004 Saab 9-3 Arc Convertible
Review
Pros
Safety, handeling and ride quality
Cons
requires 95RON petrol
Awesome Car — This is actually a linear convertable but it was not availiable in the options, Great car, best i've ever owned. Very smooth for a two liter 4 pot, however it exellerates like a bus when it's off boost. The body is suprisingly solid for a car with no roof. Being Swedish built it has fantastic safety features.
Afzal

writes:
2004 Saab 9-3 Linear
Review
Pros
Smooth and Comfortable ride
Cons
Expensive parts and hard to find any accessories
Chevy Should Model Their Other Cars After This — Great alternative to average mill of the market like Honda, Toyota etc... Exceptionally smooth ride, I've heard people say Audi has a smooth ride... Driven both, I think this is far nicer. Not knocking Audi, I love the Audi as well, A6 perhaps might be my next car. Performance is well balanced, handling could be more aggressive but then you'd loose the comfort. Overall great car. Pretty good gas mileage as well, average usually 28+, highway with aggressive driving around 32-33, people with lighter food then mine can yield 34-36mpg.
Laurie

writes:
2004 Saab 9-3 Aero
Review
Pros
Handling, power, quality, looks, reliability
Cons
The front end is so low I keep scraping it on curbs...but who cares?!
I Love My Saab 9-3 Aero! — I love my car - still...after 4 years of driving it like crazy. Even before we had it tuned by Frank of SQR (Sweden), it was fast - pulled nice and hard and handled really well. Now, well, hold on tight when you floor it! I've had it on the track a few times (Thunderhill - Willows, CA), and it's so much fun. Admittedly, it can't keep up with the high-powered Corvettes or Vipers on the straight, but it has nearly always trounced them through the curves (sure - driver experience has something to do with that, too) - the handling is superb. It has had its share of minor mechanical issues, but nothing earth-shattering in severity or cost. Besides bumper wear from city parking it still looks good and the interior still feels and looks like new. I would (and often do) recommend this car. But if you're a driver who is less concerned with performance, opt for another trim level - the sport suspension of the Aero often proves too jarring for some who prefer a softer, squishier ride.
Dan

writes:
2004 Saab 9-3 Linear
Review
Pros
Fun, Comfortable, Classy
Cons
Breakdust, lower model slightly underpowered
A Very Comparable Sport Sedan — Nice sporty car at a decent price. You'll definately find more performance in the higher models with the larger mitsubishi turbo vs the garret. The linear with 175 hp is by all means still a fun quick car, but the areo with the 210 hp brings a new meaning to thrill ride. Major complaint would be the brakes, brake dust is like no other on this car so i'll prob switch over to some ceramic pads and larger discs. Not alot of aftermarket options, and quality is not quite up to saab par since it was bought by GM. All in all this is a fun, classy, comfortable car which is right in line with the A4, S60, and 3 series.
Displaying 1 - 10 of 33 2004 Saab 9-3 reviews.
Looking for a Used
9-3
in your area?
CarGurus has

1,486

nationwide 9-3 listings starting at

$1,999

.