2004 Pontiac GTO
User Reviews
2004 Pontiac GTO Review Ratings
Average Ratings
from 54 reviews
Performance:
Appearance:
Build Quality:
Overall:
Review Highlights
Click to filter reviews below
Displaying 1 - 10 of 54 reviews
MELLOWYELLOWGTO

writes:
2004 Pontiac GTO Coupe Review
Cons
NOT ENOUGH SPICE IN THE APPEARANCE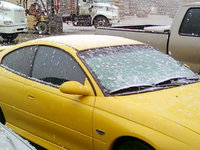 Don't Let The Look Of The Car Be Your Final Decision -take It For A Spin.... You'll Fall In Love! — Good handling, love the performance-nice kick for being such a small car. no major problems except the radiator blew at 37k miles. Can't find another car within this price range that has 350hp/5.7L. Needs a more "muscle" look, it looks too similar to the Chevy Cobalt which is a big big BIG NO NO! All in all...looks aside, i love it and love to drive it!
Primary Use: Commuting to work
Looking for a Used

GTO

in your area?

CarGurus has

386

nationwide GTO listings starting at

$8,500

.
Bruce

writes:
2004 Pontiac GTO Coupe Review
Pros
Best bang for the buck.
Cons
There is no reason to avoid this vehicle. Affordable for the price.
Upgrade The Brakes With Aftermarket Gear. — It has more than enough power only drawback is the braking. The brakes could be improved greatly. The cost of ownership for me has been great as I have not had any problems with maintenance of this vehicle. Very reliable transportation.
Primary Use: Commuting to work
Ari

writes:
2004 Pontiac GTO Coupe Review
Pros
European styling, American power, modern coupe with a V8 engine.
Cons
trunk space, difficult to get to back seats, gas mileage
Pontiac Gto: A Modern Muscle Car From Australia. — This car is really great. It combines the best parts of European and American cars as they did it in Australia. Performance: Nice torque, solid power, not as explosively fast as my other coupe, but more comfortable. Build quality is adequate, there are some gaps where they aren't supposed to be, but that is not that important to me. There are some design problems in cold winter weather, like the heater needs to be adjusted as it lacks heat to the windscreen and side windows in the same setting and heated seats and mirrors for example. Trunk space is poor as the gas tank is situated inside the trunk instead of the original placement under the trunk. It is also difficult to get into the rear seats. Styling is nice, how they changed basically the styling of Opel Omega into something special, it's based on the same platform, but it's wider, lower and sleeker. Cost of ownership is irrelevant. Gas mileage is a bit poor, but this car is not for anyone who is interested in that. Spare parts can be a problem as the car was never sold officially here in continental Europe and the car is pretty rare here as every car is privately imported. Fun factor is 100+ even I also own an another car with really good fun factor which is even faster than this and has better gas mileage. This is more reliable. The late model Pontiac GTO (and Holden Monaro already before) has been my dream car since 2002 when I saw the first photos of the car. It still is now when I own and drive one.
Tennesseemacman

writes:
2004 Pontiac GTO Coupe Review
Pros
Engine reliability is really superb. I have had no problems ever.
Cons
Two piece driveshaft is a bit wimpy!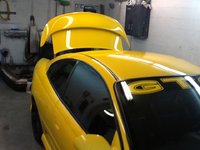 Built Like A Tank, Runs Like A Race Car, Handles Like A Sports Car — Probably will be the best GTO ever after a few more years have passed. Novices need to exercise care in driving this car. The power to weight ratio is incredible. The handling on mountain roads is outstanding and the braking cannot be faulted.
Primary Use: Commuting to work
Fernando

writes:
2004 Pontiac GTO Coupe Review
Pros
Power,subtle styling,top notch interior,with good handling
It's A Gto, Nuff Said — Why this car didn't fly off the showroom floors is beyond me because this is a great car for the money. $33k got me 350 hp/365 tq V8 6speed IRS midsized 2 door coupe (or a 2 door sedan with a really small B-pillar). I've added Kooks SS headers and a Svede1212 intake and she really gets up and goes now, probably around 320-330 RWHP, still have to get a tune. Pedders Xa coilover suspension, lowered about 1.5 inches all around.The seats are comfy and offer a lot of support. The interior is nicer than anything GM ever put out stateside. AND this car puts a HUGE smile on my face everytime I drive it. I LOVE this car!
Primary Use: Sport/fun (spirited driving, track racing, off-roading, etc.)
Heidi

writes:
2004 Pontiac GTO Coupe Review
Pros
Great performance for a low price
Cons
Its seems some of the controls wiring has been crossed.
Love It. — Performance is great. Only thing I would change is the wiring. My controls are messed up sometimes. Had to replace the BCM. But other than that I havent had any problems with it. Its a lot of fun to drive and handles very well. Definitely a car thats going to stay in my driveway!
Primary Use: Family transportation
Paul

writes:
2004 Pontiac GTO Coupe Review
Pros
Performance, build quality, fun
Cons
I hate to look at the gas pump.
2004 Pontiac Gto Coupe Gets Two Thumbs Up! — Car has been 100% reliable and utterly maintenance free, apart from schedule. I'm aware of the disappointment among GTO fanciers in the looks department, but I like it's understated profile. Those who know, turn to look. Those who don't, turn to look at the rear bumper when I put the hammer down. I have the special edition with the W40 appearance package, and everyone remarks on the vivid shade of red and the terrific looking interior. Well mannered handling, enough power for the price, and a really fun ride. Hard to beat for the price.
Mack

writes:
2004 Pontiac GTO Coupe Review
2004 Custom Gto — its my brother's car. he bought it and not even 2 weeks later took me out to teach me how to drive stick. i was 15, just finished my first driver's training day and went to drive a 350 horsepower car. great drive though. it now has an iron block v8 bored out to 6.7 liters and pushing 550 horsepower at the wheels. it has a custom wide body kit, 18 inch wheels and a new fiberglass hood. its an amazing car stock but so much better and faster now. love the car and is amazing just to hear rumble
Anthony

writes:
2004 Pontiac GTO Coupe Review
Pros
Too many to list. Go for a ride in one and you'll understand.
Cons
Bought it used, there's a few minor wear and tear issues to deal with. The traction control gets annoying at times too (I have a heavy foot.) so I usually just turn it off.
Clean, One Previous Owner. I'll Get It When I Finsh Making The Payments. In 3 Years Or So.... — Powerful, fast, and handles like a dream. Cost is low, but when you hit that throttle after you slam it into 4th gear, you feel like a million bucks everytime. Insurance on it isn't too bad either. The only downside is it gets rather expensive filling it with premium unleaded, only because performance suffers a bit on anything less.
Edward

writes:
2004 Pontiac GTO Coupe Review
Pros
Power hits at 3500rpms and doesn't stop.Handles the turns like nothing.very comfortable leather seats exellent MPG(26)
Best Car I Ever Had Period!! — Holy crap!!Wow this car is the most breathe taking thing I ever owned!!LOL.Literally it takes your breathe away...This GTO gives you such an adrenaline rush when desired...So eat this ford lovers!The GOAT has got only 26000 miles on it too.I'm planning to have a lot of performance in this beast,and a 2 tone paintjob is in the works..
Displaying 1 - 10 of 54 reviews
Ask CarGurus about the 2004 Pontiac GTO
Average response time:
8.5 hours
,
# of Pontiac GTO owners:
2,520
Looking for a Used

GTO

in your area?

CarGurus has

386

nationwide GTO listings starting at

$8,500

.