2004 Jaguar X-Type
User Reviews
2004 Jaguar X-Type
Review Ratings
Average Ratings from

18

reviews
Performance:
Appearance:
Build Quality:
Overall:
Review Highlights
Click to filter reviews below
Displaying 1 - 10 of 18 2004 Jaguar X-Type reviews.
Russell

writes:
2004 Jaguar X-Type
Review
Pros
Absolutely loved it to bits
Jaguar X-type — Best car i've ever owned. Would have another one tomorrow. Huge boot, lovely to drive, really comfortable and effortless. Not too expensive to run and was exceptionally relaible for the 120000 miles that I owned it for. It's just a pity that I can get another one just yet. Sadly, did quite a lot of damage when I hit a deer a couple of years ago. The only good thing was that the car stayed absolutely straight and kept me on the tarmac. I could have cried.
Looking for a Used
X-Type
in your area?
CarGurus has

703

nationwide X-Type listings starting at

$1,999

.
2004XType

writes:
2004 Jaguar X-Type 3.0
Review
Pros
Purchased used, 1 owner, 116k miles, $6K, 18 months ago. Many comment that it looks brand new or perhaps 1 or 2 years old. Replaced tires after purchase - Kumhos - still going strong. Ran great and true in 2010-11 winter snow DC area. All I've done besides tires is purchased one lug nut ($33 from dealer!!!! found the same from Carquest for $11; purchasing all filters, etc. either online or Carquest instead of dealer); replaced front brake pads (DIY for $60); oil changes and air filter replacements only - 20K miles. Got 28 mpg recent road trip; usually 24-26; 19-20 around town. Accelerates crisply when needed, handles nicely, firm braking, cruise control holds hills.
AWD huge plus.
Absolutely no complaints - well two actually...
Cons
Back seat has little if any leg room. I would not want to ride in back (height 5'11"). Also, the plastic trim over the vents in the dashboard close to the windshield, cheap and ill-fitting. No adjustable lumbar support, although I have not missed it even on long 9.5 hour trip to Chattanooga.
Highly Recommended - Still (1/21/2013)!!! — Pros & cons says it all. Favorite of all I've owned - including my '69 Mustang with mock hood scoop & vinyl top that I ran for 120k miles! AWD feature is what got my attention - looks, condition of car, performance and price couldn't be beat. After purchasing, someone said to me, "Jaguars don't hold their value." I replied, "I know, that's why I got this for so little - plan to sell in two years for close to what I paid." Update 1/21/2013 - It's been two years since purchased, up to 140K plus miles. Absolutely no problems. Time to perhaps look at plugs and wires... Kumho Tires still with plenty of tread; fuel economy holding steady - 19-20 around town, 24-26 highway. I must retract earlier statement - I don't plan to resell anytime soon. I'm enjoying this car too much to think about selling. It's unique in terms of styling (who else has anything remotely as noticeable as a "leaper" on the hood? hood ornaments no longer allowed...), still has great, smooth acceleration, interior in great shape, people cannot believe it is 9 years old! I cannot either!
Primary Use: Commuting to work
tgriffith

writes:
2004 Jaguar X-Type 2.5
Review
Pros
Have fun and look great

Would Recommend To Friends And Buy All Over Again. — Mechanically, the car is in great condition. The X-Type has to be taken for what it is. More importantly, for what it is not: a 3-Series competitor. But as a reliable AWD sedan that looks like nothing else on the road and is fun and comfortable to drive, there is nothing like it! Performance is adequate and the build quality is questionable in places, superior in others. Trim pieces don't fit just right and the headliner is thin and peels off easy, but the leather is the best in the business and mechanically these cats will run forever. Great, fun, unique car!
Primary Use: Commuting to work
lbrito

writes:
2004 Jaguar X-Type 3.0
Review
Cons
Jag's marketing in USA

Affordable Luxury — Great car taht always turns heads. Some percieve brand as not reliable, but not true after models 2002. Car runs as well as other luxury brands and has very nice features. Much roomier than BMW 3X series. So happy, I am upgrading.
Primary Use: Family transportation
Andrew

writes:
2004 Jaguar X-Type 2.5
Review
Pros
Looks, economy, cheap tax
Jaguar X Type Se — Some people have dubbed this car a rebadged mondeo me included, after driving it on a test run i was blown away nothing mondeo bout this car. 2.0 diesel engine giving an average of around 45 mpg. People say diesels are boring not this one, more horses under the bonnet than the passat i drove previous, amazing!
mikedecman

writes:
2004 Jaguar X-Type 3.0
Review
Pros
acceleration and handling are exceptional
Cons
gas mileage in the midwest vs southwest fl where I drove it for it's 1st 4 yrs

Good Car To Drive — car has done everything more than expected, tires have been the biggest expense, would recommend this year of the X-type way above any previous years from my experience and encounters; little expenses can add up good to have friends in the business
Primary Use: Commuting to work
carquestions

writes:
2004 Jaguar X-Type 3.0
Review
Pros
Luxurious, beautiful
Cons
this car has ISSUES, Jaguar has ISSUES

A Costly Price — performance-drives great build quality-don't even get me started. let me know if anyone knows of anything they did right when building this vehicle. (besides the appearance) appearance-beautiful car cost of ownerhip-if you have to fix ANYTHING on this car (which is everything) be ready to fork out entire paychecks at once
Primary Use: Commuting to work
Lee

writes:
2004 Jaguar X-Type
Review
Pros
Economy, Cheap to Tax and insure
Cons
7 tyres in 18 months - bloody low profiles!!!
My Little Audry!!!! — Nice motor! Its a deisel and does nearly 55 miles per gallon - London to Scotland on just over half a tank!! not bad eh? Very Confortable for long journeys, probably should have got the higher spec'ed model, but i am please with it. All round its a very decent car. It has covered just over 80,000 miles and still feels like new
Primary Use: Family transportation
Vlad

writes:
2004 Jaguar X-Type 2.5
Review
Brilliant! — It is an absolutely gorgeous car, it comes equipped with everything anyone would want. Def a head-turner, but do get it in black - pearl black if you can - with big rims, it's a stunner. very good performance, everything is great about this car, except for the parts costs sometime:). It's not that big of a problem, but it is more expensive then in the case of other car makes.
chasinchelsea

writes:
2004 Jaguar X-Type 3.0
Review
Pros
great handling, lots of power, easy to service, really comfortable ride, good mileage for AWD, LOOKS like a Jaguar
Cons
don't like alloy wheels, tires can be relatively expensive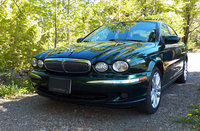 Best Car I Ever Owned — What a nice surprise owning this Jag has been. After purchase of this car at the end of a 3-year lease, I was greatly impressed with the reliability -- contrary to the reputation Jags have based on its quality before Ford took over. Now JD Power ranks Jag as the #1 most reliable car company and the 2004 x-type gets excellent reviews.
Primary Use: Sport/fun (spirited driving, track racing, off-roading, etc.)
Displaying 1 - 10 of 18 2004 Jaguar X-Type reviews.
Looking for a Used
X-Type
in your area?
CarGurus has

703

nationwide X-Type listings starting at

$1,999

.