2004 Honda Civic
User Reviews
2004 Honda Civic
Review Ratings
Average Ratings from

72

reviews
Performance:
Appearance:
Build Quality:
Overall:
Review Highlights
Click to filter reviews below
Displaying 1 - 10 of 72 2004 Honda Civic reviews.
Sam

writes:
2004 Honda Civic Si Hatchback
Review
Pros
Spacious, elegant, fast, drives well, economical.
Cons
So much potential but impossible to improve one area without ruining others!
A Worthy, Fun Contender For Anyone Who Needs A Family/practical Car That's Fast And Fun. — Second vehicle. Performance: in isolation, excellent. Contextual, not so good. It's not a 'hot hatch' in the conventional sense, but is certainly fast enough to provoke serious license-losing territory- this is a genuine 140mph car with a few choice mods. The engine, despite being fairly highly-strung at 80bhp/litre, has a low compression ratio and has a fairly lazy power delivery, along with a disappointingly low redline- 6,800rpm. It's strong through the gears, and is never short of a bit of torque. Build quality- it's indestructible. This car has taken a lot of punishment, from off-road jaunts to high-speed runs, with haulage for gigs and frequent friendly taxi uses. It's survived, and still looks great. The only issue- weirdly- is some slight pilling on the doorcards. That is truly churlish to bring it up on, though! Appearance... it's a subtle car. Most people don't figure that it has a reasonable amount of power, and as such it can surprise a lot of the morons in all-mouth-no-trousers cars. Inside, it's actually a really nice place to be. Cruise control, automatic air conditioning, half-leather seats and blackout dials ensure it's relaxed, comfortable and classy. It's a huge improvement over the pre-facelift models. Soft-touch plastics and a comfortable, open atmosphere all add to a distinctly modern feel. It's not the cheapest car to run, but it performs similarly to my old 206 1.1 for petrol use... which, considering it has 100bhp more, is a serious achievement. It utilises VTEC-e, which runs the engine on 12 valves below a certain amount of throttle input. If you really, really feather the car, 45mpg is entirely possible. Typically, I get 33-35mpg. Average motorway cruise is 37mpg. Town is significantly worse. Servicing costs are pretty normal, which is great considering it uses Nissin brakes. Tyres are easy to find. The car has done 90,000 miles and still has the original clutch & exhaust system. Tax is a fairly stiff £220 per year, but it's not as bad as some. CO2 output is something like 178g/km. Fun factor- yes, this car IS fun! It's not razor-sharp like a Type R. It's more a cosseting Gentleman's Express that can turn its hand to a backroad if you want it to. It pulls cornering speeds that I would deem suicidal in other cars. The traction control only cuts in if you really, really overcook things, which is nice. ABS isn't intrusive either. The handling is also fairly neutral, it's difficult to provoke understeer and lift-off oversteer is rare. According to friends, they've seen it cock a wheel under hard cornering- 8 inches off the ground! Always the test of a good, fun hatch! Overall, it's a great car. It's practical, you can take the family in it, the rear is astoundingly large (bigger than the BMW 5-Series and Mercedes E-Class of the same era), it's fairly quick, it's fun to drive, it's good on fuel, it feels well screwed together and you get the sense it was made by people who genuinely like cars. The suspension is surprisingly forgiving, seeing as it handles well. A lot better than a lot of 'posh' hatches, i.e. Audi A3 & BMW 1-Series. On that basis, what's not to like? I only give it 4 stars because it's a decent all-rounder. It's not exceptional in any one area, except spacious qualities, and I know there are cars that drive better, or get better economy, or are faster. However, finding all these qualities in one car is very difficult. This is a fantastic compromise.
Primary Use: Sport/fun (spirited driving, track racing, off-roading, etc.)
Looking for a Used
Civic
in your area?
CarGurus has

66,271

nationwide Civic listings starting at

$1,595

.
Kevin5739

writes:
2004 Honda Civic Value Package Coupe
Review
Pros
Lightweight, Comfortable, Excellent Handling, Gas Mileage A+
Cons
Manual everything except for the transmission
2004 Honda Civic Vp Coupe — Honda is one of the most economical brands in the global market. In accordance with rising gas prices, my car does a stellar job of turning my hard earned income into miles upon miles of destinations and journeys. The car handles beautifully, almost way too sporty for an economy car. The steering is taut and firm, but there isn't too sharp of a corner for me. On the flip side, I've had some issues with the build quality. Being an economy car, I've forgiven the synthetic plastics of the interior and exterior. The seating is superb, however. I would recommend this car as an excellent starter or even for those who like to pinch their pennies as much as I do.
David

writes:
2004 Honda Civic EX
Review
Pros
Appearance and quality are good.
David's Review — The performance of the car is just satisfactory. The handling is ok, the braking is not bad but the acceleration is quite poor. The build quality is very good except that its body is not robust enough. Its appearance is very good and its interior is relatively good. I'm please with the cost of maintenance the car is nice to drive.
Colin

writes:
2004 Honda Civic Si Hatchback
Review
Pros
Excellent cornering grip, perfectly placed shifter (dash mounted, euro-style), smooth as silk shifts and so precise, I've never missed a shift.
Cons
Headlights: non sealed units trap moisture and leave a fog or film behind. Had them replaced 5 times under warranty before Honda Canada said "that's it, we understand the problem but can't replace anymore light assemblies at $560 per light"
Love Or Hate It — My first ever new car. I purchased it in 2004 and 4 years later it still drives like the day I got it. It's a rare car due to the fact that it was built in Honda's plant in England and shipped over seas to North America. I found out that's the reason it cost as much as a 2006 (new generation) Civiv Si (built in Alliston Ontario). In this case, "freight" charges are justified. Over all, I love this car. It'll be hard to say bye bye to it next year, that's for sure. The interior is top quality (materials/plastics) and the seats are the greatest for long trips or short rips over perfectly curved highways.
dmactor37

writes:
2004 Honda Civic EX
Review
Pros
Great gas mileage, handles very well.
Cons
Not very quiet at highway speed, a little cramped for the back seat riders.

Great Little Car — My wife calls it "zippy" but I don't think it's that fast. A little noisy at highway speeds but awesome gas mileage. I've gotten over 40MPG on the highway. Maintenance has been oil changes and tires. It's comfortable but a little cramped for long trips with a full passenger load. Seats 5 but 4 is really max if you are on any kind of a long trip. We are approaching 150,000 miles with no problems. It is fun to drive, handles very well.
Primary Use: Family transportation
kmurphy

writes:
2004 Honda Civic Si Hatchback
Review
Pros
Value, The most function, fun, and style, for your dollar!
Cons
Avoid if you need to move young children, car seats would be a pain!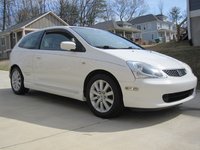 Best Car I've Ever Had! — I'm 6'4", and this is such a roomy vehicle for me. I fit very comfortably in this smaller make. Another thing I notice when I'm in any other vehicle is the limited range of vision out the wind shield. Very often it's a very compressed range, but the Civic has always maintained a very wide vertical range of view. The car is incredibly fun to drive, very responsive on speed and tighter around curves than my nerves can handle. The hatch also has endless cargo space. On a couple of occasions I've had 50+ bags of top soil in the hatch with seats folded down of course. And for as much as I push it inside and out, it cleans up amazingly every time I detail it, and every time my mechanic looks it over, there's never been any surprises, Just routing maintenance for the past 104,000 miles. I've been looking into new vehicles because I just love cars, but at every dealership, when I get back in my car, it beats everything I've just driven new on the lot. I love this car!
Primary Use: Commuting to work
Brandon

writes:
2004 Honda Civic EX Coupe
Review
Pros
Looks good and works great
Cons
If you don't like lowered cars, this isn't the car for you
Bottom Line = Looks Great And Good Mpg — It's an econ box as of right now. so It doesn't have an immense of power but enough to get merged on a busy highway. A few things still need to be fixed but some things still need worked out. Fixed a wheel bearing and replaced some battery terminals but I still need to replace a $200 OC sensor and a few things on the suspension need to be fixed. Appearance is excellent and a big reason i got the car =). Lowered with aftermarket wheels, tinted windows, gun metal grey. Interior is all stock except for the pedals are only have pedals that go over the stock ones. Gas mileage is great, it's a honda. maintenence is fairly low but a more than most for its mileage since it's a salvage title. Overall i love the car. fun to drive and it gets looks. =)
Primary Use: Commuting to work
Andrew

writes:
2004 Honda Civic Si Hatchback
Review
2004 Honda Civic Si — This car see's daily action. When the car first came out it never really attracted me I always thought the RSX-S was a better version of this chassis, still think that. But for the price I got on this car with the low mileage and no modifications it was well worth it. Handling is great with a stiff suspension that reminds you of all the bumps but doesnt destroy your insides, the braking continues to amaze me leaving me looking in my rearview mirror to make sure the car behind me will stop. The acceleration leaves more to be desired but Im sure could be solved with a more high flow intake and exhaust. The interior is very user friendly and comfortable, with tall soft seats, and plenty of storage nooks and cranny's for everything from cell phones and GPS devices to wallets and tire pressure guages. And the cup holders (all 4) can hold Sonic Route 44 cups. The stereo is adequate and impressive for a civic. THe hatchback design allows plenty of room for transporting large things like band equipment. This car was a great upgrade from my CRX, more room, faster, A/C, and a back seat.
Primary Use: Commuting to work
Corey

writes:
Amazing — I love this car! Cheap on Gas, Reliable, Perfomance is alright its a civic for crying out loud. Build Strong, Appearance is alright its a commuter car. Its fun to drive has a bit of power considering its a 4cyl. Doesn't Need much Maintenance at all. Brakes and Oil Changes.
Primary Use: Commuting to work
Simon

writes:
2004 Honda Civic Si Hatchback
Review
Pros
looks, comfort, running costs
Civic Type S — Bought this car in June 06 (pic above is not mine) runs like a dream, looks good to boot. can seat 4 comfortably, will get 5 on the squeeze. relatively cheap to run. service and insurance are cheap. Accelerates well for a 1.6, stops ok to, solidly built, nothing replaced except tyres and bulbs, the usual stuff
Displaying 1 - 10 of 72 2004 Honda Civic reviews.
Looking for a Used
Civic
in your area?
CarGurus has

66,271

nationwide Civic listings starting at

$1,595

.