2004 Honda CR-V
User Reviews
2004 Honda CR-V
Review Ratings
Average Ratings from

20

reviews
Performance:
Appearance:
Build Quality:
Overall:
Review Highlights
Click to filter reviews below
Displaying 1 - 10 of 20 2004 Honda CR-V reviews.
John

writes:
2004 Honda CR-V LX AWD
Review
Pros
Quality and interior space
Best Of The Mid-size Suv's Here In Australia - By Far — Well, after 2 months of research and trolling the dealerships, the choice came down to Forester, Outlander, RAV4 or Honda CR-V. RAV4 - actually didn't test drive this one - I was very cramped behind the wheel with the seat fully back, and couldn't even fit in the back - too small. We were after something a bit bigger than a medium sedan/hatch, but not a serious off-roader truck like a Patrol, Paj, disco or 'Cruiser. Needed something auto with AWD and good storage for size – something the missus would like to drive. Having driven all 3 of the above remaining medium SUV's, came up with the following: All have similar engine size, and outputs. Mitsu the thirstiest, heaviest and least internal space for both drivers, passengers and cargo – would be fine for sub-6-footers with small kids, but not for us (I'm 6'5"/195cm) Subie – lovely driver, but narrow cabin and poor rear-seat space. Most "car-like" to drive and lovely smooth engine. Most torque. But kickdown from autobox poor. Honda – what can I say? Got into it and everything just felt "right" – highest, widest, roomiest and internally the best design, IMHO. Very zippy with the i-VTEC engine and more than enough grunt (in a car) for me. Handling is terrific and when I first drove in wet and greasy conditions, it never felt like getting out of shape (I did do some pretty heavy accelerating and braking to test engine, 'box and brakes). Sweet and tight as a drum. Cargo area massive, compared with Forester and Outlander - rear seat space the best by far, and the way the rears fold down, then forward, means HY-UUUGE capacity for something this size. Best econ of the three as well. We all know about Honda and reliability as well now don't we? This one, even though used, will still come with a Honda-backed 3yr warranty, and it's a local car with full service history (by the dealer who sold it new). Peace of mind. The missus liked it best too, with the kicker that under the cargo-area carpet, and covering another recessed storage-well is a large flat piece of molded plastic, that when you lift out, realise is actually a folding picnic table! How smart is that? Plus, when I showed the missus how the rear seats folded down, then forward, her first comment was: "You could sleep in there! Let's go camping!" w00t! After having driven both the Forester and CR-V together, it was her pick as well and I graciously got the thumbs up to go ahead with purchase. Happy chappy and they even took my 19yr old Saab as a trade, with a decent price.
Looking for a Used
CR-V
in your area?
CarGurus has

49,236

nationwide CR-V listings starting at

$700

.
Clint

writes:
2004 Honda CR-V EX AWD
Review
Pros
Comfortable yet rugged and fun to drive. Great view of the road - even for tall drivers.
Cons
Listed as having high rollover potential but I haven't noticed any instability.
I Love It. — This is the best all-around car I have ever owned and I got it used! It has a peppy yet economical low emissions engine, AWD so it does great in all weather conditions. This model and year of CR-V has the best field of view out of the front windshield. It is very comfortable and does well daily driving back and forth to work as well as having plenty of comfort and room for long trips with the family.
Kanexu12

writes:
Cons
Wish it was 4 wheel.

Love My Suv — Car is very well maintained and always clean. Interior upholstery is like new. Less that 85,000 miles through 6 years of driving. Rides like a car which makes it fun, but had a bigger body for safety like an SUV.
Primary Use: Commuting to work
Meredith

writes:
2004 Honda CR-V EX AWD
Review
Pros
real time 4-wheel drive and gas mileage
Cons
acceleration is not so great
Awesome, Practical Car :) — I love that it's "real-time 4-wheel drive. It is a 4-wheel drive SUV with a 4-cylinder engine though, so it gets pretty great gas mileage but it's definitely not the most powerful thing ever. As my dad likes to say, it needs more "kick"...but overall it's a great car and I love it very much! And I love that it has a pretty awesome turning radius too, especially considering it's an SUV.
Primary Use: Commuting to work
Ian

writes:
My Little Crv — the car is great overall. drives well on tarmac or dry ground. its also very fun to drive around the city or town. maintenance is not too costly and has very few squeaks and squirms. one amazing little car, the honda crv
Primary Use: Family transportation
Michael

writes:
2004 Honda CR-V EX AWD
Review
Pros
Small SUV drives like a cloud!
Cons
Could use a V-6 option.
Cr-v...better Than You Would Think! — It's a good car, the drive is so smooth, it's quite amazing. The 2.4 liter i-4 has surprisingly good performance, the pickup isn't bad! I have never had an issue with the car's quality, afterall it's a Honda. The Real-Time four wheel drive is very well done, works like a charm and I never want to use a car that doesn't utilize four wheels 100% Looks nice, gas mileage isn't bad, even for a car that has 4WD. Interior is nice, moonroof/sunroof option, seats are comfortable. I love the car!
CLARKIE

writes:
2004 Honda CR-V LX AWD
Review
Pros
So good I bought a new one
Cons
Gas mileage on this vehicle was not very good

Honda Cr-v — Excellent vehicle. Great for getting the family around yet nice on the highway. Lots of pep when you need it, but the engine is designed to run at too high an rpm at highway speeds. Fuel economy is okay, but not great. Have had no problems with this vehicle in the two plus years I have owned it. If you are looking for a vehicle to navigate safely in the winter, this is a good one. It has great traction with the AWD and you never feel out of control. All in all, I would rate this vehicle an 8 out of 10 and would definately recommend it.
Owner for 2 years, 1 months
Miles Driven per Year:17,000
nwgrrl

writes:
2004 Honda CR-V EX AWD
Review
Pros
I love the style, comfort and maneuverability of the CR-V.
Cons
Replacing the key fob was surprisingly expensive.

Awesome All-around Car, Inside And Out! — I had been looking for a smaller SUV for quite awhile, and loved the CR-V from my first test drive. It is sporty but comfortable. The gas mileage is very good, and the little extras like adjustable cup holders and an easy-access trunk door just make it the perfect fit for our on-the-go family.
abbieforman

writes:
2004 Honda CR-V EX AWD
Review
Pros
Dependable, handles great, love the sporty look, low maintain acne costs, AWD
Cons
Gas milage is not bad considering it is an AWD but would improve if a front wheel drive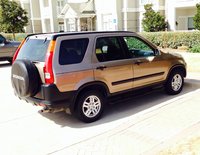 I Think This Vehicle Is In Great Shape Being A 2004 Looking Good And Dependable! — I like the fifth door to easily load and unload, and love the sporty lines and look! Hondas are the best, so dependable and trusting car! The paint and exterior has been cared for so well! This vehicle has been such a great one for me while doing my student teaching in college and being on the softball team , loading my gear in and out and traveling to an fro to home and back. It has been such a great car during the past years! I love the look of the CRV and my parents love the dependability of having a Honda! We have all owned Hondas for the past 10 years and can't be happier! They go forever!!!
Primary Use: Commuting to work
Tompkins

writes:
2004 Honda CR-V LX AWD
Review
Pros
Dependable, roomy, good gas mileage

I Would Buy This Car Again, And Plan To Drive It Until It Dies! — The CR-V cabin is comfortable, the vehicle handles nicely, the cargo space is great, and the mileage is a pleasing 26 mpg on average (driving the speed limit). There is plenty of power for the vehicle size, and passing is not a problem. The 4WD makes getting in and out easy - no matter the weather conditions (normal driving, of course). Integrity wise, the vehicle has held up well, both the interior and exterior. Repairs have been mainly wear and tear and regular maintenance, with the exception of replacing the alternator at approximately 60,000 miles. The single complaint I have is the road noise, which is noted in just about every review you'll see on the CR-V.
Primary Use: Family transportation
Displaying 1 - 10 of 20 2004 Honda CR-V reviews.
Looking for a Used
CR-V
in your area?
CarGurus has

49,236

nationwide CR-V listings starting at

$700

.