2004 Ford Focus SVT
User Reviews
2004 Ford Focus SVT
Review Ratings
Average Ratings from

16

reviews
Performance:
Appearance:
Build Quality:
Overall:
Review Highlights
Click to filter reviews below
Displaying 1 - 10 of 16 2004 Ford Focus SVT reviews.
Kyle

writes:
2004 Ford Focus SVT 2 Dr STD Hatchback
Review
Pros
Seats, Audio system, Handling, Transmission, Interior Space, Style, Fuel Mileage
Cons
Some interior materials, fit and finish, road noise, premium fuel
2004 Ford Focus Svt Eap — Where do I start? This car blends everything so well. So I'll break it down. Performance- Its not the fastest thing in a straight line by any means, but it will out run most every naturally aspirated 4-cylinder (save for the new Civic Si and RSX Type-S). But this car wasn't built to go fast in a straight line. The SVT Focus handles like nothing else I've ever driven. Even though it is a front-wheel-drive car, oversteer can be induced, and has more grip than the motor can really take advantage of. Build Quality- My SVT as the European Appearance Package, which means heated leather Recaros for the front passengers, and incredibly comfortable leather seats for the rear passengers. However, some of the build materials show that this is still and economy based car, as there are several hard-plastic areas and the fit and finish is slightly below par. There are few squeaks (primarily where the front seats contact the center console), but nothing you will hear if you've got the radio even slightly turned on. Appearance- I've received nothing but complements on the appearance of the car. Love it or hate it, the SVT Focus has some aggressive styling, though it can look odd from some angles, and the interior is well-designed despite some poor material choice. Cost of Ownership- Bought it with 65k on the odometer, and have put 6k on it. Thus far, I've had to make no repairs, though the passenger front strut is on its last leg (a side-effect of hard driving). Despite only taking premium fuel, the SVT is hardly hard on the wallet at the pump. I've gotten as high as 32mpg, and regularly see 300 miles to a tank of gas-- which is quite a bit for a 12 gallon tank. Fun Factor- I'll put it this way, I've NEVER driven anything as entertaining to drive. The steering is communicative, the brake are easily to modulate, and the suspension and chassis tuning just beg to be tossed around in a canyon. And for the 4-banger, this car has a fantastic exhaust note once you cross 3000 rpm. Not only is it a blast to drive hard, but the suspension is comfortable for every day driving. Give this car a test drive if you're in the market for a sporty compact. You'll likely be pleasantly surprised.
Allen

writes:
2004 Ford Focus SVT 2 Dr STD Hatchback
Review
2004 Zx3 European Apperance Package — Still running great at 160,000 miles, with only a few minor problems. Would not hesitate to drive it across the country tomorrow. I do wish that the fog lamps were not so prone to being damaged, though. Also wish 6 th gear was higher so that it would get better highway milage.
Primary Use: Commuting to work
Michael

writes:
2004 Ford Focus SVT 4 Dr STD Hatchback
Review
Svt Focus — it's no STI, but a fun toss-able car. Stock suspension is tight and very neutral with predictable lift off over steer. The engine has a wide power band and sounds amazing above 5k RPM all the way to the 7250 red line. The interior is surprisingly nice with the well bolstered leather seats, fantastic sound system, and well sorted 6sp. transmission.
Primary Use: Sport/fun (spirited driving, track racing, off-roading, etc.)
TitoDM

writes:
2004 Ford Focus SVT 4 Dr STD Hatchback
Review
Pros
Fast, Stylish, Roomy... Just really fun to drive
Cons
The Oxygen Sensor sits to low

Ford Focus 4dr Hatchback Svt — I've had my car since 04... never had any real big problems with it, other then the Oxygen Sensor sits really low and I've broke it twice. Other then that, its super fast with evertthing stoke except for the air filter. I've had a K&N air filter since the first time it had to e replace. Takes 91+... but if you really think about it, even with high gas prices in California, it's still only about 5 bucks more for a full tank! The RECARO Racing buckets seats that come with it are super sweet, and the back seat is really comfortable for long trips. I've made it from SoCal to Reno Nv in 6hrs!!! Overall I love my car... and it's a big head turner!!! And really fun to drive. That's wy I still own it.
Gina

writes:
2004 Ford Focus SVT 2 Dr STD Hatchback
Review
Cons
Cargo area could be bigger
jnunez011

writes:
2004 Ford Focus SVT 2 Dr STD Hatchback
Review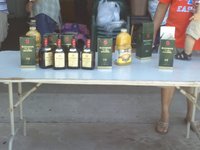 Black Demon — over all this car is very good runs great, great on gas small can manuver anywhere, braking is good acceleration well it ain going to take you to the moon its a 4 cylinder, i feel safe in this car, i really like look of it, its fun to drive because of its size, maintenance is fair, and repair cost are low, the seating is super, seats really support your back,
Primary Use: Commuting to work
JNEWARE

writes:
2004 Ford Focus SVT 4 Dr STD Hatchback
Review
Pros
Fun car to drive. It's performace is amazing. It turns heads wherever I travel.
Cons
Wife not fond of manual tranny, but it's 6 speed box works just fine for me. She drives our ZX4 sedan that has an automnatic transmission.

Most Fun Car To Drive I've Ever Owned. — Love the sonic blue color. The comfort I feel w\hen driving, knowing that I have the power to move ahead in traffic situations when necessary. I've installed four new tirees and complete rebuild of the brakes, which are excellent. Four wheel disks provide great stopping power.
Primary Use: Family transportation
Adam

writes:
2004 Ford Focus SVT 2 Dr STD Hatchback
Review
Pros
super nice interior and fast
Bryant

writes:
2004 Ford Focus SVT 2 Dr STD Hatchback
Review
Pros
Loooks, colour, interior, clutch, gear changes, awesome engine note,
handling and steering
Cons
bit sluggish thanks to being tuned for top end.
Chris

writes:
2004 Ford Focus SVT 2 Dr STD Hatchback
Review
Pros
Great Handling, surprisingly big, comfortable interior, Linear Power
Cons
Lack of Power, Poor Engineering
Displaying 1 - 10 of 16 2004 Ford Focus SVT reviews.
Reviews From Other Years
03 Focus Svt
I just bought this car and so far I love it to death. It's a real reliable car and it has better gas mileage than my other vehicles so driving this is lots of fun. a a a a a Read More
Autocross Beast
Excellent suspension, brakes, gear ratios, Recaro leather racing seats, high-RPM performance. So-so turning radius, low-RPM power, gas mileage. Very fun car to drive, perfect for autocross and weekend... Read More
Read all

18

2003 Ford Focus SVT reviews
Great Fun To Have.
Special Vehicles Team (SVT) built the 4 cyl. car with great features into this small car, 6 speed manual transmission, lots of fun to drive, great gas mileage, has some power to it and has great looks... Read More
9 Out Of 10, I Love Mine.
For a basic compact car, the SVT Focus is definitly a great competitor. The performance is great on top end, highway monster. The appearance is one off and trendy. The car is amazing to drive. The bui... Read More
Read all

13

2002 Ford Focus SVT reviews
Looking for a Used
Focus SVT
in your area?
CarGurus has

53

nationwide Focus SVT listings starting at

$2,500

.