2004 Ford F-150
User Reviews
2004 Ford F-150
Review Ratings
Average Ratings from

89

reviews
Performance:
Appearance:
Build Quality:
Overall:
Review Highlights
Click to filter reviews below
Displaying 1 - 10 of 89 2004 Ford F-150 reviews.
Robert

writes:
2004 Ford F-150 XL Ext. Cab LB 4WD
Review
Ford F-150 Xl 4wd — Overall 5/5 - Excellent truck. Performance 4/5 - Slow to accelerate, but that's what you get with a big automatic truck. Otherwise, it's very fast with a massive 5.4L Triton V8 generating around 300hp. It will stop in a hurry, and can take a corner very very well for such a big truck (provided you have good tires). Gas mileage is what you'd expect.. it is a gas guzzler, but who cares? If you care about gas, you shouldn't even be considering trucks, go drive your stupid Prius. Build Quality 5/5 - Well it's been around for 5 years-ish, 100,000 km's (almost), and only been to the shop once to have a fuse replaced which blew and prevented it from being switched from 4x4 low high (it got stuck in 4x4 low). Otherwise, it's had routine oil changes and such and held up very well over the years. Appearance 5/5 - Who can't love the massive F-150 with the slick design, Ford Sports Performance Rims, chrome trim... Awesome.
Primary Use: Commuting to work
Looking for a Used
F-150
in your area?
CarGurus has

132,190

nationwide F-150 listings starting at

$1,250

.
Gene

writes:
2004 Ford F-150 FX4 Ext. Cab 4WD
Review
Pros
Styling, comfort, handling, gas mileage is slightly better than its American competitors, luxury, quality, best in class towing, best frame build.
Cons
Not as powerful as the Dodge Ram, smaller appearance than its competitors.
The Most Capable Pickup Truck In The World! — There is a reason that the Ford F Series has been the best-selling truck line for the last 30 years, and that the Ford F-150 for the past 16 years has not only been the best selling truck, but also the best-selling VEHICLE in the United States. Simply put, Ford has built a revolutionary pickup truck with the 2004-2008 line that combines the luxury and handling of a large passenger car, with the power, attitude, and performance of a truck. The appearance of the Ford F-150 is that of absolute beauty, and sitting in the interior, you would imagine that you were in a luxury SUV. However, when you throw 10,000 lbs worth of weight behind it (best in class), the F-150 does not disappoint. A recommended buy for anyone who wants a real truck.
Donovan

writes:
2004 Ford F-150 FX4 Ext. Cab 4WD
Review
Pros
It handles surprisingly well for a truck and can accomplish anything you throw at it. Very versatile in uses and modifications to taste.
Cons
Parking can be difficult depending on the area. Fixes can be expensive if the vehicle isn't properly maintained.
Great For A Truck Person, And A Good Step For A First Truck. Best Used Truck You Can Find. — I'll go ahead and say it. I haven't had the best of luck with my truck. However after I've gotten the problems solved, it is a perfect fit for me. I used this as not only my daily driver, but as my hobby truck as well. I enjoy the look of this generation F-150. It's all smooth lines and not a lot of flash. For a truck it handles very well. I've been able to move this is places I wasn't sure I would be able to. The steering is tight and gives you a good feeling of control. Everything feels solid on this truck during daily drives or long trips. I've never had an issues hauling cargo; I've always had the power and space I needed. It's easy to modify this truck for power or looks depending on your tasted. The back seats are comfortable, even for some taller passengers so it's not bad for trips or get together sitations. The best advice I can give you when buying a used truck of this generation (or any used vehicle really) is to be thorough when checking it over. If possible have it looked at by a professional. Once you find a good one, keep it that way! Maintaing these trucks can seem like a job, but it's really worth it.
Primary Use: Commuting to work
Reid

writes:
2004 Ford F-150 FX4 Ext. Cab 4WD
Review
Pros
Great Power, Awesome Handling, Solid, Comfortable
Cons
4 speed Transmission
Ford F150 Fx4 — Performance: The 5.4L is a great motor. Great torque... have pulled out many cars and trucks out of the mud/snow without even trying. Handling: This truck handles amazingly well. Sure its a beast, but it handles MUCH better than the older 150's. Very stable, little body roll... very neutral. Appearance: Has a great look. Love the leather interior. Only drawback is the center console that sacrifices and extra seat in the middle up front. Build Quality: Overall the truck is solid. I rear ended a minivan at about 50 MPH and I only scratched my tow hook. The shiftlever cap fell off though after about a year. Oh well. Cost of ownership: Gas milage is very respectable. I did my homework before I bought it and on highway it is rated at about the same MPG as V6 Tacoma's and Frontiers. On long trips I have gotten up to 25 MPG, mainly because at 75 MPH the motor is only turning 2000RPMs. In the city or in stop and go.... its not that great. The other thing is this thing will go through breaks like nothing. Its a big truck but it stops very well.. but it costs you. Overall this truck is a lot of fun. I have taken it on long road trips, to the desert, into the snow and it has performed great. The only downside to this truck is the transmission. It is a 4 speed automatic (3 speed + overdrive). There are spots in the power range that are very flat, and then the power kicks in again and it pulls very well. I believe ford started putting in 5 speed autos a few years later.
Primary Use: Sport/fun (spirited driving, track racing, off-roading, etc.)
Chad

writes:
2004 Ford F-150 Lariat Ext. Cab SB 4WD
Review
Pros
Great looks and quality
Cons
Everything is electronic
Still Needs Some Things To Be Fully Loved. — feels very loose due to everything being computer controlled. seats are too stiff. and payload is weak, just the quad makes it squat a lot. otherwise i love it, looks great, drives great, awesome gas mileage, decent power, reliable. just need to add some rear air helper springs and some more power and im good to go.
Marty

writes:
2004 Ford F-150 XL Ext. Cab
Review
Pros
This truck is very comfortable and easy to drive.
Cons
Compared to my previous truck, a Dodge, the F-150 has a much larger turning radious, making it harder to park in small parking lots.
2004 F-150 Ext Cab — This is truck is well built and hasn't given me any trouble at all. It has the 4.6L V8 with an automatic. I have driven a 4.6L Mustang with a 5 speed. Given that this is the same engine, I'd have to say that the weight of the truck makes a HUGE difference in performance. Acceleration is just average for my truck, which is fine for what it is. Towing my trailer loaded with three dirt bikes is no trouble and hauling a half yard of dirt is no problem at all. We drove it on vacation and the kids, 9 and 13, had no complaints with the comfort of the back seat.
Primary Use: Commuting to work
Kim

writes:
2004 Ford F-150 XLT LB 4WD
Review
Pros
reliable,heavy duty, good on gas
Cons
interior upholstery is very hard to cleaan
Love My Truck — Performance is great even when towing our trailer loaded with 2 full sized motorcycles. For a truck it gets pretty good gas mileage on the highway. Good pick-up when needed. Low maitenance so far.Extremely comfortable on long hauls, we have taken it to Florida and out to South Dakota. Fun to drive,a great workhorse and and as always the Ford F150 styling is always recognized.
Karen

writes:
2004 Ford F-150 Lariat Ext. Cab SB 4WD
Review
Pros
Exceptional ride and handling characteristics, attractive and functional interior designs, multiple cab and bed configurations, most payload and towing capacity in the half-ton class.
Cons
Feels sluggish even with larger V8, no available side airbags, not much interior storage space.
The Most Aweosme Truck I Have Ever Owned My Sweet Baby — Best Truck I have ever owned. We got ours used but it is like Brand new. Only 42,000 on it and it is an unbeleivable ride the handling of this truck is awesome and the power the motor puts out is almost breath taking, Put you in your set if your not already there. And for a V8 the gas milage is great as well. I love it and plan to keep it for a LONG time. Ford Did GREAT on the design I love the body style. AWESOME RIDE! Thanks Ford
Forgivensinner

writes:
2004 Ford F-150 Lariat SuperCrew 4WD
Review
Pros
Great truck, LOVE it!
Cons
Gas mileage for this 4X4 is about 14.5 to 15 mpg, which I guess isnt too bad for a 4 wheel drive.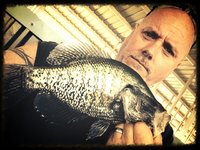 Great Supercrew — This truck is the best looking truck on the road, I don't like the boxed Chevy's or Dodges...... This Ford pulls my pontoon boat better than any other truck Ive ever had, when I sell this one I will be buying another F150 Supercrew!
Primary Use: Commuting to work
KernRiver1

writes:
2004 Ford F-150 XLT SuperCrew
Review
Pros
Comfortable truck for 4-5 adults

Ford F150 Xlt Crewcab - Very Reliable — Everyone loves to own a truck. This one gets you where you need to go in comfort and safety with the ability to carry decent loads. I feel very safe in this vehicle, but the gas mileage is starting to gnaw at me. And, for a large truck, it is still pretty decent - averaging 19 MPG.
Primary Use: Family transportation
Displaying 1 - 10 of 89 2004 Ford F-150 reviews.
Looking for a Used
F-150
in your area?
CarGurus has

132,190

nationwide F-150 listings starting at

$1,250

.