2004 Dodge Neon SRT-4
User Reviews
Average Ratings from

56

reviews
Performance:
Appearance:
Build Quality:
Overall:
Review Highlights
Click to filter reviews below
Displaying 1 - 10 of 56 2004 Dodge Neon SRT-4 reviews.
Seany

writes:
2004 Dodge Neon SRT-4 4 Dr Turbo Sedan
Review
Pros
POWER! 4 doors, aggressive looks, great potential as a race car, bang for buck, viper seats.
Cons
not enough traction for the power, suspension is a little soft, front wheel drive.
Best Bang For Buck — The DOGDGE SRT-4 is one of the best bang for buck cars out there, with an underrated 215hp in 2003 and 230hp in 2004-2005 2.4 L inline four cylinder engine (its actual more like 240-250hp) and at the price of only $20,000 brand new there were few in its time that could compete. with almost no turbo lagg and 250 lb-ft of touqe at only 2400rpm till about 5500rpm the traction of the front wheel drive setup seems to be the bigges problem with this car. Dodge reported the top speed as 153 but many have hit more than 155 stock and 160 with only a stage one mopar kit and and intake and with a 0-60 time in 5.3sec it was second only to the Viper in Dodges line up when this beast rolled onto the streets. Many have been known to underestimate this car saying "oh its only a NEON" but most end up changeing the oppinions shortly after. another popular misconception is that the hood scoop is not fuctional, but it is just not in the convetional way, instead if driving air it the intake it drive cold air to the turbo to help keep it cool at high boost levels. Seats modified from the Viper hold you firmly in place as you take aggressive turns. the suspension is a tad bit lose for my taste but it is still very capable of taking those hairpin turns at descent speeds. With the ability to run the 1/4 mile in 13.8 sec with a capable driver, love it or hate it this is not a car to be taken lightly.
Johnny

writes:
2004 Dodge Neon SRT-4 4 Dr Turbo Sedan
Review
Pros
Very fast, cheap, great sound, a lot of potential
Cons
torque steer, in need of better handling
I Love My Srt-4!!!! — FUN! i love this car! i wouldnt trade it for any other car! unless it was a really expensive one that i could quickly sell and use the cash to get another SRT-4 with lower miles and use the rest of the money to make it better and buy me a delicious burger from somewhere that wasnt fast food! BUT I DONT KNOW. i have a special bond with this car.... it can not be broken! Performance - this thing is a beast! it has a 2.4 liter intercooled, dual-overhead-cam, 16-valve, 4-cylinder enginerated rated at 230 hp and 250 torque ( although many say its been underrated at 230, meaning the horsepower is actually higher ) put those numbers to a car that weighs 2800 pounds and you get a rocket! speed is immediate! it will slam you back into the seats! braking is awesome! its actually at the top of its class! its actually is using bigger ABS disc brakes that were found on the dodge stratus.... slightly modified! handling is ok in my opinion. it can hold its own but wont win any ribbons anytime soon! luckily there is a lot of after market parts out there that will make it a worthy handler. but its good enough to give me my fix on mountain roads! Build Quality - its a 21,000 car made by dodge! i love dodge but these cars lack the build quality you find from toyota, honda and hyundai. but who cares! nothing major has gone wrong with this car in the 4 years that i've been lucky enough to have it. just normal wear parts. Appearance - either you like it or you hate it! i happen to LOVE IT! Cost of Ownership - take it easy on the gas peddle ( good luck ) and it will return good gas mileage. on a good day i'll squeeze 25-27 mpg highway driving. oh and it takes premium fuel. buying tires for this car is not fun! ( on your wallet! ) cheap tires are not recommended for this car so some good tires like BFG G Force tires will run you about 150 bucks a piece! ouch i know! maintenance isnt bad. especially if you know how to do your own oil change and change out he brake pads. Fun Factor - this car is really fun to drive! i promise! just send me a message if you ever want to take a drive with me! ;) ------- this car isnt for everyone! lets just say this.... this car is a beast and if not given full attention it will bite you on the butt! its fast, its crude and its awesome! lol this is NOT a good first car. this is NOT a car any teenager needs to be driving. this is NOT a car for any person that has ever called a toyota corolla "sporty" THIS CAR WILL KILL YOU! DONT GET IT! ;)
Matt

writes:
2004 Dodge Neon SRT-4 4 Dr Turbo Sedan
Review
Pros
Fast, comfortable, looks good, doesn't feel cheap
Cons
hard to work on, 4 doors
It Is Fast, Fun To Drive, Comfortable And Reliable — I think that the SRT-4 is quite possibly the best of the sport tuner cars out there. Sure, it's not AWD like the lancer and Impreza, but it is much cheaper than either of those two and gives you an experience that is more than worth the price tag. The viper style racing seats hug you and the interior is arranged perfectly to accommodate the driver. It can run with the best of them, pinning you to the seat with surprisingly little wheel spin. An altogether perfect package put together by the SRT boys and Dodge.
Primary Use: Sport/fun (spirited driving, track racing, off-roading, etc.)
Omar

writes:
2004 Dodge Neon SRT-4 4 Dr Turbo Sedan
Review
Pros
Sports compact vehicle you can modify and easily repair.
Cons
Loud exhaust and may wake up the neighbors after a late night run.
Dodge Neon Srt4 — I have a few mods and still adding. Check out my garage and see details. Carbon fiber hood. The power this thing has will leave you smiling and it's just so fun to drive. Haven't had a car like this since my first car which was a ford probe. This one kicks ass.
Primary Use: Commuting to work
Ben

writes:
2004 Dodge Neon SRT-4 4 Dr Turbo Sedan
Review
Pros
Fast, fun, eye-catching.
Cons
Mechanical sketchyness, will need work in the future
Excellent Starter Car If You're Into Tuners. — This car is fast, no question. From a roll it's neck and neck with an EVO. It would be nice if it had AWD since there's so much torque. But overall, not bad for a Dodge. It's a little rattle-ey. Probably because it is a Dodge. The transmission will probably need to be rebuilt at some point. Other than that tho, no major repairs. The motor is solid. It handles superb. Gets great gas mileage for what it is; around 27 MPG.
Primary Use: Sport/fun (spirited driving, track racing, off-roading, etc.)
Ben

writes:
2004 Dodge Neon SRT-4 4 Dr Turbo Sedan
Review
Pros
Bare bones approach to performance and styling.
Cons
Loud interior and cheap bits and pieces.
Cant Be Beat For Under 10 Grand — I haven't ever taken it to the track but the acceleration, power, and sound are addicting. As far as quality I love the bare bones approach at performance though its a little loud on the highway and theres a few odds and ends that are a bit flimsy. The appearance is awesome, I love it thought it needs a new set of wheels and some coilovers to lower it. Gas mileage is in the 20's so its a little underpar. The engine runs great but small bits and pieces have needed to be replaced. This car is definitely fun to drive, fits like a glove, and surprises many.
Primary Use: Commuting to work
Jared

writes:
2004 Dodge Neon SRT-4 4 Dr Turbo Sedan
Review
Pros
Great speed, decent handling, cheap price
Cons
If you hate high powered FWD, stay away
Great Value, Extreme Potential, Tank Of A Motor, Good Handling Potential With Mods. — I purchased this car unwittingly, only to discover I got a lot more than I thought. For the price (factoring in other new rides, yes we all know you can supe up a used car on the cheap), it has been the single best performing and most reliable car I've owned. I had an 03 for 25k with zero issues, and I currently own an 04 with 140k, with the only issues so far being the ever common throttle positioning sensor wire needing to be extended (some come too short from the factory, causing them to either pull on the socket under torque, or wear against other things, also due to torque.), and a bad fuel pump that failed at around 75k (the car did not die the pump was symptomatic and the car was never out of commission). A little disappointing, but I replaced it with a better one for 120 on my own time. Acceleration: Very good, very torquey Braking: The brakes are amazing. Some newer cars had better ones, but this car was stopping in line with some Ferraris back in 2003. Handling: Stock handling really isn't that great. One set of coilovers and wheels with good rubber will put you in a very very good position however. Build Quality: In my experiences, mechanically sound. Some squeaks at age, but nothing terrible. Interior looks brand new outside of my personal abuses. Appearance: Many of us owners are partial to our cars. I'm not a huge fan of the car's looks honestly. I removed the wing and lowered it as quickly as I could. Wheels are nearly a must, stockers are 6". Stock rubber isn't too shabby, but is one of the quicker handling improvements you can do. Gas Mileage: Some people have issues... I believe they are leadfoots. I rarely get below 25mpg a tank unless I am boosting early and often. If I am controlled, my tanks get between 28-30mpg, and occasionally with extra highway driving I have hit 33mpg.
Primary Use: Commuting to work
SRT4man

writes:
2004 Dodge Neon SRT-4 4 Dr Turbo Sedan
Review
Pros
gets up and goes speed sounds fantastic looks great and very nice ride.....also alot of customizations
Cons
sunroof doesnt work, turbo needs to be reconnected to computer manifold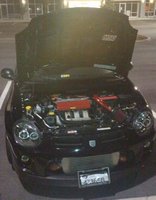 Great Fast Reliable Sedan — like everything about it just need to get a family car instead of this suped up car...great on gas and very comfortable bucket seats in the front. once the turbo is reconnected this car will be a beast on the road cause of all the upgrades and the new manual turbo tuner kit in underneath the where the stereo is thats also where the turbo timer is too...
Primary Use: Commuting to work
Mike

writes:
2004 Dodge Neon SRT-4 4 Dr Turbo Sedan
Review
Pros
Fast 4dr sedan for the winter time.
Highly Recomend For A Fast 4dr. — Very fast car for a neon, Build quality is a 3/5, appearance is 5/5, cost of ownership is like any other turbo sedan. FUN to drive. I would highly recommend to any one who is in the market for a fun sedan.
Primary Use: Commuting to work
Stephen

writes:
2004 Dodge Neon SRT-4 4 Dr Turbo Sedan
Review
Car Is The Best Bang For Your Buck! — This cars engine handles an EXTREME amount of horsepower for a stock motor, it can handle about 500 horsepower stock! It can also be a family car/grocery getter as it is a 4dr, It saves on gas compared to them 8 cylinders and makes the same horsepower!
Primary Use: Sport/fun (spirited driving, track racing, off-roading, etc.)
Displaying 1 - 10 of 56 2004 Dodge Neon SRT-4 reviews.
Reviews From Other Years
Great Childish Fun, But Probably Asking For It (whatever That May Mean)
After I graduated high school in 2005, I was determined to get a nice car to start off my adult life. Unbeknowngst to my parents (and obviously against their wishes), my best friend and I took off to... Read More
It's A Good Car For A Young Driver That Wants A Little Boost.
The neon is okay. The turbo gives it some speed, but it's nothing special. I'm more of a Cobra girl. We way overpaid for it. It's probably only worth half of what we paid for it now. The only coo... Read More
Read all

20

2003 Dodge Neon SRT-4 reviews
Wow, Just Wow
This car is my all time favorite car. I've owned more then a few and If I could make it happen I would buy another one in a heartbeat. There is something about driving this car and looking at the peop... Read More
Over All Impression Of The Car Is Fair.
Like a lot of things. Dislike a little. Its not a bad car over all. It's small to fit in to smaller places. This has came in handy a lot of times. I don't really have to much bad to say about the car.... Read More
Read all

84

2005 Dodge Neon SRT-4 reviews
Looking for a Used
Neon SRT-4
in your area?
CarGurus has
54
nationwide Neon SRT-4 listings starting at
$4,795
.