2004 Audi S4
User Reviews
Average Ratings from

25

reviews
Performance:
Appearance:
Build Quality:
Overall:
Review Highlights
Click to filter reviews below
Displaying 1 - 10 of 25 2004 Audi S4 reviews.
Eric

writes:
2004 Audi S4 4 Dr quattro AWD Sedan
Review
Pros
Awesome daily driver, unique style, AWD, Looks expensive
Cons
Full-size truck mileage, Audi dealers make money, people think it's an A4
Audi B6 S4 V8: Gotta Pay To Play — The car is a dream to drive. It is solid and feels like a bank vault on wheels. It displays some mild understeer if pushed hard, however I am hoping a new rear sway bar will rectify that. The engine is fantastic and revs like a 4cyl. The 4.2L V8 is not known for mileage, but if you want big MPG numbers, buy a Prius (and stay the hell away from me) The car looks like a $50k+ car, because it is. I opted for the Alcantera/Leather interior in black and I love it. I will say it's a maintenace whore. It is not cheap to repair or replace parts. If you can just barely afford the car, don't buy it. The maintenance will eat you alive! Of course, you could just not do the maintenance. That would be stupid, though, because a new engine with instal and removal from the dealership runs +/- $14K! Seriously. I guess the thing to say is this; If you want a german sports sedan and think that Benz's are pompous and BMW's are common then buy the $4.
Looking for a Used
S4
in your area?
CarGurus has
1,607
nationwide S4 listings starting at
$5,595
.
Jim

writes:
2004 Audi S4 4 Dr quattro AWD Sedan
Review
Pros
The ENGINE! Quattro AWD system, dashboard layout, handling and steering feel, acceleration, brakes.
Cons
It's a VW Group car. Rear legroom is completely nonexistent, and the gas mileage is laughable...but if you're buying something like this, you don't care. Some might find it too "clinical" and German.
4.2 V8 In A Small Sedan? Yes, Please! — Take an Audi A4 and shoehorn a 4.2L, 40-valve V8 swiped from the A8 under the hood and you end up with the Audi S4. This is a good combination and I love this car...and this is coming from someone who doesn't like Volkswagens and their questionable reliability at all (Audi is part of the VW Group). PERFORMANCE: Amazing. The 4.2 V8 churns out 340 horsepower and sends the car from 0-62mph in 5.4 seconds. 0-200km/h (124mph) comes up in a shade over 20 seconds. The sound the engine makes is glorious - it's not obnoxious or objectionable in any way, but it's unmistakably V8 and unquestionably powerful. The six speed manual gearbox is quite nice, although the clutch seems to lack feel for its engagement point until you get used to it. Handling is tight and responsive, though some might find the ride too hard. It's not bone-jarring, but you will feel every road imperfection. The steering is appropriately weighty and has decent feel. The weight distribution is similar to a front-wheel-drive car because the engine is mounted ahead of the front axle line, so the prevailing characteristic at the limit will be understeer. The brakes are excellent.STomp on them, and you'll be having leather-wrapped steering wheel for lunch! Fuel mileage? Well, if you must ask, the one I drove has 16 average mpg on the display when I got in. Heh...with the rest of the car...you're not exactly going to be bothered about this factor when you're shopping for one. Five stars. BUILD QUALITY: It feels like it was carved from a solid block of granite. The interior is outstanding, as Audis always are. The exterior shows immaculate build quality, with perfect panel gaps and an outstanding paint finish on the black car I drove. However, being a Volkswagen product, I'm (understandably) leery of the all the electronic gizmos. There are a lot of electronics in this car, and that seems to be VW's weakness. Three stars because of the electrical concerns...I expect it to be average. APPEARANCE: This car is a total sleeper. You have to know what you're looking at to know what it is - it has subtle "S4" badging, bigger, unique wheels, and very slightly more aggressive fascias than the standard A4. If you want a small sports sedan that flies a little under the radar, this is it. It's much less conspicuous than a comparable BMW. Five stars. OVERALL: The big question: Would I buy one over a BMW 3-series? Yes, I would, without a second thought...if for no other reason than it is so much less pretentious than a BMW. Plus, how many quicker 3-series do you see every day? Now, how many S4s do you see every day? I thought so! Five stars. Great car, even though I'm neither a small sedan guy nor a VW fan.
codymcnearney

writes:
2004 Audi S4 4 Dr quattro AWD Sedan
Review

I Was Not Let Down — the car is amazing. From the time I bought it to even now, I look forward to driving it places and washing it. Hands down best car I've owned out of the several cars I've previously had. Never a dull ride.
Primary Use: Sport/fun (spirited driving, track racing, off-roading, etc.)
blahdeeblah

writes:
2004 Audi S4 4 Dr quattro AWD Sedan
Review
Pros
The car looks great. Great styling outside and in. A lot of power and very comfortable.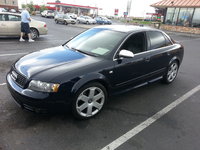 I Wish I Could Keep It. — I like how much fun it is to drive. Tons of power, and planted to the ground. Its definitely a drivers car. Looks great too, with the tinted windows and the wheels from the factory. Maybe I'll buy another one in the future.
Primary Use: Commuting to work
Drebholz

writes:
2004 Audi S4 2 Dr quattro AWD Convertible
Review
Pros
Nice car. well appointed insterior, good styling, audi quality
Cons
gas mileage, maintence

2004 Audi S4 Cabrio — Its a good weekend getaway car, mileage on the freeway is not too bad but city driving is not so good. Great looking car and fun to drive just lots of little maintenance items to take care. I am pretty much a do it yourself guy and this is not the easiest car to work on, not much room in the engine bay.
Primary Use: Sport/fun (spirited driving, track racing, off-roading, etc.)
Miguel

writes:
2004 Audi S4 4 Dr quattro AWD Sedan
Review
Pros
Performance, Fun to Drive, Comfort Features
Cons
Fuel Economy, Maintenance Costs
Audi S4 — It is simply the best car I have ever driven. It accelerates so quickly, and is faster than most cars. It does cost a lot to own, but it is completely worth it for the car you get. It is extremely fun to drive and one of the best overall sports sedans that money can buy.
Miles

writes:
2004 Audi S4 2 Dr quattro AWD Convertible
Review
Pros
Powerful engine, nice subtle styling, beautiful and incredibly luxurious interior.
Cons
Drives like it is really heavy, electrical system not very reliable.
Luxurious, Sporty, And Fun On A Sunny Day — A convertible that doesn't shout out "hey look at me, I need attention because I'm hitting a mid-life crisis" unlike many others. Interior comfort doesn't get any better in my opinion. Comfortable seats that keep you in place around corners, beautiful leather interior that is incredible to the touch. The engine will definitely get the car moving fast, quickly, and with power to spare. The premium sound system makes you feel like you are at a concert. But the car handles like it is very heavy, which it is, and the electronics for the folding roof are very unreliable.
akinaperformance

writes:
2004 Audi S4 4 Dr Avant quattro AWD Wagon
Review
Pros
Power, Control, Comfort.

S4..the Most Amazing Car Ever Made!!!! — I recently purchased my S4, it is the sexiest, sleekest, and such a sleeper! I love my car! Excellent handling, the Quattro is AMAZING as well, the power never gets old either, everytime I turnon the car is still exciting! Gas is typical for a v8, so worthit though! And especially love the fact that their are not many S4's on the road! Love the car!!!
Christopher

writes:
2004 Audi S4 4 Dr quattro AWD Sedan
Review
Pros
Sexy blacked out interior, Recaro seats in the front and back, massive power band, and tight in the turns.
Cons
Small backseat, and like all sedans the backseat is a rougher ride than the front.
Sexy, Sleek, And Subtly Powerful! — Gas is getting expensive and the MPG's aren't the best, but then again I didn't buy a 4-banger Civic. I bought an AWD, 4.2L V8 with about 344 at the crank and 236 to the wheels. The only think I didn't like about this vehicle was the cost of needed repairs. Oil changes and other fluids I can do myself, but hopefully you can find a good trustworthy mechanical for the major work.
Primary Use: Commuting to work
quattro3

writes:
2004 Audi S4 4 Dr quattro AWD Sedan
Review
Pros
Performance, comfort, safety, appearence, build quality, fun factor, value.
Cons
Not the best gas mileage, lacks rear legroom.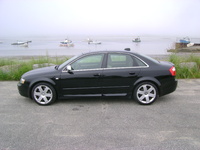 A Car That Everone Likes, Not Just The Driver! — Where to start? The 2004 Audi S4 is a sedan that couples German luxury with V8 performance. The 4.2 liter 340HP engine is harnessed by Audi's famous Quattro all-wheel-drive system. The combination provides an extremely fun car to drive with a feeling of security in bad weather. The handling is quite sporty with very little body roll when sticking it through a corner at high speed. This is due to excellent suspension that makes a great compromise when it comes to the choice between sportiness and the ability to iron out most of the bumps in the road. With large disc brakes on all four wheels, the stopping power is nothing short of exceptional. The S4 is also very comfortable to drive with its luxurious accommodations. Features such as a 10 speaker Bose sound system, satellite navigation, xenon headlights, OnStar and XM radio are all great to have, just to name a few. One of my favorite features is the ability to automatically flash the turn signal three times just by briefly moving the directional stalk. This is very convenient for lane changes during highway driving. The heated leather Recaro sport seats with alcantara inserts are very comfortable, but an overweight person probably will not fit in the seat well. The appearance is absolutely stunning as well. It combines contemporary Audi styling with sharp, well defined lines that give an aggressive stance. The S4 looks almost identical to the A4 on which it is based to all but the well trained eye. Some of the visual differences include vertical slats in the grille, a subtle body kit, S4 door blades, standard xenon headlights, polished aluminum mirrors, chrome trim and sporty S4 badges on the trunk lid and grille. The overall build quality is exceptional. The interior/exterior is made of high quality materials and has a solid feel to it. Also, there is plenty of sound insulation to dampen road noise. There are only a couple negative aspects of this amazing car. The first is that it is quite thirsty...I only get about 17-20 miles per gallon. The second is that the rear seat legroom is slightly lacking, but that is normal in a small car. The trunk is quite large which offsets the point about the rear legroom. I would recommend this car to any car enthusiast. It is extremely comfortable, luxurious, beautiful and fun to drive. At around $52,000 new (including options), it is also good value compared to its direct competitors, the BMW M3 and Mercedes C32 AMG. One final point is that this car does not carry the stereotypes that cars such as the BMW or Mercedes do...that is, people will like you.
Displaying 1 - 10 of 25 2004 Audi S4 reviews.
Looking for a Used
S4
in your area?
CarGurus has
1,607
nationwide S4 listings starting at
$5,595
.