2004 Audi A4
User Reviews
Average Ratings from

38

reviews
Performance:
Appearance:
Build Quality:
Overall:
Review Highlights
Click to filter reviews below
Displaying 1 - 10 of 38 2004 Audi A4 reviews.
familygirl

writes:
2004 Audi A4 1.8T Quattro
Review
Pros
Hold its value well. The 2004's had some corks, but once you work through those like we have with our Audi it is a very nice car and reliable. I know that this car in particular can be modified for more power, and there are tons of aftermarket kits to do all sorts of things to make it into the car you want. I heard of 300+ horse power out of this engine with the right mods. So it defiantly is popular with the tuners out there. It gets great gas milage too.
Cons
The 80,000 service is very expensive to take care of. Its a small European engine so its more difficult to work on, and you can't just take it to any old shop. However, if you take the time and find a good smaller shop and take care of the maintenance and treat it like your baby it will last you forever, and not regret it. All this being said when you buy a European car a person has to be aware of the fact that parts and labor will be more costly, and as long as you have this understanding you wont be in sticker shock when something does go wrong and you have to repair it. All in all my personal opinion is this...the part cost and labor was not that much off from my older 2003 Lincoln Navigator, which is Ford luxury. To be honest with the extensive computerized components of newer vehicles today you can't do much on them besides the oil and air filter, and it's just as costly to repair a new car as it is an Audi. Like I said just don't take it to an Audi dealership, find an independent shop, because Audi will charge you a lot of money.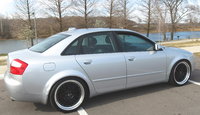 Fun, Sporty Sedan — The only thing that I did not like about the car was the rubbery like spray that they use over the interior plastic components. It's hard to find an older Audi or VW that this covering has not started to come off because of normal wear and tear. You see it normally on the radio buttons and light switch etc. The other thing would have to be the starting acceleration, you don't see a power boost till the turbo kicks in at about 2 rpm or so. So trying to pull into traffic can be an issue sometimes. I have to say though once the turbo kicks in it defiantly gets you up in mph very quickly. I know that with the proper mods it would be 100% better, I just wish they would have done something more with this to start off with. Other than those things I have had fun with the car...we bought it as a family ca,r more for the gas milage of a smaller car, but still having something that was fun to drive. Even though it is on the smaller size it still fit my 11 year old and 2 year old in a car seat and two adults well. We had to go to a larger car since we are expecting our third, and three in the back won't fit in the Audi. It's comfortable to drive on longer trips, it is quiet inside as well, with a great sound system for being stock. I never had and problems with blind spots in the car, its always been clear for view out of all windows for traffic and your surroundings. The trunk space is surprisingly roomy for a smaller car too.
Primary Use: Family transportation
Looking for a Used
A4
in your area?
CarGurus has
10,388
nationwide A4 listings starting at
$1,795
.
Vic

writes:
2004 Audi A4 3.0 Quattro
Review
Pros
Great five speed. Good car for semi-experienced stick drviers.
Cons
Expensive repairs. Redefines 'foreign car'
I Loved It. — It had decent acceleration in the first few gears but it was primarily top end with the 2.8 N/A engine. I liked it, it was a fun little psuedo rally toy in the right environment. It squeaked and roared like hell due to a big ol' tear in the muffler. It had a few issues with a piece of trim having come off the exterior and small rust spots. Relatively good on gas, but that depended on how well ya drove. Wicked fun to drive, find a lot filled with dirt and buy some spare tires. Audi repairs are expensive as hell..even for aftermarket parts.
Primary Use: Commuting to work
Daniel

writes:
2004 Audi A4 3.0 Quattro
Review
Rich — The car is stock except for a cat back exhaust, lowered springs with bilstein struts, rs4 rear sway bar kit, milltek cat back exhaust, 19 inch bbs rims and led interior lighting. More mods in the future. Car rides firm and sticks to the road. Gets good gas mileage even when stomping down the 3.0 v6.
Chris

writes:
2004 Audi A4 3.0 Quattro
Review
Cons
Overall, just dosen't measure up
Good. But Not Good Enough. — The Audi A4 is a very good vehicle. however, being in the same category as the BWM 3 Series, Mercedes-Benz C-Class, Lexus IS series and Infiniti G models, I don't think it measures up to it's competition.
Jon

writes:
2004 Audi A4 3.0 Convertible
Review
Pros
Great quality car, and far less common than the 330CI and CLK320
Cons
City driving fuel consumption a bit high
Audi A4 Convertible V6 3.0 — Good performance, class leading looks and very solid construction. Previous car was a Saab convertible and this beats it in every way. Combines sporty fun topless driving with practicality of four seats and half decent boot. Good performance, managing 0-60mph in about 7.5 seconds, tons of torque at any speed. I can't think of anything to dislike about this car.
Vlado

writes:
2004 Audi A4 1.8T Quattro
Review
Pros
This car is fun as hell to drive
Cons
its gas sucks when it gets upgraded.
Audi A4 — its a very fun car, and is deffinetly worth having. It is a fast car when you do the right mods to it. It also has alot of room for you to drive people in it even though it might look small.
Primary Use: Sport/fun (spirited driving, track racing, off-roading, etc.)
brandyns8

writes:
2004 Audi A4 1.8T Quattro
Review
Pros
Best Car Audi made well not really the best car as its not an R8 but this car drives great and the speed is the die for. I love everything about this car there is not one bad thing I can say about it.
Cons
Who hates paying for gas to fill up is not good but over all the car is great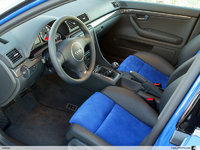 The Best Car To Own — I love everything about this car I can't say one bad thing about this car. I got the car at a great price and couldn't say no. I love it its a must own if you ask me. Yes it is 10yrs. old but drives like its 1 years old.Thats a great thing to know about this car.
Primary Use: Commuting to work
Jason

writes:
2004 Audi A4 1.8T Avant Quattro
Review
Pros
interior, stereo, quattro, fuel efficient, handling, full size spare
Cons
lack of power, long throw shifter, expensive to maintain once warranty is up
Nathan

writes:
2004 Audi A4 3.0 Quattro
Review
Pros
Insane in the snow.....gotta love German engineering!
Cons
Repair cost,....still under warranty...phew!
German War Machine — I dislike that it's not a 2009 RS6! It's my own personal V2 rocket. My car was made in Ingolstadt, Germany. It's a fun car, but can get costly due to my 400lb. right foot. Curse you state police....lol
Primary Use: Family transportation
DECLLC

writes:
2004 Audi A4 3.0 Avant Quattro
Review
Pros
Sporty family wagon. Not to big, not to small.
Cons
3.0 liter.....low MPG's around town/city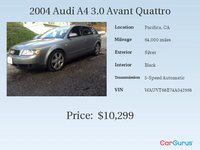 Very Comfortable Traveling Vehicle. — Good family vehicle, load kids stuff in the back and go. Not very good MPG when driving around the city (stop and go). No problems when entering on freeways with the 3.0 liter motor. Put the pedal down just a little, and it goes.
Primary Use: Family transportation
Displaying 1 - 10 of 38 2004 Audi A4 reviews.
Looking for a Used
A4
in your area?
CarGurus has
10,388
nationwide A4 listings starting at
$1,795
.