2003 Volkswagen Jetta
User Reviews
Average Ratings from

109

reviews
Performance:
Appearance:
Build Quality:
Overall:
Review Highlights
Click to filter reviews below
Displaying 31 - 40 of 109 2003 Volkswagen Jetta reviews.
kboucher02

writes:
2003 Volkswagen Jetta GLS 1.8T
Review
Pros
Basically had no problems from when I bought it six years ago (43,000 miles) to recently (105,000 miles). Quick nice looking car with above average gas mileage.
Cons
Ever since since I hit 100,000 miles I have been having multiple problems compared to barely any through 6 years.

Quick Car Chicks Dig It. Turbo, Intake, Coil Overs, Blow Off Valve 17 Inch Alloys — Has been good to me for several years and now that it is paid off I'm starting to have all kinds of issues. Nothing too serious yet. Thank god. Having a little trouble getting it on the road now because I am doing all the work myself. Do not have the money to bring it to a shop at the moment and certainly don't want to pay for a tow to bring it down the street. We shall see...
Looking for a Used
Jetta
in your area?
CarGurus has
34,249
nationwide Jetta listings starting at
$1,375
.
flash9

writes:
2003 Volkswagen Jetta GLS TDi Wagon
Review
Pros
We have had this car from new. Purchased it for $22k, and would not trade it for any other car. It now has 125k miles and has averaged 38 mpg in 70% City - 30% Hwy driving. I replaced the original drivers seat with a power seat with memory from a GLX model. It is way more comfortable and adjustable then the standard drivers seat.
Cons
Back seat leg room is very small. It was OK when our daughter was 7 years old, but is getting too tight 8 years later.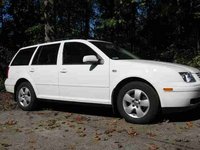 Great Reliable And Even Better Economy! — I know that VW gets a bad wrap for reliability, but this car has only needed its routine maintenance over the past eight years. The rear brakes lasted 90k, and I just did the front brakes at 125k, and could have gone longer! The diesel engine is rock solid and has great torque. We have the 5-speed manual and would not choose the automatic transmission.
Primary Use: Commuting to work
Synista7

writes:
2003 Volkswagen Jetta Wolfsburg Edition
Review
Pros
Handling is amazing its fast hits corners like a charm I love my Volkswagen wont buy any other brand from now on

Cons
Fixing it is expensive

Sleek Beautiful Body Style — What I really like about this car is the design of the body and the inside I have a black on black Wolfsburg and if you got the cash to spend then I recommend this car mostly because its safe it has many features such as heated cloth seats a monsoon factory system bbs racing rims stock it's just a super nice car
Primary Use: Commuting to work
MakaylaScharber

writes:
2003 Volkswagen Jetta GL 1.8T
Review
Pros
Cute, small little car. Loved all the power it gives. Very fun to drive.
Cons
Fixing it was hard because its a foreign car. Parts cost alot more.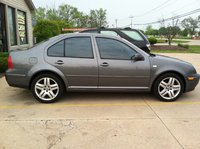 Jacob

writes:
2003 Volkswagen Jetta GL TDi Wagon
Review
Pros
Fuel Economy
Sound Handling
Cons
Air intake, get's coked up from the EGR
Worth It — Not particularly peppy, but at 50 mpg sins are forgiven. Though it is kinda slow it still is quite entertaining to drive, especially on the manual version. There are a few quirky things that rattle, such as the shifter, and the release button for the parking brake, but it's really not bad.
Primary Use: Family transportation
Lita

writes:
2003 Volkswagen Jetta GL TDi
Review
Pros
It has an automatic transmission
Cons
Everything else, leather seats, weak AC, doesn't want to work, etc, etc, etc.
Alexandre

writes:
2003 Volkswagen Jetta GLI
Review
Pros
the engine, the chassis, the unicity, the esthetic customization
Cons
it is a bit hard on gas, some electrical problems, not a cheap car to buy even used, it is not always running good really depends on the car for reliability
A Timeless Classic Of German Engineered Masterpiece, — I got a fine one but build quality cannot be assured overall engine and performance: in its stock form the engine have impressive amounts of torque and good hp that is not necessarily in need for modifications (frankly stock with filter and performance exhaust is enough). It gives instant acceleration (better than some modded 1.8T as no lag in the response), in overall suspension, brakes and handling is solid, is as the feel of a "FWD BMW" but can be really spiced up with quality modifications parts as I said build quality can vary but some of them are fine like other can be lemons brand new in the dealer's lot appearance: it is a sleeper, it blends with all Jetta, the only catch is the 17 inches "Monte Carlo" alloy wheels or the "GLI" rear emblem, again this part is a very easy way to make this car stand out as good parts for customization are quite easy to source (not cheap but easy to source), the interior look a no match for a lot of cars in the segment, it is german and we see it fun: it is all said, the chassis is solid on spiritedx driving and the engine transmission combo (in 6sp manual) is a delight, and when we don't hear a 24v symphony the double din monsoon premium amplified stereo system is a piece of auditive heaven Cost: as this car is a performance oriented (luxury if you add heated leather) car, oil is not a thing you can mess up, synthetic is the only good option for a good running engine, it run on premium gas in 94 US octane and it drinks when pushed so be prepared to show the money, as a special vw model, part and service on the 24v GLI can be quite more expensive than a 1.8T and if the car is not in good shape it may be a possibility that it will see a garage very often, otherwise the maintenance is not too frequent and is not so expensive if the car run well
Primary Use: Sport/fun (spirited driving, track racing, off-roading, etc.)
Ryan

writes:
2003 Volkswagen Jetta GL TDi
Review
Pros
45+ mpg... no problems
Jetta Tdi, Hope You Are Not In A Hurry — Performance - Acceleration was non-existent, but it got 45mpg and would maintain 100mph Build Quality - It is a typical VW... meaning it could be much better Appearance - Eurotrash styling, I liked it, others think they are a tad bit on the flaming side Cost of Ownership - great mileage but costly maintenance Fun Factor - it lacks it. Let's face it, it is the toaster of the Auto market... but it sipped little fuel going from A to B
Russell

writes:
2003 Volkswagen Jetta GLI
Review
Pros
Very comfortable highway ride, powerful and torquey engine, smooth 6-speed transmission, built like a tank, great materials, wonderful interior.
Cons
Terrible gas mileage for a 2.8 V6, wallows in corners, low handling limits, fragile switch-gear.
Great Highway Cruiser With Plenty Of Power! — Loved the ride, very controlled on the highway, huge amount of torque available at nearly any RPM level, great visibility, wonderful steering, and was rock-solid dependable for the 3 years I owned it. This was my first VW and it acquitted itself so well we bought another later on! If you are looking to stand out this car will disappoint as it looks like every other, more pedestrian Jetta on the road, save for the wheels. If you drive on the highway a lot this is a wonderful car to be in!
Primary Use: Commuting to work
Natalie

writes:
2003 Volkswagen Jetta GL 1.8T
Review
Pros
Wicked fast when turbo kicks in.
Cons
Turbo drains the gas tank...
Good Car... Not Great, But Not Bad, Either. — Turbo is nice, but I'd prefer a bigger engine. Decent handling but a poor turn radius. Brakes are always making noises and the mileage could be better, but in the end it's a very sturdy, dependable little car. In the future I will likely stick with VW but upgrade models.
Primary Use: Commuting to work
Displaying 31 - 40 of 109 2003 Volkswagen Jetta reviews.
Looking for a Used
Jetta
in your area?
CarGurus has
34,249
nationwide Jetta listings starting at
$1,375
.