2003 Volkswagen Jetta
User Reviews
Average Ratings from

109

reviews
Performance:
Appearance:
Build Quality:
Overall:
Review Highlights
Click to filter reviews below
Displaying 21 - 30 of 109 2003 Volkswagen Jetta reviews.
Joel

writes:
2003 Volkswagen Jetta Wolfsburg Edition
Review
Pros
+ good stock engine
+ decent stock suspension
+ practical (storage space and transport capacity are both good)
+ incredible aftermarket support, if you're into that sort of thing.
+ wolfsburg edition comes with BBS alloy wheels =3
+ optional monsoon stereo is excellent for a stock system
+ very reliable
+ great fuel economy, if you're mindful of not using full boost all the time
Cons
- who decided it was a good idea to make a water pump with a plastic impeller?
- small stock intercooler
- lots of understeer when you get past about 7/10
- vw plastic shenanigans
- not great fuel economy, if you use full boost all the time
- some rattling as the years pass
- somewhat challenging to work on. oil filter isn't very easily accessible.
- people tell you that you've got a chick car
Great First Car, Good Performance For The Price — I got this in my Junior year of highschool... it was my first car. 2003 wolfsburg, 1.8L turbo, 5speed manual, and the mildly sport-tuned wolfsburg suspension. I loved this thing. great engine - super small displacement + turbo takes a while to get used to, but its a lot of fun when you figure it out. just watch out for a little torque steer. also, mods for markIV jettas, especially 1.8T's are rather cheap (though i never got the chance to install anything besides e-code headlights). APR makes an ECU mod for around $500-600 that kicks the power from about 180hp to 210-ish (crank, i think), but more importantly, boosts torque from 163ft-lb to ~245ft-lb... with no other modifications. the engine has a *LOT* of potential. just keep in mind, though, the stock intercooler is pretty small (side mount, about 6 by 15 or so inches), so if you're pushing really hard for an extended period, you WILL heatsoak the engine, and you can *definately* feel the power drop - boost takes longer to kick in and doesnt peak as high as when the engine is cooler. of course, as with any turbo car, the engine is a lot more perky in cold weather - cooler and denser incoming air. for what it is (economical sedan with slight sporty inclinations), it's great. it will seat 4 moderately comfortably, as long as everyone isnt a giant. good power, pretty good handling (though it understeers a lot at the limit... compensate with a little left-foot braking), great storage space (i basically lived out of my car in highschool =P), and the ability to pull on any stupid civic ricer are all definite plusses in my book. it's a little hard to work on though. it's a small car, and as such has a very tightly-packed engine bay. the oil filter is in an irritating location, and requires removal of the front underbody airdam (if you want to avoid getting oil all over it). i had the optional monsoon stereo too, which was awesome for a stock system... i thought it sounded better than the speakers in my dad's G35, which cost 3 times as much. technical failings i observed: -water pump: for some reason, VW a.g. decided it would be a good idea to manufacture the impellers on the water pump out of plastic. this last summer (2007), i noticed the temperature spiked into the red zone, even when i was driving very sedately (city or highway speeds). it was covered under warranty, but it was a pain in the ass to have to keep myself from using much of the boost. -radiator fan: the larger of the two mounted behind the radiator failed around the same time as the water pump. taken care of on the same trip. -transmission: i noticed this problem gradually getting worse over the time i drove this regularly... 3rd gear is a little finicky. it feels like the synchros are chewing on something when you shift quickly... which i tend to do all the time (helps keep the boost up). the vw service guys 'cant replicate the issue'. whatever... i'm gonna recommend to my dad to swap in a vr6 gli 6speed tranny when this one goes. interior finish: not technical per se, but something i've noticed in a lot of vw's more than a few years old. you'll start hearing little rattles and stuff.. and the nice matte finish plastic they use on a lot of stuff (particularly the inside door grab handles) starts wearing off a bit... kinda sucks, but those are the failings of age.
Looking for a Used
Jetta
in your area?
CarGurus has
35,569
nationwide Jetta listings starting at
$988
.
Matt

writes:
2003 Volkswagen Jetta Wolfsburg Edition
Review
Pros
Great 1.8T engine, good gas mileage, fun to drive
Cons
Expensive replacement part costs
If You Can Find A Good, Clean Used One...buy It. — I loved this car and miss it dearly. Build quality was very good...the doors were very solid and had a tight fit, the dash was made of very high quality materials and overall fit and finish were good. Gas mileage and power from the 1.8T engine were great...I used to average around 30mpg. There was a bit of turbo lag, but once that passed, the car scooted along nicely. The Wolfsburg package added wheels by BBS and a real spoiler, it was a pretty nice looking car, especially in red. One of the only negative things was the cost of replacement parts. I didn't have to do much, but when I did, it was expensive. I think that's typical for VW's. Some VW's have a reputation for poor reliability, but I never had any trouble with mine at all. The car handled very well, pretty flat cornering and the brakes were very good. I'd definitely recommend this car. I'm glad to see that VW made the Wolfsburg available again with the turbo engine...I would have liked to speak with whoever decided to put the 2.5 5cyl in the supposedly special "Wolfsburg Edition."
Primary Use: Family transportation
Joseph

writes:
2003 Volkswagen Jetta GL 2.0
Review
Joseph — Small peppy, good handling, great gas mileage. Expensive to fix. Accelerates decent for a 4cyl. Only needed on repair in the year ive owned but it cost 700$. Good style for low price. Fun to drive, love the 5 speed.
Primary Use: Commuting to work
sanderson_ken

writes:
2003 Volkswagen Jetta
Review
Cons
Continues to have electrical and transmission issues.

Jessica

writes:
2003 Volkswagen Jetta GLS 2.0
Review
Pros
MPG, handling, fit & finish, looks, driving comfort (I own a manual 5 speed), cargo capacity, reliability
Cons
Upkeep is a bit on the expensive side because she is an import, after all...
I Call Her Zoe. All Volkswagens Need A Name. She's Been With Me Through Thick And Thin. — The nicest part about the VW Jetta is its reliability. I've had to fix a few minor things in the course of our 5 year relationship, and most of those due to I uncerimoniously and rudely decided to get into an accident (whups) and destroyed the entire oil system. She's a beaut, tho, despite how hard I drive her she never says no and always treats me well. I love my car.
1 of 1 people found this review helpful.
You found this review helpful
Alexandre

writes:
2003 Volkswagen Jetta Wolfsburg Edition
Review
Pros
1.8T, handling, front seats
Cons
back seat, VW reliability repututaion...
Classic With A Bit Performance Under The Hood And The Vw Logo On The Front — The Jetta Wolfsburg edition has the 1.8T motor 180hp a sport interior, modified suspension, dual tip muffler and 16 in. BBS mag. The interior is great! Seat are comfortable and firm (heated also!!) with good lateral support. The three spokes stearing whee is adjustable in both direction and l the general feeling is feels like quality. Motor: I like when you press a bit more on the gas and you hear the turbo. The direction and suspension are tipically german so you always feel safe when cornering.
Evzen Karasz

writes:
2003 Volkswagen Jetta GLI
Review
Pros
the car all around its well build car
Cons
lots of gas and maintenance its little expensive here in Toronto Canada
A Must Have To Experience The True Beauty — This car is amezing its a top of the line jetta its a very nice factory build car lots of power and totque and is sounds like a beast the car gets lots of attention its very rare Jetta is always a joy to drivet
Primary Use: Family transportation
Valeri

writes:
2003 Volkswagen Jetta
Review
Pros
cheap, good performance
Cons
service of mantenance is bad
hgoolsby

writes:
2003 Volkswagen Jetta GL 2.0
Review
Pros
The reliability of my Volkswagen is amazing.
Cons
Cost of parts and repairs.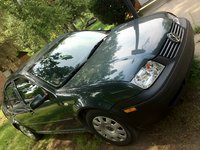 Strong And Dependable — I like how volkswagen has such reliable cars, but the parts for a volkswagen can be expensive. I wish the parts were cheaper. Overall I would recommend a volkswagen to anyone looking for a car the is reliable and affordable.
Primary Use: Commuting to work
kboucher02

writes:
2003 Volkswagen Jetta GLS 1.8T
Review
Pros
Basically had no problems from when I bought it six years ago (43,000 miles) to recently (105,000 miles). Quick nice looking car with above average gas mileage.
Cons
Ever since since I hit 100,000 miles I have been having multiple problems compared to barely any through 6 years.

Quick Car Chicks Dig It. Turbo, Intake, Coil Overs, Blow Off Valve 17 Inch Alloys — Has been good to me for several years and now that it is paid off I'm starting to have all kinds of issues. Nothing too serious yet. Thank god. Having a little trouble getting it on the road now because I am doing all the work myself. Do not have the money to bring it to a shop at the moment and certainly don't want to pay for a tow to bring it down the street. We shall see...
Displaying 21 - 30 of 109 2003 Volkswagen Jetta reviews.
Looking for a Used
Jetta
in your area?
CarGurus has
35,569
nationwide Jetta listings starting at
$988
.