2003 Volkswagen Jetta
User Reviews
Average Ratings from

109

reviews
Performance:
Appearance:
Build Quality:
Overall:
Review Highlights
Click to filter reviews below
Displaying 1 - 10 of 109 2003 Volkswagen Jetta reviews.
chadaroo_22

writes:
2003 Volkswagen Jetta GLS 2.0
Review
Pros
Good on winter roads.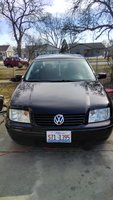 Great First Car. Reliable And Fun — I like the car I just wanted something newer and bigger. It drives great other than the automatic transmissions that were factory installed suck. Like I said other than that it is a great first car. I really enjoyed driving mine
Primary Use: Commuting to work
Looking for a Used
Jetta
in your area?
CarGurus has
35,613
nationwide Jetta listings starting at
$988
.
Logan

writes:
2003 Volkswagen Jetta GL 2.0
Review
Pros
Great bang-for-your-buck.
Valuable. Great Daily-driver. — Pros: Fit/finish, economy, reliability, great transmission (5- speed), huge trunk-space, stock Monsoon sound-system. Cons: FWD, low on power. Cheap to own/maintain. Changing the oil is a breeze. Runs like a top, never had a breakdown. Pretty fun to drive, has excellent brakes and average acceleration for a car of this caliber. I'd recommend it.
Primary Use: Commuting to work
7 of 8 people found this review helpful.
You don't find this review helpful
Jeremie

writes:
2003 Volkswagen Jetta GLS 1.8T
Review
Pros
comfort, performance, standard and optional equipment
Cons
maintenance cost but very reliable
Good Bang For The Buck! — Good bang for the buck, that is what comes in my mind when I think about my car. Heated leather seats, 17inch alloy wheels, four-wheels disc brakes, four-wheels ABS, traction control, power sunroof, excellent sound system and an engine that comes with 100hp/liter (180hp for 1.8L). Add to that the sound and the easy upgrading that comes with a turbo engine and you get an idea of why I like my car so damn much. European tuned suspension that can manage to eat the curves while keeping the ride comfortable when it needs to be. Excellent visibility all-around. Strong braking that won't get the nose of the car dive onto the road. That's everything you need on a ride, while leaving some money into your pockets.
Primary Use: Commuting to work
cgeuss1621

writes:
2003 Volkswagen Jetta GL 1.8T
Review
Pros
Volkswagens are known for having great motors if nothing else. This little 1.8 Turbo motor packs quite a punch, and is very dependable.
Cons
Due to the poor quality plastics used on the interior, smaller things will tend to wear out/break over time like buttons, switches and knobs.

Very Reliable, Good Looking. — As far as the looks of the Jettas go, i think they're one of the few cars that need any modification to look good. It has great handling and stability, as well as great acceleration. Definitely a good investement for anyone.
Primary Use: Commuting to work
jdepas54

writes:
2003 Volkswagen Jetta GLI
Review
Pros
nearly everything i can think of about this car
Cons
not an american muscle v8 sadly

Best Cheap Speed Naturally Aspirated Car Of Its Time And Maybe Even Now — I love this car. It is my first car and with the power and 6 speed transmission with the sporty handling of the gli trim i could not have asked for better vehicle. I would recommend this car to any young driver looking for cheap fun and reliability. this car also has some nice cheap mods you could do if you wanted.
Primary Use: Commuting to work
Peter

writes:
2003 Volkswagen Jetta GL 1.8T
Review
Pros
Nice pickup when turbo is used.
Cons
Very little legroom in the backseat. Can only seat 4 people max.
Lance

writes:
2003 Volkswagen Jetta GLX VR6
Review
Pros
Acceleration, high speed stability, handling, braking power, interior features, build quality, gas mileage, reliabilty
Cons
Price, Premium gas only, scheduled maintenance cost
Entry Level German Performance — I miss this car so much. Ok so first of all go 03 or higher on the Mark IV body, this is the first year of this generation to have no recalls and only like 2 tsbs! First on the acceleration. The 24v VR6 engine is genius. it feels like much more than just 201hp!! Even with the auto and fairly sticky yokohomas the tires screached if I put my foot down at a light. Gas milage is great, handling is great for a car like this and the interior features on the GLX are very nice: Rain sensing wipers, digital climate control, memory leather heated seats and OMG the monsoon sound system is very loud/bassy. This car retailed for a little over $30k when new and holds it value almost too well. Mine retailed for 14k at 100k miles when i sold it! (I only got trade in value obviously). I drove the hell out of this little thing but with good maintenance and the wonders of amsoil it still purred like a kitten at 100k miles. Even the auto tranny with the original fluid in it shifted like new. If your buying a mark IV you have to get the VR6 engine and remember, 03 and up!
Joe

writes:
2003 Volkswagen Jetta GLI
Review
Pros
Fun to drive, relatively fast, agile, comfortable, looks great, and i have one.
Cons
Expensive to own, Impending electrical issues
2003 Vw Jetta Gli Vr6 — Best car i ever owned!!! Fantastic performance, great power from its 2.8l VR6 approx 200bhp, love the shifting of the 6 speed manual transmission. Great accelleration and breaking for being a sport sedan under 3 liters, wonderfully balanced turns and handles very well. Easy to modify mechanically and asthetically all parts are readily available through the shops and online. Putting the magnaflo exhaust on the VR6 is easily one of the best descisions i have ever made. Hard to modify electrically though and a bitch to put a remote starter in, i wouldnt recommend a remote start for any VW thats for sure. I love the look, business and power at the same time. looks especially well when you add the 2004 GLI factory body kit. The interior is stylish too, all leather with heated seats and a beautifully moulded dashboard. All the buttons are the right size and shape to fit in with the rest of the car's style. The build quality is fantastic, rattling is almost not an issue there are some minor rattles that can be heard driving on Edmnontons, smooth as a bed of nails, roads. This car's factory sound deadening is extreemly meticulous. Since owning it i have needed minor repairs, but i know that these cars in general suffer from various electrical related issues when they get older. Its not a cheep car to fill up though only taking premium gasoline with 91 octane minimum. Repairs are more expensive because the parts are built propperly. (not in the USA or China) Thats why finding a good mechanic with a fair price is extreemly important! Autobahn Performance in Edmonton is the place i go to. The car is a joy to drive a absolutely love taking it on the roads and playing arround with it. It has great response and just makes you want to drive it harder.. then you remember how much you paid for it and decide that you're driving it hard enough.
Upstate2danny

writes:
2003 Volkswagen Jetta GL 2.0
Review
Pros
Great on gas mileage
Cons
Back seat a little tight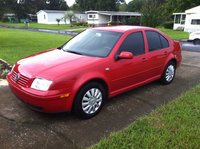 Excellent Car For Small Family Or A Single Person — I like the Jettas ability to respond to your reflexes. It has great pick up and speed. The cruise control is great and saves on gas. It is stylish and really fun to drive. A lot of trunk space and multiple cup holders.
Primary Use: Commuting to work
Anton

writes:
2003 Volkswagen Jetta GL 2.0
Review
Best Car I Have Ever Owned — bought this car about a year ago used with 30000 miles on it drive it every day for a year and have had no rpoblems with it currently has 52000 miles. brakes are great handeling is amazing (it goes around corners like a dream). the car is great on gas aproximatley 30mpg.
Displaying 1 - 10 of 109 2003 Volkswagen Jetta reviews.
Looking for a Used
Jetta
in your area?
CarGurus has
35,613
nationwide Jetta listings starting at
$988
.