2003 Nissan Sentra
User Reviews
Average Ratings from

39

reviews
Performance:
Appearance:
Build Quality:
Overall:
Review Highlights
Click to filter reviews below
Displaying 1 - 10 of 39 2003 Nissan Sentra reviews.
rshah015

writes:
2003 Nissan Sentra GXE
Review
Pros
Small but comfortable. It is reliable and give good gas milage
Cons
Small cargo capacity

Looking for a Used
Sentra
in your area?
CarGurus has
36,791
nationwide Sentra listings starting at
$1,595
.
David

writes:
2003 Nissan Sentra SE-R Spec V
Review
Pros
Acceleration, looks, cost of ownership
Cons
Fuel economy (good, but could be better), seats, turning circle
Blast To Drive And You'll Never Lose A Yellow Car In The Parking Lot! — This car is great... I was looking for a nice sporty sedan with a couple requirements. One was it needed a sunroof (check) and another was a manual tranny (check). I looked around at a Mazda Protege5, but it wasn't very fast with the 130hp engine. Found a bright yellow SE-R Spec V Sentra for sale for about the same price as that Mazda. Test drove it and realized that it had been taken care of. The QR25DE 2.5L engine with 175hp and 180lb/ft of torque combined with the low gearing makes for some great acceleration. The car has so much low end torque that I can leave it in 6th gear when slowing down to 50km/h (32MPH) for a town and not have to shift down to accelerate back to highway speed. However, due to the low gearing, high speeds and fuel economyaren't high points. The 6 speed manual with it's double overdrive (4th is 1:1, 5th and 6th are both overdrives) can't manage more than 27 MPG with my wife driving or 25 MPG with me driving. In contrast, I had a faster SVT Contour with a V6 of the same capacity that could outrun this and acheived better fuel economy. The build quality is about par for a Japanese car, lots of durable but hard plastics and other materials. Due to the factory 17" wheels, the turning circle is VERY large for a car this size, but hey, this car definitely has the looks. Gets stares EVERYWHERE you go because of the "look-at-me-yellow" paintjob. This is definitely a super fun car to drive, but with my back I wish it had more lumbar support. It now has about 100,000 miles on it, and it hasn't needed any repairs beyond normal wear and tear items. This is a GREAT car for the price!
Graham

writes:
2003 Nissan Sentra SE-R Spec V
Review
Pros
Acceleration, torque output, excellent handling, appearance, interior and exterior styling, suspension, RF sound-system.
Cons
FWD Torque steer, turning radius, sports-car ride quality.
Absolute Biggest Bang For The Buck! — I purchased my 2003 Nissan Sentra SE-R Spec V in November of 2007. The car overall is very fun to drive- it's definitely as much as a pleasure to look at, as it is to drive. 1. Interior The interior of the car is well-designed. It has several storage compartments which are handy for anything you need to store, although the center console could have been larger. My only complaint is the location of the cup holders, like the former Sentra/200SX. They don't support large drinks easily, and the height of the cup interferes with the HVAC controls as well as when shifting the 6 speed transmission. I usually never take drinks anyway, but it could have been placed better. However, to redeem the front cup holders, there is a convenient cup holder designed for rear passengers in which folds shut to provide more room. I also love how there are numerous ways to control the windshield wiper speed, which is convenient from very light rain to very heavy rain. The interior lighting is very sufficient in which there are two small, but very bright light sources directly above the front driver and passenger seats in addition to the typical dome light. The optional sunroof has a checkered tint to block out the sun when you have the shade pulled back, and the sunroof is also easy to control. It can be distracting if you operate it when driving, due to the roof-mounted control. I also find the rotary HVAC controls as very easy to use. The charcoal-schemed interior overall, while nicely designed with excellent fit and finish, has it's quirks- a few itchy rattles. Just don't expect Infiniti or BMW sound deadening or build quality for a car that was loaded at $20,000 new. Especially one with a performance engine, transmission, and suspension. Just turn up the amazing 300 Watt Rockford Fosgate sound-system. Interior Materials. The side armrests seem to dull a bit where the window controls are, but all the other plastics seem to wear well. Everything looks amazing though, including the dash, gauges, seats, shift knob, "SE-R" logo floor mats, pedals, and the sporty leather steering wheel which not only gives a firm and comfortable grip, but also an up-scaled feeling. The seat design and silver mesh material are also very stylish, and are bolstered well to provide support in quick turns. 2. Exterior Not much to say, except that it looks amazing. I love the 2002 and 2003 "Skyline inspired" front fascias. The beauty of the exterior is enhanced by an attractive rear spoiler, mesh-style grilles, 17 inch alloy rims, and several defining "SE-R" and "Spec V" logos. The engine bay is clean, and the QR25 wears an attractive engine cover. Good exterior build-quality overall- it is a Nissan. 3. Performance The car drives and handles very agile for a front-wheel drive, and the SE-R Spec V is all about performance. It accelerates very easily up steep hills, and gives V6's a run for their money; you can thank an engineering term called torque. This also results in sufficient passing power in pretty much any gear. However, 180 ft lbs. of torque results in moderate FWD torque steer when launching. Just get a firm grip on the steering wheel. The 2.5L inline 4 cylinder engine has a healthy exhaust note, especially when the CVTC kicks in and alters the cam timing. It has excellent, nicely-weighted steering and handling, especially when cornering; it rides like it's on rails and almost completely refuses to understeer. The Helical Limited Slip Differential helps the front wheels paw the car around corners. The addition of a thick rear sway bar will exemplify neutral handling. The 6 speed manual transmission is exceptional. It feels a bit plasticky, but shifts smooth. Reverse can be a pain at times as it feels like it won't engage, and the pre '04 models also lack the reverse lockout mechanism, so careful downshifting into 6th gear is required to prevent bouncing off the reverse gear. The clutch is also easy to operate. Braking is strong, with disc brakes on all four wheels. My car is equipped with ABS, which I believe was strangely optional. Mixed city and highway driving results in good gas mileage, which is around 27 MPG on premium fuel. Strictly city driving results in a lower 23 to 24 MPG, and my car is never driven on the highway long enough to determine highway fuel economy. My Spec V really hasn't spent much time in the shop either: The rear axle hubs and bearings went out at 50k and needed replaced. Other than that, just oil changes and regular maintainence. 4. Recalls There are some issues that Nissan has addressed with the engine that can cause people some costly problems. Loose screws in the intake manifold can be sucked up when the butterfly vales open up around 4000 RPM's. Also, the precat in the header can become too hot and the ceramic coating can possibly break, resulting with backpressure sucking these particles into the cylinder walls of the engine. There are also other miscellaneous issues. I do not worry about these issues though, as there are ways to fix them. Replacing the stock header for a catless one will eliminate precat problem, and the main cat still filters pollutants to keep the car more enviornmentally friendly. You can also tear apart the head and apply loctite to the screws in the intake manifold to keep these screws from becoming ingested in the engine. Most issues are addressed and discussed either at www.nissanforums.com or www.SpecVForum.com. There you can read other peoples opinions about the cars reliability and the car in general. Overall. Overall the car has been very well-designed, and has a great balance of looks and thrills. It has good performance to back up good looks. The sporty curves are easy on the eyes, and the power and handling prowess can be something to boast in the sport compact segment. I would definitely recommend this car to someone who wants to get away from the ordinary, and go with something sporty, fun, and efficient. Mods Stromung exhaust, DC Sports 4-1 ceramic header, Nismo CAI, Nismo high-pressure radiator cap, Stillen strut bar, lowering springs, sticky Enduro Runway tires (215/45), 20% black tint, GM 3" Onstar Antenna, Billet Grilles, chrome Nissan license plate and frame, black leather Nismo shiftknob, Redline Goods black leather shiftboot, armrest covers, and ebrake cover with red stitching, custom-fitted seat covers from IGGEE, JVC stereo head unit, MTX rear coaxial speakers, AC Autotechnic white-faced gauges. More to come!
Primary Use: Sport/fun (spirited driving, track racing, off-roading, etc.)
James

writes:
2003 Nissan Sentra GXE
Review
Good Daily Driver — 5 speed 1.8L, awesome on gas :) Much more gentle ride than the Spec V, but doesn't feel nearly as well built. I can easily go 2 weeks on a tank of gas, driving it 5 days a week to and from work. The tan interior is something I'm not a fan of though.
Primary Use: Commuting to work
David

writes:
2003 Nissan Sentra SE-R Spec V
Review
Pros
Very fun car to drive, handles well
Cons
Highly unreliable, be ready to pay immense repair bills
Only If You Are Desperate For A Fun 6 Speed... — Terrible build quality. Needs repairs often. Absolute blast to drive through corners, having an LSD and a lightweight body allows it to keep up with much faster cars in the twisties. Gear ratio is short, transmission is terrible. Engine is very torquey for a 4 cylinder Japanese car. Junky interior, looks alright from the outside.
Primary Use: Sport/fun (spirited driving, track racing, off-roading, etc.)
Melissa

writes:
2003 Nissan Sentra GXE
Review
First Car I Bought — I like this car it handles and it has treated me good since I got it. handles good not much cost to up keep The appearance of my car is fine Yes I like to drive it thank you very much
Primary Use: Family transportation
TheManInDboX

writes:
2003 Nissan Sentra SE-R Spec V
Review
Pros
It's quick for stock, the shifter is nice, and the gauges are well laid out.
Cons
It falls apart, and is expensive to fix

Nice From A Far, Far From Nice — I purchased this car off a lease, it was a 03 with 26k miles. From the day i drove it home, it had nothing but issues. Drivers door didn't open, and would randomly just work again, out of nowhere.. power locks would get stuck in a half locked state. (had to climb out a window) burned oil, leaked oil, would rattle.. Traded in the car on a scion with 48K miles.
Primary Use: Commuting to work
eddiewonder07

writes:
2003 Nissan Sentra SE-R Spec V
Review
Pros
Is very good on gas miles, and very fast as well
Cons
Is not good for snow season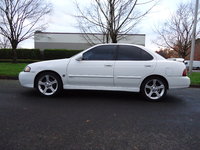 2003 Nissan Sentra Ser Spec V — I like the fact that the car is the last edition on the Sentra, it comes with a 2.5 engine with a 4 cylinder and is very economical in gas. Very low maintenance needs it for this type of cars. I don't like that sometimes with out realizing I am going over the speed limits.
Primary Use: Sport/fun (spirited driving, track racing, off-roading, etc.)
Elliott

writes:
2003 Nissan Sentra SE-R Spec V
Review
Pros
hit 160 without any govonor kickin in,and kept going past 160,best car ive ever owned
Cons
its small,its a 2 person car,backseats are worthless other than cargo space
My Badass Nissmo — most fuel efficient, cheapest operation costs , and rides and handles like a race car. It is a straight up sleeper it eats v8s for breakfast. Pulls like no other an extra cam opens up at 4-7000 rpms that will fling you back in your seat. Ive even raced weaker turbo cars,but NA power wins
Primary Use: Sport/fun (spirited driving, track racing, off-roading, etc.)
Peter

writes:
2003 Nissan Sentra SE-R Spec V
Review
Pros
Awsome Power and Torque right out the box, Six Speeds with a limited slip
Cons
Oil Consumption, a definite first for anyone is to get rid of the precat that usually is the death of this vehicle
03 Nissan Se-r Spec-v — Awesome car for the money, out powered by the new 07+ Civic SI's and even SRT-4s but when you put it up on the line with them it can haul ass, it's helical limited slip gets you off the line quick, with the torque putting the power to the wheels throughout the entire power-band it's one place where this car prevails, with 175hp and 185tq stock your right foot is really attached to a smile every time you hit the road, and shifting through the 6 speed gear box, don't be surprised if you chirp out 4th gear to emerge victorious amongst those SIs and SRT-4s
Primary Use: Commuting to work
Displaying 1 - 10 of 39 2003 Nissan Sentra reviews.
Looking for a Used
Sentra
in your area?
CarGurus has
36,791
nationwide Sentra listings starting at
$1,595
.