2003 Nissan 350Z
User Reviews
2003 Nissan 350Z
Review Ratings
Average Ratings from

62

reviews
Performance:
Appearance:
Build Quality:
Overall:
Review Highlights
Click to filter reviews below
Displaying 1 - 10 of 62 2003 Nissan 350Z reviews.
David

writes:
2003 Nissan 350Z Touring
Review
Pros
Excellent handling, acceleration and of course style.
Cons
lousy rear visibility, no cargo space
Fast, Fun, Sexy Car. Big Bang For The Buck, — This thing is really fun to drive. If you're the sort who prefers performance to comfort or luxury, this is your kinda car. This model is the touring, which is about as comfortable as Z's come. Heated leather power seating and an available automatic transmission and nav system (the latter two of which mine doesn't have) are about as refined as it gets. The rest of this car is pretty much all about the drive. When you hit the gas, the g-force puts you in your seat and the car begs for more gas. Friends tell me this car takes possession of me whenever I get behind the wheel. I always reply with something like "then I hope the car is a better driver than I am."
Looking for a Used
350Z
in your area?
CarGurus has

1,735

nationwide 350Z listings starting at

$4,999

.
Bob

writes:
2003 Nissan 350Z Touring
Review
Pros
Acceleration, Handling, Braking, Looks
Cons
Not much space for stuff, only room for 2 - but who cares?
Lots Of Fun For A Few Bucks — Test drove one when they first came out in 2002 at Performance Nissan in Duarte. They only had the one car with a 6 speed manual transmission and I had to go with the salesperson in the car. That did not deter me to give it a decent test of its performance - acceleration, handling, noise, braking, etc. This car was a great deal then and still is now. You get a lot of performance for not much dough. Acceleration is quite brisk when you stomp on it. It just squats and goes. The further you put your right foot down the more you get squished into the seat. I only got it up to about 90 on the 210 in about a one mile jaunt but that was plenty to give me an idea of what was in hand. Braking was awesome as was the handling. This is no Buick that the sad 280Z was. This is the real deal. Then there is the drop dead looks of the car. It is a joy to drive. The only drawback is that there is not much room in back. But that is the price you pay for the stiffness structure that takes up most of the room behind the seats.
Jonathan

writes:
2003 Nissan 350Z Touring
Review
Cons
Bad gas mileage, sucks in snow
Jesse

writes:
2003 Nissan 350Z Track
Review
Pros
good power, great handling, good highway gas mileage. oh yeah and beating mustang GTs
350z Greatness — The 350z is an amazing car for relatively cheap for what you get. The Z's performance from its 3.5L v6, front and rear independant suspension, front and back strut bars and wide sticky tires make it a force to be reckoned with. The looks and styling of the car is made for the sport car lover, with driver oriented gauge clusters and bucket seats, and tight steering. The Z is a car that if you treat it right it will do you the same, maintenance her well or it could be costly. And dont expect to get more than one friend with you, cause the 350's dont come in 2plus2's anymore. Overall this is an amazing car for what you spend. I would recommend this car to anybody with the means of keeping up on maintenance. Oh yeah and how fun is it when you can beat a V8 mustang with your V6 N/A, or how you destroyed a porsche boxter, and matched a 40000 plus cayman.....Priceless
Brian

writes:
2003 Nissan 350Z Performance
Review
Pros
Nice Handling with good tires/suspension. TORQUE & HP IS AWESOME! GOTTA LOVE A V6 getting to 7000rpms. Nice modifications available on the market...
Love the car...
Cons
His weight is a little bit big for the track on the weekends, but with a few light parts and modifications, the car is awesome in the streets and on the track!
TimM02

writes:
2003 Nissan 350Z Touring
Review
Pros
Pure distilled fun and excellent handling in twisties; 287HP at 27MPG and comfortable 1000+ mile days as it eats up the freeway.
Cons
Honestly, I can't think of any negatives to this car.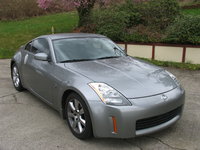 Flawless Enjoyment — This fast with only 287HP? Really? Seriously, a fun car to drive. Not a dragster, but serious fun in the twisties. I enjoy it as much as, perhaps more than, my ST1300 motorcycle. Also very pleasant to drive long distances - turning 1000 mile trips tours a day drive. I've averaged 21.4 MPG over 70,000 miles, with 27.85 my highest tank. Last 1500 mile round trip to Yosemite averaged 25.65, with many miles on twisty side roads. Beyond normal oil & filter changes, the only maintenance has been to replace brake pads at 35,000 miles, and replace pads and rotors at 60,000 miles. The car had the common front end growl and I went through a few tires early on; but once I got off the OEM tires I've had no problems.
Primary Use: Commuting to work
Matt

writes:
2003 Nissan 350Z Touring
Review
Nissan 350z — The smallish naturally aspirated motor isn't as peppy as I would like at this altitude. Space is at a premium, not sure if I could hold enough for a weekend trip for Nichole and I. It feels well built, the interior is stellar, suspension is a little harsh. I wish the motor was more of a performance based motor, rather than something that nissan uses in virtually everything.
Primary Use: Commuting to work
Garrett

writes:
2003 Nissan 350Z Track
Review
Pros
Good Power
Great Brakes
Cons
Heavy
Trunk room...never heard of it.
Rides Nice, Good Power, Great Brakes, Not As Nimble As One Might Think — Even after many adjustments and aftermarket suspension pieces the car still rides very nice, but when you want it be aggressive it can be. Just hop out of the car tweak some of the suspension and off to the curves you go. Power Band it pretty impressive for a 6 cylinder thats not really on the light side. It will surely surprise someone or another vehicle if they are not expecting it. Brakes are best I have ever felt with some minor aftermarket adjustments (Stainless steel lines, Different Pads, Stock size drilled and slotted rotors). Overall impressive car for the money and still able to pull over 25mpg if you drive nice. ;-)
Russ

writes:
2003 Nissan 350Z Base
Review
Pros
Power, Suspension, Seating postion, lots of optinos for modification
Cons
HEAVY, Noisy, Interior room
Nice Car To Learn How To Drive Fast In — The performance is OK this car is a BIG sport compact. V6, 6 speed helps but the 3600lbs weight keeps it from being a great car. Drives nice, accelerates smooth, but you dont wanna get crazy in this beast because its limits are dangerous. The inertor is small (espeically for two grown men) but the seating postion is nice and low, alltho kind of noisy (road and drivetrain). Personally it's a little expensive for what you get, but if you want to spend that extra its not completly wasted there is room for alot o improvement on this car.
Kevin

writes:
2003 Nissan 350Z Track
Review
Pros
Gorgeous looks, Strong performance & handling
Cons
Interior marks easily and has a few squeaks & rattles, Poor storage in the boot (due to rear strut brace), Rear visibility compromised by large c pillar, Suspension can be a bit stiff on poor road surfaces.
Great Looking Car With Performance To Match — I love this car. It handles great from the factory and has an engine which allows the driver to exploit these dynamics. The VQ35 has a wide power band which suits most driving styles. The engine revs cleanly and has a very flat torque curve. The brembo brakes are super strong & for most applications are fade free. The interior of the car does not quite match the looks. There are a few squeaks & rattles and the material on the kick panels marks easily. The switches for the seat heaters are poorly positioned but this was corrected in the update model.
Displaying 1 - 10 of 62 2003 Nissan 350Z reviews.
Looking for a Used
350Z
in your area?
CarGurus has

1,735

nationwide 350Z listings starting at

$4,999

.