2003 Mazda Protege
User Reviews
2003 Mazda Protege
Review Ratings
Average Ratings from

20

reviews
Performance:
Appearance:
Build Quality:
Overall:
Review Highlights
Click to filter reviews below
Displaying 1 - 10 of 20 2003 Mazda Protege reviews.
Todd

writes:
2003 Mazda Protege DX
Review
Pros
Zoom zoom is literally correct, they zip around and handle well.
Cons
If there is a clicking noise when you turn corners under power..
Good Little Cars, If You Check It Over Well It Should Be Reliable. — Really reliable little cars, if well taken care of. Relatively inexpensive for parts. The performance is lackluster, but what do you expect for a 4door and 4cylinder. Mileage is a little lower than you might expect, only around 25mpg. AWESOME in the snow, hard to get stuck. Fun to drive, handles very well, especially for front-wheel-drive. Slight bit of torque-steer, due to the low gear ratio's in the lower gears.
Primary Use: Family transportation
Looking for a Used
Protege
in your area?
CarGurus has

448

nationwide Protege listings starting at

$995

.
Tibor

writes:
2003 Mazda Protege ES
Review
Pros
Braking, handling, taut suspension, light weight
Cons
Power, traction on track, annoying sun visors that won't stay put
General Review Fo My Car — I purchased this car 30K miles used, my first used car purchase, in mid-2005. It now has almost 90K miles and has enjoyed a couple road trips across country and survived a flooded parking lot at work where I was able to limp it out of the drink while other cars were left totaled. Overall, it's been a good car. Air con and temperature controls failed under warranty. Original owner told me no warranty work was required while he had it. Three power door lock mechanisms have died this year, but they're mounted near the bottom of the doors and I suspect they died a delayed death due to water exposure in the flood. Driver-side window also expired, last year. Replaced the brake pads around 65K. When you buy an inexpensive compact you're gonna have to deal with price-oriented compromises and this is no exception. It's the perfect compact for me, though, as its lows are mildy in the arena of ride quality and amenities, and especially in sound deadening, but that money was spent on making it athletic. 4-wheel-disc brakes (ES trim only), front and rear sway bars, taut tuning to the 4-wheel-independent suspension. The car's very responsive, and I view that as a requirement when procuring one. It has a little push to the balance, which is probably for the best on public roads. I autocross raced it a few times in '08 and very much lamented the lack of a limited slip differential (and RWD!) leaving the corners with the hammer down, but it eats up back roads like as though the boys at Mazda custom designed it to do so (and maybe they did) and is a blast to drive otherwise. Very good handling, exceptional braking, but only adequate acceleration. It has a very lightweight, athletic feel to it. It came shod in pretty worn OEM Dunlop "ultra high performance" all-seasons, which I never got near that mileage out of from the Khumos of the same rating I'd driven since. I'm a damned spirited driver, though! Now switching to Pirelli's for a little extra $$. All in all it's been a good car, reliable, pretty efficient, and an absolute driver's car as long as said driver looks for balanced performance rather than straight-line thrills. I recommend also looking at the newer Mazda 3 if you're looking for a used car and have the funds to buy one, simply because Proteges are old enough that finding a low-mileage one is unlikely and you'll never know how the previous owner maintained it. Nitpick: The fold-down sun visors are annoyingly inept. Move it to block the sun at your left and take a left corner hard -- and fix your hair when it swings in and hits your head. Even Car and Driver expressed annoyance at them back in the day!
Primary Use: Commuting to work
Tracy

writes:
2003 Mazda Protege LX
Review
Pros
Fuel mileage and comfort
Cons
A little plain-Jane on the exterior
I'd Have 2 Of 'em If I Can Find Another One! — Zooom Zooom! Practically stole this car with 150K on it! (bought it DIRT cheap) I'm impressed by it's durability, longevity and quality. Still have a little work to do to the suspension and carpet but certainly a keeper. Awesome gas mileage and power.
Primary Use: Commuting to work
Angela

writes:
2003 Mazda Protege LX
Review
Pros
It was just made for me.
Cons
Plain and mainstream.
It's Just A Good Little Car, If That's What Your Into... — This is a solid little plain car. It was like putting on a glove driving this car because of the previously owned 323! It's a tad more powerful (if you want to call it that! lol) But it's so darned cute and handles exactly how I want a standard enjine to handle. I'm disappointed with the mazda 3 as popular as it is. I had to chance to drive it and I didn't love it. Also what was up with the lack of view. How did the small car suddenly feel big? Is that what people want? I can't see out the damn rear window or over the hood. Although more power!! lol! I'll be sad when this protege goes, I like the old fashion standards, not semi automatics (it's really an automatic folks) and not steering wheel shifting. Those are for driver wannabes! I like to DRIVE.
Primary Use: Commuting to work
dash147

writes:
2003 Mazda Protege ES
Review
Cons
Not a car for bad weather

Great! — I love my Mazda. I also have a 2001 (LX) too that just keeps going and going and going - and it's at 230000 miles at the very least! And it's like a TANK. Got into a slight accident and it took it like a champ but completely messed the other car up. The only thing about my ES is that you sometimes have to buy 2x the parts (recently replaced boots and wires, had to buy 2 different sets of wires that were more expensive than that for an LX). Other than that it really is great car!
Primary Use: Commuting to work
Stratos

writes:
2003 Mazda Protege LX
Review
Pros
Stability, reliability
Great Go Around Car. Safe. Reliable. — Cheap, reliable and safe. Needs to be avoided for people who need speed. Great sedan, good-looking car. great manoeuvrability, good acceleration for a 2.0L. Some parts are cheap, some are overly expensive. Easily customizable. Very fun to drive especially with 17'' 18'' wheels.
Primary Use: Commuting to work
Robert

writes:
2003 Mazda Protege ES
Review
My Protege — i just got the car today, but so far i love it. i love all the options on it, its got auto locks and windows, a sunroff. Got to love the 5sp. its a little fastest than my cavalier. i put more words about it later.
Primary Use: Commuting to work
James

writes:
2003 Mazda Protege ES
Review
Pros
Very Sporty, drives and handles very well. Quick turns and goes around curves very well. Take-off power is great, no lag in quickly coming to a good rolling speed. ES trim with Auto Tans comes with the "slap-stick" - optional Manual Trans. if you are in a playful mood :)
Cons
Small 2.0 4 cyl block not so much of a problem, but would be better as a 2.5. Gear ratios are horrible on the Automatic Transmission
Go-cart Ride For A Daily Commute Or Quick Trip Around Town. — Overall, a great Compact Auto. Ranks well in its class. Automatic Transmission - 1 and 2 are great, but the rations on 3 and 4 are not good for higher speed driving. On the interstate at gear 4 at about 75 MPH you will be at about 3,000 to 3,500 RPM (NOT good for gas consumption) Would be better served if the stock 4th gear in the Auto Trans would have lower RPMs at 80 to 90 MPH. At these speeds, you can watch your gas hand move (Yes, I do speed sometimes when travelling, but I am a cautious and courteous driver)
CNY315

writes:
2003 Mazda Protege LX
Review
Pros
Nice looking car, powerful enough for daily commutes or occasional travels. Nice interior, easy accessible controls, FM, Compact Disc, AIR, Cruise, Fog Lights, Remote Entry, Intermittent Wipers, Dual Air Bags. Comfortable ride. Car has rear-spoiler and rear tinted window. Easy handling, responsive.
Cons
No Anti-Lock Brakes (only came as an option), interior noise can be loud.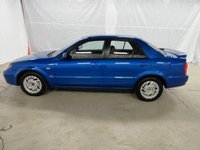 Mazda Protege' 2003 Lx. Overall A Good, Dependable Car. — The Mazda Protege' 2003 LX is an overall fun car to drive. It's responsive, handles great, gets good gas mileage, and I feel safe it's a safe car. The controls are easy to access without taking your eyes off the road, a big plus for me. The only downside is this model didn't come with anti-lock brakes as a standard option. Overall, I like it and think it's a great little car!
Displaying 1 - 10 of 20 2003 Mazda Protege reviews.
Looking for a Used
Protege
in your area?
CarGurus has

448

nationwide Protege listings starting at

$995

.