2003 Mazda MAZDA6
User Reviews
Average Ratings from

34

reviews
Performance:
Appearance:
Build Quality:
Overall:
Review Highlights
Click to filter reviews below
Displaying 1 - 10 of 34 2003 Mazda MAZDA6 reviews.
MarthaW

writes:
Pros
2003 MAZDA 6 S PRICE REDUCED
Cons
2003 MAZDA 6 S PRICE REDUCED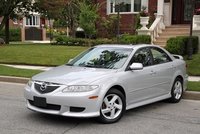 Price Reduced Mazda 6s — car is in great running condition nothing wrong with engine at all the only problems with it you see in the photos is cosmetic. clutch, transmission, engine everything works great.Please call or text me for more information508_470-3248. serious inquiries only please
Looking for a Used
MAZDA6
in your area?
CarGurus has
14,947
nationwide MAZDA6 listings starting at
$2,222
.
Vishnu

writes:
2003 Mazda MAZDA6 4 Dr s V6 Sedan
Review
Pros
best in its class...
Cons
shud hav cme wid a 6 gear...lol...!!...nothin else..!!
Mazda 6...!! — its luks so cool nd sexy...u tune it up nd u vil luv it...i hav a black one...gr8 acceleration nd goes upto 170kmph wid ease...havnt gt upto its top speed yt....the best in its class...nd fun to drive....mileage isnt tht bad....but it compensates for its luks....!!
Rosaleigh

writes:
2003 Mazda MAZDA6 4 Dr s V6 Sedan
Review
Pros
Smooth ride, awesome sound system (Bose).
Cons
Black leather get WAY too hot, even in winter; 17" rims and speed rated tires make tire-shopping a pain and SUPER expensive.
Sean

writes:
2003 Mazda MAZDA6 4 Dr s V6 Sedan
Review
Pros
Handled great, great acceleration, looks GREAT. 20 city/26 highway
Cons
an overall lemon. dont buy this piece of junk.
Terrible Service, Terrible Quality — DO NOT buy this car with the 5 speed manual transmission. There was a service bulletin out on the clutch for the 2003 model. My Mazda dealership would not honour it (at 13000 miles) and billed me 2500 for the clutch (please keep in mind that I have two other cars with clutches... one is the original clutch at 25 years old) the second has over 80000 miles on it (daily driver). Clutch blew a second time 11000 miles later. Had to argue for 6 months with Mazda corporate before they would honour their own service bulletin. Get to the dealership, they would then not honour it. Fought with Mazda corporate again, another month, and finally they fixed it. Between that and safety recalls - fuel tank issues, door issues , non-releasing clutch pedal, radio problems, and I cannot remmeber the other ones, this car was an all in all lemon. Dealer kept balming my driving on the problems... I countered with my other two vehicles both having clutches... his answer - well it is a different clutch (yeah a cheap crap one)
Wrieland

writes:
2003 Mazda MAZDA6 4 Dr i Sedan
Review
Pros
Great all around sedan, sporty, excellent gas mileage
Cons
Could use a little more power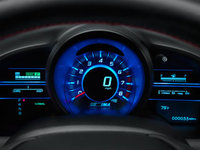 Sporty And Economical — I like how reliable this car was, started up everyday. Looked great and the style matches up with the newer models. Gas mileage is superb, definitely comparable to newer cars. Spacious interior yet actually kind of intimate. Large backseats, I imagine it would be good for a family. Overall an enjoyable car to drive.
Joy1217

writes:
2003 Mazda MAZDA6 4 Dr s V6 Sedan
Review
Pros
Great ride, reliable, the look, style, cargo capacity, back seats, low maintenance. Very comfortable to ride in on long trips. Fun to drive. Safe and Classy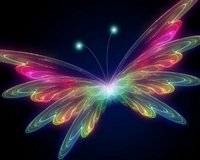 Awesome Car! — I like everything about this car. Really great mileage. 19 city 27 highway. Front and back seats very comfortable for long trips. 0-60+ mph in no time. No problem climbing mountains, on curvey roads. Handles like a dream. Great first car for anyone. V6 engine smooth....
Primary Use: Commuting to work
Matthew

writes:
2003 Mazda MAZDA6 4 Dr s V6 Sedan
Review
Pros
appearance, stance, speed, acceleration, handeling, affordability, 6 cd changer, fun factor.
Cons
should've been a 6 speed as opposed to a 5, difficult clutch, limited engine mod options.
'03 Mazda 6s — Wow! that's the only thing that can be said. mazda really turned over a new leaf when they unvailed this car and everything in the generation following. it's got it all for under 30 grand. it lead its class with a 220 horse direct injected V6 with a close ratio 5 speed transmition (6.5 sec 0-60, 14.8 sec quarter mile, could reach at least 140mph but is governed at 120) and stock handeling it amazing compared to anything like it. and i would recomend the racingbeat suspension package, AEM cld air induction and racingbeat exhaust to make it unbeatable (engine mods on the whole are limited). all of the interior features are cool. it has a 6cd changer, front bucket seats that will hug you in a curve, even the shifter is just right (easy to reach, fairly short shift compared to others in its class, but better than a beamer)my only problem is that it needs another gear for highway driving that would improve highway mileage (rated at 20 city, 27 hwy). it runs at abt 32-34 hundred rpm at 80 mph. so it isn't bad, but it could be better. another thing is that its feather-light clutch requires a sweet spot of engine revs at many a stoplight--too much and you'll smoke it, and it'll bog if you use too few. so it's not the easiest manual to drive (let alone learn on). Overall, this ride is destined to live on as one of, if not the best sport sedans of this century pioneering for a new age.
djRayC

writes:
Cons
Rust on wheel arches bad and failed alloy wheels

Bad Corrosion — Set of four alloys failed twice and now may need to be replaced at my cost to keep up appearances - wheel arches rusted by two years old, and after warranty work was finally approved they lasted for another two years until they needed second followup treatment under warranty. Now beginning to go again due to deep seated corrosion. Sad really, because the car design is good overall, but let down by poor quality (world-wide specification) alloy wheels and the lack of rear wheel arch liners at outset (which were fitted after a general recall to dealers). By this time the boot/trunk had unbeknown filled up with rainwater and this knackered the sub-woofer contained therein, affecting the once excellent BOSE sound-system. I still have a low mileage and am driving it because the engine is excellent. Mazda got some pretty basic stuff wrong here.
Owner for 4 years, 0 months
Primary Use: Family transportation
Miles Driven per Year:8,000
Anthonyweister6811

writes:
2003 Mazda MAZDA6 4 Dr s V6 Sedan
Review
Cons
not quite big enough for our growing family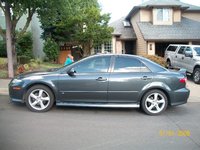 Sad To See It Go :-( — doesn't seat 5 when 2 of us are in car seats. other than that is is a fun sporty car that handles well on many surfaces including ice and snow with the assistance of the traction control. all in all i will be sad to see it go.
Primary Use: Family transportation
MazdaChic89

writes:
2003 Mazda MAZDA6 4 Dr s V6 Sedan
Review
Pros
I love the look of the car. It has a lot of space in the trunk, so If I ever have to move I see no problem. I have the s model so the leather seats are nice. I really just like the overall look and interior of the car. It has good speed to catch up or pass someone if I need to.
Cons
I wish it had a usb jack so I could play my music off my phone. lol I think it's a bit of a gas hog. My windows are not tinted yet so my leather seats get super hot. Not knowing about the engine is a bit of a problem,I can't figure out how to fix things. Aparantly Ford made the mazda engines so the gears stick a lil due to heat and whatnot.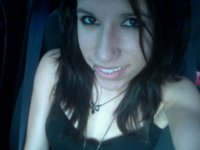 I Love My Car, I've Only Owned Mazda Cars So They Make Me Happy. — I like the car overall if I could get every little thing fixed then I would have no complaints, but like I said before I dont know much about my engine so me looking for info and not knowing what I'm looking for is a pain. But once I get the hang of it and get all my stuff together then I think my car is going to be swetttttt! =]
Primary Use: Commuting to work
Displaying 1 - 10 of 34 2003 Mazda MAZDA6 reviews.
Looking for a Used
MAZDA6
in your area?
CarGurus has
14,947
nationwide MAZDA6 listings starting at
$2,222
.