2003 MINI Cooper
User Reviews
Average Ratings from

67

reviews
Performance:
Appearance:
Build Quality:
Overall:
Review Highlights
Click to filter reviews below
Displaying 1 - 10 of 67 2003 MINI Cooper reviews.
Jon

writes:
2003 MINI Cooper Base
Review
Pros
Best conveyor of people and goods for your money!
Cons
May be too cramped for family car.
Excellent Make And Fun To Drive — Overall- it was a real kick in the pants. Everyone should own one at least once in their lives! I took one on a trip 4,000 miles without a bad experience, and no mechanical deficiencies. It's meant to be driven!
Primary Use: Commuting to work
Looking for a Used
Cooper
in your area?
CarGurus has
15,242
nationwide Cooper listings starting at
$3,493
.
Mailee

writes:
2003 MINI Cooper S
Review
Pros
Great performance for its price, compact, reliable, adorable and fun!
Cons
Not a whole lot of trunk space, front wheel drive, stupid interior
The Perfect Car For Me! — For the price, the mini cooper S is a steal. The stock suspension feels wonderful, and the brakes are really excellent (I would know >.<). It's a compact car, but you can fit 3 very, very large people in it with a little effort. Because it's made for auto cross, the 2nd gear is suuuppper long. You can go from 20mph to 70mph before you have to change gears if you're willing to push it to 6 or 7000rpms. The acceleration is great, but you get super charger lag until about 3500rpms. The interior is kind of like a space ship.. the speedometer is HUGE, and the tachometer is where the speedo normally is, but honestly I find that more useful. The tacky silver-colored plastic trim is a nuisance, and the steering wheel is kind of chunky, but you can control the radio with switches on the back of the wheel, and that's pretty awesome. My biggest complaint is the cupholders. For some reason, the designers thought it would be cute to have two little black hoops on either side of the switches above the cupholders, so any drink larger than, say, 6 inches can't fit in the damn things. The newer models have improved the interior substantially, but I can't say the 2003 design really works for me. Although it's pretty funny to see people who have never been in the car before search around for the tiny round door handles. :P Also, it's front wheel drive, so the turning radius is absolutely abysmal for such a small car, but I guess on the bright side it handles fairly well in the rain. I have the model with Run Flat tires, so a little sensor/alarm goes off when it senses a tire is going flat, and then you have (reportedly) 100 miles to go if you go 50mph or lower on the flat before you need to fix it, but I've gone around 250 miles doing highway speeds, so they're actually more useful than described. All in all, it's a great car, and I'm going to run her into the ground before I get another. :)
Tilen

writes:
2003 MINI Cooper S
Review
Pros
Performance, handling, fun factor
Cons
Braking (Standard setup)
Mini Cooper S R53 — Writing anything would be an understatement for this car, you just have to drive the damn thing. 100% pure F-U-N! It has history, it has some sort of uniqueness and carisma in the whole package. The car definetely turns heads and the handling alone is unbeatable. The Mini also has a very good tuning potential and its superchared motor really gives an even boost to the cars performance. A must have for every car lover!
Michael

writes:
2003 MINI Cooper S
Review
Pros
Handling, handling , handling
Cons
$$$ to maintain, a little underpowered
'03 Cooper S — SO EXPENSIVE to keep running, but its worth it, handles like its on rails baby! A little under powered Both of my window motors failed in the same week, 3 years after buying it The most fun car I have ever driven in terms of handling The interior is sick, with a MASSIVE speedometer and a nice tachometer right in front of you
Amanda

writes:
2003 MINI Cooper Base
Review
Pros
Everything about this car is awesome except the cost to repair it.
Cons
Repair costs are higher since it's an import and finding a mechanic.
Awesome Mini - Keep On Motoring. — I love this car but when it's paid off I plan to get a brand new one because I bought this one with high miles and am paying for it. The performance is great in terms of braking it stops on a dime, acceleration and handling are great even on snow and ice. I have repaired a few minor things but no major repairs. I love the appearance and ease of finding a parking space. The only complaint in the design is the cup holders are small and in the wrong place. Gas mileage is phenomenal and it is so much fun to drive. Can't wait for a new one with more power and a stick shift of course.
Primary Use: Commuting to work
Phil

writes:
2003 MINI Cooper S
Review
Pros
Handling, fun factor, sound system, 6 speed trans, gas mileage, fast, comfortable, much more room than you would imagine.
Cons
Interior rattling, electrical problems RARELY, low windshield makes it hard to see streetlights.
Mini Cooper S — This is by far the most fun car I have ever driven. I have driven some SUPER performance cars but nothing feels quite the same as a MINI. Dont confuse the Cooper S with the base model Cooper, as the car is completely different. I set out to buy a Mitsubishi Lancer Evolution, or a WRX STI and as soon as I saw this MINI, I had to to test drive it. My intentions were to test drive it for fun, and continue on to buy an EVO or STI but within the first 2 to 3 minutes I was sold. I went back and bought the car on the spot. I have had some minor electrical problems with the door lock, and window motor on the passenger side but I believe it is a direct result of passengers slamming the light doors. I wish it had an arm rest...but I can certainly live without one. The handling on this car is fantastic, it turns like a go-kart, there is VERY minimal body roll, and you would have a very tough time TRYING to lose control of this car. I drive it in the upstate NY winters where the snow on the road is often higher than the front bumper, black ice is present, slush, hard pack, etc. I bought a winter wheel set for the car which is shown in one of the pictures(black), and this car is fantastic in the winter. When the weather is terrible and everyone on the road is driving slow, i'm actually passing cars. I think every car enthusiast thats driven in the winter has purposely slid around in parking lots or wherever the mood strikes, and I slide it around on purpose all the time and I constantly maintain control. The sound system is amazing and the bass is phenomenal. The sound of the stock exhaust is really nice and sporty, and the sound of the supercharger is even sportier. The power of the car is very nice. It does have a small engine, and these cars arent as light as they look so it does take a second to a second and a half to get it into the power and then when the supercharger kicks in... its indescribably fun in this little car. The interior is comfortable, beautiful, and highly slylish, but there are many points where the plastic rattles. There is MUCH more room than you would ever imagine by looking at the outside, and by folding down the rear seats, you create a huge trunk. I dont even need to mention gas mileage. Overall...this is a great car for the money, and if FUN is important to you while you drive...then buy a MINI S.
Dan

writes:
2003 MINI Cooper Base
Review
Pros
Good mileage, ample leg room, turns many heads!
Cons
Fairly harsh ride, very small storage space,
2003 Mini Cooper - Maxi Fun! — 36 miles/gallon - city or highway, handles well, look very cute in its red and white paint scheme, plenty of leg room for front passengers, can seat 4 adults somewhat comfortably, haven't had any major malfunctions. Car has 69,000 miles on it. Fantastic car for two passengers!
Marcel

writes:
2003 MINI Cooper S
Review
Pros
Way too much zoom, tight handling like nothing else, most fun to drive - ever!
Cons
fuel eco about average, high-pitched engine whine, new tires every year, some rattle noises
My Jet-car — It's five years old and everyone thinks it's still new - that's the power of the MINI. When I got it, it was fast, tight, and an awesome drive. Today, after upgrading the ECU and the air intake, it's even more quick and just as nimble. There's a good reason everyone want s to drive my little beast. You must at least take one for a drive. Sure, loose object rattle in the door storage; the engine is a bit loud; the fuel economy is only as good as an average sedan; the seat controls are manual; there is no cruise control or heated seats - forget all that and try a corner at 100 kph. When it's not covered in dust and road rash, it's classic British Racing Green with a Black roof- one of only two colours styles a MINI should be (the other being Red with a White roof and trim.) The interior is black pleather with lots of scuffs and fingerprints on all the plastic and glass. And I wouldn't trade it for a new one.
Ruth

writes:
2003 MINI Cooper S
Review
Pros
Great fun, great to look at and reliable.
Cons
Runflat tyres on a cooper s are expensive to replace!
An Amazing Experience. Really Nippy And Great At Throwing Into Corners! — If you want a car for fun and also for driving day to day, then this is just the ticket. If you get the S model of the mini cooper you will never want to part from it. I have had mine for 18 months and I can't fault it. It handles like a go cart in the corners and is so much fun. Inside you have got full, heated leather seats that are just perfect for cold winter mornings. Climate control, rain sensor wind screen wipers and cruise contol are an added bonus. My ar also have an electirc sunroom, which is brilliant for summer time! Mine is very high spec, but if your going for a mini that's what you should aim for in order to get the best experience.
ZennonGaines

writes:
2003 MINI Cooper S
Review
Pros
Great style, runs great, and has a lot of power!
Cons
Fuel economy is around 27 mpg, could be better.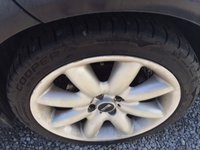 Sporty And Fun — I love the power and handling of the car. The gas mileage is great considering it's a sport model. Premium gas is recommended but regular fuel works just fine. Manual transmission but I'm just looking for a n automatic car!
Primary Use: Commuting to work
Displaying 1 - 10 of 67 2003 MINI Cooper reviews.
Looking for a Used
Cooper
in your area?
CarGurus has
15,242
nationwide Cooper listings starting at
$3,493
.