2003 Honda S2000
User Reviews
Displaying 1 - 10 of 24 2003 Honda S2000 reviews.
Tom

writes:
2003 Honda S2000 Base
Review
S2000 — The original S2000 represent over 40 years of Honda racing experience. The S2000 is based on the Honda SSM concept car that first appeared at the 1995 Tokyo Motor Show. Using the same basic front-engine/rear-wheel-drive layout as the SSM, the S2000 captures the spirit of legendary high-performance sports cars of the past, as well as Honda's very first sports car, the S500. According to Honda, the company's racing heritage is reflected in every aspect of the S2000's design, performance and handling.
2 of 4 people found this review helpful.
You don't find this review helpful
Jacques

writes:
Pros
Transmission, steering response, lightweight feel to the driving experience, reliability
Cons
steering feel, abs system
2003 S2000 — Pros: Excellent engine. If you keep it above 6000RPMs you will forget about the 153 pound-ft of torque. Pulls very nicely for another 3000RPMs. Sounds like a mini-racecar after 8000RPMs Transmission is the best feeling in the world for a production car. I have not tried Ferrari and Lambo trannies, but for a sub 200K car the S2000 is the best hands down. Everything else feels like garbage compared to an S2000 transmission. Build quality is typical Honda: excellent. The engine does burn more oil than your typical car, but it's to be expected from such a high-reving car. Throttle response is great and contributes to the ''racy'' feel of the S2000. The interior is not flashy but never feels cheap and everything is tightly screwed together. The S2000 will still look, feel and perform like a brand new car even after 5+ years of abusive ownership. The seating position is amazing, you truly sit close to the ground and have a great feeling of being right on top of the rear wheels. Steering response is excellent, lazer sharp. In fact after the transmission feel the steering and the way the car changes directions so quickly is something that really stands out. Reliability is outstanding on every aspect. Car is meant to be abused on a racetrack. Cons: Total lack of steering *feel*. The S2000 has great steering quickness-response, but it feels numb while doing so. You feel like you're holding the wheel of a play station video game. ABS kicks in way too early and disrupts what is a generally good braking system that has a nice firm braking pedal and good composure during hard braking. The car could use more horsepower because the chassiss-suspension can take it. The ride is extremely stiff compared to a Boxster S which handles just as well but doesn't punish your back while doing so. Gas mileage is very bad for a non turbo 2.0L engine, but hey it's got 240HP....
2 of 3 people found this review helpful.
You don't find this review helpful
Larry N Linda

writes:
2003 Honda S2000 Base
Review
Cons
Rides hard on long trip.
Vroom — Handling is great. Performance superb. A little small as my wife travels with a transport chair. Solid built and reliable. Honda service is very affordable. Just bought new all season performance Bridgestone tires for about $600. Price was not as bad as many.
Primary Use: Sport/fun (spirited driving, track racing, off-roading, etc.)
Gemma

writes:
Its Great — brilliant car peformance is very good, quite nippy, great build quality, looks like the bees knees, petrol last quite a bit, car is fun to drive i also love the colour and its also got the added bonus of a hard top
Primary Use: Commuting to work
redline86

writes:
2003 Honda S2000 Base
Review
Pros
It's a 2600 pound mid engine car with 250hp !!!!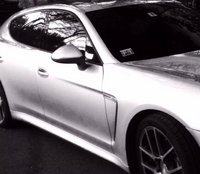 Fun Weekend Driver — The S2000's production stopped in 2009. These cars are now sought after by people who want a reliable, fun, convertible. Weighing only 2600 lb it picks up and goes. Top Gear said it is one of the best production drift machines made. It handles like a dream due to the mid engine and the car being so low to the ground. If your looking for a fun car that's not going to empty your pockets the S2000 would be a good choice.
gsp9kxm

writes:
2003 Honda S2000 Base
Review
Pros
Awesome car to drive and when the weather is nice the top goes down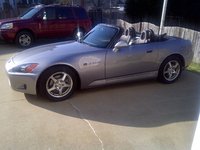 Fun Car To Drive — This is a blast to drive and it handles like it is on rails. It is small and nimble and very quick. You can't go wrong with a car like this based on the cost to own and fun per gallon.
Primary Use: Commuting to work
netvoyager

writes:
2003 Honda S2000 Base
Review
Pros
Solid as a tank. Light, handles awesome, and sounds great. This car is a blast to drive on winding roads and has left many other cars in its wake. Fun fun car!
Cons
Torque in these cars is rather low. The car has to be wound out to use its quickness. It's a good thing it has a 9,000 RPM redline!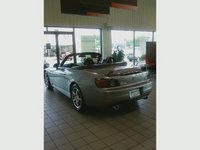 Awesome Fun Car — I love the solid feel and the sound of the engine when it is wound up. Only Ferrari has a higher horsepower/CC rating. The top lowers quickly and quietly. The sound system is adequate. I wished that the top folded and stored like my Boxster. As it is it folds down and you must manually install the tonneau cover.
Primary Use: Sport/fun (spirited driving, track racing, off-roading, etc.)
Hermy

writes:
Pros
An amazing driving experience. I won't get rid of this machine ,ever.
Cons
I got it a few months ago,low miles and I haven't find a con so far, not 1.
My Honda S2k,my Personal Experience — Power in it's category in unsurpased. I love the handling and how high it revs, it goes forever. It's got reliablity and parts are relatively cheap, It is a true sports car and an instant classic at a fairly affordable price. If I can afford one, I guess 95 % of the population can too.LOL. Also the tuning and customization options are virtually limitless. You can personalize the S2000 to the point that is unique withthout having to spend a truckload of money.
Primary Use: Sport/fun (spirited driving, track racing, off-roading, etc.)
Gabe

writes:
2003 Honda S2000 Base
Review
Pros
Great looks, handling, interior, good power and fun to drive. No need to modify it.
Cons
Could use more power, but what it was built for it is the best.
2003 Honda S2000 — Probably the best two seat sports car soft top you can buy. It does not need to be modified. Handles like it is on rails. Great fun to drive on twisty roads as long as the road is smooth. Great car to cruise in. Only downside is that it had two seats. 9k rpm rev limit was great but you have to drive it like you stole it to make it go fast. Interior was immaculate. Honda made a winner here.
Primary Use: Sport/fun (spirited driving, track racing, off-roading, etc.)
James

writes:
2003 Honda S2000 Base
Review
Pros
Power, handling, trunk space (for a roadster), grip, 9,000rpm engine, reliable
Cons
Loud at highway speeds, a bit cramped, stiff ride, but hey it's a sports car.
One Of The Best Pure Sports Car Available Today. — This S2000 provides one of the purest driving experiences out there. I would recommend this car for people that want a Miata with more power or an Elise with more practicality. The engine is a masterpiece of engineering and it never gets old taking it to the 9,000 rpm redline. The transmission is one of the best in the world, and I've found myself changing gears just for fun on more than one occasion. The chassis provides excellent grip, but you must use high performance tires. If you autocross or track an S2000 regularly, buying three sets of rear tires per year is not uncommon. Tracks, autocrosses, and twisty back roads are where this car thrives. The steering is direct, if a bit numb. The drawbacks are few for a sports car. The ride, especially on the 00-03, is stiff. Every pavement irregularity and bump will make itself known. The cockpit is a bit cramped with the top up, but there is plenty of head and leg room for six-footers. Also, there are only two small storage bins and neither of them are easy to use while driving. At interstate speeds with the top up, the wind and tire noise can be pretty loud. These drawbacks will turn a lot of people off who are looking for a convertible fashion statement, but those looking for a pure sports car won't care. Some will say the car is twitchy and prone to oversteer, but I believe this is one of the few cars on the market with truly neutral handling. It rewards a skilled hand, and it can punish the ham-fisted. The bottom line. If you want a nice daily driver convertible that's fun on the back roads, an NC Miata might be a better choice. If you want a track and autocross car that sees a little road duty now and again, an Elise might be worth saving up for. Between these two extremes the S2000 gives you the best of both worlds for a decent price. It's also worth noting that mine is now four years old and has given me no trouble whatsoever.
Displaying 1 - 10 of 24 2003 Honda S2000 reviews.
Looking for a Used
S2000
in your area?
CarGurus has
192
nationwide S2000 listings starting at
$7,980
.