2003 Honda Accord
User Reviews
Average Ratings from

63

reviews
Performance:
Appearance:
Build Quality:
Overall:
Review Highlights
Click to filter reviews below
Displaying 1 - 10 of 63 2003 Honda Accord reviews.
Luke

writes:
2003 Honda Accord EX V6 Coupe
Review
Pros
Quick with a nice ride.
Cons
Nothing really. It' sa Honda so it lasts
If You Want Get Up And Go With Reliability And Gas Friendly, Then This Is A Good Match — Good power coming from the 3.0 V-6 DOHC engine...puts out 240hp and 216tq stock. Accelerates nicely and handles well. The ride is nice with leather interior and heated driver/passenger seat. Gets good gas mileage with the power it puts out. Looks great with a smooth body and nothing that sticks out.
Primary Use: Sport/fun (spirited driving, track racing, off-roading, etc.)
Looking for a Used
Accord
in your area?
CarGurus has
61,913
nationwide Accord listings starting at
$900
.
cmesserer

writes:
2003 Honda Accord EX V6
Review
Pros
Fun car to drive
Reliable
Easy to Work On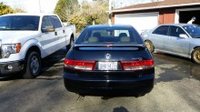 Fun, Family Car — Bought my Accord after my Mazda caught on fire. It runs great but I'm buying a hybrid to help with my commute. City mileage is around 19 to 20 but I pull at least 30 mpg on the highway. Very sporty handling reminiscent of my Prelude. You can haul about 10 fruit boxes with the rear seats folded down. Very roomy for all passengers. The styling still looks great and I get compliments all the time. I've taken it on quite a few road trips with friends and felt comfortable driving it for hours.The V-TEC never stops and is great for passing other vehicles.This would be a great car for a family on a budget.
Primary Use: Commuting to work
MKBBMW

writes:
2003 Honda Accord EX V6
Review

Later — I have owned this Honda Accord since it had 132,000 ish miles. It now has very close to 187,000 miles and still has great power and is a very reliable car. I have had some work done on it to keep it in good mechanical and cosmetic shape.
Primary Use: Commuting to work
Brandon

writes:
2003 Honda Accord EX V6 Coupe
Review
Pros
Great blend of performance and fuel economy, great build quality, fit and finish, reliability, amenities, comfort, seats, audio system.
Cons
Can't match the dynamics of rear-wheel drive, Honda pads prone to warping the rotors, should have an electrochromic rear-view mirror standard (I'm stretching here).
2003 Honda Accord Ex V6 6-speed — Excellent compromise between fuel economy and performance (EX V6 6-Speed Manual). Great looking interior with a very high level of fit and finish that belies its price point. It makes me feel like I am driving a much more expensive car. It's very reliable and it's nice to know I can always trust it. The ride is a bit crunchier than I prefer and the road noise is a bit high for its class. The seats however, are great and it has one of the best factory non-fancy name audio systems out there, particularly for the money. It handles fairly well for a front-wheel drive car. That being said, I have outgrown its handling capabilities and will be looking for a rear-wheel drive car next time. No matter how much front-wheel drive advances, I just don't think it can deliver the balanced dynamics of rear-wheel drive. It's too bad because I otherwise love this car's blend of performance, economy, reliability, comfort, quality, luxury and features. For its price it is a phenomenal value that will make you think you own a much more expensive car. The interior would be suitable for a $40,000 car. I just wish it were rear-wheel drive.
meisr

writes:
2003 Honda Accord EX V6 w/ Nav
Review
Pros
Power, handling & reliability
Cons
All-wheel-drive not available.
Adriana

writes:
2003 Honda Accord EX Coupe
Review
Pros
nice body, sleak look, sporty, not too loud and doesn't sound like a rice burner like most
Cons
handling, not a honda fan
Great Car — the honda accord coupe has great acceleration and breaking.there has been no need for any major repairs and there has been no squeaking or rattling. I love the fact that it's a gas guzzlerand the fact that i get about 22 mpg nonhighway. the maintenance is not costly well at least so far. the car is fun to drive and it's quick for a four cylinder.
Ian

writes:
2003 Honda Accord EX Coupe
Review
Pros
Sleek looks
Dynamic
Fun to drive
i-vtec
Smooth shifting 5-Speed Manual
Interior space
Trunk space
Aluminum interior trim
Balance of ride, handling, and power
Problem free after five years
Cons
Blind spots when backing up and from A-pillars
Should have went for the EX-V6 / 6-Speed Manual combination
Why Would You Even Consider The Camry... — Sleek, dynamic, and fun to drive describes this Accord Coupe. Mine is a 2003 EX Coupe with the 2.4L i-vtec I-4 engine producing 160 horsepower and 160 lb. ft. of torque paired with a 5-Speed Manual transmission. The engine provides decent power with a little added boost at higher rpms when the i-vtec readjusts the camshaft timing for high performance to extract more power out of the engine. The 5-Speed Manual is very smooth and the clutch action is easy to read. The exterior design while not a show stopper it still certainly looks great for a coupe in the Accord's price range. The added spoiler on the trunk adds a nice touch to the overall look of the exterior. The interior has plenty of room with comfortable seats and amazing ergonomics. The dash is not cluttered with buttons but rather it is well organized. The aluminum trim in the interior is a nice addition to the already attractive interior décor. Even the back seat of the car can fit someone who is six feet tall in relative comfort. There is also an abundance of cargo space in the trunk as well as a voluminous interior for anything else you may need to carry along. Overall I must say job well done Honda. This is one excellent vehicle. Every detail was taken into consideration in design and functionality to create a masterpiece of a car. It has a near perfect blend of ride, handling, and power that is comparable to the marvelous balance of these three aspects in a BMW 3-Series or a Chevrolet Corvette. This car absolutely, hands down blows away the Toyota Camry and I can't see why anyone in their right mind would choose it over the Accord. In fact if you are considering an Accord be sure to check out the new Chevrolet Malibu. It is a very nice car that has the right formula to compete head to head with the Accord that the Toyota Camry simply cannot match. My car is five years old yet while it has low mileage it has been problem free. The only complaint I have is with blind spots. When backing up the view is obstructed by the high trunk line. This isn't such an issue for me anymore because I am used to the car and I am over six feet tall but for a driver under six feet tall it may be more of an issue. There are also blind spots created by the cars A-pillars, which are on either side of the wind shield, because they are so thick. Furthermore I have the window visor accessory for both my driver and passenger side door window that contributes to the A-pillar blind spot even more. Otherwise I just wish the car was an EX-V6 / 6-Speed Manual combination for the ultimate 2003 Accord Coupe.
treybrown3

writes:
2003 Honda Accord EX w/ Leather Coupe
Review
Pros
Great reliable car and looks good as well
Cons
The v-6 engine is not as good on gas as the 4 cylinder engines but still a reliable car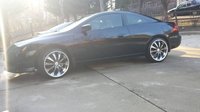 Clean And Clear — looks good , drives good, but mostly it looks good. Runs greats although it does have a little wear and tear on the paint it cleans up well. The custom work done to it is a benefit to a wide range of drivers not just one particular audience
Primary Use: Commuting to work
Nikhil

writes:
Connor

writes:
2003 Honda Accord EX w/ Leather
Review
Pros
Handling, gas mileage, comfort, decent performance
Cons
Brake feel, and transmission
A Good All-rounder For A Nice Price — I've had the car now for a year, and my grandmother had it for 9 years before me. It now has only 17,800 miles on it and it has been a fantastic car! For a mid-size seddan, the handling is pretty good, and the steering has good feel, and the throttle is very responsive. All these factors make for quite a fun car to drive. The only pet peeve of mine is that the brakes are realy grabby, which can be quite annoying and cause a subpar ride for others. The 4-cyl engine has some nice pep, and accelerates nicely from a standstill, though could have more torque because steep hills can be trouble for the tranny. And speaking of transmissions, I do not like this one. It is the 5-speed automatic, and it seems as if the gear ratios are all over the place, and it isn't the smoothest transmission at all. Other than that, the rest of the car is perfect. I like the interior styling and equippment, and I was genuinely impressed with the power of the stock speakers! Gas mileage is spot on what the manufacture rating was in 2003, about 25 city/ 34 highway. I love the thing to death, and could not have had a better first car.
Displaying 1 - 10 of 63 2003 Honda Accord reviews.
Looking for a Used
Accord
in your area?
CarGurus has
61,913
nationwide Accord listings starting at
$900
.