2003 Chevrolet Cavalier
User Reviews
2003 Chevrolet Cavalier
Review Ratings
Average Ratings from

71

reviews
Performance:
Appearance:
Build Quality:
Overall:
Review Highlights
Click to filter reviews below
Displaying 1 - 10 of 71 2003 Chevrolet Cavalier reviews.
McCUBBY

writes:
2003 Chevrolet Cavalier Base
Review
Pros
Great fuel economy
Great dashboard layout
Controls easy to reach/use
Shape of the car
Sound system is REALLY great considering economy model
Back seat/trunk entry
Easy to maintain
Low insurance costs
Low maintenance costs
Fun to drive, especially in the summer
360 degree ratio is small
Cons
Steering wheel design is awkward...ok but different
Anti-lock brakes, power windows/door locks/mirrors should be standard on a 2003
GM warranty should be beyond 3/36,000
Headrest is not supportive for driving
Have to almost twist your wrist off to open the trunk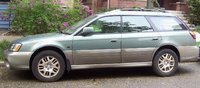 Cavalier Simplicity: A Very Nice Economical Sedan To Drive — I inherited this 2003 Chevy Cavalier "base" as it's call with my partner. I've owned 2 Chevys before, but never a Cavalier. This one I have, is Candy Apple Red with the gray cloth interior. Believe it or not, it's the SAME color and interior I had on my 1995 Oldsmobile Cutlass Supreme SL many moons ago. When you do the walk around, you'll see that this Cavalier is put together very well. All body parts seem to fit together well. No gaps, no looking at parts that doesn't line up or match. When you shut the door, it's heavy enough not to have that tin can sound. Not that such a thing ever bothered me. It sounds rigid, solid. It had the aerodynamic doors (like the Cutlass did) that went from the top of the car all the way to the bottom, not just open at the glass/door frame. Only a convertible or a extremely well built car can get away without having that option. In looking at the front, it has a small, aggressive demeanor, sort of like my Del Sol, although it doesn't sit that low. Actually, the Cavalier sits amazing high for a car of its size. P195/60R14 tires seems to be quite accommodating, not like those little tires that you find on the smaller cars nowadays. They match the aggressiveness that the car portrays. The back of the car, nicely made. The trunk opens all the way up so you can get things in/out with ease. You can see out of the rear window with the factory made-into-the-seat small headrests. The exterior of the car overall; well it won't win any awards but it's comfortable and pleasant to look at. I will say this...there's nothing choppy about how the car looks. I like how the Chevy engineers made the lines of the car "fluid". The interior is nicely put together, minus a few awkward things. The dashboard has the general layout you'd expect to find in a late model car: speedometer, tachometer, oil/battery/temperature gauges. Weird thing though, when you run low on gas, there is no "low fuel" light. Instead there's a light that says "check gauges". Never had a car that did that. Nothing wrong with it, it's just different. Weird steering wheel. I like the square ones from the 90's. I do not understand HOW this car was put together, in terms of options. The previous owner before me opted to not have the anti-lock brakes (should be standard in a 2003), nor did they opt for power mirrors/seats/windows/door locks. Yet my car has a an awesome sound system with a CD player (factory), power trunk release, cruise control, tilt steering wheel , childproof locks and theatre lighting. I haven't owned a car in 500 years that had those crank let-me-down windows!!! With 4 of them being crank, it'll take some getting used to in the summertime, until I can get a toy that'll make them all power windows. For the sound system, Added a Sony 10 disc cd changer in the trunk. You'll find that it'll be worth it to add some sort of after market cd changer. Unless you like listening to the same songs over and over and don't mind changing a cd in the factory unit often. There is something to be said about the location of the air/heat system. It sits lower at the bottom of the whole dashboard, yet there are 2 built in cup holders there. So if you put anything bigger than a 12 ounce can in the cup holders, you'll have to be creative on how you can use the climate control gig. I don't think Chevy engineers thought that one all the way through. When you hit the ignition, this bad boy does not hesitate in starting. That 2.2 liter Ecotec (I like saying that word with an echo effect) comes alive and when you put it in drive, that car is not a force to be reckoned with!! It has pep in its step, and it will move out when you hit the pedal. With front wheel drive, it's your typical general fare for everyday driving. But don't get me wrong...the 2003 Cavalier is NOT a boring car to drive (at least not to me). It can go!! I've driven it on the highway. Set the precision cruise control at about 60 and you're actually "floating". You sometimes may think you're going a tad bit faster. I do not know about the horsepower but it seems like it has a lot of it for an engine like the 2.2 liter 4 cylinder. My Grandfather used to say you can take a screwdriver and fix a Chevy. I won't go so far as to say that now, but I will say they are not all that hard to fix, and can lean towards the cheap side. I once owned a brand new 92 Corsica, and an used 84 Celebrity; didn't take a lot to fix them when stuff went awry. With regular maintenance, do not expect a high repair bills. This is one of those cars that you'll just go through the general components; brakes, battery, oil etc. I just realized it also has an accessory power outlet in addition to the cigarette lighter, which I found out was optional on the car too. Apparently the previous owner didn't smoke because the interior is in pristine condition. Now this is just something I've noticed in owning 4 GM cars in the past. When you turn the selector knob to the floor to heat your feet, you still get air thru the dashboard vents. Not sure about that set up, but it's not a concern to be dealt with. Now the uncommon stuff: 1) The headrests are really useless when you're driving. The seat backs provide a lot of comfort and support to your middle back. It looks like the headrest is designed for you to lean the seat back and sleep on it. I've tried to lean back on it while driving; doesn't work. It actually hurts my neck. Not like the other headrests in the two cars I own. They are in balance with the seat. But it's not an issue because Chevy designed the seat to keep you sitting upright and locked in your seat. This year I said to heck with it, and found a way to bend them forward. NOW they are really comfortable to drive with. But you have to do it yourself. 2) That trunk lock. I have to do a 180 degree turn to unlock the trunk. Don't know what that's all about. Never had a car ever that did that. Thank goodness for the power trunk release. But oh well, it's just something I took notice to. Even without anti-lock brakes, the Cavalier does a fairly nice job of stopping on the dime. Yes the brakes can lock up, but if you are an experienced driver it won't bother you any. It does pretty well in the ice/snow. There was 6 inches of snow and the car was snowed in the parking spot. I shifted into 2 and the front wheel drive quickly pulled me out of the parking spot. Nice job actually for a FWD car to exit a spot without rocking it back n forth. I have the original AC Delco battery in there from 2003. Surprisingly enough, it's still good. I will post more pictures of it once I've gotten it decked out the way I want (first weekend in May). The one thing I can say about this Cavalier, is that is looks kind of neato as it is without any exterior/interior customizations/decals. But I like to personalize every car I own. I say if you come across a nice Cavalier that hasn't been dogged out or overly customized, and the price is right, then get it. It's a great in-between car when you don't need the big boy, and you're not in the mood for the convertible. It's "just right". I personally love mine, now that I actually experienced the ownership of having a Cavalier. Don't just look at it as a car to go from point A to point B. Look at it as a car that you can create your own fun adventure with, using a little imagination. Don't let it make you think it's a "bleh" car. It's not. It's really not.
Primary Use: Sport/fun (spirited driving, track racing, off-roading, etc.)
Looking for a Used
Cavalier
in your area?
CarGurus has

1,710

nationwide Cavalier listings starting at

$1,000

.
Devon

writes:
2003 Chevrolet Cavalier LS
Review
Pros
Small enough to parallel park, a sedan which is handy for college, and can get up and go!
Cons
Needs some more power under the hood, but who do I have to impress?
My Chia. <3 — My friends know I love my car. Her name is Chia! She performs alright for an '03 with only 37,000ish miles. Good as Hell on gasoline! She doesn't ask for much. Any car is fun to drive, if you drive how you want! She handles damn well I think. <3
Dani

writes:
2003 Chevrolet Cavalier Base
Review
Pros
i love the gas mileage, black interior, and quiet ride that this car provides!
Cons
i wish it were quicker, but hey, it's a 4-cylinder.
I'm Gonna Hate To See This Car Go! — not too shabby! acceleration is decent for a 4 cylinder. and upon quick acceleration the transmission is smooth (and i have 195,000 miles on the original motor and transmission!) the only repairs i've needed was a timing chain tensioner and an alternator. the appearance is cute. good for a young girl (such as myself). i love the black interior! the cost of ownership is quite low! i get about a combined 26 mpg's (340-ish per tank), not exactly hybrid status, but certainly not bad. this car is somewhat fun to drive. not the worst, but like i said it's just a four cylinder..
Primary Use: Commuting to work
Acadia_1214

writes:
2003 Chevrolet Cavalier LS Coupe
Review
Pros
Fun, Sporty, Quick, Sexy.
It Has It's Ups And Its Downs. — Performance- Acceleration is unbelievably quick for an inline four cylinder. Braking is excellent and this car takes turns like it's riding on rails. Build Quality- The Chevrolet Cavalier has had numerous problems. Expect to get what you pay for. It has needed several repairs, most of them being strange electrical problems. Sunroof stopped working, driver window refuses to work during rain/fog. Very strange problems that can't seem to be fixed. Poor design on the hubcaps has the wheels constantly squeaking, not a problem but very annoying. Windshield wipers stopped working, had them repaired but don't work on first intermittent setting for some reason. Cost of ownership- Maintenance has been a pain. The only good thing about the car is that it's very sporty, and the gas mileage is amazing. I'm averaging around 27 mpg. Fun Factor- This car is a lot of fun to drive. Take one for a test drive, you won't be disappointed.
Primary Use: Commuting to work
Thomas

writes:
2003 Chevrolet Cavalier LS Sport Coupe
Review
Pros
good intro vehicle, solid and dependable
Cons
mediocre on gas mileage, inch and a half difference between brake and gas pedal
A Knighted Vehicle — Performance: very good for entry level vehicle. most impressed. Build Quality: few repairs, still wearing in the vehicle after more than a year Appearance: Sharp and distinguished Cost: fairly inexpensive. good on gas Fun: what vehicle that runs isn't fun? overall: wouldn't give this car up for just anything. It's got a personality all it's own and it deserves more respect than most people give to a chevy. This car is definitely a good choice for anyone who is looking for a vehicle that is sturdy and manageable.
Gary

writes:
2003 Chevrolet Cavalier Base Coupe
Review
Pros
powerful motor with good fuel economy. Fun to drive with plenty of trunk space
Cons
Not the most comfortable for passengers, ride can get a little bumping on rougher roads.
Just When Gm Got It Right, They Get Rid Of It — The redesigned cavalier for 03 was sleek, sporty, and a joy to drive. Like with any compact car, leg room and rear passenger room are a little sparse. But the fuel economy is nice, averaging about 29 mpg with the new Ecotec 2.2L. But the Ecotec does have impressive torque and midrange power for a little bit of fun. The ride is comfortable for the class, and the handling is suprising responsive.
dmaki2

writes:
2003 Chevrolet Cavalier LS
Review
Pros
*For small vehicle, it packs quite the punch when you step on it to get on the freeway!
*Braking is superb! It stops right away when you need it to.
*Fuel economy is nice. I was averaging about 32MPG.
Overall this car was fun to drive!
Cons
The car did seal inside so when you are traveling on the highway, you get quite a bit of wind noise.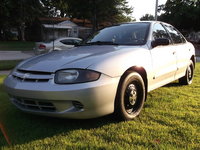 This Is A Very Reliable Car For That First Time Driver. — I feel that this is a very reliable car. Even when this car climbs in the years, it will last a long time when taken well care of! As a musician, I have to drive a lot to my performances so this car definitely was worth every penny to get me where I needed to be!
Primary Use: Commuting to work
Malorie

writes:
2003 Chevrolet Cavalier LS Sport
Review
Pros
its silver... so it looks good
Best Noise Maker Ever — my car makes weird noises....such as the brakes making clunking noises when slowing down, the vent fans make noise, sounds like the windows are down when they aren't.... oh and the speedometer screws up frequently, makes it appear that i'm travelling at 80 km/h when i''m really stopped... kinda a cool magic trick...
Jack

writes:
2003 Chevrolet Cavalier LS Coupe
Review
Cons
cheap internal feeling and soft suspension
2003 Chevy Cavalier Couple — mine is 2.2 liter engine with manual, it is powerful enough for this car since its not big and heave. power comes up anytime i want. However, the internal is too plastic feeling, i wish they can make it with better looking also, the suspension is kinda too soft. this car is an economic car, you won't spend too much on purchase, gasline, and repair. a manual car might not so convenience when you date but always fun when you want to have fun.
Chad

writes:
2003 Chevrolet Cavalier Base Coupe
Review
Pros
As I said, handling and gas, decent looks (only in coupe form)
Cons
A little light on acceleration, could be fixed with a better intake.
Displaying 1 - 10 of 71 2003 Chevrolet Cavalier reviews.
Looking for a Used
Cavalier
in your area?
CarGurus has

1,710

nationwide Cavalier listings starting at

$1,000

.