2003 Chevrolet Cavalier
User Reviews
2003 Chevrolet Cavalier Review Rankings
Have you driven a
2003 Chevrolet Cavalier
?
User Reviews
Displaying 1 - 10 of 71 2003 Chevrolet Cavalier reviews.
CarGurus
http://www.cargurus.com
2003 Chevrolet Cavalier Base
Review
Pros
Great fuel economy
Great dashboard layout
Controls easy to reach/use
Shape of the car
Sound system is REALLY great considering economy model
Back seat/trunk entry
Easy to maintain
Low insurance costs
Low maintenance costs
Fun to drive, especially in the summer
360 degree ratio is small
Cons
Steering wheel design is awkward...ok but different
Anti-lock brakes, power windows/door locks/mirrors should be standard on a 2003
GM warranty should be beyond 3/36,000
Headrest is not supportive for driving
Have to almost twist your wrist off to open the trunk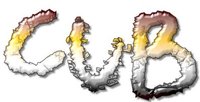 Cavalier Simplicity: A Very Nice Economical Sedan To Drive — I inherited this 2003 Chevy Cavalier "base" as it's call with my partner. I've owned 2 Chevys before, but never a Cavalier (CC). This one I have, is Candy Apple Red with the gray cloth interior. Believe it or not, it's the SAME color and interior I had on my 1995 Oldsmobile Cutlass Supreme SL many moons ago. When you do the walk around, you'll see that CC is put together very well. All body parts seem to fit together well. No gaps, no looking at parts that doesn't line up or match. When you shut the door, it's heavy enough not to have that tin can sound. Not that such a thing ever bothered me. It sounds rigid, solid. It had the aerodynamic doors (like the Cutlass did) that went from the top of the car all the way to the bottom, not just open at the glass/door frame. Only a convertible or a extremely well built car can get away without having that option. In looking at the front, it has a small, aggressive demeanor, sort of like my Del Sol, although it doesn't sit that low. Actually, he sits amazing high for a car of its size. P195/60R14 tires seems to be quite accommodating, not like those little tires that you find on the smaller cars nowadays. They match the aggressiveness that CC has. His rear end, nicely made. The trunk opens all the way up so you can get things in/out with ease. You can see out of the rear window with the factory made-into-the-seat small headrests. The exterior of the car overall; unfortunately CC won't win any awards but he is comfortable and pleasant to look at. I will say this...there's nothing choppy about how he looks. I like how the Chevy engineers made his lines "fluid". The interior is nicely put together, minus a few awkward things. The dashboard has the general layout you'd expect to find in a late model car: speedometer, tachometer, oil/battery/temperature gauges. Weird thing though, when you run low on petrol, there is no "low petrol" light. Instead there's a light that says "check gauges". That is your ONLY indication you need to stop at the NEAREST petrol station. CC's steering wheel is of a different sort. I like the square ones from the 90's. This one is shaped rather oddly. I do not understand HOW this car was put together, in terms of options. The previous owner before us apparently opted to not have the anti-lock brakes (should be standard in ANY 2003), nor did they opt for power mirrors/seats/windows/door locks. Yet CC has an awesome sound system with a factory CD player, power trunk release, cruise control, tilt steering wheel , childproof locks & theatre lighting, which shocked me, consider it isn't a high end model. I haven't owned a car in 500 years that had those crank let-me-down windows!! With 4 of them being crank, it'll take some getting used to in the summertime. For the sound system, I added a Sony 10 disc cd changer in the trunk. You'll find that it'll be worth it to add some sort of after market cd changer. Unless you like listening to the same songs over n over n don't mind changing a cd in the factory unit often. There is something to be said about the location of the air/heat system. It sits lower at the bottom of the whole dashboard, yet there are 2 built in cup holders there. So if you put anything bigger than a 12 ounce can in the cup holders, you'll have to be creative on how you can use the climate control gig. I don't think Chevy engineers thought that one all the way through. When you hit the ignition, this bad boy does not hesitate in starting. That 2.2 liter Ecotec (I like saying that word with an echo effect) comes alive & when you put it in drive, that car is not a force to be reckoned with!! It moves on down the road when you hit the pedal. With front wheel drive, it's your typical general fare for everyday driving. It's set up to use 87 petrol so that's what he gets. But don't get me wrong...the 2003 Cavalier is NOT a boring car to drive (at least not to me). It can go!! I've driven CC on the highway. Set the precision cruise control at about 60 & you're actually "floating". You sometimes may think you're going a tad bit faster. I do not know about the horsepower but it seems like it has a lot of it for an engine like the 2.2 liter 4 cylinder. My Grandfather used to say you can take a screwdriver and fix a Chevy. With all the new electronics in the newer cars, ya can't say that anymore. I think I stop wanting anything after 2004. I will say CC isn't all that hard to fix & can lean towards the cheap side. I once owned a brand new 92 Corsica & an used 84 Celebrity; didn't take a lot to fix them when stuff went awry. With regular maintenance, do not expect high repair bills. CC is one of those cars that you'll just go through the general components; brakes, battery, oil etc. I just realized it also has an accessory power outlet in addition to the cigarette lighter, which I found out was optional on the car too. Apparently the previous owner didn't smoke because the interior is in pristine condition. Now this is just something I've noticed in owning 4 GM cars in the past. When you turn the selector knob to the floor to heat your paws, you still get air thru the dashboard vents. Not sure about that set up, but it's not a concern to be dealt with. Now the uncommon stuff: 1) The headrests are really useless when you're driving. The seat backs provide a lot of comfort/support to the middle back. It looks like the headrest is designed for you to lean the seat back to sleep on it. I've tried to lean back on it while driving; it doesn't work. Actually hurt my neck. Not like the other headrests in the two cars I own. They are in balance with the seat. But it's not an issue because Chevy designed the seat to keep you sitting upright & locked in. I said to heck with it, invented a way to bend them forward. NOW they are really comfortable to drive with. But you HAVE to do it yourself. 2) That trunk lock. I have to do a 180 degree turn to unlock the trunk. Don't know what that's all about. Never had a car ever that did that. Thank goodness for the power trunk release. But oh well, it's just something I took notice to. Even without anti-lock brakes, CC does a fairly nice job of stopping on the dime. Yes the brakes can lock up, but if you are an experienced driver it won't bother you any. It does pretty well in the ice/snow. There was 6 inches of snow and CC was snowed in the parking spot. I shifted into 2 and the front wheel drive quickly pulled me out of the parking spot. Nice job actually for a FWD car to exit a spot without rocking it back n forth. I have the original AC Delco battery in there from 2003. Surprisingly enough, it's still good. I say if you come across a nice Cavalier that hasn't been heavily modified or just plain ol' dogged out, then get it. It's a great in-between car when you don't need the big guns but you need something bigger than a milk crate. It's "just right". I personally luv mine, now that I actually experienced the ownership of having a Cavalier. Don't just look at it as a car to go from point A to point B. Look at it as a car that with a little imagination & ingenuity, you can create your own fun adventure with. I tend to do that with all the kids...make it your own. Don't take the Cavalier to be a "bleh" car. It's not. It's really not.
Primary Use: Sport/fun (spirited driving, track racing, off-roading, etc.)
Looking for a Used
Cavalier
in your area?
CarGurus has
1,784
nationwide Cavalier listings starting at
$1,195
.
CarGurus
http://www.cargurus.com
2003 Chevrolet Cavalier Base
Review
Pros
Low maintenance, lasts.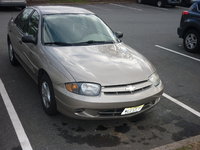 I Would Buy It All Over Again. — Reliabale, never had any problems. Low maintenance cost. Still looks good. Compared to Toyota or Honda it depreciates a lot faster (resell value wise). I never had any problems with it even though it is known to be a lot less reliable compared to some imports.
Primary Use: Commuting to work
CarGurus
http://www.cargurus.com
2003 Chevrolet Cavalier Base Coupe
Review
Pros
Nice small sporty coupe. Great on gas. Amazing in snow and ice conditions. Nice cold air conditioning, and quick to heat up.
Cons
Noise on highway. Wish it had more power.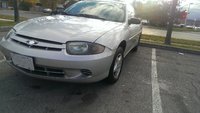 Wonderful Daily Driver — A great, affordable, and simple car. This car isn't suppose to be a big luxury filled family car, this is purpose built as a nice day to day commuting car and it does that perfectly. It looks nice for a cheap coupe and offers all the features needed for lust a daily driver. Because it doesn't have electric windows, seats, locks, or turbo's and other equipment the car is extremely easy and cheap to maintain. When the weather gets rough this car will overtake 4x4s and AWD cars because of how well it can get through the snow. I also know that many of these cars have well over 400000 km's on the odometer. Just a greatly reliable vehicle.
Primary Use: Commuting to work
CarGurus
http://www.cargurus.com
2003 Chevrolet Cavalier LS Sport Coupe
Review
Pros
Great Fuel Economy, sporty appearance, sunroof, XM compatibility, Fold down seats for extra cargo space, handles well in the snow
Cons
Could have more leg room and head room space for larger people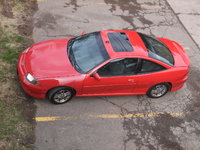 CarGurus
http://www.cargurus.com
2003 Chevrolet Cavalier LS Coupe
Review
Pros
Fuel mileage and comfortability and low maintenance costs.
Cons
Back seat space and cargo space are not good.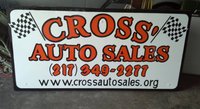 Great Fuel Mileage Vehicle! — This car is a great car for every day driving for commute or students. Gets great gas mileage, runs great. Does not have a very sporty look to it with the plain rims, but honestly it is a perfect car to get you from point A to point B. With proper maintenance it will last you forever.
Primary Use: Commuting to work
CarGurus
http://www.cargurus.com
2003 Chevrolet Cavalier LS
Review
Pros
*For small vehicle, it packs quite the punch when you step on it to get on the freeway!
*Braking is superb! It stops right away when you need it to.
*Fuel economy is nice. I was averaging about 32MPG.
Overall this car was fun to drive!
Cons
The car did seal inside so when you are traveling on the highway, you get quite a bit of wind noise.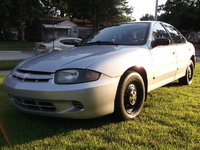 This Is A Very Reliable Car For That First Time Driver. — I feel that this is a very reliable car. Even when this car climbs in the years, it will last a long time when taken well care of! As a musician, I have to drive a lot to my performances so this car definitely was worth every penny to get me where I needed to be!
Primary Use: Commuting to work
CarGurus
http://www.cargurus.com
2003 Chevrolet Cavalier LS
Review
Pros
Great mileage and reliability! Safe little puddle jumper! Great in the snow or rain!
Cons
could use some more acceleration, but if they did that, it would lose fuel efficiency, it needs a 5th gear, needs a rear cup holder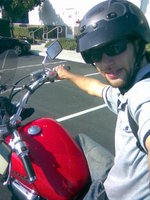 Great Long Lasting, Fuel Efficient Car! — I Like how the Whole back seat can fold down to use More of the trunk space, not all cars nowadays do that! Could use some cup holders somewhere in the back though, but Great long lasting fuel efficient car!
Primary Use: Commuting to work
CarGurus
http://www.cargurus.com
2003 Chevrolet Cavalier
Review
Great Car If You Fit In It Properly. — Z-24 package makes all the difference in the world. Mind, $36,000 for a Cavalier was a bit ridiculous, but I didn't buy her new! A bit low on headroom, but then again, I am 6.3". Given the mileage, it is amazing. Original everything, and drives like a dream.
Primary Use: Commuting to work
CarGurus
http://www.cargurus.com
2003 Chevrolet Cavalier LS
Review
Pros
The car had a reasonable amount of power for it's size. The car handled relatively well.
Cons
The suspension was too soft from the dealer. The brakes were too weak and required too much force. It felt unsafe driving the car around. Lots of noise and it would shift around in the wind.
An Ok Starter Car. There Are Alot Better Out There. — This was an imported platform from GM Europe. The engine and trans were both well made, but the linkage between them was a weak point and would cause oil leakage almost immediately. If you add oil to the car from time to time then you would be fine. I lost about 1.5 quarts every 3k. The engine ran beautiful though and the trans was very responsive. (note I had the manual.) The car would slosh around in the wind and felt very unsafe at speed. It really needs upgraded sports suspension with bigger springs if you want to feel safer driving it. The brakes are too small for the weight of the car and the rear drums barely engage at all. The Arrival blue was very very pretty.
Primary Use: Commuting to work
CarGurus
http://www.cargurus.com
2003 Chevrolet Cavalier Base Coupe
Review
Pros
Great on gas. Size of the car is good.
Cons
Had the car for 2 months, and have already had to spend $800 on a new clutch, $200 on front brakes, $500 just for it to pass aircare, and am now having to go BACK and pay more to do my front brakes AGAIN after a month. No idea why the car is causing so much problems. No idea why anyone would want to buy this. Horrible car. Not reliable what so ever. Can't go a week without having some type of problem.

Horrible. Don't Buy It. — After a month, I had to replace the clutch. Required taking apart the entire engine. After 2 months, have now had brake problems twice. When I was driving, the car started to slow down, and started to shake, and and not be able to reach more than 55 km/h, The brakes were stuck at the top, and started to smoke out the right side when I tried to stop. I was able to stop, but the car's engine started heating quickly, and my car wouldn't shift well. Went to the mechanic, he said it was the front right side calliper, which he said was stuck. He replaced both front callipers, so they would be equal. Car was great for 3 days. Got in it today, and the exact same thing started happening immediately, except this time the smoke was coming from the left side. Going to be another couple hundred bucks, and I don't even know what the problem is. Do NOT buy this car. So horrible. Waste of money and time.
Primary Use: Commuting to work
Displaying 1 - 10 of 71 2003 Chevrolet Cavalier reviews.
Looking for a Used
Cavalier
in your area?
CarGurus has
1,784
nationwide Cavalier listings starting at
$1,195
.
Have you driven a
2003 Chevrolet Cavalier
?