2003 BMW Z4
Review Ratings
Average Ratings from

25

reviews
Performance:
Appearance:
Build Quality:
Overall:
Review Highlights
Click to filter reviews below
Displaying 1 - 10 of 25 2003 BMW Z4 reviews.
Micah

writes:
Pros
Reasonably fast, totally comfortable to drive in, more trunk space than most 2 seater convertibles (really), Well designed controls and the auto transmission is one of the best I've had the pleasure of experiencing. Also, the gas milage rocks for a "sporty car" I average 24 mpg.
Cons
It's not an M3. If you get the 2.5i of this model year I'd suspect it would feel a bit underpowered. The 3.0i feels "just right" to me.
It's The Same Old Story, You Know The Score. I Work At The U And Roll The Z4. — It's been a long time since I've had a car I really and truly loved. I've heard a few complaints about the body styling compared to the Z3 but honestly I really like the lines on this thing. It's a beast. The inline six purrs and and hums, pulling you through traffic effortlessly. I test drove a lot of convertibles before settling on this one including the Honda S2000, Porsche Boxster, Mazda Miata (mx-speed edition), Nissan 350z, and the Pontiac Solstice. Of the ones I drove, this is the one I could really see as a capable daily driver with plenty of ability to have fun when the mood strikes me. The auto drops in about 6 or 7 seconds, plenty of time to go topless at a stoplight. For sheer driving excitement and engagement I'd say the Porsche beats it. When you're driving the boxster that's what you're doing. You're DRIVING it. I definitely recommend changing away from the stock run flat tires as they will seriously dampen your enthusiasm for the car, but with good tires, this thing will move. When I test drove this car, I got it up on the highway and there was no discernable difference in the handling of the car or in engine noise between 40 and 100 mph. I think that was what originally sold me on it.
Looking for a Used
Z4
in your area?
CarGurus has

1,356

nationwide Z4 listings starting at

$6,595

.
z4perfect

writes:
Pros
Holds 2 golf bags. We love our Z.
Cons
We are retiring and it's getting tight.

Love My Z4 — Our Z4 is beautiful to look at, great to drive, but our move to Florida will make it impossible to enjoy. We only put 12,400 miles on this almost new machine.........and really do not want to part with it.
Primary Use: Commuting to work
Paul

writes:
Pros
Quick, good looking, great handling.
Cons
Firm ride, not overly practical, high insurance group (19)
Looks Even Better With Red Leather! — A great roof down, wind-in-your-hair motor. Very quick, handles like a dream and has head turning looks. If you can live with the firm ride on a day-to-day basis as well as the lack of rear seats then it is a cracker to own.
David8844

writes:
Pros
Fast opening/closing convertible top, good power with good fuel economy, eye catching
Cons
Soft top causes big blind spots, not for larger individuals, could be considered expensive
Bimmer Zed 4 — There wasn't much I disliked about the car, it's been the favorite I've ever driven, a real eye catcher. It was good on gas as well so I didn't fill up all that much, very fun to drive, just went zoom. The top was also very fast to open or close. Well just about anything else was great, from the hidden and stylish cup holders to the surprisingly good trunk space.
Kyle

writes:
Pros
Great power,Great Handling, Comfortable, Good quality
Cons
Bad gas mileage, Expensive tires
Great Fun Ride, Never A Dull Moment. — This car has been a staple of weekend day trips. Everything about driving this car is fun, sporty and reliable for cornering at high speeds. My only gripe would be the cost of owning such a vehicle but in my eyes its far worth it..
Flashz4

writes:

lightfoot50

writes:
Pros
Well, it is my first day so I will hold off saying more for 1,000 miles or so. It is a great car. Everything has well over 40,ooo miles on it and nothing has given a problem.
Cons
Tight fit getting in and out, unless the top is down. Comfortable inside at 6' 200 lbs I have the 18" wheels with run flats. If I run over a dime, I feel it. But, it is a sports car and the reward is the way it holds a tun and runs like a bat out of hell on a flat straight away. Watch out for potholes as they could actually crack a wheel. The front plastic airfoil is really too low. I cannot believe that low height is reasonable for any speed you might want to try. It purrs at 90 through 100. That is fast enough for me at 63 years old.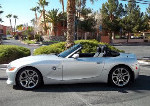 An Experiment In Sport Speed — Too early to say, but I will return. The car is clearly beautiful. I return: I have now had the car 2 years and while I do not put too many miles on it; it has run very well. It has been to Los Angeles and Las Vegas a few times and ran awfully great. The mechanical portions are as beautiful as they were when I bought it. The interior features work as well as brand new. Two issues of insignificance. The cigarette lighter door is permanently open. It will not lock closed. The airfoil is too low to the ground and often scrapes at a bump in the road. Run flats take getting used to as the tires will "rut" in a creased area of pavement. It no longer bothers me. I make the adjustment easily. The car has excellent acceleration from normal driving speeds. It is incredibly responsive to gentle handling.
Primary Use: Sport/fun (spirited driving, track racing, off-roading, etc.)
Gary

writes:
Pros
I love it and I have owned it since new
Nice Car — Good power, nice handling but little but expensiveon maintenance. Good Looking car. Bad on gas. Very very fun to drive. I love to drive it until it dies. interior looked awesome back to 2003. Now it still looks sick. I am glad to drive it as a daily car.
Primary Use: Commuting to work
Alex

writes:
Pros
Great car for a reasonable price!
Z4 3.0i — Awesome car overall. No problems at 80k! Handles like it's on rails and it's very quick! No repairs except for scheduled oil changes. I get up to 30 mpg's on the highway which is great for a sports car! Interior is awesome and the fit and finish is great. Seats feel great too. The fun factor is the reason you buy these cars. Lots of looks, lots of grip and plenty of power with the low weight of the car.
Primary Use: Sport/fun (spirited driving, track racing, off-roading, etc.)
JDWhite

writes:
Pros
Smooth power and great handling
Cons
Maintenance cost after warranty period

Great Fun To Drive Roadster — With it's smooth power through all gears and great handling this is a wonderful car to tear up the winding country roads. A little hard to get into unless the top is down. Not fun to drive with top up feels cramped, though there is ample leg room and seats are comfortable. Kicking sound system
Primary Use: Sport/fun (spirited driving, track racing, off-roading, etc.)
Displaying 1 - 10 of 25 2003 BMW Z4 reviews.
Looking for a Used
Z4
in your area?
CarGurus has

1,356

nationwide Z4 listings starting at

$6,595

.