2003 Audi A4
User Reviews
2003 Audi A4 Review Ratings
Average Ratings
from 38 reviews
Performance:
Appearance:
Build Quality:
Overall:
Review Highlights
Click to filter reviews below
Displaying 1 - 10 of 38 reviews
1
2
3
4
Next
Christopher

writes:
2003 Audi A4 3.0 Quattro Review
Pros
If you want 50% luxury and 50% performance...this car is literally perfect. It is a sexy ride that is incredibly comfortable, but has enough performance to be fun anytime in any weather.
Cons
From a performance perspective, it is waaay to heavy. Parts are expensive for a young owner. It could be a bit faster (not like I need any more speeding tickets...lol)
My 2003 Audi A4 3.0 Quattro (6-speed...no Other Way To Go...haha) — As to performance, It isn't the fastest car on the block, but with the 3.0L V6 paired with the quattro all wheel drive, it hooks up like it's nothing. Your mustang may out pull me all day when it's dry, but I can launch at 5k rpm in the pouring rain all day and hug the road like nothing! That being said, it is great in the snow too...on snowy pavement...it might as well be a 4x4 truck. Build quality? it's an audi...it's freakin awesome...nuf said Appearance...not the sportiest, but I get compliments from both men and especially women on it's looks. I'd like to make some changes up front, but I love how it looks from the back. Cost of ownership? Sigh....being 22 and in college, it is admittedly expensive! Just replaced my first clutch for 1,300...yeah...not cheap! This car is luxurious all the time and fun when I want it to be. The girlfriend loves it! All in all, it has been a great car!
Looking for a Used

A4

in your area?

CarGurus has

10,030

nationwide A4 listings starting at

$3,200

.
Ryan

writes:
2003 Audi A4 1.8T Review
Cons
Maintenance and cost of parts
I Would Definitely Buy Another Audi — Car is a 1.8T putting about 160hp to the front wheels, car weighs about 3600 lbs. Car is quite slow. Car handles VERY nice with Vogtland adjustable coilovers, toyo tires, and -1.25 degrees of camber all around. Audi parts are expensive, i'll leave it at that. Interior on the car is very nice, great quality. Exterior needed some fixing. Added 19in forged wheels, trunklid spooiler, painted lowers, clear corners, blacked out side markers and front grills. Had 20% tint all the way around, but had to take off front tint.. it will be put back on very soon. Audis can be expensive, ive been sorta lucky so far. Gets good mileage if you dont drive like i do :) . Very fun to drive, gets lots of looks for the stuff ive done to it.
Primary Use: Sport/fun (spirited driving, track racing, off-roading, etc.)
Gloria110

writes:
2003 Audi A4 3.0 Quattro Review
Pros
Heavy, challenge to drive, very luxurious.
Audi A4 3.0 Turbo — Great engine. Always need to maintain for best performance but when in tiptop shape..unbeatable. Interior is favorable in the evening or night. Gas mileage is impeccable for it's performance. Handling is the easiest once you get used to how the car adjusts. The Audi's build quality is absolutely amazing. Extremely stable vehicle.
Abe

writes:
2003 Audi A4 1.8T Avant Quattro Review
Pros
Beautiful, fun, affordable, dependable, comfortable.
Couldn't Be Happier. — Going through the list: Performance is well above average and this is a really fun car to drive. There's a little bit of turbo lag, but once it kicks in the pull is strong. The quattro AWD is incredible and you truly feel glued to the road, even on the sharpest hairpins through these VA mountains. The car is solid, heavy, tightly fitted together. My car has 94K miles on it and I can't imagine that it was any smoother or more solid when it came off the factory floor. I've always loved hatchbacks and sport wagons and I think this is a beautiful example of great lines, balance, and an aggressive but not sinister design. The interior is simple, firm, comfortable, and luxurious, with heated seats, sunroof, 6 disc CD changer, trip computer, dual zone climate control, and a lot more. Gas mileage is decent (18/28) and I haven't put any money into the car for repairs. Considering the fact that it cost me less than $10K, which is far less than a USED Honda Civic, I couldn't be happier with this car.
Primary Use: Commuting to work
Mark

writes:
2003 Audi A4 1.8T Quattro Review
Pros
Solid build, Good performance for diesel, Holds Value, Great Sound System
Cons
Expensive, Expensive to service, Fuel economy not great.
2003 A4 1.9tdi Quattro Sport. — My A4 is a 1.9 TDI quattro sport. I have had it for almost 3 years and am still very happy with it. The acceleration is good for a diesel and as it has the quattro system the handling is very good as is the braking. It is not a good looking as the later models in my opinion but I still like the looks a lot. The interior is finished to a very high standard and has sports seats with electronic slumber support which comes in very useful on long journeys. The climate control works well and the sound from the concert sound system is very impressive. In the three years I've owned the car it has never broken down and I have only had to replace the usual service parts (filters, tyres, wipers etc). I have had to have it serviced twice both times by Audi, both times were expensive but as you only need to service this car every 15000 miles or 2 years I think it worth getting it done properly. The fuel economy isn't as good as thought it would be, but I think this is because of the four wheel drive and also I do have quite a heavy right foot at times. After three years I still have fun driving it especially in the corners, I would like to trade it in but only for a newer a4 but can't afford to at the moment anyway. Overall Im very satisfied with the car and would recommend one to anyone.
Josh

writes:
2003 Audi A4 1.8T Quattro Review
Pros
Reliability, performance, host of after-market performance upgrades available
Cons
Under-powered if left stock, a little on the small side
2003 Audi A4 1.8 Turbo Quattro Awd S-line — Slightly underpowered, but still has decent pick-up and nice acceleration. Gets excellent gas mileage for a Sport Sedan. In snow, it will easily pull away from any 4x4 at a stop light. Exceptional traction control, legendary Quattro all-wheel-drive system make this car easy to drive. Luxury, performance, fuel economy, safety and more, all in one package.
Curt

writes:
2003 Audi A4 1.8T Review
Cons
not being a quattro :-(
New Love :-) Audi B6 Turbo — extremely smooth power delivery, very fast. Good effortless brake Build quality is easy 10/10 Awesome styling inside and out not exactly cheap to run, worth every penny. U pay for quality... Simple extremely fun, everybody that gets in falls in love within minuites
Primary Use: Sport/fun (spirited driving, track racing, off-roading, etc.)
Abigayle

writes:
2003 Audi A4 Review
Cons
Length and cost to run
Jose

writes:
2003 Audi A4 1.8T Quattro Review
Pros
Great styling and handling needs a few more power upgrades and its perfect.
Great Looking Car — My only complaints is Audi didnt have enough power from stock but its not hard to get more power from a turbo car.. I love the exhaust notes and cant wait to keep upgrading. An APR ecu chip and injector upgrade should be sufficient for now.
Primary Use: Family transportation
ashwin350

writes:
2003 Audi A4 3.0 Quattro Review
Pros
Great power and handling...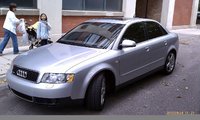 First Class!! — A complete package.. Power, handling and a good sports package.. Suited for all weather.. Great specifications.. Nice interior.. Luxurious enough.. Good road grip.. The brakes are not exceptional, but they do get the car to the desired halt.. The best car that I have owned so far!!
Primary Use: Commuting to work
Displaying 1 - 10 of 38 reviews
1
2
3
4
Next
Ask CarGurus about the 2003 Audi A4
Average response time:
8.5 hours
,
# of Audi A4 owners:
6,721
Looking for a Used

A4

in your area?

CarGurus has

10,030

nationwide A4 listings starting at

$3,200

.