2003 Acura RSX
User Reviews
2003 Acura RSX
Review Ratings
Average Ratings from

32

reviews
Performance:
Appearance:
Build Quality:
Overall:
Review Highlights
Click to filter reviews below
Displaying 1 - 10 of 32 2003 Acura RSX reviews.
Larry

writes:
2003 Acura RSX Type-S
Review
Pros
Best car I have ever owned, now has 139,000 miles, drives like a car with 40,000. Handling, power (for a 4 cylinder) amazing.
Cons
Clutch master cylinder failed after replacing car shifts perfectly no more grinding or third gear problems.
Great Sporty Car — I have seen a lot of reviews on the RSX type S the major complaints seem to be the 6 speed transmission, shifting and grinding. My car had this similar problem when I purchased it. I changed trans fluid with Amsoil Product, which did seem to help a little, but after reading about the clutch master cylinder problems I purchased an after market Master cylinder, had it installed, and all transmission problems GONE! This car also still has the original clutch that does not slip and works fine. Only other thing replaced on the car have been oxygen sensors and catalytic converter. Also have installed Acura A Spec suspension, lowers the car about an inch and handles fantastic, it does ride a little firmer which I prefer anyway I am 61 years old and absolutely love this kids car LOL
Primary Use: Sport/fun (spirited driving, track racing, off-roading, etc.)
Looking for a Used
RSX
in your area?
CarGurus has

627

nationwide RSX listings starting at

$2,988

.
Joshua

writes:
2003 Acura RSX Type-S
Review
Pros
Looks good, drives good, and its made by Honda, so you know it will last good.
Cons
Needs just a little more power in my poinion.. I think 260 would be nice.
Arura Rsx Type-s 2003 — Great overall car right out of the box. Great for anyone looking to get into better than average performance. The Type-S is able to reach 140 mph in its stock form. This car stock is better than pre K20 Civic SIs. The Good: -Close the sunroof and feel the car get slicker as it loses resistance climbing ever higher towards its top speed. -The Stock 6 disk CD changer and cassette by BOSE complete with 8" Sub that mounts in the hub of the spare tire. -Leather interior, 6 speed manual, steering that tightens as you go faster, and wipers that do the same. -No more timing belt - K series uses a chain that doesnt have to be replaced for the life of the engine. The Less than Good: -The cable shift is a little finicky - just by itself - Honda did better with the cable shift 5 speeds. -2nd gear in the tranny tends to grind if your not careful how you shift. (2nd gear kits are available aftermarket.) -Spark Plugs are expensive - the correct ones last forever but will run you over $15/each. -CV Drive Shafts are impossible to find Aftermarket - be ready to get OE parts from Acura/Honda dealers. (hopefully this changes before long)
Primary Use: Sport/fun (spirited driving, track racing, off-roading, etc.)
Eric

writes:
2003 Acura RSX Coupe w/ 5-spd
Review
Pros
Great cargo space, zippy enough without being overpowered.
Cons
okay build quality, might even be a little underpowered.
Decent All Around For A Coupe — The first 5-speed I've owned. I can wring some power out of it if I need to, but its not as quick as it should be off the line. And, after spending a few years in Boston has accumulated its fair share of dents, which show quite noticeably. I like the zeroed-out gauges and the red lighting, but the build quality leaves a little to be desired. The car has a deep-seated rattle somewhere in the dash, I can't pinpoint it either, and its been there for years. The drivers-side power window motor has always had issues too, and the fuel-gauge never seems to tell me how much gas I actually have in the tank. (During the course of a day it might go from reading 1/4 of a tank to E with the fuel light on, after about 10 miles of driving). Oh, and the seat-belt retractors have worn out due to the seat-belts hanging on the bucket seats when you unfasten them. It does feel like a luxury car though sometimes, the leather wrapped steering wheel is nice and so is the leather trim and seats. One thing this little car has is a lot of cargo room for a coupe. I've fit more crap in there than I thought on more than one occasion. On the performance side, the 2 liter, 160 HP inline 4 does a decent job. I can pull it past 100 without much effort. The car is a bit too heavy for the engine though. No mistaking this for anything but a slightly higher displacement 4 cyl. Even power delivery all the way up to red-line though. I feel any change in weight though, which means the engine is producing just enough power, and might actually be a little underpowered. It is fun, the small steering wheel gives precision to your driving, its quick and responsive with some serious road feel and feedback. Its never too easy to turn the wheel, so it doesn't feel lazy or slow. The transmission is good, easy to find the right gear and although the friction zone is a little strange, you get used to it. Gas mileage is decent, yet pretty poor for the city, or it could be my driving. Either way, I'd almost rather have a Honda Fit or just ride my motorcycle more places! :)
Mark

writes:
2003 Acura RSX Type-S
Review
Pros
Great performance at a great value
Cons
Problems relating to the mods that I installed...like having no suspension left because its been lowered 2", etc.
Acura Rsx Type-s...great Little Car! — As a stock car, its great. Its reliable, fun to drive, comfortable, everything you want in a car. With the mods I put on it, that isn't the really case anymore. Ces't La Vie But even with the Mods, the gas mileage is great, the performance is pretty good. 0-60 comes in about 6 seconds, stops on a dime, and the handling is superb. All in all, I would definitely own another own another Acura!
Primary Use: Commuting to work
Luke

writes:
2003 Acura RSX Coupe w/ 5-spd
Review
Pros
Alot of fun for a great price.
Cons
Really only for 2 people comfortably
Worth More Than You Pay. — Great turning radius, good accel, quality interior, decent gas milage for the style, alittle cramped minimal back seat room. plenty of cargo room. Very well priced. a lot of fun to drive. Sturdy suspension, good visibility. Very much worth it.
Primary Use: Sport/fun (spirited driving, track racing, off-roading, etc.)
Brandon

writes:
Pros
decent gas mileage, solid construction, absolute blast to drive, aerodynamically limited to 148 mph
Cons
a bit on the expensive side, expensive to repair. requires premium gas
Beloved Acura — high rpm motor is alot of fun with an 8250 rev limit. fun on backroads and in the corners. gas mileage is a very respectable 28 over the lifetime of ownership. stiff suspention does make long drives tiresome in the end. wouldn't trade it for anything else in its class.
Kevin

writes:
2003 Acura RSX Type-S
Review
Pros
Engine, Seats, Steering feel, Brakes, good gas mileage, huge cargo area
Cons
No power under 5000 RPM, sometimes doesn't go into 3rd gear easily
Matt

writes:
2003 Acura RSX Type-S
Review
Pros
well above average in every department
Solid Little Coupe. — Front-wheel drive and plenty practical while very sporty. While it is not a mid-engine supercar, it is really fun to drive fast. The car is also really kind to every-day activities like parking, sitting in traffic, buying stuff, putting stuff into your car, and even taking friends places. It's not luxury sedan, but has room for a couple of average sized people in the back. The regular RSX is quick and the RSX Type-S is fast. However, the regular old RSX tends to feel faster around town since it's engine is geared for more torque- so you get more ooomph from the engine right away. That means no waiting for the power to build with the rpms. However, IF you get the Type-S, it rewards you with intensely high revs and great handling. The Type-S also has a really fun and friendly gearbox and clutch that just beg to play. Both are great, but I would opt for the Type-S.
Allison

writes:

Fun And Peppy Car — I leased the RSX-S for three years and absolutely loved the car. Externally it's beautiful: very sleek with clean lines. The deep metallic blue color was especially striking, and always stood out in a crowd. Inside the car had great leather seats and a modern silver with red backlight instrument cluster. I wish the US models came with heated seats, but it appears that only the Canadian models had that feature. I also didn't like the bucket seats - it was impossible to reach into the back seat to grab something. But I think the bucket seats add to the sportiness of the car. The engine was really exciting, and I'm not one to normally get excited about engines. It revs up really high, especially when you have the stick-shift model that I had, and it was a lot of fun to drive. I think the RSX is a great quality car. It's a relatively affordable car that you can feel cool driving up to any club or restaurant's Valet service.
Owner for 3 years, 0 months
Miles Driven per Year:5,000
YMendez

writes:
2003 Acura RSX Coupe w/ 5-spd
Review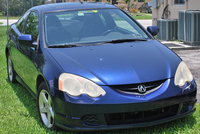 Great — Not much to it. A very good quality car with good mpgs, very low mileage. Good handling, acceleration and braking. Fair maintenance and repair costs. Cruise control for long trips and fuel economy. Comfortable bucket seats for driver and passenger. Remote control for radio for easy radio manipulation.
Primary Use: Commuting to work
Displaying 1 - 10 of 32 2003 Acura RSX reviews.
Looking for a Used
RSX
in your area?
CarGurus has

627

nationwide RSX listings starting at

$2,988

.