2002 Volvo S60
User Reviews
Average Ratings from

19

reviews
Performance:
Appearance:
Build Quality:
Overall:
Review Highlights
Click to filter reviews below
Displaying 1 - 10 of 19 2002 Volvo S60 reviews.
mclvt

writes:
2002 Volvo S60 Base AWD
Review
Pros
Looks great--even 11 years later! Unpretentious, safe
Cons
Maintenance costs (avg $1,500 / year over past 10 years)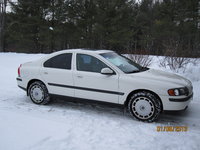 Volvo S60--safe, Reliable And Good Looking — I joined the Volvo club--I'm one of those that loves my car and doesn't want to replace it. After 11 years, It still looks great (no rust on the outside) and I feel so incredibly safe with it. AWD gets me where I need to go during the VT snow season. I will likely get another S60 when I do decide to move on.
Primary Use: Commuting to work
Looking for a Used
S60
in your area?
CarGurus has
9,237
nationwide S60 listings starting at
$2,895
.
Ross

writes:
2002 Volvo S60 Base
Review
Pros
Comfortable, quiet, and well equipped.
S60 — Bought the S60 in May 2007. Liked the car as soon as I saw it. It was a 2.0T so performance was pretty good. Would have been better had it been a bit lighter though. Used it mainly for going to work and the occasional road trip. Wasn't particularly fun to drive and being front wheel drive there were some grip issues, but it was very comfortable, well equipped and great at motorway cruising. Had a couple of minor issues but overall reliability was very good. Running costs were the main issue. Servicing and insurance wasn't cheap and it averaged 26mpg. I'd had the car almost a year when I sold it. I didn't want to sell it but I couldn't justify keeping it. Overall this car did cost me a fair amount of money but I don't care cos when someone asks me what my first car was I'll say it was a Volvo S60, and it was brilliant.
TheWoz

writes:
2002 Volvo S60 2.4T
Review
Pros
Provides luxury options, fine design and class without the outrageous price tag.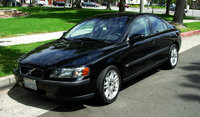 Sleek, Smooth And Safe. — This car outshines many others in its class, such as the BMW 525 or Lexus 350, providing wonderful, easy access extras. As one of the safest cars on the road with the longest of lives (many reach 300-500K!), it is well worth the reasonable price.
Primary Use: Commuting to work
Wes

writes:
2002 Volvo S60 Base
Review
Pros
Great handling and braking, compact size makes for easy parking and
maneuvering, reliable.
Cons
Weak acceleration, ugly black plastic side moldings, everyone's mom has this
car.
Great Fuel Economy, Safe Sedan — I drove the Volvo S60 for about two years and greatly enjoyed the time I spent in this car. The car averaged an impressive 31 MPG on the highway and about 24 MPG city. the cabin is relatively quiet and all the controls are conveniently located on the dash and are in reach at all times. The steering wheel audio controls came in handy on a daily basis as well as the on board computer that displays car information including: average speed, distance before next gas fill up, and average and instantaneous fuel economy. The handling is well tuned and tight enough to allow maximum handling and the brakes stop the car on a dime.
Jonathan

writes:
2002 Volvo S60 Base AWD
Review
Pros
Turbo, AWD , Handling, nice interior
Cons
Expensive to upgrade.
Volvo S60 Awd — It is a 2.4 liter transversly mounted gasoline engine. It is a five cylinder turbocharged. This is mated to a advanced electronically controlled Haldex AWD sytem. It has nice seats the interior is pleasing. Its pretty fast nothing crazy but it goes. Fun to drive in the snow and poor conditions. Ok on gas, turbo noise galore.
Primary Use: Sport/fun (spirited driving, track racing, off-roading, etc.)
WABJMAC

writes:
2002 Volvo S60 2.4T
Review
Pros
A comfortable, reliable, luxury car
Cons
We have not had any problems so no cons.

Will Always Buy Another Volvo! — Comfortable seats (front and back), power seats, heated seats. Very good audio system. Great handling, good fuel economy. Easy service. Sunroof is great addition. Dependable car in all weather. Solid feel in the ride, closing the doors. Leader in airbag technology even in 2002!
Primary Use: Commuting to work
clairemarie

writes:
2002 Volvo S60 2.4T
Review
Pros
This is a great car to have. Volvos are very reliable and safe cars to have.
Cons
The maintenance for this car is pretty expensive. I just can't afford it, so I've decided to sell it.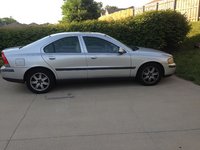 This Car Would Be Great For Anyone. — This is a nice, safe car for anyone to drive. You'll definitely save money on gas when you switch to this car. On the other hand though, it does cost a lot to maintain. Being a foreign car makes it difficult to get cheap parts for the car, but if you keep it running well that shouldn't be a problem.
Patrick

writes:
2002 Volvo S60 2.4T
Review
Pros
Performance is awsome. leather braking handling.
Cons
Cost alotttttttt to fix
Good Car — performance is great because of the turbo. braking is awsome handling is perfect because of the sway bar. Appearance is nice. inside is a bit small but luxury. It cost alot to mantain, gas is about 40 to fill, Fun care to drive around in.
Primary Use: Commuting to work
Sady

writes:
2002 Volvo S60 Base AWD
Review
Pros
I loved the looks and how comfortable the car was.
Cons
didnt like the handleing in snow.
Sleek — I loved the car except that I had to buy a new transmission one month after I got it because the dealer said it had a perfect tranny. The brakes are awesome. I always felt safe while driving the car. ANd always had a blast driving the car.
Primary Use: Commuting to work
katereading3

writes:
Pros
It's very stylish, and has a lot of features. I've always felt very safe in this car, and have been in 3 wrecks over the past 7 years, and was glad I was in a Volvo.
Cons
Very expensive to maintain, takes twice as long to be worked on. The closest Volvo dealership to where I live is roughly 2 hours away, making maintenance a major hassle. No one around here wants to work on the car, not even do an oil change. Once one little thing goes out or goes bad, it's like a domino effect, and the repairs just keep piling up.

Very Nice Car If You Can Afford The Maintenance And Live By A Volvo Dealership. — I bought this car in 2005 or 2006 with roughly 50,000 miles on it. I had issues with the Thermostat going out within the first week. Shortly thereafter, there was a recall on the fuel pump, had to get that fixed. I live 30 minutes away from where I work, so getting this vehicle worked on by someone who was willing and capable and that could do it in less than a week was a task. I did take it to the Volvo dealership a few times to have maintenance and repairs done, as much as I could. It's not easy to schedule an appointment with them on Saturdays, (we always got the, "if we don't have enough appointments for Saturday, we don't open the service department"), and it seemed like every other week something was needing to be fixed, and I couldn't keep taking off to repair my car. Apparently, there is a problem with the transmission over so many miles are put on it, it does what's called a "shift flare". This mostly happens in 1st and 2nd gear (mine's an automatic). The rpms will go up to about to 4 or 5, but nothing happens with the acceleration, then the car suddenly slams into gear, jerking the entire car forward. I've been told it just needs a software update, which you can really only do at the dealership, which is 2 hours away, which is hard for me to do. At this point, I've learned to deal with it, and I drive it like a stick. When the rpms start to go up, I let off the gas until it pops into gear. This seems to help a lot with the jerking. I now have roughly 181,000 miles on it, and can't wait to get rid of it. It seems like it's a ticking time bomb at this point, with a ton of other problems in addition to the transmission. Bottom line, if you have the time, money, and live by a Volvo dealership, this is a good car, otherwise, buy a different car.
Primary Use: Commuting to work
Displaying 1 - 10 of 19 2002 Volvo S60 reviews.
Looking for a Used
S60
in your area?
CarGurus has
9,237
nationwide S60 listings starting at
$2,895
.