2002 Saab 9-5
User Reviews
Average Ratings from

15

reviews
Performance:
Appearance:
Build Quality:
Overall:
Review Highlights
Click to filter reviews below
Displaying 1 - 10 of 15 2002 Saab 9-5 reviews.
Chris

writes:
2002 Saab 9-5 Aero
Review
Pros
Style, performance, handling, turbo, gas mileage
Cons
can be hard to find parts, hard to find a good shop that knows Saabs.
Unique Car — Awesome car, I love it! Accelerates like crazy, especially 2nd gear! Very comfortable, great gas mileage (~30mpg highway), 250 hp + overboost! Sexy looks, luxury style, great handling. When I first drove this car, I had never driven a turbo car before, and DAMN! I just accelerated like normal, the turbo started spooling up, and I just kept going faster and faster! check out thesaabnet.com for more info, it's the best resource for saab info, and lots of helpful people in the forums. It's also nice to have a car that's a little less common. This ain't a Corolla; you won't see 14 other ones just like it in the parking lot. UrbanDictionary described it pretty well; "the thinking man's Mercedes."
Looking for a Used
9-5
in your area?
CarGurus has
452
nationwide 9-5 listings starting at
$899
.
SanPedroPirate

writes:
2002 Saab 9-5 Arc 3.0T Wagon
Review

Good Fun Car, But Pricy To Maintain. — Good: Fun to drive! Factory stereo is awesome! Transmission sport mode turns car into sports car...really. Acceleration very nice. Interior is very nice. Leather stays like new for several years. Seats very comfortable. Bad: Needs timing belt changed every 60k miles vice 80-100 for other cars. Brake dust a problem...it gets everywhere. Head lights burn too hot melts/wears out plastic housings. No option to turn head lights off...if the car is on the lights are on. On-star is analog, outdated.
Primary Use: Family transportation
Jacob

writes:
2002 Saab 9-5 Linear 2.3T
Review
Pros
Very high quality and fun to drive
Cons
Expensive if it needs repair
Jacob's 9-5 — This vehicle is the best one I've owned so far. Saab does an extremely good job with every inch of this vehicle. This car is one of the safest on the planed with safety bars throughout. Not to mention that the body consists of 5 layers of steel...not foam. This one has never been in an accident, but I have seen 9-5's that have been in serious front end crashes with the engine block and the windshield still in tacht. After the safety comes performance. The steering is nice and tight and with my functional left foot, the manual transmission serves me well. Even with having the smaller of the two engines offered in the Saab 9-5, with the turbo it is more than sufficient when reaching a thrilling speed. I have not yet maxed out this vehicle, but did have it at 140mph with plenty of room left on the tach. Let's just say I didn't feel safe about going any faster on a Twin Cities freeway. The vehicle is also equipt with some not so necessary, but helpful features. It has seat heaters not just for the driver and front passenger seats, but for the rear as well. The headlights have sprayers for washer fluid and the glove compartment can be turned into a cooler in the summer. With a vent coming from the vehicle's air conditioner, your drinks or snacks will be kept cold as you are driving. With all the wonderful things about this car I would only reccomend buying a Saab 9-5 if it is older than a 2007, since GM decided to re-do the interior. The newer models have the same interior you will find in a Chevy Impala and is not quite the Swedish joy you would find in previous model years. However, for someone in the market for a high quality used car I would highly recommend the 9-5.
Jacob

writes:
2002 Saab 9-5 Linear 2.3T
Review
Pros
Gorgeous and fun to drive
Cons
Expensive if it needs repair
Jacob's 9-5 — It has a few things wrong with it but runs well and handles great. it has the smaller engine, so not as much get up and go as the V6, but still quick and fun to drive with the manual and a turbo under the hood. Though with the 4 banger, it gets around 35mpg on the highway so i'm thankful for that. The vehicle is very solid and one of the safest cars on the planet having 5 layers of steel for the body...not foam. All these factors are of course most important, but the car also looks like a million bucks. I've been asked many times if it's brand new and its 7 years old. This is the best car I've had yet, but probably won't buy another Saab because GM is cutting corners and putting the same interior in the Saabs as they do the Chevy's. There's nothing wrong with Chevy's interior...as long as it's in a Chevy.
Chris

writes:
2002 Saab 9-5 Linear 2.3T
Review
Pros
A quick, comfortable, feature laden car, that was quite underrated. I really enjoyed it!
Character And Comfort — In 2002, I finally became a Saab driver. Growing up in the Northeast, I always had a soft spot for the brand, and felt that the virtues of a Saab suited my personality. Namely, the fact that they were individualistic, cleverly packaged, fuel efficient, quick, comfortable, and sturdy. My 9- 5 was a great car. I had a few quirks along the way, but all were covered under warranty, such as a blocked climate control system, and head leaky head gasket at 49k. I always received great dealer service, and truly enjoyed the car.
Primary Use: Commuting to work
Kyle

writes:
2002 Saab 9-5 Linear 2.3T
Review
Pros
It's fun... When it works!
Cons
Most unreliable car IN THE WORLD.
Fun To Drive, Poorly Built. — Never, EVER buy a Saab. EVER! BTW, anyone need 9-5 parts or a 9-5 shell? Fix this, fix that, no engine. Saab is garbage. GM is garbage. I hope GM goes in the poop-hole so stupid Obama will give me back a little tax money.
Primary Use: Commuting to work
Mike

writes:
2002 Saab 9-5 Arc 3.0T
Review
Pros
Safe, quiet, great used car value.
Cons
A little higher maintenance than many Asian imports
A Saab Story — Certain parts are more expensive than Asian imports, but the value is fantastic. Excellent handling, extremely efficient 5 speed automatic transmission, fantastic sound system, great option packages. Xenon headlights, parking sensors, rain sensors, heated and cooled seats, rear heated seats. You can have all of this for less than a Civic.
Carl

writes:
2002 Saab 9-5 Linear 2.3T
Review
Cons
computer screen display blurs out
Dull Car — Get a car that has had fewer owners and it might run smoothly. Major repairs on this car : start engine, wheel alignment. In general the Saab 95 is quite dull to drive. It is a very normal car with no special feeling about it. A little fun thing is the "S" function if you have auto transmission. It will accelerate with more power. The 95 has a powerful acceleration, but driving around in the city is annoying because it's too long and diffictult to park.
p2myiso

writes:
2002 Saab 9-5 Linear 2.3T
Review
Cons
Can be slow at times haha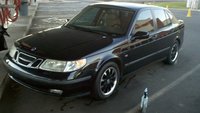 Clean European Look — It was a beautiful European car low miles in great condition the only bad part was window didn't go down at 1st got that fix cheap and then had bad a.c. problems got that fixed after I found out it was Lily parts that needed repair
Primary Use: Sport/fun (spirited driving, track racing, off-roading, etc.)
amzauto

writes:
2002 Saab 9-5 Aero Wagon
Review
Pros
A dream to drive. And oozing luxury. And power. You can feel the sturdiness when driving it at high speed. Highly recommended.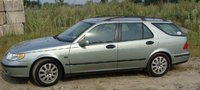 A Beauty To Drive. Top Notch — Really am enjoying the smooth and quiet ride, great turbo power from a 4 cylinder, and gets good gas mileage too...26-28 in mixed driving. Smooth turbo, comfortable seats, great on the highway. This car is FAST for a wagon and SAFE. It's a very sturdy, solid car being quite able to zip up a steep hill without a problem. I also love the design. Several times strangers on the street have commented to me how 'good looking' this car is! I'm also impressed how roomy the back is. I can get my large bike right in w/ the back seats down. I also like the low profile of the rear 'floor' easy to get things (including our dog) in & out.
Displaying 1 - 10 of 15 2002 Saab 9-5 reviews.
Looking for a Used
9-5
in your area?
CarGurus has
452
nationwide 9-5 listings starting at
$899
.