2002 Renault Laguna
User Reviews
2002 Renault Laguna
Review Ratings
Average Ratings from

10

reviews
Performance:
Appearance:
Build Quality:
Overall:
Review Highlights
Click to filter reviews below
Displaying all 10 2002 Renault Laguna reviews.
lihp_2009

writes:
2002 Renault Laguna
Review
Pros
Good economy for size of motor and car. Pleasant interior with great electric seats. Good ergonomics...a lot of good design. My kind of car.
Cons
In NZ its a bit of an orphan but get bits from UK no problem. My kinda car which also means that i like doing odd repairs and maintaining it...other people may not share my enthusiasm. Can see why people feel they are not reliable...little things mainly but its not a hard car to maintain...just constant little things...eg, micro switch in drivers door does not turn interior light on, wheel pressure sensors a bit intermittent, Airbag light goes on now and again - don't panic its just the pretensioner connections are a bit iffy...will need to look at them soon...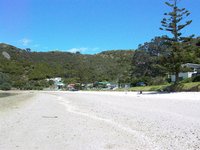 Likable, Friendly To Drive. — Nice on the open road and good around town. No regrets buying this car. Feel at home in it as its easy to like. Nice power with good motor and gearbox. Handles pretty well and feels safe. Should age well over the next few years - and it doesn't look yet like and old car even thou its now 11 years old. Modern design. A bit heavy on front tyres so buy Michelins. Motors seem to leak oil from the cam/valve cover area which is common to Peugeots and Citroens which use the same motor. Needs careful assembly and a few longer bolts on the cam cover area in order to repair properly. The SU1 5 speed gearbox is strong but must be maintained...at 100 thou kms I had valve assembly reconditioned which was a good move...smoother then ever. Gearbox is japanese and used also by Volvo, Lexus, Nissan, Saab, and others - even Chrysler it seems...The Diesel 2.2 turbo motor also uses this gearbox but the other Renault Lagunas use a french 4 speed gearbox or Manual.
Primary Use: Family transportation
Chris

writes:
2002 Renault Laguna
Review
Pros
Looks prestige, VFM extras, Towing
Cons
Only buy if under 70k mileage
Good Family, Towing, Motorway, Economical — Bought it used for £8k, 70k miiles, 2002 model, 2 owners, Privelage model, 1.9D, Sporting Tourer, Jan 07 Repairs - Electric window motor, Electric clutch, Air Con Controls, Coil spring and Rocker arm!? Faults - Air Con Unit, Tyre pressure sensor Pro's - Motorway driving, Extras for value, Xenon lights, Good Tower, Boot Capacity, Economical Con's - Electric faults, Cost of simple repairs (1/2day labour to change sidelight bulb),(2days labour to change clutch),
Primary Use: Family transportation
Matthew

writes:
2002 Renault Laguna
Review
Pros
Looks good, Good handling, very comfortable
Cons
1.6 engine a little under-powered for the car, cabin build quality could be better.
My Laguna — This is a good large car with pleanty of technology to help the driver out. It was one of the first in it's class to achieve 5 stars the then relatively new N-CAP crash test rating so as second hand cars go it's a pretty safe option. The comfort in the cabin is great, the model I have has automatic climate control, the seats have plenty of adjustment and it feels like you're driving an armchair!
Primary Use: Family transportation
Rares

writes:
2002 Renault Laguna
Review
Pros
Mileage, space, confort.
Return To The Blue Lagoon... — Try it yourself :) Indeed a luxury car, with great safety feature, awesome mileage, stability and most of all, an awesome driving sensation. Definitely the kind of car that gets attention and it's an eyeturner for the ones with a bit of knowledge about cars...
Primary Use: Sport/fun (spirited driving, track racing, off-roading, etc.)
Rik

writes:
2002 Renault Laguna
Review
Pros
Good fuel economy, good level of trim and toys, smooth ride
Cons
Its diesel and sounds like a tractor.
Laguna — Its diesel, what more can I say? It runs on the same fuel as a tractor. Oh it uses much less fuel than my Alfa, its cheaper to tax and insure. this car is cheap to run round town or on long runs. it is comfortable and has a good level of trim. It looks nice but is no stunner. Ok I wanted to hate this car so much after my Alfa Romeo, but I just can't. I goes round corners like it is on rails with almost no body roll, It is cheap to run, tax and insure. It is pretty quick when it has to be and will sit on the motorway at motorway speeds all day giving all inside a comfortble ride. during the heavy snow in the winter of 2009, it never got stuck once and I even found myself driving past some 4WDs. So I have to confess that I can highly recommend this car and it has been a pleasure to own and I am now a diesel convert. But I will still replace it with another Alfa Romeo, this time a 159JTDm ti Mwahaha
Primary Use: Family transportation
Sean1845

writes:
2002 Renault Laguna
Review
Pros
5 star rateing and the eqripment level
Cons
hard to maintain your self and main dealers are too expensive
Marcus

writes:
2002 Renault Laguna
Review
Pros
6 speed manual gearbox and push button start up
Cons
boot not quite big enough
Laguna Est Diesel Review — go's well enough for a diesel, so far no repairs needed, i suppose it's a bit marmite looks wise, love it or hate it!! excellent fuel economy, all cars can be fun to drive, it depends how you drive them!!!!!!!!!!.
Primary Use: Family transportation
Debbie

writes:
2002 Renault Laguna
Review
A Shed — I hate everything about it. There is nothing good about it. Oh yeah there is, it has a door to get out! I like the colour (black). Performance - average, build quality - repairs repairs and more repairs, appearance - not bad, cost of ownership - average, fun factor - none at all. Never buy Renault!
Displaying all 10 2002 Renault Laguna reviews.
Looking for a Used
Laguna
in your area?
CarGurus has

thousands of

nationwide listings and the tools to find you a great deal.