2002 Mitsubishi Montero
User Reviews
Displaying all 5 2002 Mitsubishi Montero reviews.
Kevin

writes:
2002 Mitsubishi Montero Limited 4WD
Review
Pros
Comfortable yet rugged truck,AWD feature is great never needed neutral in transfercase except for towwing behind motorhome.
Cons
IAC sensor is a problem for these trucks
To Good Of A Truck To Stop Selling Them In The Usa. — Like the look of the Montero XLS/Limited,and love the drivetrain setup,VERY DEPENDABLE.If you demand a comfortable ride in the city and a field tested off-road wheeler then drive a full-sized montero. you will never look at a jeep again.
Primary Use: Commuting to work
Looking for a Used
Montero
in your area?
CarGurus has
152
nationwide Montero listings starting at
$3,500
.
wellvj3

writes:
2002 Mitsubishi Montero Limited 4WD
Review
Pros
Will tow anything, body in good shape and still looks almost new, reliable with routine maintenance, comfortable but still a truck, tinted back windows
Cons
Auto Sun Roof not working. Gas mileage not great.

Good Heavy Duty Vehicle With Routine Maintenance. — I've had no serious issues with this car. I've driven it back and forth across country and it has proven to be a great long-distance vehicle. It has a high towing capacity and should have no problem towing a large boat or trailer. Since black in color it needs washing often.
Primary Use: Commuting to work
dderwey

writes:
2002 Mitsubishi Montero XLS 4WD
Review
Pros
Bought it new, have over 200,000 miles and it runs like new. When I am crusing on the highway I have to be careful with my speed as I can be going 90 and not realise it due to the smooth ride. It has a six cylinder but has sufficient get up & go. I have the tow package and can tow my single axel (Texas Trailer) loaded (2,000 lbs) with no problem.
Cons
Both the front and rear cigarette lighters need to be replaced, they just wore out from plugging & unplugging cell phones.

Impressive — Mitsubishi "recommeds premium gas" (when I tried to use mid grade or regular it negatively affects the performance). The biggest downside is that Mitsubishi quit selling them here in the USA. In hindsight I would have opted for the Limited edition with Leather seats.
Primary Use: Commuting to work
babyd803

writes:
2002 Mitsubishi Montero Limited 4WD
Review
Pros
This vehicle has a great drivetrain with excellent of road capabilities. All the seats are comfortable and the second row seats are reclining. Great cargo room.
Cons
A little under powered but not a big deal it has a 3.5 v-6 they put 3.8L in newer ones. The brakes seem a little week but not a b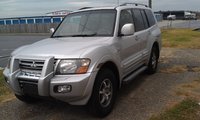 I Love It!!!! Although I Wish I Had My 3000gt Vr-4 But Babies Come First!!! — I love the comfortable seats, lumbar support, heated seats, 2nd row seats will recline flat almost like a bed!!!!! The off road is great very strong off road vehicle its no jeep rock crawlerr but it will hold its own. I was driving 65mph and someone pulled out in front of me I had to swerve to not rear end them, I fish tailed 3 or 4 times I probably could have came out of it but I have up and slammed on the brakes ( I should've keep correcting but I said screw it) then the rear tire hit a curb side ways, and I have to say that this vehicle must be very bottom heavy because I should have flipped!!!!! I don't know what the rollover rating it on this vehicle is but seems great to me! If I was in my 3000gt VR-4 I have no doubt I would have came out of it with all wheel drive and 4 wheel steering. This Montero is a great vehicle. I'm about to change plugs and wires, timing belt and water pump. I think if you maintain this vehicle it will last you a long time!!!!
Primary Use: Family transportation
SubaruJunk2

writes:
2002 Mitsubishi Montero Limited 4WD
Review
Pros
Outstanding vehicle. Right up there as one of the top 3 vehicles I've ever owned, and I've owned approximately 10 Japanese vehicles. Unstoppable in bad weather. Ultra-reliable.
Cons
Slightly under powered, but still pulls two snowmobiles in an enclosed trailer everywhere I need to go.

Possibly Best Vehicle I've Ever Owned — At 13 years old it's about to hit 100k. Absolutely no mechanical failures so far. Looks amazing! 20" chrome rims and billeted grill have transformed it. Kids literally come running up and tell us how they love our truck (seriously). People with new Mercedes SUVs do double takes, in fact, almost everyone does a double take. It's become a game to watch people watch this vehicle. With studded snow tires it pulls our snowmobiles through all manner of inclement weather with confidence. Manages 19 mpg all around, which is darn good for a 7 passenger vehicle. Paint is great. No rust anywhere (I do spray my vehicles with Fluid Film or Corrosion Free every fall). Leather is like new. No intention of getting rid of it, EVER!
Primary Use: Family transportation
Displaying all 5 2002 Mitsubishi Montero reviews.