2001 Volvo S40
User Reviews
Average Ratings from

20

reviews
Performance:
Appearance:
Build Quality:
Overall:
Review Highlights
Click to filter reviews below
Displaying 1 - 10 of 20 2001 Volvo S40 reviews.
Drew

writes:
2001 Volvo S40 STD
Review
1 — would like to have manual trans but its not sold in the states..so im gonna import one :) i also wanna get a an air intake for it and a new exhaust.. recomend some wheels for me to get cause thats proli gonna be my first step overall tho is pretty fun
Looking for a Used
S40
in your area?
CarGurus has
1,051
nationwide S40 listings starting at
$2,500
.
Karen

writes:
Pros
Safe, reliable, comfortable, beautiful lines, great pick up.
Cons
It's ridiculously expensive to repair. Luckily it hasn't had anything done to it but a tune up but even that was big $$$
I Love My Volvo — I love my car! it is great in the snow, the trunk holds a lot of bags of groceries. THe leather interior as held up beautifully. I love the sun roof for the summer and the heated seats in the winter is a nice bonus. I feel we got a great car for a great price. I feel very safe in my Volvo and thats important to me because my son is usually in the car with me.
Katie

writes:
Pros
Great everyday car, comfortable.
Cons
Volvo leather is the bane of my existance. Not a very sporty car.
Great 1st Or Budget Car. — It was my 2nd car ever, so I learned a lot about it. I drove it both in CO winters and FL summers, and monsoon season. It did pretty great across the board in all weather, though I am a pretty fantastic driver (i.e. I know how to drive in the snow.) Maintenance was all very easy, I never had anything happen to it other than regular oil changes, and it was a very versatile car. Except when I got it stuck on the beach because sand does not behave like snow, but some very nice guys pulled it out.
Nico

writes:
2001 Volvo S40 STD
Review
Cons
Maintenance, CEL, Power Driver's seat and headlights
A Good Drive But Not Worth The Hassle — Acc around 9.5 seconds to 60 not an all out sports sedan but spirited because of the 1.9L Turbo. Braking: Great Handling: So so could be better. It was a fun car to drive when it wasn't in the shop. Avoid the 2000-2001 model S40s, 2002-2004 were great solid build years. Appearance: great on the outside, inside needs some work. Cost of ownership: high, if id been without my extended warranty I would be toast. Maintenance as well as high as other luxury auto makers, go for a bimmer or benz if you don't mind paying the ridiculous $150hr rate they charged after I got rid of it.
Primary Use: Commuting to work
TheEconomist

writes:
2001 Volvo S40 STD
Review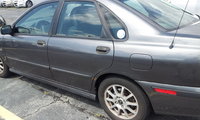 Safe, Reliable, Sporty, Fun Vehicle — What more could you ask for? This is the a little more fun Volvo ( in my opinion ), which is sporty and fun to drive, 4 door sedan but with that sporty twist so it's more compact not like a full size sedan. You still get all the safety features however and just need to keep up regular maintenance and they go forever.
Primary Use: Commuting to work
Kelly1597

writes:
2001 Volvo S40 STD
Review
Cons
Have had no problems with this car!
A Volvo With Some Get Up And Go! — great car, really peppy which surprised me for a volvo! all s40s (2001) have turbo engine. have had no problems at all with it! fun to drive, has a sunroof, leather interior. speakers could be better. overall, it's a great car... however, i'm considering selling it just to get a newer S40!!
Cole

writes:
2001 Volvo S40 STD
Review
Pros
good acceleration, good braking distance, good safety ratings
Cons
it is only a 1.9 Litre engine
My 2001 Volvo S40 — I have a great 2001 Volvo S40 1.9T. It has some wuickness to it and it also handles like a champ. The turbo is perfect for accelrating this heavy piece of machinery. Weighing in at almost 4,000 lbs, it is definanently a heavy car. But that is one of the things that make it one of the safest cars on the road. All in all, I LOVE MY CAR!MUY
Brent

writes:
2001 Volvo S40 STD
Review
Pros
Good Performance Potential. Great Build. Great In Snow. A Lot Of Fun And Luxury For A Little Cash.
Cons
Stock Performance Is A Little Lacking But Still Good. Wish It Was Manual, Or Auto-Stick.
Turbocharged Volvo Fun. — I just happened upon this car one day on the internet and eventually I went and checked it out. We brought it home for a test drive and I didn't want to let it go. It's fully loaded sans the sport package, so its very luxurious. But for me its what's under the hood. The 1.9 liter is small but with the right turbo and chip you'd be looking at 600 or more hp. Right now i get like 26mpg, not bad, other than a bad o-ring for the turbo there have been no major repairs. I have added foglights and lowering springs which make it better all around. It's alot of fun to drive and driving it doesn't make you look like a dork, because it's a luxury car after all, not a sub-compact ricer. All in All I don't think i could have found a better car for the money.
Alex

writes:
Cons
it's not as hot as a ferrari, but hey
Volvo S40 - Rethink It — Has the most powerful brakes and fastest acceleration of any car I've driven or riden in. It has turbo so I can go 0 to 60 in 4 or 5 seconds. It handles great, I never get stuck in ice or snow, I never hydroplane, and I know if I hit anything I'll do more damage to it than it'll do to me. Looks great compared to the older models and then newer models - newer ones are ugly. Doesn't need to be maintained beyond the basics; looks newer than it is. VERY fun to drive.
Displaying 1 - 10 of 20 2001 Volvo S40 reviews.
Looking for a Used
S40
in your area?
CarGurus has
1,051
nationwide S40 listings starting at
$2,500
.