2001 Volkswagen Golf
User Reviews
Average Ratings from

42

reviews
Performance:
Appearance:
Build Quality:
Overall:
Review Highlights
Click to filter reviews below
Displaying 1 - 10 of 42 2001 Volkswagen Golf reviews.
John

writes:
2001 Volkswagen Golf GLS 1.8T
Review
Pros
Quick, smooth and powerful engine, beautifully built, great ownership proposition
Cons
Competent but uninvolving handling & steering, staid and unimaginative design
Guilty Pleasure No 103: Mk 4 Golf Gti 1.8t — Thanks to my autophile father I was pretty much born with petrol coarsing through my veins and grew up lusting after italian exotica and french ingenuity. So when it came to fulfilling my motoring destiny by parting with the hard earned, I fully expected to return home with a sonorous and stylish Alfa or a quirky old Citroen. How then did I become the owner of a Volkswagen Golf? And not even the iconic mk1, desirable mk2 or rejuvenated mk5, nope the stodgy if solid mk4. The actual reasons for this decision are somewhat dull and practical and as it happens I'm planning to swap it for aforementioned alfa in the next few months. But saying goodbye to the Golf won't be as easy as you may think. It may be staid, evolutionary and a little bit dull, but even to a petrolhead like me there has been a guilty pleasure about owning this car. Mine is a 1.8T GTI which helps the case enormously. The engine must be the pick of the mk4 bunch; it is silken smooth and pulls like a train, with lovely turbo torque from 2000rpm and some good old fashioned top end go as the 20 valves come on song around 4000rpm. The GTI also has significantly firmer springing and weightier steering than your boggo 1.6. Neither of these is going to mask the inherent shortcomings of the mk4 chassis, and on your favourite piece of twisty road it feels safe and competent rather than fun and involving. But in 90% of real world driving this is irrelevant. What is relevent, is where you are sitting and what you've got and here the Golf excels. It is beautifully built (far nicer than the mk5) and in GTI trim very well equipped - my favourite feature being the superb recaro seats which are comfortable and supportive. And then there's all the other stuff about owning a Golf, like good reliability and strong resale values which shouldn't get you excited but when it's your own money does. So there you go, i've said it, I'm glad to own a mk4 Golf and frankly would recommend it to anyone. Now where did I put that Alfa brochure....
Looking for a Used
Golf
in your area?
CarGurus has
4,889
nationwide Golf listings starting at
$1,800
.
Wrieland

writes:
2001 Volkswagen Golf GL 2.0
Review
Pros
Cool sporty look, great around turns, gas mileage, comfortable, normal sized trunk
Cons
Back seats small but okay, not a lot of power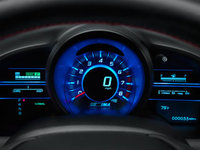 Great Looker And Ride — I like taking turns with the car, it was fun to drive. Brakes are good, is good in the snow. Helped my wallet with the gas mileage. I liked the brand and think they make good cars and this one had a quality build, I felt safe.
Primary Use: Commuting to work
Rasko01

writes:
2001 Volkswagen Golf GLS 2.0
Review
Pros
Great gas mileage and comfort. Best turning radius. All around great visibility. No repairs as long as you perform VW scheduled maintenance. Fun to drive with good handling and even better braking.
Cons
Could use tighter suspension.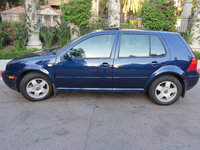 Comfy Daily Commuter With Awesome Gas Mileage — Overall great compact car, pleasure to drive. My wife used it for a daily commute to work and really enjoyed it. Easy drive, great gas mileage and a German quality built to last for years and years. Very comfortable ride, easy to park anywhere and a great turning radius, a must when driving and parking in downtown.
Primary Use: Commuting to work
EKR

writes:
2001 Volkswagen Golf GLS 2.0
Review
Pros
I think the Golf is just about the most perfect car made. Fun to drive and absurdly practical. it has an amazing weight to it and level of finish that you just don't see in other cars of its size. It is as comfortable on the highway as it is in the city.
Cons
more repairs that i would have liked, but we owned across the 100,000 hurdle, so we paid for everything. Now it is all set!
Gas mileage, It drives me crazy that a car this size can't do more than 32 mpg on the highway.... it just needs one more gear!

Jonathan

writes:
2001 Volkswagen Golf GLS 1.8T
Review
Pros
Stylish (in black), quick, efficient
Cons
Some build quality issues.
Matija

writes:
2001 Volkswagen Golf GL TDI
Review
Gti — interior quality is on high level, i like recaro seats on it, it s fun to drive in it on high speed, didnt need any repairs, good acceleration, good handling, inteior is very nice, nice black black colour, rims are from golf r 32, price is more than good
Primary Use: Commuting to work
Hector

writes:
2001 Volkswagen Golf GLS 2.0
Review
Cons
it is still not finished
It's Going To Be A Champion — This is my racing ride, i love riding it on the track. Hopefully we will enter racing competition soon. It has an upgraded suspension coilovers (made them myself). 2.0 engine with 5speed transmission. I'll test it on the dyno soon.
Primary Use: Sport/fun (spirited driving, track racing, off-roading, etc.)
Sham

writes:
2001 Volkswagen Golf
Review
Everyone Shouldm Own One Of These At Some Time — a golf cabrio, buy standard and make them like you want to, reliable, good looks this model has all the mod cons and is an easy car to own and run, love the golfs..everyone should. find a clean example and then lucky find, bad ones, then spend some dosh on them
Primary Use: Family transportation
Ezra

writes:
2001 Volkswagen Golf
Review
Pros
Great car, make sure you can afford it and ignore the ones with the automatic gearboxes
Cons
High fuel consumption, high insurance cost and expensive parts
Review Volkswagen Golf Iv 2.3 V5 — Performance- Expected more out of a 2.3 liter engine. Although the automatic gearbox ruins a lot!!! It's still faster than the average car though... Build quality- It is supposed to be a very reliable car, but the weather here ruins a lot of the plastics and it's hard to find a propper garage that does the right job. The engine is bullit proof and never let me at the side of the road. Appearance-People complain that it's just a Golf, it's not flashy, but definately not ugly! The Golf IV is the most beautiful Golf Volkswagen ever produced in my eyes. Besides that, you can consider this car as "cool" since teenagers love it as a "hot hatch"... which it is.... Cost of ownership- If you can just afford the car because you have the money to buy one, leave it alone... Get a Japanese hatchback or something... Fuel consumption is VERY high for such a car with an average of 9 km/l. Also the cost of insurance is high, because my car is considered to be a "sportscar" with the insurance companies. Then the maintenance, simple service is cheap of course. But if something breaks and you need new parts??? Jackpot!!! Fun Factor- With a 2.3l 5-cylinder engine, you will adore this engine if you know something about cars. You get the beautiful soundtrack of a 5-cylinder engine and not a standard 4-cylinder sound like most Golfs will have. However, I always see this car as a GT car, not soo much a "hot hatch" like a GTI or R32. It has soft suspension, an automatic gearbox and is made for comfort. But put your foot down, and it can blow your head off!!!
Primary Use: Commuting to work
Jean-Francois

writes:
2001 Volkswagen Golf GLS TDI
Review
Jf_golf — makes me feel secure. Great acceleration No major problem apart from the Turbo that needed to be replaced after 6 years... Fun to drive, my wife like it so much she wants it after I upgrade with the new VW Golf wagon with clean diesel engine probably the family one. Thanks
Primary Use: Family transportation
Displaying 1 - 10 of 42 2001 Volkswagen Golf reviews.
Looking for a Used
Golf
in your area?
CarGurus has
4,889
nationwide Golf listings starting at
$1,800
.