2001 Toyota Camry
User Reviews
2001 Toyota Camry
Review Ratings
Average Ratings from

32

reviews
Performance:
Appearance:
Build Quality:
Overall:
Review Highlights
Click to filter reviews below
Displaying 1 - 10 of 32 2001 Toyota Camry reviews.
Chris

writes:
Pros
Price, comfortable, reliable, roomy, 32mpg highway, great stereo
Cons
Not speedy, common car
Toyota Camry - The Perfect Roomy Sedan For The Price, Comfort, Mileage, And Reliability — I'm a tall guy (6'4") so I need a car that is very roomy. That is why I got another Toyota Camry after having driven my first one for 4 years. Toyota makes the highest quality and reliable cars. Mine is very roomy with plenty of room for four to five friends and plenty of luggage space. I drove my last Camry for 302,000 miles before I got this new one. My car is perfect for long trips, comfortable, gets 32mpg highway, has a great stock stereo with tweeters, limousine tint, automatic door locking and windows, automatic power chair, well designed cup holders, a reliable and strong AC system, and descent acceleration.
Looking for a Used
Camry
in your area?
CarGurus has

78,101

nationwide Camry listings starting at

$1,500

.
importcar

writes:
2001 Toyota Camry LE
Review
Pros
Reliability, features, fuel economy.
Cons
floaty ride after 100,000 miles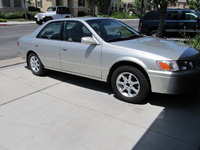 The King Of Midsize Sedans — Rock solid reliability was what sold me this car. Over 200,000 miles with no engine and tranny problems. The radiator developed a crack at 199,000 that required replacement but other than that, no other major mechanical issues. The stock struts were shot at 100,000 but that's normal for any car.
Julianne

writes:
2001 Toyota Camry CE
Review
Wendy

writes:
Cons
you can't get enough in it.
It Good On Gas — it is not big enough , But it good for everything else it gets us were we want to go.It drives nice. It has good handling and the rakes are new I keep up on it all the time it does not squeaks or rattles. appearance the exterior has trim on the out side.Gas mileage is good and well maintenance new tiers, i change the oil like it should be changes .My car is my life. it drives real good.
Primary Use: Commuting to work
Sarah

writes:
Good Baby — Its a very responsible, practical,sensible, dependable! I have 115k on it right now and it has no problems. I would definately by another Toyota when the time comes. Hopefully that day will come sooner than later. I love what you do for me.
Primary Use: Commuting to work
Tim

writes:
2001 Toyota Camry XLE V6
Review
Buy Toyota U Canyt Go Wrong — Performance in this car is great it is still able to accel at high speed at the same time it is quite.handing on the 2001 Toyota Camry is really good. this a great car to drive,hey its a bit old but it does the job and more.
Primary Use: Family transportation
Greatiam2

writes:
Pros
I agree with the Appearance Rating
Cons
None I have found in 237,000 Miles!!!!

Buying It Again!!!! — All of the ABOVE!!!! I'm about to replace the one I've had for 5 Years that was bought with 26,000 miles and now has 237,000 with a Gallery Series that has ONLY 42,000. BUY THIS CAR!!!! It will become your BEST FRIEND!!!!
John

writes:
2001 Toyota Camry LE
Review
Pros
Comfortable, reliable, well rounded.
Cons
Drives like what it is, a heavy car, and with the 4 cylinder engine, could use some pep.
Nice. — It's a big, comfortable car. Handles like what it is, not exactly zippy, but handles well. Acceleration can be punchy in the higher RPMs, but don't expect to track this car. Very sturdily built as all Toyotas tend to be, our sat for two years, and with a fresh battery, new gas, an oil change, and fuel injector cleaner, ran like new. Looks good, almost mean form some angles, it's a face lifted model from the year before, but is the only Camry in ten years not to be the top seller. Low cost of ownership, though the inline four prefers premium due to a quirk with the knock sensor and fuel under eighty-seven octane. It's a comfortable car, not really the most fun, but it's not unpleasant.
ADil

writes:
2001 Toyota Camry XLE
Review
Pros
WHAT EVER BUT I LIKE IT
Cons
WHAT EVER BUT I LIKE IT
Toyota Camry 2.2 Modified — Performance of the car is good road wise but acceleration is not that much i like the handling cauze i placed lowering suspention in the car build quality is good but i fried it little more to look more better the good thing about the car is that its have good mileage and maintenance is perfect the fun factor is play with it as much u want but say no to garage
Sarah

writes:
2001 Toyota Camry LE
Review
Pros
lasts long i believe.. if you put a little effort in and take care of its..
Cons
it may because its old but i usually can't steer too much with this car or else it'll start making a screeching sound.. the kind that sounds like nails running down a chalk board.. my dad says that it kills the car and so if i'm trying to get out of a tight spot, it takes longer to get out since i have to make sure i don't turn the wheel too muchh..
It's Lasted 7 Years.. =) — my dad bought this car way back in 2001 after our oldsmobile got stolen.. i really like it since it hasn't let me down so far.. =) but then again my dad took really good care of it.. based on appearance its alright.. i don't really like like it because i like smaller more compact cars.. the interior is roomy and its all good.. i really like how smooth the car goes even though the acceleration time is a little slow at times.. mileage isn't that bad since i have to put gas in once every 1 1/2 weeks or so..
Displaying 1 - 10 of 32 2001 Toyota Camry reviews.
Looking for a Used
Camry
in your area?
CarGurus has

78,101

nationwide Camry listings starting at

$1,500

.