2001 Pontiac Grand Prix
User Reviews
Average Ratings from

59

reviews
Performance:
Appearance:
Build Quality:
Overall:
Review Highlights
Click to filter reviews below
Displaying 1 - 10 of 59 2001 Pontiac Grand Prix reviews.
EricFoulds

writes:
2001 Pontiac Grand Prix GT
Review
Pros
Decent gas mileage and quite reliable. Seats entire family very confortably and great for long trips. Quite reliable considering odometer is into the mid 130,000 range and does a great job getting my kids around.
Cons
The only thing I could possibly complain about is the sound system. Stock radio CD player still works okay but speakers are sketchy with scrackling and loss of radio display a couple years ago.

Love This Car And Very Happy To Have Bought It. Hoping It Continues To Perform Well. — I love the power of the 3.8 liter V-6 engine. It definitely has the good pickup I enjoy, but is easy to drive at the same time. Tons of room even though I am quite tall and has plenty of space in the back seats.
Primary Use: Family transportation
Looking for a Used
Grand Prix
in your area?
CarGurus has
3,799
nationwide Grand Prix listings starting at
$1,295
.
Jessica

writes:
2001 Pontiac Grand Prix GT
Review
Pros
Stylish, comfortable seats, good sound(mine has bose speakers), plenty of leg room in front and back, the trunk is huge! It handles well, I live in Kansas, where there is just no telling what the weather will be like. This car can handle any weather conditions. Unless you get over like 5-6 inches of snow, it sits a little bit too low to drive through that.
Cons
When it starts having problems, those problems get really expensive, really quick. And these cars are notorious for their problems.
If You Can't Afford A Better Car, This One Will Work For Awhile Until You Can. — It is a great car, until things start having problems. Then it seems like a chain reaction into more and more problems. However, this is a by the car basis. I used to own a 97 grand prix, and drove it over 200,000 miles with hardly any problems. And the last couple thousand of that were after I got in a wreck with it. If you can find one of these that has been well maintained, with decent miles, for a good price-well then you might find a winner. But I would definitely take a mechanic with you to look it over before you buy it.
luismartell

writes:
2001 Pontiac Grand Prix
Review
Cons
Falling apart no matter how well you maintain it

Looks Sharp — Good looking car,but have already had to many problems.At 58,000mi. the transmisstion had to be replaced. At 75,000mi. the fule pump began to act up,now it dose not register the proper amount of fule in the tank.At 90,000mi.the wheel bearings had to be replaced.At 95,000 the fan switch and eng management system seams to be on the blink. AS I STATED LOOKS GOOD TO BAD IT WASNT MADE GOOD!
Owner for 6 years, 2 months
Miles Driven per Year:95,000
Joshua

writes:
2001 Pontiac Grand Prix GT
Review
Pros
Amazing , is probably a word that summarizes this car. Anti-lock brakes, 3.8 Six cylinder engine sleek style only car I know that has 4 doors and still passes as a sports car. Very reliable. Automatic transmission, power lock doors, seat warmers, power windows, sun and moon roof, a/c and heat work like a charm.

Cons
Leather seats are bigg no no especially in the summer months in tennessee, when the power steering pump goes out trust me you will hear it, gas can be a bit pricey
Amazed And Highly Satisfied — This car is great for someone who is 6ft and under, the power of this car is amazing especially since its all stock from the dealer. The car has a 3.8 liter engine under the hood which is very durable, keep your oil changed and he will stay strong. I usually put a gas treatment in after every oil change followed by 100% gasoline not that ethanol stuff it can harm your engine and kill your horsepower. The only thing about this car I've had problems with is the power steering pump, other than that great car.
Primary Use: Commuting to work
rickm2

writes:
2001 Pontiac Grand Prix GT Coupe
Review
Pros
Much more fun to drive and look at than a Camry, at a lower cost, lower insurance premium and at the same reliability. Plenty of trunk space and interior is roomy with exception of hip room in back. Very few problems experienced in 199k miles of daily driving. Extremely reliable engine.
Cons
Very few. Transmission could be improved. That's been my biggest complaint of the car. Not well matched to the car's "sporty" appearance.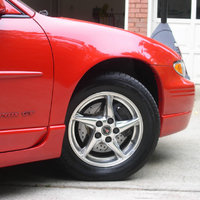 A Great Mid-priced Coupe That's Easy To Own. — In over 12 years of ownership, I have put just short of 200,000 miles on this car. It is front-wheel drive, so tires need to be rotated often. However, I've experienced good mileage from most of the tires I've put on this car. I upgraded the brakes and some suspension parts (stabilizer bars and links), using available GM parts, and that was both inexpensive to do and made a dramatic difference in the cars handling and stopping ability. Average handling and braking in stock setup. Reliability is this cars strong suit. The 3.8 liter, natural-aspirated engine (L36) is almost indestructible. The only weak point has been the upper and lower intake manifold gaskets, which were redesigned in later models. I had to replace those gaskets in 2012. As a daily driver, it is excellent, no drama, always starts and gets decent gas mileage. Not bad on a trip with 3 or less, I would not recommend putting 4 or 5 in the car for any distance. I have been extremely pleased with this car, which is why I'm still driving it every day.
Primary Use: Commuting to work
Michael

writes:
2001 Pontiac Grand Prix SE
Review
Pros
Good gas mileage, quick, runs great after 140,000 miles!
Cons
ABS light is screwed up, front bumper is cracked
Awesome First Car! — First car, and has definitely been awesome. Great on gas, accelerates well (especially under my lead foot). Best part, I only paid a couple grand for it! Driven it to Greenwich, CT from Cape Cod, and back and forth from CC to FLA. Handles great, no blind spots (thank God!) and definitely likes to go fast every once in a while (that may be me, but oh well.)
Stephen

writes:
2001 Pontiac Grand Prix GTP Coupe
Review
Pros
181k low cost miles, instant boost
Cons
none- its cheap easy fast fun and can haul the fam..
Yes. Only Thing Done To This Car In 100k Miles: Oil Changes And A Wheel Bearing — Fastest family car ever. true sleeper that keeps up with 5.0 mustangs even with 2 18s in the trunk... LMAO.. i use this as my beater car really even tho i love the supercharger.. looks like another family car until you look over and your windows are shaking and then the front tires roast til bout 40 mph.. got a 3.4 in pulley and stage 2 ecm. thats all for performance
Primary Use: Commuting to work
Knny929

writes:
2001 Pontiac Grand Prix GTP
Review
Pros
Very comfortable, Great sound system

Very Sporty — I really enjoy driving this car. It looks really great and I enjoy turning up the music with the sunroof open on a sunny day. The only downside is about the AC not working. But, it's really not that hot outside around here anyways!
Primary Use: Family transportation
Brittany

writes:
2001 Pontiac Grand Prix GT
Review
Pros
Its pretty quick and has a ton of space in it.
Cons
It's not the supercharged edition :/
I Love My Car :] — Totally stock besides my halo headlights and it's got blue interior lights and pink turn signals. It's pretty quick for bein a huge car and handles really smooth. I get about 20mpg and fill it up every week, but I drive it a lot.
Primary Use: Commuting to work
Scott

writes:
2001 Pontiac Grand Prix GT
Review
Pros
awesome sound with my system
Cons
having things slowly break cause it old
Good Everyday Car — its a good car if you take care of them they last for a long time, nice look. good ride and if u are willing to spend some money can be a decently fast car. i just wish it was supercharged
Primary Use: Family transportation
Displaying 1 - 10 of 59 2001 Pontiac Grand Prix reviews.
Looking for a Used
Grand Prix
in your area?
CarGurus has
3,799
nationwide Grand Prix listings starting at
$1,295
.