2001 Pontiac Grand Prix
User Reviews
2001 Pontiac Grand Prix
Review Ratings
Average Ratings from

57

reviews
Performance:
Appearance:
Build Quality:
Overall:
Review Highlights
Click to filter reviews below
Displaying 1 - 10 of 57 2001 Pontiac Grand Prix reviews.
Stephen

writes:
2001 Pontiac Grand Prix GTP Coupe
Review
Pros
181k low cost miles, instant boost
Cons
none- its cheap easy fast fun and can haul the fam..
Yes. Only Thing Done To This Car In 100k Miles: Oil Changes And A Wheel Bearing — Fastest family car ever. true sleeper that keeps up with 5.0 mustangs even with 2 18s in the trunk... LMAO.. i use this as my beater car really even tho i love the supercharger.. looks like another family car until you look over and your windows are shaking and then the front tires roast til bout 40 mph.. got a 3.4 in pulley and stage 2 ecm. thats all for performance
Primary Use: Commuting to work
Looking for a Used
Grand Prix
in your area?
CarGurus has

5,781

nationwide Grand Prix listings starting at

$1,600

.
Joseph

writes:
2001 Pontiac Grand Prix GTP Coupe
Review
Pros
The feel of supercharged boost
Cons
Room for the family and comfy ride
Fwd Muscle Car — Its a sleeper, Wolf in sheep's clothing. A lot of low end grunt with a Supercharged 3.8L V6. Capable of high 20s MPG and plenty of room for 5 adults. Looks sporty but not very aggressive. The chassis is solid, Drive train is Powerful and robust, Interior lacks attention to detail but is comfy. Braking and high speed cornering leave room for improvement but the car is nimble for its size.
Primary Use: Commuting to work
pivinski7

writes:
2001 Pontiac Grand Prix GTP
Review
Pros
The engine and looks are amazing!
Cons
I haven't encountered any negatives

Impressive — I really enjoy this car because you have to room and space to modify. I bought mine stock and it had decent horsepower and i loved the look of the car, it looks sleek but mean. I think GM did a great job with the stability of the car, there is no lean at all. I havent encountered any mechanical issues at all and I have done a lot of modifications to it, that just shows it has a strong built motor that can handle more horsepower than what it was designed for. The car is very fun to drive and show off. Stock, the gas mileage is decent for a large sedan but now that it is modded its a little iffy. I enjoy the car tremendously and it is the best purchase I have ever made. I own the GTP Special Edition and love it, it definatly will not be traded in. The super charger puts out 10 lbs of boost which is really good for a super charger that is stock to a car. The car hauls and sounds great, the exhaust they manufactured with the car is wonderful, you can actually hear it!! This is the car you have got to check out, it is nothing like I have ever experienced!
Primary Use: Commuting to work
Stephanie

writes:
2001 Pontiac Grand Prix GT
Review
Pros
Huge trunk for an awesome system
Cons
fogged over headlights
Grand Prix Gt — I've had three Grand Prixs. This one is lacking on the acceleration dept.it just takes it a little longer to accelerate then my last one but it handles well. There is no rust a few minor scratches, can barely see them unless your really looking. Very fun to drive. Very good on gas. Needed all around pads and rotors, the headlights are also fogged over as are the rest of the grand prixs. Yes, i would recommend this car to my friends.
Mr3GTP

writes:
2001 Pontiac Grand Prix GTP
Review
Pros
Performance (14.3 @ 96 mph stock!), ride, room. Decent highway mileage (31) for a car of this size. Good in snow as well, the traction control does a good job when the roads get nasty.
Cons
Build quality, mechanical issues.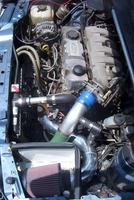 Great Performance, But Build Quality Is Disappointing. — I bought my '01 GTP Sedan brand new, and though I love the styling, performance, and features & options, I'm not happy with the fit & finish of this car. Mechanically, it hasn't been too bad, but it has required a few repairs, such as; New R/F wheel bearing and fuel pump at 7,800 miles, new L/S CV shaft at 25,000 miles.
Owner for 6 years, 3 months
Miles Driven per Year:12,000
ktaran

writes:
2001 Pontiac Grand Prix
Review

Nothing But Problems From The Beginning!!! — I bought this car brand new. I have had nothing but major problems with it, since it had only 18K on it. It is always things that mechanics tell me I shouldn't have wrong with it, with the amounts of mileage that I have on it. I had a Grand AM before it, that was also nothing but trouble. That one always had electrical problems. I made a promise that I will NEVER, ever again, buy an american car, and am sticking to it. I will be looking at Honda's this week. I will never suggest a Pontiac to anyone!!
Owner for 6 years, 0 months
Miles Driven per Year:12,000
rickm2

writes:
2001 Pontiac Grand Prix GT Coupe
Review
Pros
Much more fun to drive and look at than a Camry, at a lower cost, lower insurance premium and at the same reliability. Plenty of trunk space and interior is roomy with exception of hip room in back. Very few problems experienced in 199k miles of daily driving. Extremely reliable engine.
Cons
Very few. Transmission could be improved. That's been my biggest complaint of the car. Not well matched to the car's "sporty" appearance.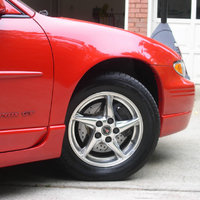 A Great Mid-priced Coupe That's Easy To Own. — In over 12 years of ownership, I have put just short of 200,000 miles on this car. It is front-wheel drive, so tires need to be rotated often. However, I've experienced good mileage from most of the tires I've put on this car. I upgraded the brakes and some suspension parts (stabilizer bars and links), using available GM parts, and that was both inexpensive to do and made a dramatic difference in the cars handling and stopping ability. Average handling and braking in stock setup. Reliability is this cars strong suit. The 3.8 liter, natural-aspirated engine (L36) is almost indestructible. The only weak point has been the upper and lower intake manifold gaskets, which were redesigned in later models. I had to replace those gaskets in 2012. As a daily driver, it is excellent, no drama, always starts and gets decent gas mileage. Not bad on a trip with 3 or less, I would not recommend putting 4 or 5 in the car for any distance. I have been extremely pleased with this car, which is why I'm still driving it every day.
Primary Use: Commuting to work
david062956

writes:
2001 Pontiac Grand Prix GT
Review
Pros
Lots of power for a 3800 V6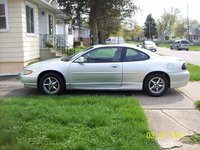 Great Power And Awesome Handling — I loved this car just to small for me and my long legs, It had lots of power and great handling and excellent on gas would be a great 1st car for a girl going to school and wanting to come home every weekend to see family and friends
Primary Use: Commuting to work
Scott

writes:
2001 Pontiac Grand Prix GT
Review
Pros
awesome sound with my system
Cons
having things slowly break cause it old
Good Everyday Car — its a good car if you take care of them they last for a long time, nice look. good ride and if u are willing to spend some money can be a decently fast car. i just wish it was supercharged
Primary Use: Family transportation
Corey

writes:
2001 Pontiac Grand Prix SE
Review
Pros
Great handling, comfortable ride, great stock sound, Good sound system, great body styling.
Cons
Engine could have more power to it.
My Grand Prix — I love this car, yeah it may be the standard stripped model and it does not have a racing engine, but for what I paid for, this car is amazing. Since my purchasing of the car on September 2, 2009, I have put in a 300 watt 2-way subwoofer in the trunk, a brand new kenwood 300 watt stereo with AMP, a new full exhaust, new tires, some blue accented lights inside and more. It has a great strong build and The body style has alot of potential. I painted the front under grill and the side skirts semi-flat black and Im going to do a solid stripe along the whole bottom. This car runs amazing and very comfortably seats 5 people. Gas mileage is great, I get around 22-27 mpg on average. Putting 93 in the tank instead of 87 really brings out the power in the car, you really feel a pull when you hit the gas and it takes off. The engine has a pretty distinct sound for not having almost anything done to it but a new stainless steel exhaust and some minor work to the block, but it sounds great when you really hit the gas. The build quality is pretty good, My only problem with mine so far is the front bumper. It is a little bit shaky, mostly because it has been backed up into about 5 times since september 09 when I bought it. But nonetheless it has a sloid build and a great look. The car is really fun to drive, being so comfortable and big you get a great smooth ride and the handling, especially with my Yokohoma touring S tires on it, is flawless. I give this car a thumbs up, especially for a first time driver like I was.
Primary Use: Sport/fun (spirited driving, track racing, off-roading, etc.)
Displaying 1 - 10 of 57 2001 Pontiac Grand Prix reviews.
Looking for a Used
Grand Prix
in your area?
CarGurus has

5,781

nationwide Grand Prix listings starting at

$1,600

.