2001 Nissan Maxima
User Reviews
Average Ratings from

29

reviews
Performance:
Appearance:
Build Quality:
Overall:
Review Highlights
Click to filter reviews below
Displaying 1 - 10 of 29 2001 Nissan Maxima reviews.
tpmerc

writes:
2001 Nissan Maxima GLE
Review
Pros
Powerful 6 cylinder engine, auto trans, front wheel drive. Fun to drive
Cons
trans drags, sounds like a tank, brakes come and go

I Used To Love Her But Its All Over Now — When the auto trans is shifting from 2nd gear, it drags...a lot. I've had diagnostics run on the trans. No problems show up. If I work up the guts to drive on a highway and go over 55mph, I loose my brakes. The brake pads were replaced (all 4) last week. I was on the highway today, the car was running great, I could see brake lights ahead of me, so I tapped on the brake to slow up, and my tap did nothing. Tried again and my foot went to the floor, and the car pulled to the right. I started pumping the brakes and was able to stop.
Looking for a Used
Maxima
in your area?
CarGurus has
14,101
nationwide Maxima listings starting at
$1,800
.
redmen19

writes:
2001 Nissan Maxima SE
Review
Pros
Love the styling and handling, dual heated seats, sound system, sunroof, and overall driving experience.
Cons
Emissions system: have replaced 2 catalytic converters, ignition coils, 3 O2 sensors, and 2 alternators, and significant rust around wheel wells.

Ok But Emission Systems Sucks! — Love the car just dislike the fact that at least once a year (have owned the car for 5 yrs now) I have to either replace an ignition coil, O2 sensor, or catalytic converter. Get replacement parts from junk yard because OEM parts are non-existent. Plus the under carriage has major rust and so does both rear wheel wells. Makes the car look ancient with all that rust , which seems common with this model. I've noticed rusting on most 2001 Maximas in the same area. Cheap metal I would guess. Would not buy another Nissan vehicle because the emissions system seem has problems. But I have loved driving my car though the engine doesn't have a lot of power, and if I have a full car load of people, the engine struggles carrying the full weight.
Primary Use: Commuting to work
calvinclevenger

writes:
2001 Nissan Maxima 20th Anniversary
Review
Pros
Smooth ride, reliable car, clean and nice inside and out
Cons
Nothing about the car i don't like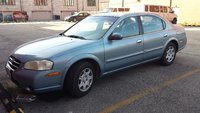 Love This Car — this is so far the best car I've owned to date, very reliable, powerful, and comfortable, would recommend a Nissan Maxima to anyone looking to buy something with low maintenance cost and a smooth, safe, comfortable ride. Great for Families or Bachelors.
JefevonQ

writes:
2001 Nissan Maxima GXE
Review
Pros
one of the few cars you ould get with a manual transmission and is great on the highway.
Cons
corrosion issues and the constant check engine light

If It Doesn't Cost Too Much, It's Still Worth Driving. — The engine, transmission and body of this car was built very well. The emissions system and are horrible. The check engine light will just have to burn out. The c-pillars/rear doors have WAY too much wind noise. The drivers seat is comfortable for a really long trip (9+ hrs).
Primary Use: Commuting to work
Davrod12

writes:
2001 Nissan Maxima SE
Review

A Fun, Reliable, Stylish Perfornmer Of A Car......poor Gas Mileage — I bought my 2001 Nissan Maxima SE 5speed in May 2001 w/ 38,000 miles. This car is extremely fun to drive, I typically get bored with my vehicles pretty easily...A year and a half later im still thoroughly enjoying it. Great horsepower on one of the industries flagship V6 engines. Ive had some minor things that needed repaired....the Emergency brake clamp on the right side kept sticking, and was approx $150 to replace. The exhausts do not last as long as they should, I relpaced the exhaust system at 49k costing $600 at a nissan dealership. Midas had a tin can version of the exhaust for $300ish. The catalyctic converter also needed replaced, a dealership was quoting me approx $800+ to have this repaired....I did my research and found that all Nissan Catalyctic converters have an 8yr/100k warranty...I had it replaced for free at another dealership. It has been a very reliable car, never broken down (knock on wood). I now have 73k on it and have taken many long road trips....Virgina, Canada etc and loved the ride. Nissan gets great style points for this car. Campared to the camry, accord etc of 2001, the Maxima easily wins. The exterior is sporty, elegant, and still one of the best looking mid size sedans on the road. The maxima interior is high quality compared to most competitors, and even most Nissan interiors. The Three complaints about this car are: 1, BAD GAS MILEAGE, window sticker states 22-27mpg.....I have a 5-speed manual, and with conservative driving can only squeeze approx 325 miles to a full tank. 2, PAINT - The paint quality is poor. The paint scratches, and chips very very easily. Splashing for the additional "Autobahnd" claer protector etc is a good idea with these vehicles. I keep the wax fresh, and still have a hard time keeping the paing looking new. 3, WIND NOISE - The 00-03 maximas have a major wind noise defect coming from both rear windows. There have been several Technical Service bulletins posted regarding the wind noise but to the best of my knowledge there have been no major solutions posted. Overall, you will be happy with this car....If you love to drive, and enjoy performance, you can easily deal with the gas, paint and wind noise. I would recommend this car to anyone.
Owner for 1 years, 6 months
Miles Driven per Year:20,000
1 of 1 people found this review helpful.
You found this review helpful
Desi

writes:
2001 Nissan Maxima SE
Review
Pros
Very reliable car. All the maintenance done at local dealership. Very clean with low mileage.
I like the fact that it has a V-6 engine 3000 cc which makes fairly economical 23 mpg in city and close to 30 mpg in the hwy and has great power at the same time. Fun car to drive around town and very comfortable on the highway for long rides. Exterior look is great
Cons
So far not mayor issues after 114 thousand miles. One Oxygen Sensor replaced, had one small leaking in a cooling system hose replaced, plus regular maintenance.
Reliable And Fun Transportation — The sporty look of the car. Efficient engine and transmission combination. Reliability so far is great. Keeps the value even after this many years. The average similar Maxima are selling for around $5000 to $6000 which is not bad for a car that is over 12 year old.
Primary Use: Commuting to work
David

writes:
2001 Nissan Maxima SE
Review
Pros
The car's style and over all handling are really good.
Cons
Transmission in the car and the brakes are the biggest down side.
Max — The performance of the car is not bad. It has 3.0L V6 the has 222hp from the factory and a 5spd manual transmission that will still burnout in second gear. The handling is sharp and responsive but the turning radius is marginal at best. The brakes work well under normal driving conditions but become very squishy after a few hard stops. The standard transmission could use a little help because the gears do not mesh well making it difficult to put in gear sometimes. The style of the car I like. The interior is fully loaded and the stock sound system provides ample base for the average user. The car has required more maintenance than i care for but when is is running well the car averages about 24mpg and is a blast to drive. I have had mine up to a 130mph before I ran out of room on the highway.
birds51

writes:
2001 Nissan Maxima 20th Anniversary
Review
Pros
Looks, power, reliability
Cons
SEL comes on and off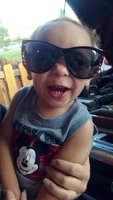 My Maxima — Great all round driveability. Great looks. Very reliable. Been driving it daily for 2 1/2 years and compaints are minimal, just a good all round car. Only real complaints are SEL and vinyl instead of leather on seat area.
Primary Use: Commuting to work
SandyB_WestMifflin

writes:
2001 Nissan Maxima GLE
Review
Pros
My Maxima (which I purchased new), which just rolled over 64,000 miles, is very comfortable and fun to drive. I love it! I'm a 65-year-old female. Love the roomy leather interior, the powerful factory-installed Bowes stereo radio, the merlot color, the way it handles on curves. Very reliable car.
Cons
A little too much interior noise. I have had a bit of trouble with the electrical system (radio occasionally turns on by itself as I am driving; dashboard meter lights sometimes don't light up; right front passenger power window is slow; check engine light comes on sometimes for weeks or a month, then goes off). The 2001s have had some electrical problems.

I Traded This Car In For A Silver 2012 Ford Fusion Sel !!! Absolutely Love My Maxima! — Love the smooth ride; the acceleration on the highway when you need it; still a very nice-looking car. My son and his wife want me to give them my Maxima and for me to buy a new car -- no way!
Primary Use: Commuting to work
Displaying 1 - 10 of 29 2001 Nissan Maxima reviews.
Looking for a Used
Maxima
in your area?
CarGurus has
14,101
nationwide Maxima listings starting at
$1,800
.