2001 Jaguar XK-Series
User Reviews
2001 Jaguar XK-Series
Review Ratings
Displaying all 5 2001 Jaguar XK-Series reviews.
Robert

writes:
2001 Jaguar XK-Series XK8 Coupe
Review
Pros
Fast, Comfortable ncredibly beautiful
Cons
Electrical problems occasionally, not quite aggressive enough, nor comfortable enough to merit purchasing over a continental gt for example.
A Beautiful Machine, Capable Of 165 But With All The Grace And Comfort Of A Cruiser — I've always wanted this car, it's been in my top 5 cars forever, now i own one i'm slightly dispapointed that it's not quite fast enough and not quite comfortable enough, don't get me wrong, 0-62 in about 7.5, top speed of 150 plus, and it gets there quick, and the comfort is wonderful with leather intrioirs and all extras to cater for your journey, but i think i was expecting something more form a car that has a 4 litre V8, something biblical, it makes a satisfying purr but it's not that impressive, it leaves you feeling slightly disappointed with the ride. However in terms of looks there's few cars to rival, unlike it's sister aston martin it's lines are more rounded, smoother, more graceful, aston screams machismo, but the xk8 oozes class, even when i'm driving mine and see another on the road i can't take my eyes off them, they have like all jaguars aged incredibly well, infact become better looking as they've got older.
Looking for a Used
XK-Series
in your area?
CarGurus has

1,170

nationwide XK-Series listings starting at

$3,590

.
stevepaa

writes:
2001 Jaguar XK-Series XK8 Convertible
Review
Pros
most car for the money anywhere.
Cons
electrical gremlins once in a while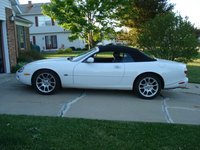 Terriffic — 1998-2005 xk series cars are the best bargain out there. Good looks, lots of power, loads of trunk space and beautiful interior. This is my second one after the first was totalled when a steel plate was popped into it from the car in front. Small number of electrical issues that are easily solved. Very easy to add aftermarket electrical mods like bluetooth, etc.
Primary Use: Commuting to work
Charles

writes:
2001 Jaguar XK-Series XKR
Review
Cons
Build Quality & Electrical Faults
2001 Jaguar Xkr Cabriolet — Excellent Performance and Great Looks. Lots of fun to drive with the hood down, when the English weather permits! Let down by Build Quality (its not German!) and odd electrical gremlins....You dont buy these kind of cars for economy, but in my opinion it is very reasonable to own in terms of costs.
Mark

writes:
2001 Jaguar XK-Series XK8 Coupe
Review
Pros
Everything you could want in a sports coupe
Cons
Dont get to drive it enough
Look Up Car In A Dictionary And Read Xk8 — Follows in the spirit of the sixties E type .Look up car in a dictionary read XK8. This car is sensational and lives up to its looks. Great performance, and good economy for car of 4.0 litres and a nice throaty V8.
Primary Use: Sport/fun (spirited driving, track racing, off-roading, etc.)
Mark1878

writes:
2001 Jaguar XK-Series XK8 Convertible
Review
Drove It, Liked It, But Wouldn't Buy One — My mate had this car and lent it to me for 6 mths when he wnet to the States in 2003. What a dream that was! Not a bad car really but wouldn't buy one. Was a fun car to drive nevertheless. Have to say, his choice of burgundy was a bit suspect!
Displaying all 5 2001 Jaguar XK-Series reviews.