2001 Honda S2000
User Reviews
Average Ratings from

31

reviews
Performance:
Appearance:
Build Quality:
Overall:
Review Highlights
Click to filter reviews below
Displaying 1 - 10 of 31 2001 Honda S2000 reviews.
Lewkosama

writes:
2001 Honda S2000 Base
Review
Pros
Incredibly reliable. Beautiful styling. Excellent handling. Very good mid-range acceleration.
Cons
Convertible top has wear.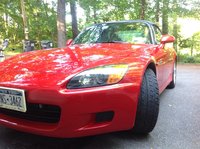 Best Sports Car I've Ever Owned. — Arguably the best sports car for both initial cost and upkeep ever. If you like driving the back roads in a roadster with classy styling and wonderful handling while the breeze is blowing your hair then you'll love this car.
Primary Use: Sport/fun (spirited driving, track racing, off-roading, etc.)
s2kmikeo

writes:
2001 Honda S2000 Base
Review
Pros
Amazing power, always a fun drive, hitting vtec at 5800 rpm and hitting that 9k rpm redline is very addicting. Corners and curves are always smooth.
Cons
Trunk space could be a bother every now and then, but then again it makes up for it once you leave the walmart parking lot with the top down.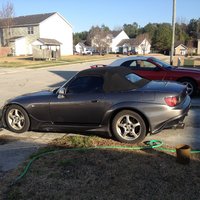 Great Car. — I do not like the veilside body kit on my s2000. I will take it off when money appears in my pocket. This car has given me a whole new meaning to driving. From what I have noticed in other s2000 drivers who either track their s2000 or show car it, there is always a smile on there face. This is one car that you wont want to stop driving once you start. You must taste it to really understand it.
Primary Use: Commuting to work
Robb

writes:
2001 Honda S2000 Base
Review
Pros
Razor-sharp handling, great acceleration, incredible transmission, 9000rpm, Honda reliability.
Cons
Hard to think of any except for those inherent in all roadsters, practicality, a power hardtop would have been nice.
This Car Is The Product Of Honda's Relentless Pursuit Of Sports Purity. — Quite possibly the best handling car in it's class with one of the smoothest 6 speeds I've ever driven. Wave goodbye to overpriced Boxters and Z4s whose performance falls short. This is a pure roadster with Honda reliability. You have to give props to Honda for giving their all in this car. Happy 50th bday! 9000rpm, 120hp/L, Front Midship RWD. This car is amazing.
Jeremy

writes:
2001 Honda S2000 Base
Review
Pros
Fast and fun to drive in warm spring summer weather, eye catching, and handles like it is on rails
Cons
Can't drive it all year long. Well with the top up, but where is the fun in that ?
2001 Honda S2000 With Comptech Supercharger And Veilside Melinnium Body Kit — Veilside Melinnium Body Kit Comptech Supercharger 349hp at 9psi KMC Quido 18s Out of production Comtech upper strut bar. HKS Hi performance exhaust Spoon Suspension ACT Stage 3 6 puck clutch ACT Lightened flywheel Godzilla Blowoff valve I LOVE THIS CAR
Primary Use: Sport/fun (spirited driving, track racing, off-roading, etc.)
Keith

writes:
Pros
Great handling, plenty of sports car, and fun to drive
Cons
No drag launches, that's not what this car was made for! no basketball players either!
Just Buy One Already... — This was my first great handling car I've owned. Acceleration was pretty good, top speed 150mph. Brakes were good, could get them glowing in the dark and they cooled off just fine. I blew up 2 rear differentials, but I find all mechanical weak spots in any cars. Build quality was very good, Gas mileage was around 30 on the highway.
Primary Use: Commuting to work
John

writes:
2001 Honda S2000 Base
Review
Pros
Fantastic fun car, an almost perfect street car from the factory
Cons
very compact, you must be too! a little on the expensive side to maintain
Many People Want More Torq Out Of This Car Which Was Delivered In Later Models. — If your into convertibles or sporty coupes than this is the car for you. Simply put it is a masterpiece of engineering by Honda. There was so much research and development that it vexed tuners for several years after its release on how to obtain true performance gains. Everything about the car is is in tune to the drivers needs and wants. Lets start with the simple yet tasteful leather interior with comfortable sport bucket seats that hold you in place when really attacking those corners :D. The digital dash keeps the driver up to date with everything going on with their driving experience with simple and in no way subtle digital read outs. no eyeballing the needle in this baby! All of the Honda s2000's come with a 6spd close gear ratio transmission that was well built from day one and only improved upon there after. The close ratio gears means you will always be at the exact rpm when you want it :). the car will never feel strained no matter how easy or hard you drive it. This car takes to the road like flipper to water. These cars boast a modest 2.0 ltr 4 cylinder engine with a not so modest 250hp!! to put things in perspective that is is about as much power as your average turbo charged car. The 2.0 s2000 engine has a whopping 9,000 rpm rev limit making power all the way to the end. "average car is 6-7000rpm" This might be the masterpiece of this beauty right here. a race built engine which utilizing Honda's greatest accomplishment. V-tech which is a variable cam system which for the sake of this article will be described only as the Dr. Jekyll Mr. Hyde of engine performance. With the wind in your hair feel, the tight and precise cornering, and care free drive ability of the car. This car should make anyones wish list for a sport compact to hit the streets in.
Primary Use: Sport/fun (spirited driving, track racing, off-roading, etc.)
Gavin

writes:
2001 Honda S2000 Base
Review
Cons
Wheel bearings/rear end.
Hottttttnessssssssssss — Revs for miles and handles like a go-kart! Reliability is probably the worst of any Honda though...Wheel bearings went out and the rear ends are weak which sucks. The convertible top is the best in the warm months though!
Primary Use: Commuting to work
Tyler

writes:
2001 Honda S2000 Base
Review
Pros
Everything about it is right
Cons
no reasons to avoid this car unless you are a torque slut
Areli

writes:
2001 Honda S2000 Base
Review
Cons
Space, both passanger and cargo space is limited.
Great Reliable Sports Car With Low Cost Of Ownership. — The performance of this car is great considering it only has a 2.2l 4 cylinder engine. It handles like its been adhered to the ground, I've never once feared a corner in this car. The breaks are outstanding, and are able to bring the car to a stop remarkably fast. This car is a blast to drive! Style wise the car manages to catch your eye despite being a ten year old design. Honda did a great job avoiding a dated look and created a car that is still desirable to this day. Build quality is not the greatest but this isn't a luxury sedan. There is road noise and you will hear rattles and squeaks but it comes with the territory of a lightweight roadster. One of the greatest things about this sports car (and it is a sports car down to its core) is the low cost of ownership. Because of its small engine you are able to get very good gas milage if you can resist keeping it below VTEC during your daily commute. You also get the legendary Honda reliability so maintenance is fairly cheep compared to other cars in this class ( BMW z3, BMW z4 Mazda MX5)
Displaying 1 - 10 of 31 2001 Honda S2000 reviews.
Looking for a Used
S2000
in your area?
CarGurus has
216
nationwide S2000 listings starting at
$8,995
.