Average Ratings from

13

reviews
Performance:
Appearance:
Build Quality:
Overall:
Review Highlights
Click to filter reviews below
Displaying 1 - 10 of 13 2001 BMW M5 reviews.
Misshe11

writes:
Pros
Rides smoothly and quietly at any speed. Is crazy fast for its size/weight. After 15 years it is still one of the best looking BMW's ever made :). Sports car performance in a family sedan :).
Cons
Rear wheel drive is horrible in the snow and ice (unless you put Blizzaks on it). Gets gas mileage like a sports car, not a sedan. Impossible to replace with any other car...
My Favorite Bmw So Far... — This is my fourth BMW after owning a 328 and two M3's. The M cars are all BMW's "specials" at least while "M" was still for "Motorsport" and not "Marketing"... These cars all have a unique character, the E36 M3 has this sort of raw eagerness, the E46 has a similar feel with a bit of an asthmatics exhaust note and some silly boy racer side vents along with an additional 500 lbs... But the M5 is the M car for grown ups :). This may be one of the last true M cars BMW has made and likely the one that kicked them into "Marketing" rather than "Motorsport". It lacks a fancy auto-manual gearbox and a V10 like the newer ones (you have to shift yourself on this car), and none of its engine noise comes from the radio making vroom vroom sounds like the latest version (thank goodness, how embarrassing!) but it is stylish, understated to the point of being a sleeper except for folks who know their cars, and it can run with a similar year Corvette (maybe not the Z06) while not requiring you style your hair with a mullet! The teenager who lives next door told me he always listens in the morning for when I start it because it sounds so cool... I was going to sell it, but then I got to thinking "what could it be replaced with that would be as good"... Well if I didn't need the back seats or comfort... there are still not very many cars out there that would have the enduring quality, ride, handling and performance this car has. Issues on this car... After 15 years, rubber bits need replacing in the suspension and the drive shaft coupler (a big rubber part)... The electronics are dated, it would be nicer with a proper bluetooth and modern navigation, but that is true for any car older than a few years these days and my iPhone works better for that anyhow... The LED display under the gauge cluster drops some lines here and there, a common problem on 5-series from this generation i am told. Other than that it always starts and runs, handles wonderfully, and can be tossed or cruised all day long. All the electronics such as the powered steering wheel adjuster, seats, folding mirrors, heated seats, and very German multimode windshield wipers with regular and "Autobahn" wash modes (oh and an automatic wiper setting which actually works!) are all working as if the car was new... The interior also is scratch free and looks great, just great quality materials and build! If you like BMW's then this would be one to consider if you can find a nice example of one!
Primary Use: Family transportation
Patrick

writes:
Cons
Very expensive to run!
mikeayyad

writes: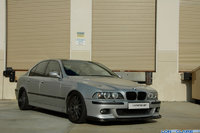 Bmw — i like the look of it and the performance. i only use premium gas and mobile 1 full synthetic oil and i have the m5 upgrade package the car is very clean and the lather in excellent condition and its very fast .
Primary Use: Sport/fun (spirited driving, track racing, off-roading, etc.)
Robert

writes:
Pros
The power that it has for a sedan
Most Fun You Will Have In A Sedan — This car looks to be a ordinary sedan from far away but as you get closer you will notice subtile things that hint the power that is under the hood. Most with no knowledge of cars only see a sedan but it is much more than that with its 5L v8 and 400 hp. This is the most fun car to drive.
Primary Use: Sport/fun (spirited driving, track racing, off-roading, etc.)
Vince

writes:
Pros
An exotic sport car that can be used in ALMOST all occasions, with the whole family on board!
Cons
Only feel special when the accelerator is used.
The Exotic Family Car. — The first BMW M car fitted with an V8 engine! It has all the goodies such as independent intake throttle butterfly (meaning instant throttle response in all rpm range), substantial low end torque, creamy smoothness, and subtle but unquestionable V8 exhaust burble. The best engine I have driven so far. It felt so exotic everytime I slammed on the accelerator. What is out of character of this car is its soft comfortable ride (almost as quiet and comfortable as a 7 series). I never took the M5 to the road course tracks because I didn't think its chassis dynamics would make it a safe car there. The rear suspension took too long to set, coupled with the high horsepower, makes for a way too lively rear end! Stiffer springs and shocks would be a must if the car is to be driven beyond 8/10. (Ironically, my wife's '01 540i Touring/wagon Individual with M Sport Package felt significantly more nimble when it comes to rear end motion control, possibly due to the works of a firmer air suspension designed to handle heavier payload.) In the end, the M5 could only be considered a family sports sedan, not an exotic (like its price has suggested). It is just too much like the regular 5 series with 90% identical equipement, instrumentation and even look. The exclusive Nappa (full grain) leather seating surfaces, oval shaped mirrors, and a few M badges just does not make an M5 feel enough different, in a tactile sense. While the more powerful and responsive engine, together with the exclusive limited slip differential were almost completely off set by the less tossable rear end as well as the same look which can also be had in the regular series cars (my wife's station wagon has identical exterior trims). All in all, the M5 has succeeded in achieving the best of both world - being exotic and practical all at once. If you have family and are allowed to own only one car, the M5 is no doubt it.
Phillias

writes:
Pros
Atractive, balanced, and a dream to drive.
Cons
I could always use some more power. Expensive purchase!
Bmw's Crown Jewl — I love the balance of the vehicle, over all it's probably the best feel for sporty drivers yet the comon commuter. It has good pep, good breaks, and amazing handling for a sedan that isn't "uncomfortable" to drive (people would refer to as harsh jaring). I love this car it's a breeze to drive and amazingly addictive. When I drive it during dusk it grabs anyone's eye even if there's a red Ferarii 430 next to it! It's amazingly cheep to own, gets good gas milage, and nothing in it has broken!
David

writes:
Pros
Quality, Performance
Cons
VERY expensive to maintain
Absolute Jewel Of A Car...would Never Sell It !!! — What's can I say...it's a Bimmer!!! Superior quality, great acceleration/speed, great handling. 400 H.P. 6-speed manual, 0-60 in 5.2, 1/4 mile in about 13.5. This is the car that opitomizes the phrase "The Ultimate Driving Machine" !!!
Primary Use: Family transportation
Bailey147

writes:
Pros
Great looks, great performance
Cons
Major repairs can be costly
Short Bmw M5 Review — Was the king of performance sedans during it's time, but still no slouch. A good looking car, especially considering the new "bangled" looks. Build quality is mostly solid, a couple of annoying nits: door seals squeak, rear sway bar bracket breaks a lot (a few dollar part). Overall has been a fun car to own and drive.
Sean

writes:
Pros
PERFORMANCE, styling, luxury, comfort, smooth ride, amazing attention to detail in styling and enginering, great price point with the new model out now.
Cons
negatives...on THIS car??? sure...I don't still have mine...there's your negative.
'01 Bmw M5 — The car is practical an art form. Performance is second to none, this car set the standard during it's reign from '99 to '03 and is still a fierce car to experience, sedan or supercar matters not. Quite possibly the classiest and best designed car in it's class, and that still holds true to current models and makes as well, just an amazing machine. Cost of ownership is a bit high on this one, I do all my own work and still costs around $45 per oil change or more, be very caring and loving to the maintenance of this car and you won't have any trouble and it will be the best car you've ever owned, mileage is rated poorly with only 21hwy rated. Though I used Royal Purple synthetics and iridium plugs and kept everything running smooth, and with the occasional "fun driving" episode (not avoidable in this car) and smart driving, I actually AVERAGED around 24mpg city/hwy combined. Fun....that doesn't even come close, there's just something about being able to drive so precisely and have so much power and fun on tap that it shouldn't be legal...then you get the added bonus of being able to carry along 4 adult passengers very comfortably around a track to experience it with you, every day was a joy driving this car to work and around town, simply an amazing machine, one of the best creations BMW has spawned, luckily it was created BEFORE Bangle infected everything!
Paul4656

writes:
Pros
BMW
Fast
Luxurious
No wanky gadgets like the new ones have got.
Cons
Nothing i can think of
Displaying 1 - 10 of 13 2001 BMW M5 reviews.
Looking for a Used
M5
in your area?
CarGurus has
539
nationwide M5 listings starting at
$10,995
.