2001 BMW 7 Series
User Reviews
2001 BMW 7 Series
Review Ratings
Average Ratings from

44

reviews
Performance:
Appearance:
Build Quality:
Overall:
Review Highlights
Click to filter reviews below
Displaying 1 - 10 of 44 2001 BMW 7 Series reviews.
Vince

writes:
2001 BMW 7 Series 740iL
Review
Pros
I never felt tired of driving this car. It actually relaxes me!
Cons
Costs $20,000 in repair costs over the last 20,000km!
As Long As I Am At The Helm Of This Bmw, There Is No Where In The World Where I Cannot Be. — The BMW 740iL is so good this is actually a second one I bought (after I traded in the first one a few years back, for an M5!). All you have to do is to sit in one to be convinced - apart from the top notch material being used (high gloss walnut wood trims with chrome accents, soft and durable top grain leather seating surfaces, driver-centric centre console design, etc.), it is the generous amount of interior space that seals the deal - carvernous! Space is a luxury quite often ignored - in this car, it is especially satisfying to be able to, say, reach for your cell phone in the pants pocket without having to bump into the door card or the centre tunnel, etc. The seat excels not only in the number of adjustments available, but, more importantly, is so generous in size you can be very deliberate in choosing how you like to shift weight wth you behind while resting your elbow(s) on the softly padded arm/elbow rest(s). All the buttons and controls are so inviting to use you just can't help but believe hours of research must have been put in to determine their locations and tactile feels to ensure positive engagement everytime! A few other fine touches such as one twist start, heated steering wheel, and soft close trunk complete the list of modern luxury I ever wish for. One pleasant surprise I have with this vehicle is the 6 extra inches of rear seat leg room (it is an "L" model afterall) - not only does it allow you to sit back there with your leg crossed in front without hitting the front seat back, the wide opening rear door also allows large objects to be easily loaded/unloaded into/out of the rear seat area (especially handy when transporting multiple sets of wheels/tires) leaving the trunk a permanent storage for our 3 folding bicycles, helmets, folded lawn chairs. etc. A perfect score cannot be had without considering the ride/handling/engine performance. This is the softest riding BMW I have ever driven and I can describe its as supple yet with extreme disipline in body motion control. And yes, it is a car that can be driven to limits and be equally amazing (as long as you are smooth with the controls). There are no pretend-to-be sport cars out there that can even dream of intimidating this 300 hp V8 beast, be it hot get away from the stop light or emergency lane change maneuvre! The 4.4L aluminum V8 mated to a 5 speeds ZF auto box delivers smooth yet positive shifts with a pleasant and sonarous induction sound. It has so much low end torque throttle response is always instantaneous (even superior to the Porsche Turbo!). This all makes this car sounded like the perfect combination of comfort, luxury, and performance, and it sure is. That's why I can easily pick this car as my most preferred ride over the other more exotic machines in my garage. PS. If you don't like spending money to maintain you vehicle, this is not the car for you. At 140,000 km, my car has new radiator, alternator, assorted suspension arms, heater valve, engine valley seals, and rebuilt transmission! The list will certainly not just end there, but, IMHO, there is still nothing out there that I would rather have.
Looking for a Used
7 Series
in your area?
CarGurus has

5,176

nationwide 7 Series listings starting at

$1,995

.
Peter

writes:
The Amazing 740ia — Great performance machine. Its fast, handles well, so perfectly balanced, It is as solid as the day it was new. All the interior materials and exterior body and trim has held up extremely well. Its just a comfortable great driving safe solid car. I am hoping that the new 2009 7 series will be such a car. The '02 generation while a great driving car, was an electronic mess.
Cole

writes:
2001 BMW 7 Series 740iL
Review
Pros
Solid, Luxurious, decent performance
Cons
Mileage, BMW service costs.
Owner's Review - Bmw 740il — Despite being a large car, it handles as well as a smaller five-series, and I get the same mileage (16-18 mpg) as a 530i I considered buying with the 3.0L V8. Has plenty of features: large trunk, massive back seat, and plenty of power. Highway mileage is good as well. I got around 29 MPG on the highway, and thanks to BMW active seat, I was able to drive ten hours without stopping, even with my bad back. The 4.4L V8 offers plenty of power, even for a heavy car such as this. The braking is acceptable. For handling, curves can be enjoyed at high speeds with little body roll. I've required one repair, when the radiator sprung a leak at the top. Repairs can be expensive, with my mechanic quoting radiator prices at upwards of 450 dollars. I found an OEM Behr radiator for 175, so with installation, it was still around the same as I paid for the replacement in my Ford F150. The car is heavy, and feels solid. The doors are quite weighty, and i've encountered no squeaks and rattles. On styling, i'm partial to this car because I prefer lines as compared to curves on autos. The interior's styling is comfortable and upscale, with BMW using the better rubberized dash and wood grain, as compared to many plastic-fantastic interiors on other cars. My well-maintained 740iL is a wonderfully fun car to drive, and i'm still in love with it, even after the honeymoon is over.
Adil

writes:
2001 BMW 7 Series 740iL
Review
Pros
Engine, Transmission. Good gas mileage for size and weight. Interior space. Supportive seets.
Cons
Radiator is know to fail suddenly with catastrophic engine damage as a result. Maintenance is higher than for other premium brands. soft brake feel.
Love The Engine And Looks, The Rest Is Mediocre Compared To Other German Brands — Always wanted one for the looks. Love the smooth and strong engine and the transmission. The fit and finish is good. Too many things break though and I am constantly trying to catch up. Details show good ideas but bad execution. Window lifters are a maintenance items with the same interval as brakes. Ashtray and other mechanical trim pieces fail or fall off. The radio is not up to par with Audi/Mercedes/Lexus. Does not work without the ignition key. Cruise control is overly complicated, has to be turned on every time the car is started. Key charges itself in the ignition but of course doesn't last forever. $200 replacement. I can't get the sunroof wind noise fixed. I am getting bored with this car and think about selling after owning for 3 years.
Primary Use: Commuting to work
richiknight

writes:
2001 BMW 7 Series 750Li
Review
Pros
Sports model. Powerful V12 engine. Nice drive/ride.
Cons
Cannot rotate tires (front/back tire sizes differ). Premium gas only.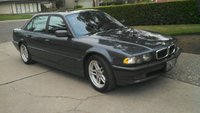 Attractive Car — Performance is good and fun to drive. Quality built vehicle. Nice car inside and out. Gas mileage is OK. A vehicle that was a head of its time. Acceleration is there when you need it. Repair costs are high so go to BMW (European) certified mechanic - save $. Felt safe and in control of vehicle at all times.
Jesse

writes:
Pros
Powerful,Very Comfortable and reliable
Cons
Expensive,Maintainance very high and oil price expensive.
Bmw 740li — It is very powerful and very reliable and very luxurious.Quality is very good and the performance of the car is very stagerring and powerful.It is quite expensive for the cost of ownership otherwise it is a fun car to drive.Lastly it is cheaper to buy this car than a Mercedes.
Bob

writes:
2001 BMW 7 Series 740iL
Review
Pros
Ride, handling, acceleration, interior comforts.
Cons
Gas mileage around town, cost of repairs.
My Car Is My Mistress! — My Bimmer is actually the 2000 740i. Baby is 8 years old with 150k on her, but I still love it. For a ful size car she can move! Tracks curves like a rollercoaster. Comfortable to cruise along for hours. Seats five without a problem, though I rarely have more than three in it. I know I need to trade her in for something soon, but very few cars out there strike my fancy the way Baby does! BMW redesigned the 7 Series after this model, and NO ONE likes it. The new body style is due out for '09 with a return to the classic lines of my car. We'll see.....
Acer3364

writes:
2001 BMW 7 Series 740iL
Review
Pros
Very sharp looking and reliable!

Great Buy! — Great car, excellent handling and fun to drive. Gets 24 mpg on the highway and 20 in the city. Very few repairs and not costly! Appeearance is great other than a few nicks on the exterior that will bee fixed this summer.
Primary Use: Commuting to work
Matthew

writes:
2001 BMW 7 Series 740iL
Review
Pros
True driving performance
Rollin The Bimmer — Drives like a sports car, seats like a limo!! Like the best of both worlds, and all my friends love it. Can sometimes cost a lot to maintain, but hey, at least I don't have to pay for labor LOL!
Primary Use: Commuting to work
BiggFella

writes:
2001 BMW 7 Series 740iL
Review
Se7en — Performance - acceleration, braking, handling Appearance - Beautiful lines, executive, business like Fun Factor - fun to drive I wanted this particular car since the body style was released in '95. 2001 is the last and best year of this particular body and it looks exactly as I wanted it too
Primary Use: Commuting to work
Displaying 1 - 10 of 44 2001 BMW 7 Series reviews.
Looking for a Used
7 Series
in your area?
CarGurus has

5,176

nationwide 7 Series listings starting at

$1,995

.