2001 BMW 5 Series
User Reviews
Average Ratings from

56

reviews
Performance:
Appearance:
Build Quality:
Overall:
Review Highlights
Click to filter reviews below
Displaying 1 - 10 of 56 2001 BMW 5 Series reviews.
Larryat42

writes:
Pros
It is not the specs or the numbers, drive it for a week and you'll know.
Cons
Repairs (few were needed) are costly.

At 170k Miles There Was Cam Chain Noise And I Sold It. Mistake! — It was the perfect car for me, others woud prefer the Lexus I now drive. I wish I had kept the 530. A strong Mustang could beat it in acceleration, but it would take a Ferrari to out handle it and the brakes were fantastic! My Lexus has four buttons to open the sunroof but they do not work as well as the single button on the BMW. My Lexus feels like it was designed my a marketing team, and the BMW like it came from engineers. More thought and less flash.
Looking for a Used
5 Series
in your area?
CarGurus has
16,381
nationwide 5 Series listings starting at
$2,850
.
eccadena3

writes:
2001 BMW 5 Series 530i
Review
Pros
Awesome performance, great handling all while being sophisticated.
Cons
Is really low to the ground, almost like a sport coupe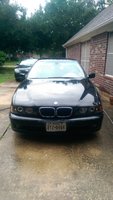 Awesome Vehical. — Car is very entertaining to drive and is incredible well balanced between performance and luxury. It is a BMW after all. The sport package really is amazing as this engine is the same as the same model years M3 engine, combining it with grip and functionality make it a wonderful machine.
Primary Use: Family transportation
Alex

writes:
2001 BMW 5 Series 530i
Review
Pros
great looking/handeling/ ride. very classy yet remanes agresive road stance. very relaible/dependable.
Cons
none atall really. keep away from dealer. v8 models very thirsty. tho best in class for fuel on all engines.
Bmw E39 530i Se Manual — the picture above is not my car. couldn uplode a pick of mine on computer ????? my car is a 2001 .petrol 530i se 232bhp it has coverd just over the 100.000 miles. and she is still going strong. doesnt use a drop of oil and still returns around 30 mpg on combined cycle. there really is vey little to complain about, so here i go. errrm ..... cup holders in rear are notorious for being rubbish and break easy. 18inch wheels on mine and with that you need to replace the rear ones roughy each year. all depends on miles coverd and what tire you using. so research into it. another common problem is the final stage unit in the heater/ blower. also known as hedgehog. a cheap and easy fix . there really is nothing to grumbe about. so as a whole the e39 is a very good car and better than most modern up to date rivals. it has everything you could ever want in a car. and more depending on spec. look for SE spec. as you will find alot of toys, mine has the comms pack/ winter pack/ so bluetooth and built in phone sat nav. winter pack includes a timer for the car to defrost the windows i have mine set at 0545am as i finish work at 6am. so i just get in and drive away no scraping. exelent . the list of gadgets is endless so i will write a few. quad climate controll. air con. cruise controll. also includes a option of having a set distance away from car infront. it will apply the breaks for you if car in front starts to slow down. very rare on e39. park distance controll. front and rear parcking sensors. traction controll/ stability controll. heated mirrors / washers/ steering wheel/ seats. front and rear screens. not a gadget you could want for. in my opinion the car is beautiful very elegant and agressive at the same time. the interior is the same beautiful. leather or cloth , all the instrumant and dials in perfect position. very well built , you just try and pull it apart. (good luck) not a squeak or rattle from anywere it is very fast when you want it to be yet it is also a very quiet luxery car . it handels beautiful. 50/50 weight distribution. when driving you know as a driver what each wheel is doing loads of feedback without any fuss. you will find yourself driving it the long way home just to drive it and you will never get boord. if you are going to buy a bmw e39, make shure it has a full history . and lookd after, tho most have been as there owners do fall in love with them. check all elec toys as all cars get elec gremlims, when on test drive listen for knocking suspension . if you hear any noise from suspension. it will be worn bushes. cheap and easy fix, but do negotiate discount as it is common on all bmw. in a nutshell. brilliant car really hard to find anything wrong with it. all reviews made against the e39 98% were positive.
Tmcklveen

writes:
2001 BMW 5 Series 525i
Review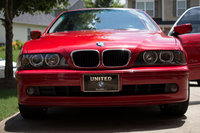 Vince

writes:
2001 BMW 5 Series 540i
Review
Pros
Looks, handling, practicality (may not be in that order).
Cons
Having to explain my choice.
The Aristocrats' Bimmer. — When time came to trade in my track toys, in this case, a '99 BMW M Coupe (yes, the funning looking 2 seater) for a more practical, yet equally exclusive and high performing vehicle, nothing fits the bill better than the Individual Series BMW 540i Touring with M Sport Package. This wagon is painted in M Series exclusive Carbon Black colour, with black Montana (ordinary top grain) leather and sporty brushed aluminum trims. What make this car exclusive are the lowered and stiffened suspension, front and rear M5 spoilers/bumpers, and a more aggressive final drive ratio. The results, a wagon that handle like (and superior to in many aspects) an M5 with a fewer horsepower (100 hp) and one less gear ratio. The handling is actually more superior due to the stiffer rear suspension (designed originally to limit travel and to withstand heavier payload, employing adjustable air springs). Also being 200 lbs. lighter than an M5, this wagon is noticeably more tossable in turns and can be driven harder. Due to the lack of limited slip differential (standard on the M5), it is much harder to power slide the rear end out of turns making driving sideways less often practiced than an M5. Its pick-up is still amazing, especially when you consider how effortless it is due to the automatic transmission taking care of all the tricky bits. It certainly felt faster in the straight than all the 6 cylinder M cars I used to own. There are a few odd short comings related to its chassis dynamic: the front end geometry seems to be less tolerant to wider rim/tire/traction setup and tends to wander when the pavements are crowned (while the M5 using even wider tires did not exhibit this characteristic); and the rear end, at times, can be too jiggly and unsettling giving the car a "truck like" ride. All-in-alll, this is the aristocrats' bimmer - quite often people ask "When you can afford a 5 series bimmer, why waste your fortune on a wagon", and I usually tell them "... because I have choices." and I quite often wonder why people choose SUVs and give up precise handling, safety, and precious cargo room!
sgee123

writes:
2001 BMW 5 Series 525i
Review
Cons
have to take very good care, expensive to maintain

Bmw — This car has been running great since we bought it, but recently we have run in to many problems. I got two flat tires in the span of 2 weeks, my battery died, and I have just had to be very careful with it. This may just be the servicing (which is very expensive) and is not worth it.
Siu

writes:
2001 BMW 5 Series 525i
Review
Pros
Excellent build quality, good driving position
Cons
Made me feel like a snobby sales exec :(
FIRME

writes:
2001 BMW 5 Series 530i
Review
Pros
hrilling to drive
Luxurious ride quality
Clean exterior styling
Low miliage
Cons
Expensive car
Cheap cup holder and location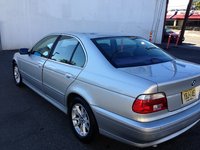 2001 Bmw 530i — I have had my 530i for 1 years now. It has been a solid reliable car. It handles really nicely and has tons of power even for having an automatic transmission. The interior is spacious and is very well appointed in leather and only a small amount of wood trim. It seems just right. The quality of the materials are great. My car has about 86000 miles on it and the interior still looks very close to new. There are no rips or tears in the leather, really no signs of wear at all. The car is in great condition.
Primary Use: Family transportation
Mario_M13

writes:
2001 BMW 5 Series 530i
Review
Pros
Very good handling, fun to drive.
Cons
Expensive maintenance and repairs.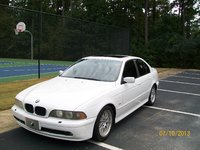 A Good Car For Passionate Of Sport And Powerful Cars. — A pleasure to drive this car if you can afford to keep it very well maintain. A good looking car and very comfortable to drive it with very powerful engine. Not a family car, just for those which they like speed and power.
Primary Use: Sport/fun (spirited driving, track racing, off-roading, etc.)
YankeeDog

writes:
2001 BMW 5 Series 540i
Review
Pros
Performance machine with a capital "P". 200,000 miles and still runs great.
Cons
Repairs can be pricey. Fortunately, we haven't had any really big ticket items.

The Ultimate Driving Machine - Of Course — Body beginning to show signs of age - rust on rocker panels, trunk edges, and windshield surround - despite being garaged since new and hand washed and dried 90% of the time. Otherwise, this has been a great car and we will purchase another BMW 5 series to replace it (eventually).
Primary Use: Commuting to work
Displaying 1 - 10 of 56 2001 BMW 5 Series reviews.
Looking for a Used
5 Series
in your area?
CarGurus has
16,381
nationwide 5 Series listings starting at
$2,850
.