2001 Audi A6
User Reviews
2001 Audi A6
Review Ratings
Average Ratings from

21

reviews
Performance:
Appearance:
Build Quality:
Overall:
Review Highlights
Click to filter reviews below
Displaying 1 - 10 of 21 2001 Audi A6 reviews.
Tommy

writes:
2001 Audi A6 Avant 2.8
Review
Pros
very luxurious...many feature...three climate zones awsome for kids in the back...heated frot and back seats...very user friendly with heads up display..auto power up on all windows...love the five speed trip tronic sport shift transmission and twelve way power seats...awsome twelve speaker bose audio system with two powered base tube...love the remote opened trunk...one touch sun roof...lots of storage compartments...clip in floor matts no more moving matts as u drive...8 air bags... oh oh the huge ass trunk!!
Cons
black leather gets way too hot...would not get black leather again...runs on 92 octain or higer
Looking for a Used
A6
in your area?
CarGurus has

7,013

nationwide A6 listings starting at

$3,291

.
C. Richard

writes:
Pros
It's very fun for a big sedan.
Cons
You'll be spending more on gas.
A Great Daily Driver. — The 2.7T is the kind of car that can get you into trouble. With 0-60 in around 6 seconds, and the quattro all-wheel-drive system to keep you pointed in the right direction, you are likely to find yourself hounding around corners like nobody's business. And doing it in style, too. After years of BMW dominance, Audi is finally starting to turn out real competitors. If you're considering a 5-Series or an E-Class, don't forget to check out the A6 as well.
Primary Use: Commuting to work
Louis

writes:
Pros
interrior build, exterrior styling, handeling, great sound system, overall just a great car
Cons
the GPS nav system is worthless (but thats why i have a garmin)
Great Car — Well i just bought it this year so that i would not have to drive a 2004 envoy xuv any more. The interrior is quite nice, every piece feels like it was ment to be there. The red lighting at night is a very nice effect that makes the car a pleasnt place to be. The 4.2L v8 provides alot of power and makes stepping on the gas fun. I also like the look of the exterrior, it looks modern and sexy. The car has the sport package and every other upgrade that came wit the line. Its fun on windy moutain roads, there is limited body roll and the AWD system provides you with alot of grip.
xamyalc

writes:
Pros
Very powerful engine. Excellent handling. Excellent braking. Great paint. Car is eleven years old and looks brand new. Body style still looks up-to-date.
Cons
Requires some degree of maintenance. Expect to spend some money.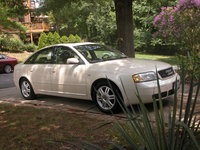 I Like This Car A Lot. — Six speed manual shift may not be everyones cup of tea. I always felt in complete control in this car. For long haul highway driving I don't believe that you could find anything better. I have never had a car that maintained its appearance as well as this one. I feel that I am driving a new car.
Primary Use: Family transportation
Maili

writes:
Cons
Expensive to maintain
?? — Great family car with HP as well, gotta love the all wheel drive.. therefor great in the snow!! I love the way it climbs hills, not sluggish what so ever! All around the best car we've ever had! Still have lots more to upgrade on it.
Primary Use: Family transportation
Matt

writes:
Pros
good mpgs, lots of room, beautiful interior, Just awesome!
Cons
not the fastest but thats what the twin turbo and the V8 are for.
Audi A6 — I love the car, 2001 A6 2.8Q. Cat back exhaust, and many others! Great car, beautiful interior, lines, everything. So far, its ben very reliable. I have had to replace the front control arms now but that is expected on these around the 100k mile marker. Also, the valve cover gaskets can leak oil but its an easy fix. And, when it snows, nothing beats Quattro, Audi FTW!!!!!!
Anne433

writes:
Audi A6: Subtly Superior — It's a fantastic piece of German perfection. The low-range tourque delivers surprising performance and acceleration. The twin turbos make their presence known without annoying turbo lag. The interior is perfect, all switches have a solid feel and are very intuitive. Audi's designers have perfected the pre-De Silva design language and the A6 looks better and better the closer you look. Every sculpted line has a clear purpose. The only thing wrong with this car is... Well ours has hail damage.
Justin

writes:
2001 Audi A6 Avant 2.8
Review
Pros
Great interior, Extremely safe, Low maintenance costs, Good gas mileage.
Cons
Lacks sportiness, Somewhat underpowered.
Practicality At Its Finest — The A6 2.8, although sluggish off the line, performs decently - the top speed is limited at 130 mph - for an everyday family sedan with only 200 horses. And with elegant interior rich in leather, genuine wood, and metal, it is sure to please the senses every time.
Bradley

writes:
Pros
comfortable an fast.
Audi A6 — i love my cars. There comfortable. audi has heated seats. (Front and Back) the bac of the seats adjust to your confort of your back. It switches from manuel to atumatic. I want to get new rims for it. It also has a telescopic steering wheel.
Primary Use: Family transportation
Sanjin

writes:
Pros
its perfect, an executive car
Cons
lol if your an idiot
10/10 — the most boss car youll have ever driven in. 6speed manual, 0-60 in 6flat out of the factory. engineered perfectly, build perfectly. 50000 dollar car brand new, low maintainence cost as long as you dont drive agressive, otherwise ull be buying new tires ever 3 months like me :(
Primary Use: Commuting to work
Displaying 1 - 10 of 21 2001 Audi A6 reviews.
Looking for a Used
A6
in your area?
CarGurus has

7,013

nationwide A6 listings starting at

$3,291

.