2001 Audi A4
User Reviews
Average Ratings from

35

reviews
Performance:
Appearance:
Build Quality:
Overall:
Review Highlights
Click to filter reviews below
Displaying 1 - 10 of 35 2001 Audi A4 reviews.
Raymon

writes:
2001 Audi A4 1.8T Quattro
Review
Pros
Power and Performance, Turn radius, heated leather seats, Nice instrument panel, Good solid quality car.
Cons
No CD changer, no aux jack, rims chip easily, too much brake dust, rattling "Bose" speakers, non-powered seats, expensive maintenance, requires 92 Octane gas or higher.
Overall, I'm An Audi Fan. — I've pretty much become a permanent Audi fan. This car has great performance and power, with most of the luxury features I want in a car. It is a 2001 model though, so some of the newer technologies were not readily available. Overall, it rides well, the quality is good, it looks nice, and is great to drive. I like the speed, the turn radius, and the dashboard amenities. There is lots of good digital information on the instrument panel, even telling me how many miles I have left on my tank, as I push it to the 0 miles left limit. My disappointments are minimal but are present. I don't like the trunk portion of the body style. The squared trunk disappeared, I think, around the 2003-2004 model, which was a great improvement. The rims have a disc in the middle with the Audi symbol, and they chipped really easily. Also the rims collect excessive brake dust. The sound system was a little disappointing. First of all I got too early of a version to get the standard in-dash CD changer like the later models. Also, there's no Aux jack for my iPod, but this was probably not a thought in 2001. Also, I was most disappointed with my Bose speakers which have rattled since day 1 or purchase. The leather seats are nice, but tell me why they are the only things in the car that are not powered. They are heated and have a powered lumbar support, but have this ancient and cumbersome wheel that is used to tilt the seat, and a difficult to operate slide adjuster to move the seat back and forward. Finally, if you want German engineering, you're going to pay for it. When this car does need fixing, it's going to cost you. Thank God for credit cards and a good job.
Looking for a Used
A4
in your area?
CarGurus has
10,419
nationwide A4 listings starting at
$1,795
.
Frank

writes:
Pros
Great cargo space with folding rear seats that I could fit my surf boards in the car, but if I had a choice I would have not had it for a first car because it had to many problems, It was costly to fix and maintain, It used PREMIUM gas, and was pretty plain, Great car for a single person/ small family but not a college or high school age kid that has to pay to use it, If your rich, well that's a different story.
Cons
As far as Audi goes, I was impressed, and maybe will buy one in the future, after college and if I can afford it. Just remember these cars need some serious dough to keep in good running order.
7/10, Safe, Not Great For Cost Of Ownership,( Unless You Get One Free Like Me) No Style — My first car, given to me free by my awesome uncle when he got a new BMW. Needed a lot of pricey repairs for uncommon breaking parts. My uncle and aunt bought it in 2001 new and kept it in great shape and when they had my cousin to my surprise they decided to give me( and eventually my sister when she got old enough) the car. They did all the routine maintenance and had the engine replaced at 80,000 miles due to a recall issue so I had a very well maintained luxury car with an engine with 20,000 miles on it for a 1st car! I could had been happier of more thankful seeing as I pay my own gas and Insurance which was a lot of a 16 year old male. But, fate works in weird ways and on I-95 going south to a school function a car blew its tire and flipped in front of me. Thanks to this cars ABS I was able to slow down very fast and avoid the flipping car, but the Ford F-150 behind me could not stop as fast as my Audi and Totaled my car. Thank fully no body was hurt and the ford owners insurance payed for the cost of my car seeing as I only had liability and not collision insurance(which I had dropped 2 weeks before the accident due to cost). It was a great cost while it lasted. out of 10 Performance - acceleration(7) because of the Tiptronic shifting and Turbo, braking(8) , handling(7) Build Quality - has it needed repairs?Many, and was not rated well by consumer reports (5) squeaks/rattles(10) none Appearance - both interior(10) leather and all of the interior was spotless and exterior styling(7) only because there was not a scratch on that car but it lacked style, would have really like to have installed a body kit/ Cost of Ownership - gas mileage (6) Highway(23-22) City 20-18, maintenance(2) Audi's prices we insane and there was a lot of mechanical problems that really no other cars have Fun Factor - is this car fun to drive? yes, would have been better had I been able to tune it and not have to get rid of it.
Primary Use: Commuting to work
Ryan

writes:
2001 Audi A4 1.8T Quattro
Review
Cons
people recognize you a mile away
Fun Fun — The only draw back about this car is that the maintenance tends to be expensive. On the flip side, you hardly ever have any maintenance. So the cost up front is more but less in the long run. It gets great gas mileage (when your don't put the turbo to extreme work). It's like driving a fast V6 while having 4 cylinder mpg. This car is also easily customizable. The stock exhaust sound pretty deep for stock and doesn't even sound like a 4 cylinder. Plus the all-wheel-drive (AWD) is fun and good for bad weather.
chancemcpants

writes:
2001 Audi A4 2.8 Quattro
Review
Pros
All wheel drive handling. Eats snow like a snow plow. Looks pretty.
Cons
averages 19-21mpg. A new Ford F250 gets better gas mileage :( and good Audi mechanics cost more than good lawyers. Learn how to fix it yourself.

A4 Rules, Wish The Gas Milage Did — I bought my A4 in 2013 certified pre-owed. Its has ran like a top for the most part, but ANY repairs will cost you an arm and a leg at a good Audi Mechanic. Do yourself a favor and learn how to fix it yourself or get used to muti-thousand dollar repair bills. Anything beyond an oil change starts at $1000 and goes up from there.
Primary Use: Commuting to work
Jason

writes:
2001 Audi A4 1.8T Quattro
Review
Pros
AWD turbo sedan, very fun.
Cons
Hard to work on yourself
Excellent Car, If You Can Do The Work Yourself It Won't Cost You As Much As You Think! — Great in the snow, great pop in the 1.8t engine, handles like a dream and has been very reliable with no major problems as long as you keep up the with maintenance. It is a blast to drive and I would buy one again!
Primary Use: Commuting to work
Tiffany_D

writes:

Great — Expensive to maintain. Reliable car. Handles very nice. A little older look. So much fun to drive. Great gas mileage. Lots of room. Good brakes. Buttons lose color rather quickly. Instrument cluster pixels burn as car gets old. Too many sensors.
Primary Use: Commuting to work
bigredman008

writes:
2001 Audi A4 2.8 Quattro
Review
Pros
The best car Audi made in the A4 line up
Cons
Repairs even if you do them your self. Its like a HOT blond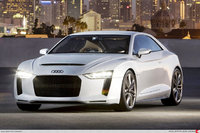 Quattro Mania — I love this car its great a little on the small side for other passengers but great for the driver. I have owned it for five years now and enjoyed everyone of them even with the extensive repair list but that's what you get with German engineering perfection to a deferent level. The best Quattro (four wheel drive) car out on the market. I will emit I'm very hard on my cars but I do take care of them as much as I beat them.
Primary Use: Sport/fun (spirited driving, track racing, off-roading, etc.)
Dante

writes:
2001 Audi A4 1.8T Quattro
Review
Pros
performance and luxury
2001 Audi A4 — Performance pros: *GIAA chip put outs 210hp now *at 4k turbo kicks in and the pull is great *handling is great..very tight corners very fast Performance cons: *low end torque isnt very good because of turbo lag (stock) Appearance: *timeless look *many people without prior knowledge of audi models have thought my car was a 03-04 *interior still very stylish in comparison to new cars I love driving this car, although it is my first car i have experience with manyyy other cars and audi really takes the cake when it comes to a great combination of luxury and performace. has 75k on it and i have had almost no problems in 11k miles of driving. My dad prior to driving my car has always been a BMW enthusiast but now owns a 2006 a6 s line 3.2 quattro. I have a bailey diverter valve that i plan on installing in order to get rid of the turbo lag.
John

writes:
2001 Audi A4 1.8T Quattro
Review
Pros
Great handling and looks (AWD).
Cons
Acceleration (because it is an automatic).
Audi A4 1.8t Quattro (sedan) — For those of us who enjoy the finer things in life. Overall the A4 is a pretty good car except I wish I had gotten an manual instead of the tip-tronic. The acceleration is alright. Braking is very good and I just got new rear brakes, I guess I'm hard on the brakes and gas. I love the color and couldn't have imagine have a different color. Gas mileage is not bad, but seems like it should be better of a 1.8 L. Fun around corners and on the highway, but you're not going to beat anyone in a drag race with this. This car is AWD which is really nice when you think about Iowa weather. The handling is exceptional, very good suspension. In conclusion the the pros out-weight the the cons.
Marc

writes:
2001 Audi A4 2.8 Quattro
Review
Pros
Prestige, luxury, driving experience.
If You Can Afford The Maintnance And Gas, You'll Enjoy This Car For A Long Time. — 2.8L engine is more than adequate to power this solid machine. Build quality is among the best. Classic styling, truly timeless. If maintained properly, car will drive forever, but the occasional repair is costly. Gas mileage is mediocre. Rear seat legroom is not the best. Fun to drive, considering it is a four door sedan.
Primary Use: Commuting to work
Displaying 1 - 10 of 35 2001 Audi A4 reviews.
Looking for a Used
A4
in your area?
CarGurus has
10,419
nationwide A4 listings starting at
$1,795
.