2000 Volkswagen Beetle
User Reviews
2000 Volkswagen Beetle Review Ratings
Average Ratings
from 34 reviews
Performance:
Appearance:
Build Quality:
Overall:
Review Highlights
Click to filter reviews below
Displaying 1 - 10 of 34 reviews
1
2
3
4
Next
Patrick

writes:
2000 Volkswagen Beetle GLS 2.0 Review
Pros
Roominess, Performance, Handling, Braking, Torque
Cons
Shifting (automatic), ABS system, Air Conditioning Power Draw
Amazing Tiny Car For Super Huge Tall Guy — Acceleration and top speed are amazing, brakes rock, o2 sensors keep breaking, 24 miles to each gallon, handling on corners is amazing at higher speeds, needed a better water pump recently, not a lot of space under the hood of the car, fun to drive every single day, has a great takeoff on the line, 0-60 is about 7 seconds, 15 gallon fuel tank capacity, 115HP engine, 4-speed automatic transmission, max RPMs is 8000
Looking for a Used

Beetle

in your area?

CarGurus has

16,255

nationwide Beetle listings starting at

$2,995

.
Kathie

writes:
2000 Volkswagen Beetle Review
Pros
Almost everything: Turbo (sounded like an airplane taking off & went FAST), adorable,
great color, it's a VW BUG for goodness sake.
Cons
Dodgy stuff kept happening (window fell in, seat came off-track, water in taillight housing
which kept shorting out the lights & couldn't be fixed except to replace the bulb), it
allowed my husband to get his greedy hands on it so he could trade it in for a boring
middle-aged-white-guy car.
I Got This Car For My Birthday & I Adored It. I Cried The Day I Watched It Drive Away Without Me. — I had a 2000 VW New Beetle. The color was Vapor, which was a limited edition of 2000. VW described Vapor as "blue that has seen a ghost." People would stop & stare at my car & one would say, "I love that white bug!" & the other one would say, "No, it's blue." "No, white." Etc. My car was sold to me as a regular VW New Beetle. The day after I brought it home I popped the hood to admire the engine. And yes, there it was, sprawling in big white letters across the engine: TURBO. I felt like Mister Pennybags, the Monopoly icon, when the Community Chest card informs him that he just won second prize in a beauty contest. Believe me when I tell you, this car could GO. You put your big toe down lightly on the gas pedal & plah-DOW! Off that car went. It was a gem. About 2 months after I bought the car (new from the dealer), the passenger side window fell into the door. The car was under warranty so the repair was free. About a year later VW recalled the 2000 New Beetles because of this problem. When the car was about 5 years old, the passenger seat came off-track. It kept getting worse. We took the car in about a year after this problem started & VW said it would cost $2000 to fix. In 2006 my husband decided he wanted a new car. He was driving a 2002 Honda CRV. So he took my bug & traded it in for a 2006 Acura TSX *stifling yawn*. He has no idea, but when he drove it out of our driveway to trade it in, I cried. I felt like Jemaine when Sally broke up with him. Now I'm driving the 2002 Honda CRV.
Felicia

writes:
2000 Volkswagen Beetle GLS 2.0 Review
Pros
Very good gas mileage, good acceleration, great build quality.
Cons
blind spots, very low to the ground.
New Beetle — I absolutely love my bug...I have had it for four years now. I have hardly had any problems with it other than normal, routine maintenance. It has plenty of airbags, and is really safe. The new beetles are built very well. A couple of things I dislike about the new beetles are: lots of blindspots, and they are really low to the ground and tend to scrape easily. This car has very good acceleration and very good gas mileage. Over all the new beetles are really good cars, I am just kinda wanting something different after 4 1/2 years.
booboo1958

writes:
2000 Volkswagen Beetle GL Review
Cons
Too costly to maintain

I'll Never Buy Another Volkswagen, Period!!!! — The beetle might be fun to drive, if it stays out of the shop long enough!!!!! There was a recall on the timing chain but we didn't know it until after we had to replace our engine because ours broke. Volswagen wouldn't do anything about engine repair except an offering of $250 credit toward a NEW Beetle. They weren't thrilled about my suggestion of where to put their offer.
Primary Use: Commuting to work
Paul

writes:
2000 Volkswagen Beetle GLS TDi Review
Pros
great gas mileage and cuteness
Great Car -- I Like It — great gas mileage (about 40MPG) and cruising range(500+ miles), 5speed is fun to drive, does great on curvy mountain roads. maintainence is fairly cheap, but Parts are outrageously expensive when you do have to buy them. its turbo diesel power surprises people on the inside and outside == just rolled 200K miles and took it on a 1000 mile trip -- this is such a great car!
Primary Use: Commuting to work
Stephen

writes:
2000 Volkswagen Beetle GLS TDi Review
Pros
Mileage with the diesel.
Cons
Headlights burn out frequently, numerous electrical issues, breaks wear-out early, many more to list.
Monika

writes:
2000 Volkswagen Beetle GLS 2.0 Review
Pros
I think it is the cutest car I have ever owned. People always wave to you in a Beetle!
Cons
Not practical for moving or hauling things around however, I have fit a dishwasher into the back hatch.
My Little Dumpling — I really love this car. Now I drive a truck due to my lifestyle and no longer need this one. I plan on buying another VW Beetle in the Fall of 2013. They do tend to run a little rough like a go cart, so if you need a luxury ride, this car is not for you.
Hal2000Volk

writes:
2000 Volkswagen Beetle GLS 1.8T Review
Pros
Body exterior in good condtion. Interior only used for 15,000 miles. In good condition except it has been sitting for 8 or 9 years.
Cons
Has not been drive for 8 or 9 years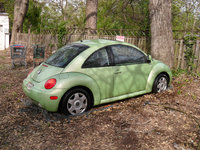 Title Is Free And Clear — My daughter got tired of repairing the electrical system. This is the classic Beetle Turbo. The car was fun to drive. Ratings based upon the car when it was functioning. It would be neccesary to check out all internal mechanical componants for possible repair after sitting 8 or 9 years. Once rehabbed this would be a great car to own.
Andrew

writes:
2000 Volkswagen Beetle GLS TDi Review
Cons
Hassle to get in the back seat
Bruce

writes:
2000 Volkswagen Beetle GLS 2.0 Review
Pros
Looks nice, drives well, camp
Cons
The cost of repairs may surprise you and I'm not easy with the reliability.
Not That Bad If This Sort Of Car Appeals To You. — The earlier generation of Beetles were practical, easy to repair. I learned to drive on one. This new generation is "artsy" instead. Of course, most cars engine compartments are more dense these days than they were then. Still, when replacing a broken backup light entails removing a fender...
Primary Use: Commuting to work
Displaying 1 - 10 of 34 reviews
1
2
3
4
Next
Ask CarGurus about the 2000 Volkswagen Beetle
Average response time:
8.5 hours
,
# of Volkswagen Beetle owners:
5,385
Looking for a Used

Beetle

in your area?

CarGurus has

16,255

nationwide Beetle listings starting at

$2,995

.