2000 Subaru Impreza
User Reviews
2000 Subaru Impreza
Review Ratings
Average Ratings from

49

reviews
Performance:
Appearance:
Build Quality:
Overall:
Review Highlights
Click to filter reviews below
Displaying 1 - 10 of 49 2000 Subaru Impreza reviews.
Jeff

writes:
2000 Subaru Impreza 2.5 RS Coupe
Review
Pros
Amazing styling, incredibly safe, beautiful handling and traction. Two-door coupes with sunroofs are hard to find, and this one's worth it!
Cons
Subaru never brought the WRX level Impreza here until 2002. As such, this year is missing the power that it had in Japan.
Incredible Car, Built To Be Fun In All Types Of Weather! — Since purchasing this car used, I've had very little trouble with this car. It's beautiful, and handles quite well with the limited slip differentials it has paired to its all wheel drive drivetrain. The car is incredibly safe, and a good 500 lbs lighter than the later Imprezas, making this generation feel much more tossable. I'd recommend this to anyone wanting a sporty and reliable all-weather vehicle!
Trevor

writes:
2000 Subaru Impreza 2.5 RS
Review
Pros
Sport tuned suspension, great acceleration, great handling, sporty appearance, good gas mileage, sticks out in a crowd of hondas and mitsubishis.
Cons
lack of cup holders.
Sexy — This 2000 Subaru Impreza 2.5RS is a knock out for the pocket rocket family. Its powered by a 2.5L H4 SOHC engine. The engine puts out a solid 165 horses and 166-lbs of torque with awd. The Rally Sport edition comes with an intriguing exterior that is equipped with a rear spoiler, sporty 16inch allow wheels, hood scoop and vents, stylish front bumper with working fog lamps and a moon roof. Although the acceleration and speed is great its also equipped with 4-disc brakes and ABS. The car sits at a nice height with a Rally Sport tuned suspension with front and rear sway bars to increase control on those tight turns in any type of weather. The interior is relatively satisfying with comfortable bucket seats with a sporty two toned cloth followed to the rear bench and the door cards, leather wrapped steering wheel, a decent 4 speaker stereo system and green lit gauges and controls. Although this is a sedan the trunk is quite large for what is expected.
kef

writes:
2000 Subaru Impreza 2.5 RS Coupe
Review
Cons
Rear seats down fold down, otherwise i'd keep it.

Get The Sedan. — Great car. Totally reliable if not a little ratty. Biggest complains are the rear-seats not folding or having a passthrough, and how dated the interior is. Other than that, the car is well made, easy to work on and a ton of fun to drive.
Primary Use: Commuting to work
Columbo

writes:
2000 Subaru Impreza Outback Sport
Review
Pros
Really fun, awesome car!! Good response, decent power, extremely durable, and VERY easy to work on (if you ever have to ;)
Cons
not much, if anything...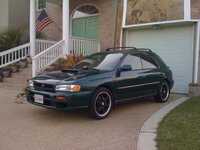 Funnest Wagon Ever! — The 2.2l engine used in these cars was an absolutely fantastic engine, but as far as modifying it, it can be very limited in options compared to a 2.5 or 2.0. The car is an absolute blast to drive (on and off road :) ) and one of the most reliable cars i know!
Primary Use: Commuting to work
Lorenzo

writes:
2000 Subaru Impreza 2.5 RS Coupe
Review
Cons
Sunroof design sucks. it lacks vtec
The Beast — One word to describe this car: Fun. Driving it for 2 months, this subaru impreza 2.5rs is a blast to drive. A roller coaster ride on the on and off ramps. I would say its quick for an NA. This car can tackle through dirt,snow, and tarmac. This car has lived up to its name in the WRC world. Comes with a spoiler to give that sporty look.Good on gas since its a 4cyl. Future mods: Coilovers, Whole Sti swap. volks ce28.
Primary Use: Sport/fun (spirited driving, track racing, off-roading, etc.)
Jason

writes:
2000 Subaru Impreza WRX
Review
Wrx 2000 Rwd — Car is great to drive the turbo and AWD are the best features, very fast factory car, also great for tunning up, easy to get bolt on performance parts and a wide range of visual add ons, i would have to say that this model is the best, but thats just my personal opinion
Primary Use: Sport/fun (spirited driving, track racing, off-roading, etc.)
Jesse

writes:
2000 Subaru Impreza 2.5 RS
Review
Pros
For those not wanting a lot of bite in their car....looks and handling is whats makes this car.
Cons
MPG is lower than the demand....
Love It! — Performance - handling is amazing...fun in the snow! Build Quality - a few minor repairs...expected for a 9yo car. Appearance - love the exterior! Very sporty. Cost of Ownership - a little lower on mpg than expected....other than a wheel bearing and a knock senosr, just regualr maintenance. Fun Factor - Car is very fun to drive....especially in the winter.
Primary Use: Commuting to work
Alex

writes:
2000 Subaru Impreza WRX
Review
Pros
Great Performance, handling, gearbox, looks.
Cons
Interior trim is a bit bland, and fairly cheapish quality.
My 2000 My00 Wrx — I've been driving this car for about 18 months now, and I absolutely love it. It has really low mileage, and runs great for its age. Fuel consumption is actually surprisingly good, although admittedly I don't drive it a lot. I've never had a single mechanical problem with it, contrary to some people's belief, it's not a car you need to take into the workshop all the time! Yeah so I'm a 19 (almost 20) year old cheap Japanese performance car driver from Australia, I get labelled a hoon, rebel, unsafe driver, as well as numerous racial stereotypes that I won't mention (despite being a 3rd generation Australian of Scottish descent) but I don't care, it's an amazing car, I love it to bits, and I never do anything that's likely to endanger me or other road users. I've never had a single speeding ticket or accident in this car either, been pulled over by the police for doing something I shouldn't be. The car's also modified, which really adds to its performance and somewhat reduces its comfort levels. It sure took a bit of getting used to, but I'm definitely over it now. The modifications include a larger STI turbo, a front mount intercooler, pod filter, 3 inch exhaust and lowered whiteline springs. It has a great feel while accelerating, with a little turbo lag, but it really takes off in second gear when the turbo cuts in! The gearbox is great too, you definitely know when you're in gear and the throw is relatively short but not overly stiff. As for handling, it's really good, partly because of the hard springs (which are a bit uncomfortable as I mentioned), the all wheel drive system (duh) and high performance street level tyres. The only thing about the car I don't like so much is the interior trim build quality, it's not that great. Some of the panels, including the glove box are starting to come a bit loose, but there's relatively little squeaking or any other worrying sounds. Hard springs make it pretty uncomfortable over bumps and a low ride height can be pretty annoying sometimes (I hate car park entrances and speed bumps...) but overall it's not that bad. I think these WRXs were the best looking out of all of them really, and being lowered and red really make mine stand out from the crowd (or at least I think so :) Interior styling is a bit bland, as on most cheap Japanese cars, but it's functional and the seats look awesome, and rock to sit it.
Cheryl

writes:
2000 Subaru Impreza WRX
Review
Cj's Subaru Review — i loved this car as it was so goregeously sexy. it was really relaible and so quick. it was expensive to run though - it did about 20mpg and also the way i drove it, it did even less! it was such a fun car and it is my favorite one i have owned (have driven about 40 cars). it was a great rush!
jaan

writes:
2000 Subaru Impreza
Review
Pros
it has a good sporty look......
Cons
Suspension fails really fast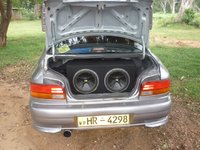 You Feel It When Your Driving A Subaru — My first car.. thinking of the conversion or STI9 :)but its so expensive when its comes to body parts in Sri Lanka. i like the mechanical side of the SUBURU.. um enjoying it and loving it.. nice drive but drive safe. thanks!!!!!!
Primary Use: Family transportation
Displaying 1 - 10 of 49 2000 Subaru Impreza reviews.
Looking for a Used
Impreza
in your area?
CarGurus has

11,780

nationwide Impreza listings starting at

$1,998

.